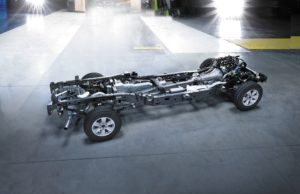 Though he couldn't reveal too much, a Nucor executive indicated last month that collision repairers could expect to see higher-strength steel grades on the frames of body-on-frame vehicles.
"There are body-on-frame chassis that are going to be increasing significantly (in steel strength)," Nucor market development and product applications manager Dean Kanelos said in a July 31 interview after that day's Center for Automotive Research's Management Briefing Seminars.
Steel Market Development Institute automotive market Vice President Jody Hall said the trend in the industry was for higher-strength steel frames.
"Even the F-150 did that," Kanelos said. He said it doesn't get a lot of promotion from the steel industry because of the predominantly aluminum body of the truck, but a reverse-engineering study of the F-150 found "they stiffened that frame up quite a bit."
Ford said in 2014 it boosted the high-strength steel content from 23 percent of the frame in the 2014 F-150 to 77 percent of the frame in the 2015 next-generation edition of the truck.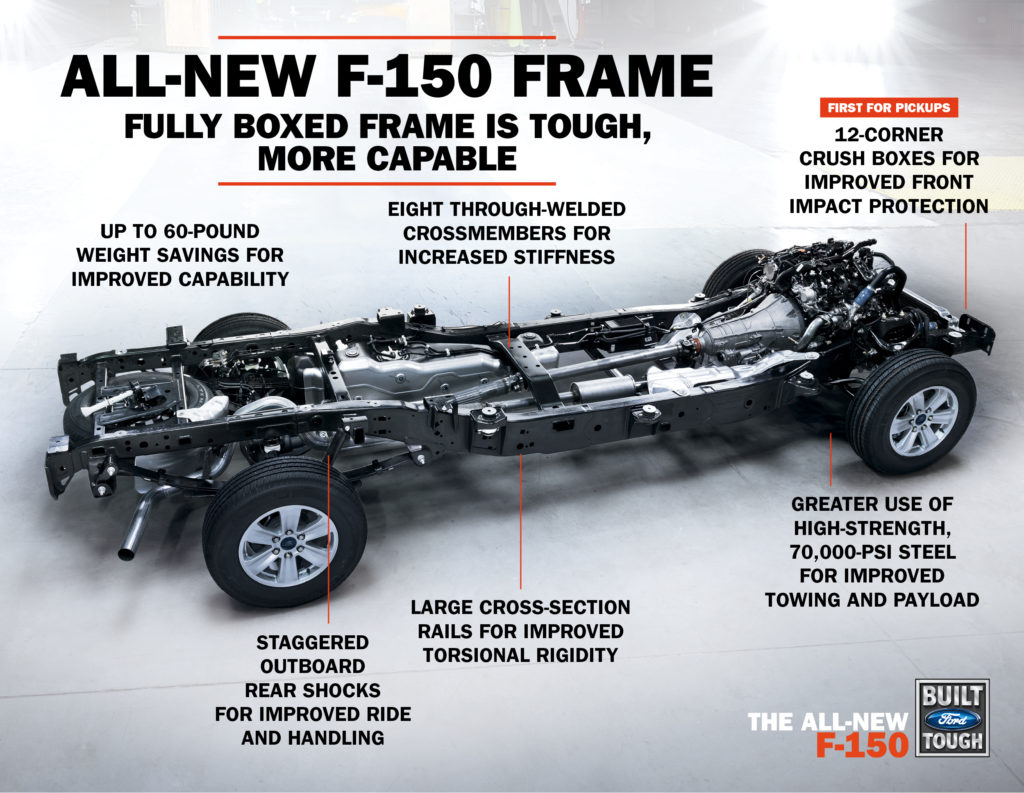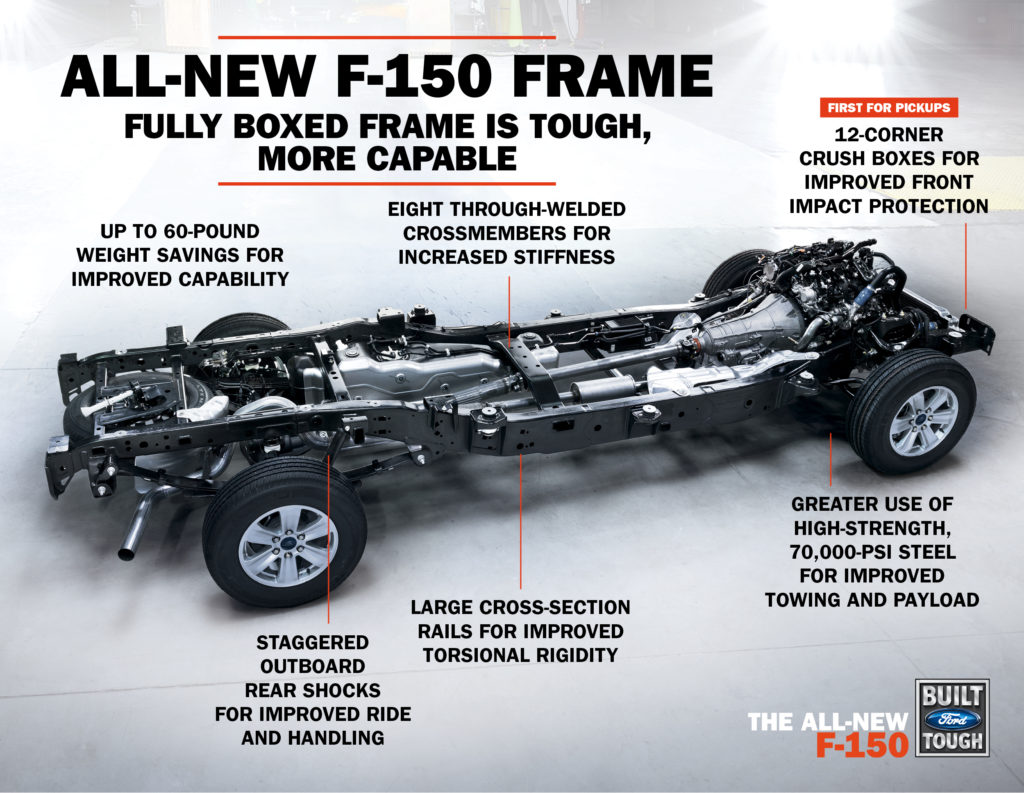 That 77 percent boasts a tensile strength of about 481 megapascals, according to Ford. It's up to 60 pounds lighter than its predecessor.
"The frame is the backbone of the truck, and we delivered a frame that is stronger and more capable than before," F-150 lead frame engineer John Caris said in a statement. "Our frame team developed exclusive, industry-first engineering techniques to create a truck foundation that is lighter without sacrificing toughness. This F-150 frame is the toughest we have ever built."
Recently, we covered the Nissan Titan XD, the frame of which is 99 percent high-strength steel between 370 and 540 megapascals.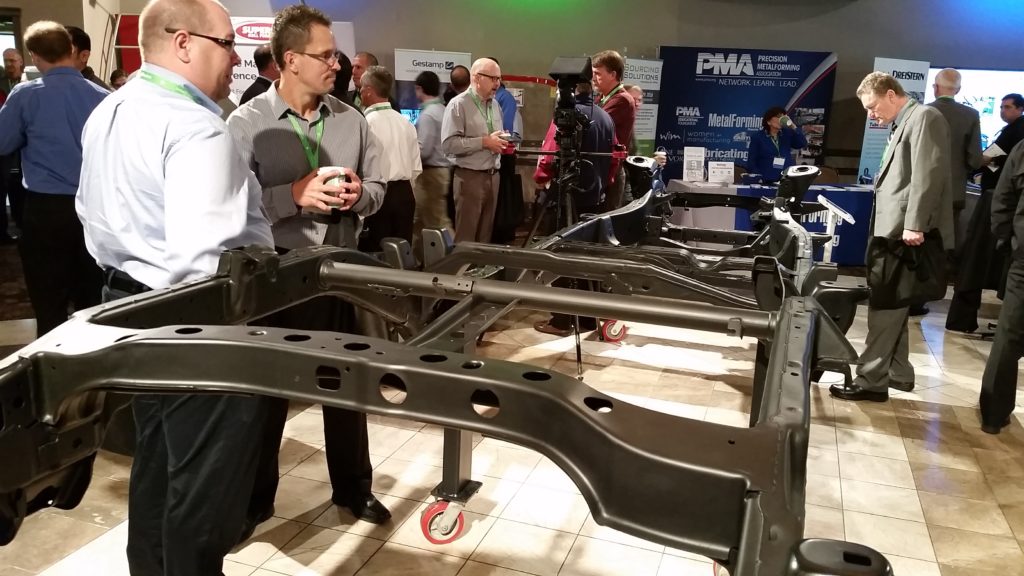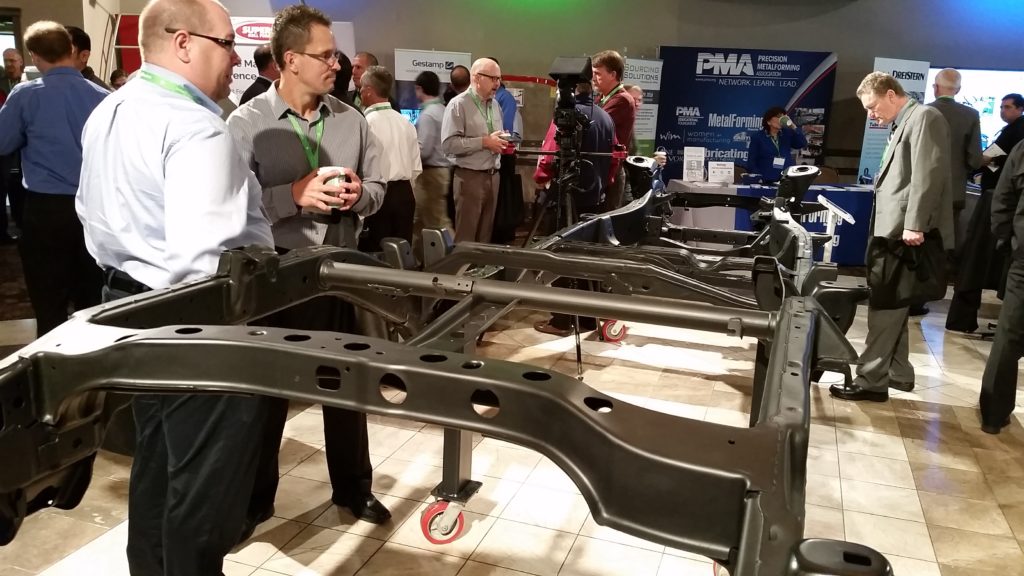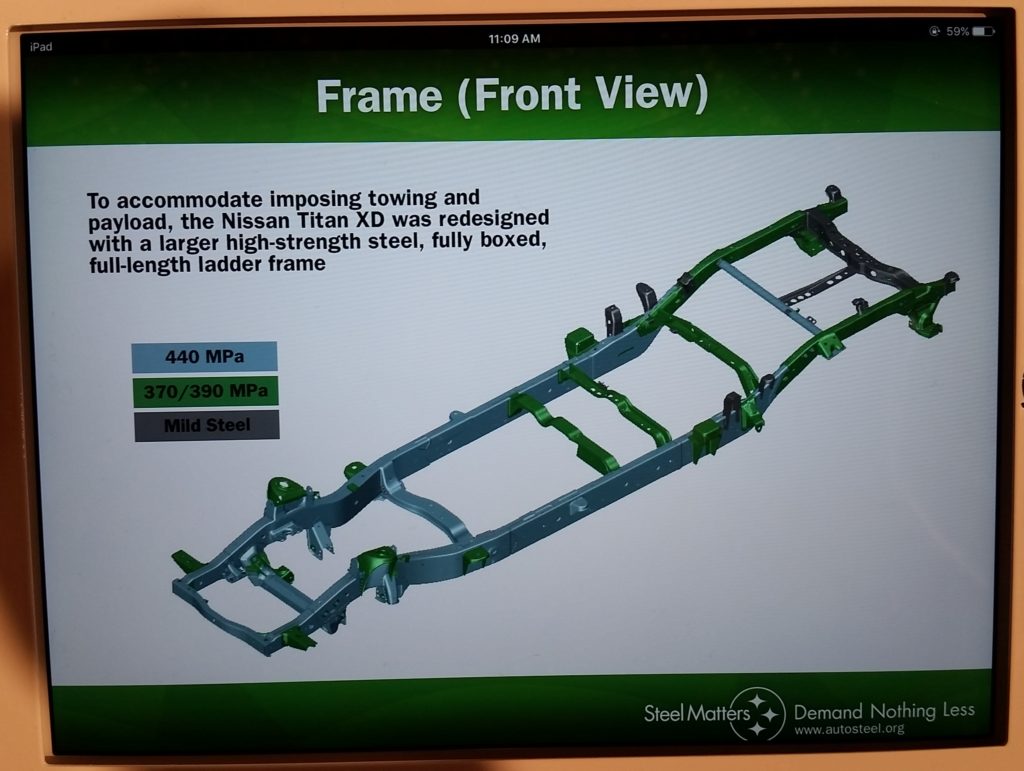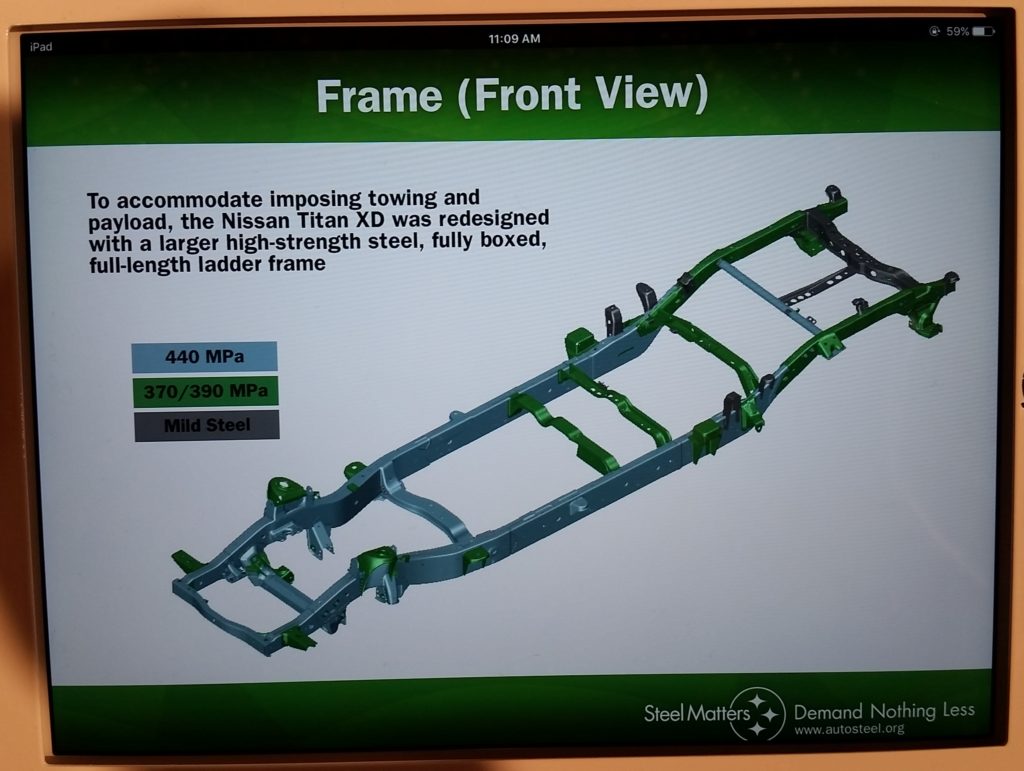 As steel strength increases, a shop's capability to manipulate it decreases. Heat becomes impossible to use, and sectioning locations might also change. A taste of some of these considerations appeared during last month's Guild 21 call, when a FCA expert explained the company's restrictions on body-on-frame frame repair for a Ram 1500.
The Ram 1500 is due for a generational overhaul, so some of these restrictions and permissions might change soon. FCA CEO Sergio Marchionne said the next-generation 2019 Ram will appear at the Detroit Auto Show in January, according to a July second-quarter earnings transcript on Seeking Alpha.
But virtually certain to remain will be FCA's 2010 ban on using heat on any part that you're not going to throw away and replace. (Which was also present in the repair procedures for the 2009-present Ram 1500.)
"We must have a service component available to replace that component that you are heating," FCA body, chassis and paint global service lead Dan Black said July 13 during the Guild 21 call. (See slides.) "That's essential."
If FCA doesn't sell a service part or have a sectioning procedure, then you're out of luck and might have to proceed to full-frame replacement, Black indicated. The same obviously goes for conditions where the frame is unrepairable, such as a "severe diamond," he said.
He said that instances where an OEM doesn't sell a replacement part are intentional, stemming from "a safety-type concern from the OEM." The company doesn't know if attaching that replacement will compromise the vehicle in some way.
---
Learn more about vehicle materials at Repairer Driven Education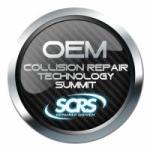 Learn more about the lightweight materials increasingly found on the U.S. vehicle fleet and what it could mean from your shop at the Society of Collision Repair Specialists' OEM Collision Repair Technology Summit Nov. 2 during the SEMA Show in Las Vegas. Innovators in automotive technology will be on hand for "How Automotive Research is Driving Change"; "The Impact of Advanced Vehicle Systems on Routine Repair Process and Procedure"; and "The Hidden Dangers of Vehicle Technology, Improper Repair Methodology and Your Liabilities." Space will be limited; early registration is encouraged. The sessions are part of the SCRS Repairer Driven Education Series Oct. 30-Nov. 4. Register here for the individual classes or the series pass package deal, which includes the entire week of classes, all three parts of the OEM Summit and the Nov. 2 Sky Villa afterparty.
---
Don't try to obtain a version of those not-for-sale pieces in a recycler's yard either, according to FCA.
"We do not endorse the use of salvage components," Black said. The OEM has no idea what sort of conditions the part had been subjected to or if the donor vehicle was clipped, and it doesn't want the liability, he said. With a new OEM part, "we can always have confidence" it will perform as expected, he said.
Fortunately, FCA data indicates that frames are replaced less than a fifth of the time, at least in relation to front frame rail tips. Black said about 82 percent of Ram 1500 repairs see the front frame rail tips replaced; only 18 percent demand full-frame replacement.
When a frame is repairable, shops must still take care not to expose the vehicle to excessive heat during that process. FCA publishes specifications for welders, and it can demand skip-stitch welds to minimize the heat-affect zone, according to Black. He also warned shops never to use an oxy-acetylene torch to remove a damaged RAM frame rail tip because of the heat; repairers must use equipment such as plasma cutter, die grinder or reciprocating saw to protect the other rail from excessive heat.
More information:
Collision repair procedures and resources on Mopar Repair Connection
FCA position statement on heat
FCA, Aug. 11, 2010
"FORD USES HIGH-STRENGTH STEEL PLUS HIGH-STRENGTH, ALUMINUM ALLOYS ON TOUGHEST F-150 EVER"
Ford, Jan. 13, 2014
FCA second-quarter earnings transcript
Seeking Alpha, July 27, 2017
Images:
Ford said in 2014 it boosted the high-strength steel content from 23 percent of the frame in the 2014 F-150 to 77 percent of the frame in the 2015 next-generation edition of the truck. That 77 percent boasts a tensile strength of about 481 megapascals, according to Ford. It's up to 60 pounds lighter than its predecessor. (Provided by Ford)
The 2016 Nissan Titan XD's frame, shown here at the 2016 Great Designs in Steel, is only 1 percent mild steel. (John Huetter/Repairer Driven News)
Share This: