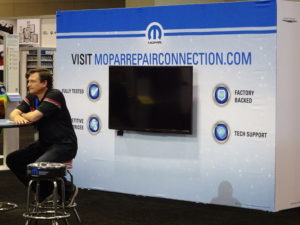 An FCA expert said last month that the company's opposition to weld-through primer stemmed from the concern that the substance overly contaminates the weld area.
"That has always been a statement of ours," FCA body, chassis and paint global service lead Dan Black told a July 13 Guild 21 call. (See slides.)
He said that FCA's engineers have said "they're not comfortable" using the product in repairs based upon the results.
Honda cited a similar concern last year in articulating its own ban on the substance. It said it started to investigate the science of weld-through primer following the opposition of OEMs like FCA and concluded zinc can contaminate the weld pool.
FCA takes its ban seriously. I-CAR reported in January that the OEM had previously allowed weld-through primer on Fiat vehicles but banned it on Chrysler models. But FCA ultimately carried out a purge and changed all prior repair manuals — including the Fiat instructions — to "forbid the use of weld-through primer," I-CAR wrote in January. (Emphasis I-CAR's.)
"Per our contact at FCA, the free site is still in the process of being updated and weld-through primer should not be used," I-CAR also wrote then. (Emphasis I-CAR's.)
---
Learn more about joining at Repairer Driven Education
If you're unfamiliar with or rusty on some of the joining methods described here, don't miss your chance to get caught up — and prepared for the future — during the SEMA Show in Las Vegas. Learn from Ken Boylan, Chief, during "Current and Future Technologies 2017 and Beyond"; Toby Chess, Kent Automotive, with "Adhesive Joining in Modern Repairs"; and Dave Gruskos, Reliable Automotive Equipment, at "Get Attached to Following Procedures: A Comprehensive Guide to OEM Joining." The sessions are part of the SCRS Repairer Driven Education Series Oct. 30-Nov. 4. Register here for the individual classes or the series pass package deal, which includes the entire week of classes, all three parts of the OEM Collision Repair Technology Summit and the Nov. 2 Sky Villa afterparty.
---
Other OEMs are OK with the substance, and it's important that shops respect each OEM's individual instructions and not mix and match. I-CAR researched many of the automakers' statements in a fantastic April roundup that can be found here.
"After writing this series of articles, we found that the majority of OEMs do require the use of weld-through when replacing steel weld-on parts," I-CAR wrote. "Some OEMs do have a specific brand of weld-through primer that they require. We also located where this information can be found in the body repair manuals. It is important to note that weld-through primer should not be used on aluminum." (Emphasis I-CAR.)
Learn more about weld-through primers from the Society of Collision Repair Specialists' free educational corrosion protection trilogy.
More on FCA welding
Black said the fear of contamination also informs FCA's requirement during a frame tip replacement that all e-coat within 25 mm of the weld joint be removed. The buffers ensure the heat affect from the weld doesn't burn into the e-coat.
"We want to make sure we get good weld penetration," Black  said, calling the e-coat removal "important."
Shops will "backfill" the corrosion protection during the collision repair process anyway, he said. (This corrosion protection would include substances like creeping wax inhibitor, which can be sprayed in 360 degrees inside a frame rail.)
Black also cautioned shops welding front frame tips onto a Ram 1500 rail to measure the frame and tip repeatedly.
First, measure to ensure the tip was in the correct location prior to tack-welding it onto the frame, and then a second time following the tack weld. It'd be much easier to solve a misaligned frame rail before one began to skip-stitch the replacement tip, Black said. (Skip-stitching minimizes the heat affect, as we discussed here.)
But measure a third time anyway to confirm alignment, Black said.
"In this case, you're going to measure three times," he said.
More information:
July Guild 21 call with FCA's Dan Black
VeriFacts, July 13, 2017
VeriFacts, July 13, 2017
"Weld-Through Primer Guidelines: Fiat Chrysler Automotive – UPDATE"
I-CAR, Jan. 19, 2017
"Weld-Through Primer Guidelines"
I-CAR, April 21, 2017
Featured image: A display at NACE 2017 advertises FCA's Mopar Repair Connection resource for collision repairers. (John Huetter/Repairer Driven News)
Share This: