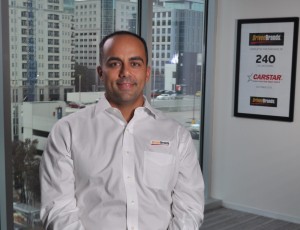 Driven Brands Paint & Collision Group President Jose Costa, the former Maaco president who oversaw the sale of that company and both U.S. and Canada CARSTARs to the private equity firm, has resigned.
Driven Brands spokeswoman Debby Robinson on Friday — the last day of CARSTAR's annual conference — confirmed Costa "left to pursue other opportunities." His resignation occurred last week and was effective immediately then, she said.
Robinson said Driven Brands recognized Costa's role in the three auto body and paint acquisitions and in successfully integrating the U.S. and Canada CARSTARs under the leadership of former CARSTAR Canada President Michael Macaluso.
Driven Brands will not install an interim leader of the Paint & Collision Group, whose brands include CARSTAR, Maaco and Drive N Style. Robinson said that Macaluso, Maaco President Jason Ryan and Drive N Style President Patrick Sommer are all "great leaders" who can keep their own businesses running fine during the transition.
That transition might not be long, according to Robinson: Driven Brands is already interviewing candidates.
"It should be announced shortly," she said.
Costa ran Maaco from 2013 to its acquisition in 2015 — and famously appeared on CBS' "Undercover Boss" during that time. His resume also includes a vice presidency at Burger King and marketing management for Yum Brands.
Driven Brands announced it bought CARSTAR in October 2015 and CARSTAR Canada in December 2015.
Costa is the third high-profile departure in the Driven Brands Paint and Collision family within two years. Shortly after the CARSTAR sale, Driven Brands ousted CEO David Byers in favor of President Dan Young, CARSTAR's former insurance relations head. In February 2016, Young abruptly resigned and was replaced by Macaluso.
Byers is now CEO for Santa Fe Relocation's Americas business. Young is now vice president of sales and marketing for asTech manufacturer Collision Diagnostic Services.
Featured image: Former Driven Brands Paint & Collision Group President Jose Costa. (Provided by CARSTAR)
Share This: