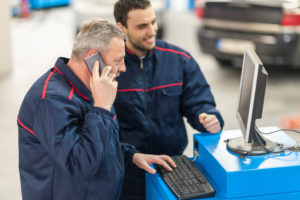 Is your shop battling the insurer over a proper vehicle repair instead of letting your customer do it? In many states, you might actually be breaking the law if you lack a public adjuster's license.
Without a license, "you can't negotiate the claim with the insurance company on behalf of the owner," attorney Erica Eversman (Vehicle Information Services) said on Wednesday's "Repair University Live."
(Like Collision Hub did prior to the show, a brief caveat — the quotes and analysis in this article aren't meant to be legal advice, merely informational. Readers should consult with a qualified attorney specializing in these matters and familiar with the laws applicable to your area.)
Most, if not all, of the states have a public adjuster regulation which typically sets up a means for an independent person with an independent license to be an advocate for an policyholder making a claim, according to Eversman. (This is different from an adjuster working on behalf of the insurer.)
Essentially, the state is allowing the public adjusters to practice law on this specific topic only, Eversman said.
In some Northeastern states, a shop can function as a designated representative, accordi to fellow "Repair University" panelist Larry Montanez (P&L Consultants). Insurers took this concept and spread it nationally, rationalizing, "'We would much rather argue with the body shop than with our customer,'" according to Eversman.
The problem: "It's not really legal," she said. In many states, the shop would be breaking the public adjuster law and technically even practicing law without a license. Either get a license, "or don't negotiate with the insurance company," she said.
Sample law
A look at our headquarters state of Michigan's law backs up this interpretation and, to Eversman's practicing law point, describes an attorney as basically the only person not already tied to insurers or adjusters who can serve as a public adjuster on behalf of the customer:
(1) A person shall not adjust loss or damage under a policy of insurance or advertise, solicit business, or hold himself or herself out to the public as an adjuster unless he or she is licensed as an adjuster.
(2) The following are exempt from licensure under subsection (1):
(a) A person admitted to the practice of law in this state.
(b) A marine average adjuster.
(c) An employee or manager of an authorized insurer adjusting loss or damage under a policy issued by the insurer.
(d) A licensed insurance producer to whom claim authority has been granted by an insurer.
(e) An individual who collects claim information from, or furnishes claim information to, insureds or claimants, and who conducts data entry including entering data into an automated claims adjudication system, if the individual is under the supervision of 1 or more licensed independent adjusters or an individual who is exempt from licensure under subdivision (c). As used in this subdivision, "automated claims adjudication system" means a preprogrammed computer system designed for the collection, data entry, calculation, and final resolution of portable consumer electronic insurance claims.
Licensing includes an exam, among other criteria. Anyone caught violating the law must pay up to $500 fine; if someone "knew or reasonably should have known" they were breaking the law, they can be charged up to $2,500 per violation for up to $25,000. (For our industry, it sounds like that would be be 10 repairs.) Keep doing it after a cease and desist from the state and you'd have to pay up to $50,000 in extra fines.
---
Learn how to negotiate, explain procedures at Repairer Driven Education
If you do want to act (legally) as a customer's negotiator or simply learn how to get a better deal with vendors, don't miss Keith Manich, Automotive Training Institute at "Preparing and conducting Negotiations for Collision Repair Shops."  Shops also might learn how to better communicate the need for certain procedures by attending Matthew McDonnell, Big Sky Collision Centers, at "Building a bulletproof estimate through proper documentation," or Jake Rodenroth, Collision Diagnostic Services, at "Building the Business Case for Diagnostics in Collision Repair." The sessions are part of the Society of Collision Repair Specialists' Repairer Driven Education Series Oct. 30-Nov. 3 during SEMA in Las Vegas. Register here for the individual classes or the series pass package deal.
---
Act like a doctor?
So what's the solution, short of having a licensed adjuster on staff to represent customers against the insurer? It's actually pretty simple, according to the show.
Do what the medical industry does with health insurance, Montanez suggested later in the program. Hand the customer the bill and let them battle the insurance company.
"Your job is just to fix the car," host Kristen Felder said. And from an insurer's perspective, "it's easier for me to browbeat a body shop than it is my customer," she said.
If you get a sonogram and the insurance company denies it, the doctor sends you a bill — and the customer doesn't perceive the doctor as the villain, Montanez said.
"You're mad at the insurance company," he said.
More information:
"Repair University LIVE: The Brewing Legal Storm (Presented by BASF)"
Collision Hub YouTube channel, Aug. 25, 2017
Featured image: Is your shop battling the insurer over a vehicle repair instead of letting your customer do it? In many states, you might actually be breaking the law if you lack a public adjuster's license. (Geber86/iStock)
Share This: