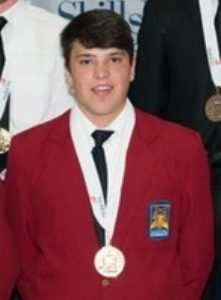 The Society of Collision Repair Specialists announced Tuesday it had partnered with the March Taylor Memorial Fund and Snap-on for $1,250 tool scholarships to the four 2017 collision repair and refinishing SkillsUSA gold medalists.
SCRS said it was the third year it and the fund named after its former board member had recognized the winners in that fashion.
"This is a way to fill a very critical gap in the future of our industry," Chairman Kye Yeung, a former SkillsUSA judge, said in a statement Tuesday. "We need to get kids, and their families to see trades as a viable future, because the country needs talented, ambitious kids to fill the technical roles in working on the highly-sophisticated vehicles we are presented with. We want to honor and encourage the ambition these competitors have demonstrated and I want to see SCRS working to help students like these find really rewarding careers in our industry."
SCRS announces March Taylor Kina'ole award, rest of Red Carpet Breakfast honors
Alan Zimmerman of the Sentinel campus of Vanguard-Sentinel Career and Technology Centers (Tiffin, Ohio) won his second high school collision repair technology SkillsUSA gold in June, and fellow Vanguard-Sentinel CTC student Dylan Wertz won gold in the 2017 high school automotive refinishing technology category.
Joel Hartstack of Southwestern Community College (Creston, Iowa) took home the collision repair technology college gold, and Dylan Ahrndt of Ridgewater College-Willmar (Willmar, Minn.) won the college-level automotive refinish technology competition.
"Snap-on is a longtime supporter of SkillsUSA," Snap-on industrial-education national sales manager Greg Rintala said in a statement. "SkillsUSA along with the technical training programs in high schools and colleges in the USA are part of the solution to the skills gap. Teaming up with SCRS and the March Taylor Memorial Fund to give these winners the professional tools they need will ease their way to learning their craft and performing their job when they get out in the workplace. That should help them lead a successful life with a dignified career supporting themselves and their families."
SCRS might have another resource for talented students. In 2016, it launched the SCRS Career Center, a job board which features not just collision repair opportunities but those from other relevant partner industry groups, such as SEMA and the Auto Care Association. As of August, SCRS' postings were also available on Google for Jobs.
SCRS details: www.scrs.com, 1-877-841-0660 or info@scrs.com.
March Taylor Memorial Fund details and donations: www.marchtaylormemorial.com.
More information:
"SCRS and March Taylor Memorial Fund Award SkillsUSA Gold Medalists Tool Scholarships Through Snap-on"
Society of Collision Repair Specialists, Sept. 5, 2017
Images:
Alan Zimmerman, a 2016 Collision Repair Education Foundation Student of the Year. (Provided by Collision Repair Education Foundation)
This gallery shows images from the 2017 SkillsUSA collision repair and automotive refinishing technology categories at Nationals. (Craig Moore for SkillsUSA; provided by SkillsUSA)
Share This: