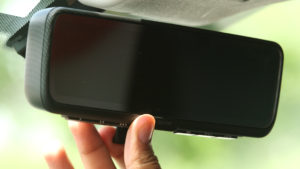 Nissan: 2018 Armada Platinum rearview mirror can switch to LCD display with camera feed
By on
Market Trends | Technology
Nissan late last month announced it would offer an "Intelligent Rear View Mirror" which can offer both a typical reflection and an LCD display from a rear-facing camera.
This feature, similar to one GM offers on certain trims on the 2017 Cadillac CT6, will be standard on the Platinum Armada.
That variant doesn't come cheap; the Platinum 4×2 is $58,690, and the 4×4 Platinum is $61,590. But while it might be rarer than other Armadas (and the entire Armada line only sold 14,035 last year), it's still yet another piece of technology of which a repairer should be aware. That screen/mirror combo and what might be an additional camera required to use it will increase severity, and their existence likely means more calibration will be necessary.
Switching from a low-tech mirror to the LCD display has many benefits besides giving Nissan bragging rights for being an "(e)xclusive in the full-size non-luxury SUV segment." It allows a driver better visibility in situations where the typical rear view is obstructed by a headrest, tall passenger or objects carried in the back of the SUV; it compensates for glare and low light; and it shows more of the view behind the car. These kinds of benefits make a good case for granting automakers' request for exemptions from traditional mirror rules.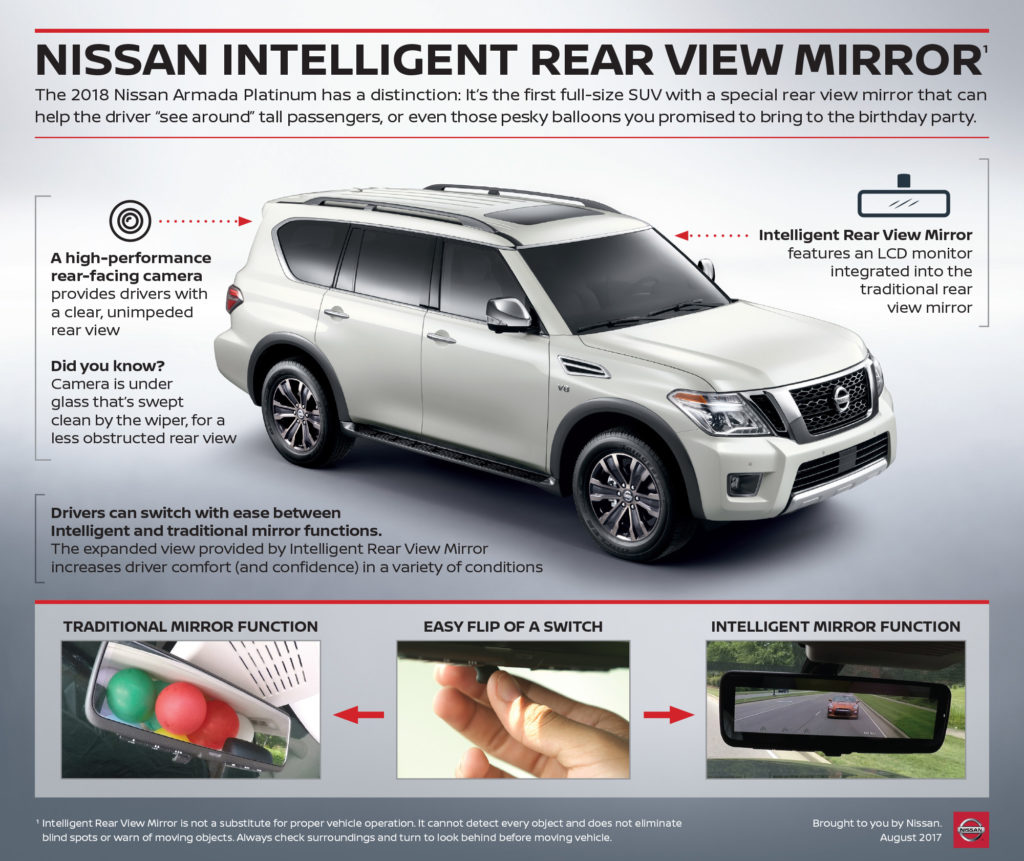 "Not since a magic mirror of children's fables has a mirror seemed to have such special powers as the new I-RVM," Nissan product planning Vice President Michael Bunce said in a statement. "It provides a clear, expanded field of view under a wide range of conditions – giving the driver the best possible view of the rear flanks no matter how tall the passengers in the back seat or how many balloons you have to take to that party."
It's unclear where the kind of conventional rearview camera systems required as of the 2018 model year fit into the equation on the Platinum Armadas. If another camera is required, then that would obviously add additional severity from both the tech's replacement cost as well as the labor necessary to calibrate it.
"Nissan's new I-RVM utilizes a high-performance, narrow-angle camera and a specially shaped LCD monitor, with a unique aspect ratio of approximately 4:1, versus conventional monitors' 4:3 or 16:9," the OEM wrote in a news release. "Matching a standard wide-angle camera lens to this monitor could not be done since the images from the camera, when adjusted to the special monitor size, produced a low-resolution image with insufficient picture quality. To overcome this challenge, a narrow-angle camera was developed so that picture quality would not be sacrificed when formatted for the specially designed monitor."
The system also works while the Armada is in drive, something the traditional RearView Monitor doesn't appear to do. The new system can be activated on the fly without creating complications, according to Nissan.
"When the LCD monitor and mirror are used in unison, the transparency of the monitor and the reflection in the mirror can create an image overlap – a dual layered effect – making it difficult to get a clean view," Nissan wrote. "But with I-RVM, Nissan applied a special technology to the structural design of the LCD monitor and the mirror, enabling it to function without any image overlaps."
More information:
"Nissan technology leadership continues with introduction of Intelligent Rear View Mirror on 2018 Armada SUV"
Nissan, Aug. 30, 2017
"BACK IT UP, BACK IT IN: NISSAN'S CAMERA MONITORING TECHNOLOGY"
Nissan, June 13, 2017
Featured images: Nissan late last month announced it would offer an "Intelligent Rear View Mirror," which can offer both a typical reflection and an LCD display from a rear-facing camera, standard on the 2018 Nissan Armada Platinum. (Provided by Nissan)
Share This: