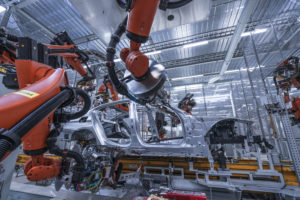 BMW this summer shared some of the new lightweighting innovations that helped the OEM cut weight from the next-generation 5 Series and offered a glimpse of future tactics.
Some of the methods discussed by BMW head of lightweight design and vehicle weight Florian Schek during the Center for Automotive Research's Management Briefing Seminars might affect collision repair — particularly BMW's exploration of joining steel to aluminum.
Schek July 31 said one example was the rear side member on the 7 and 5 Series, which consolidated 18 parts into a single aluminum cast element and saves 24 pounds. (It's unclear what this does to repairability, on the other hand.)
"That's a part of the architecture," Schek said.
BMW also looked to cut mass out of the outer shell weight with aluminum — and in the cases where already had used the metal, "we tried to optimize it more," Schek said.
The OEM switched from crimping and bonding all-aluminum doors to laser-welding aluminum outers to steel inners, cutting at least 13 pounds out of the car, according to Schek.
Asked about the repairability of the door skin once crimping and bonding the door skin was replaced by laser welding (a shop can do one, but not the other), Schek said he wasn't an expert on BMW collision repair but he thought a door in a collision would be "completely exchanged."
Replacing a door skin "doesn't make any sense because of the labor cost," Schek said. It seemed to make more sense just to install a new factory door, he said.
---
Learn about lightweighting, joining during Repairer Driven Education
Learn about lightweighting and joining during SEMA with Ken Boylan of Chief at "Current and Future Technologies 2017 and Beyond"; Toby Chess of Kent Automotive at "Adhesive Joining in Modern Repairs"; Dave Gruskos of Reliable Automotive Equipment with "Get Attached to Following Procedures: A Comprehensive Guide to OEM Joining"; and a panel of OEM Collision Repair Technology Summit experts at"How Automotive Research is Driving Change." The sessions are part of the Society of Collision Repair Specialists Repairer Driven Education Series Oct. 30-Nov. 3. Register here for individual classes or the series pass package deal, which includes the entire week of classes, all three parts of the OEM Summit and the Nov. 2 Sky Villa afterparty.
---
Another piece of weight reduction can be found on the 5 Series' iPerformance variants. The OEM used cast aluminum for the plug-in hybrid's battery case and integrated crash load paths into the part to knock 40 pounds out of the vehicle.
Schek elaborated in an interview that the challenge for designers is to maximize battery space (for range) but surround it with something strong enough to hold up in a collision.
"The guys from the factory say, 'We don't want to see any intrusion into the battery,'" Schek said. Otherwise, problems like battery damage and "thermal issues" might result, he said.
So the OEM designed the case to direct crash energy from a side impact around the battery and "spread it out," according to Schek.
Each OEM might tackle that challenge in its own way, he said, citing the Chevrolet Bolt's alternate use of the vehicle body to protect its battery in a collision.
Schek said that in the future, BMW would like to make the outer shell of its architecture aluminum, but the inner frame might have to remain steel to achieve the proper crash safety.
"That means you need to combine the aluminum and the steel," he said.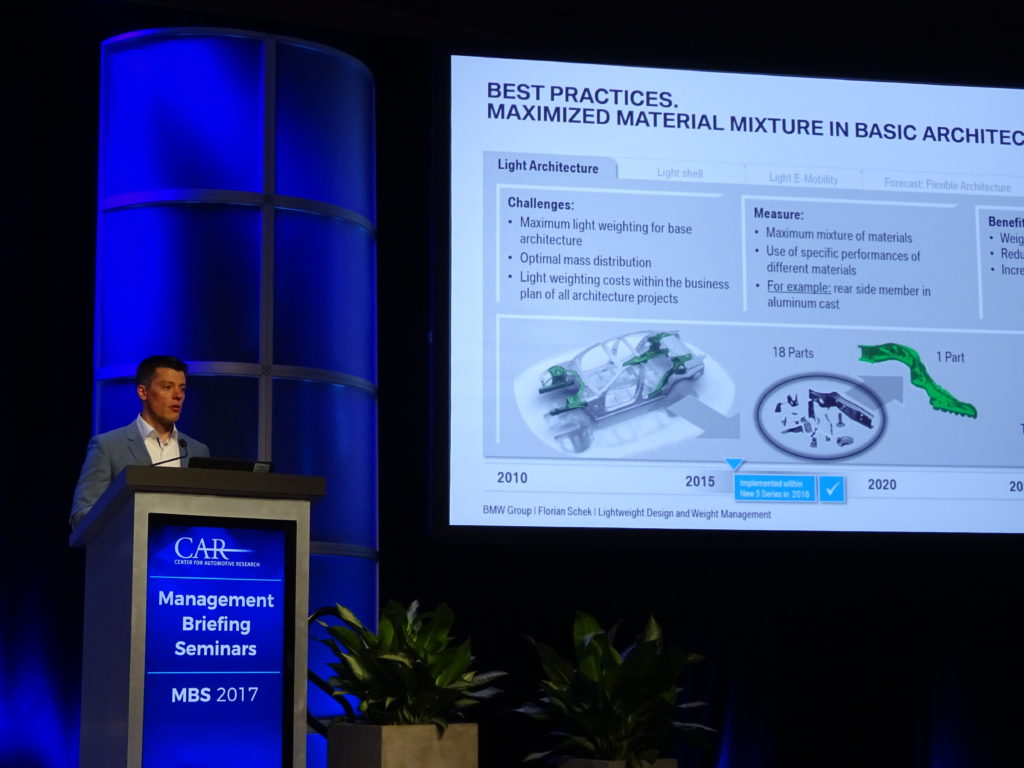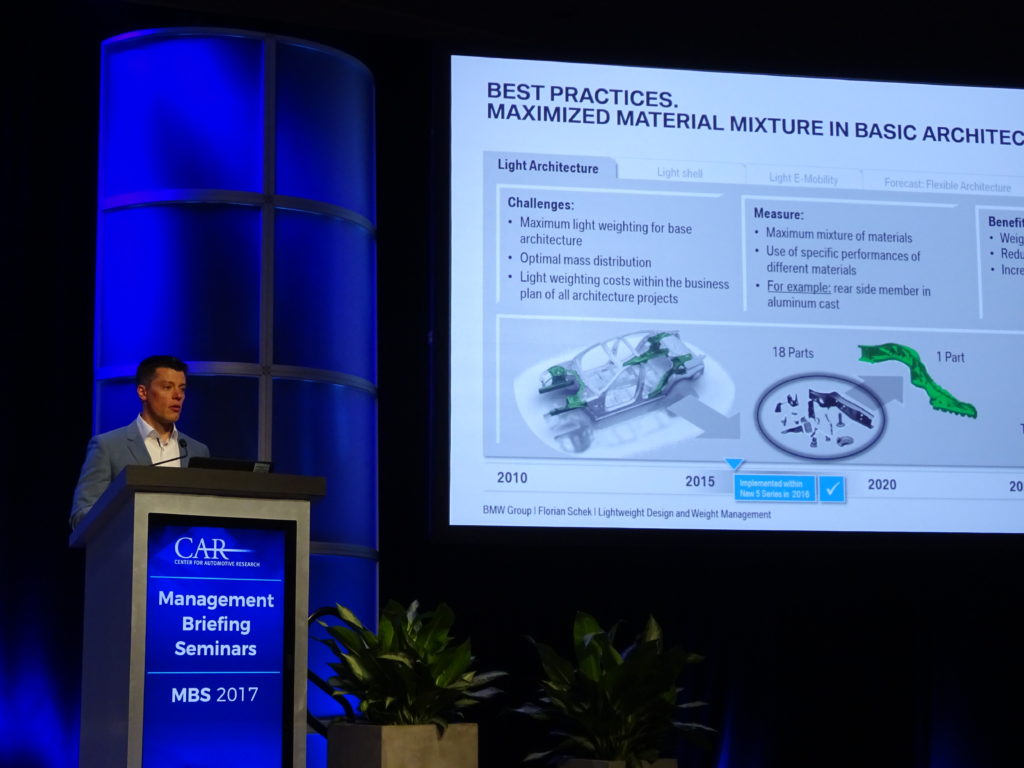 BMW might have to develop a new process of adhesives and roll forming to crimp and glue the outer around the inner steel subframe, according to Schek. (Generally, aluminum and steel can't touch, or else one risks galvanic corrosion.) The problem comes with integrating it into a factory, as the assembly line would have to handle both the older format and the new lightweighted design, he said.
The OEM would prefer not to bring in a new joining process, and it's examining if it can make the existing welding setup work, according to Schek. BMW is considering attaching the aluminum to steel using counter-stand element welding on the existing welding line, he said, and "this is something we are currently trying out" at the company's Dingolfing, Germany, plant.
Asked during a panel discussion if lightweighting vehicles reduces their safety, Schek dismissed the idea.
"It has nothing to do with weight, in the end," Schek said. BMW must meet the same crash tests with a light car as it does with a heavy one.
Besides, lighter cars often rely on materials like higher-strength steels, he said, and "there's higher performance in it" for the weight compared to something like mild steel.
Images:
A 5 Series underbody structure is welded in BMW's Dingolfing, Germany, plant in October 2016. (Provided by BMW)
BMW head of lightweight design and vehicle weight Florian Schek speaks July 31, 2017, during the Center for Automotive Research's Management Briefing Seminars. (John Huetter/Repairer Driven News)
Share This: