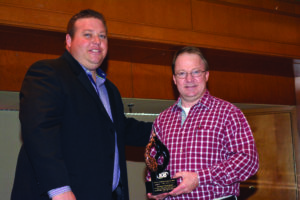 Howard Batchelor, who led the Georgia Collision Industry Association for nearly two decades, died Tuesday after a long battle with a brain tumor. He was 47.
The GCIA shared the news with the industry Tuesday in a Facebook post and on its website.
"The GCIA Board is very sad to share with you that our long-term Executive Director, colleague, and friend, Howard Batchelor, passed away this morning," the board wrote. "As many know, he had been battling an inoperable brain tumor, and now the battle is over and he is at eternal rest.
"Howard was highly respected in our industry and a friend to all. He will be greatly missed and especially by the Georgia Collision Industry Association. Our deepest sympathies go out to his family and friends."
"He fought a hard battle," board member Michelle Coombs (Sports & Imports) said Tuesday. Batchelor was diagnosed a few years ago, she said.
Board member Gregg Goff (FinishMaster) said the group had hoped to honor Batchelor in person at its upcoming Oct. 10 Annual Invitational Golf Tournament.
"We didn't know this was going to be so quick," Goff said.
"The GCIA Tournament was Howard's 'baby,'" the GCIA site states. "Let's all come out and support this tournament, not only to benefit collision education but in memory of Howard, too."
Batchelor was born Sept. 1, 1970, in High Wycombe, England, and moved to Georgia at the age of 6. He became the executive director of the GCIA in 1998, two years after starting as a director of business development at FinishMaster, according to his LinkedIn profile.
Coombs said Batchelor was around for the start of the GCIA while working under founder David Bourne of FinishMaster.
Batchelor "took a very important role" of handling the administration for the fledgling group, which had just a few shops at the time, Coombs recalled.
"Those accomplishments gained him the title of executive director," she said.
At the GCIA, "Howard always took the lead," according to Coombs. The trade group was never asked to do anything that "Howard wasn't there first."
Goff and Coombs recalled the GCIA launching labor rate surveys under Batchelor's tenure.
"I think Georgia was one of the first states to do that," Coombs said.
Goff remembered visiting the Legislature with Batchelor to express the GCIA's view on an aftermarket parts issue against about "30 other people on the other side."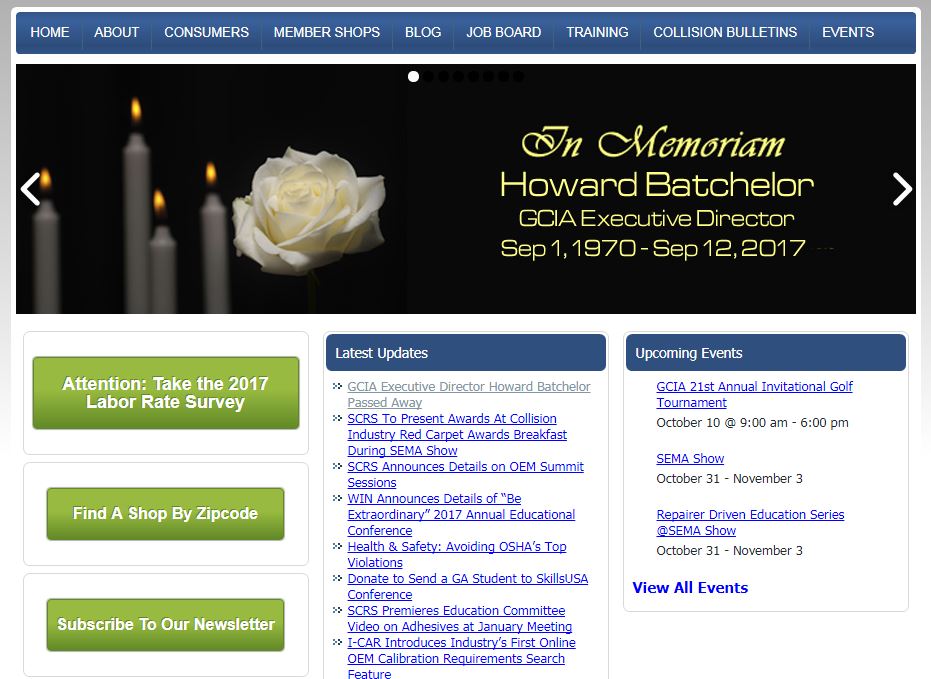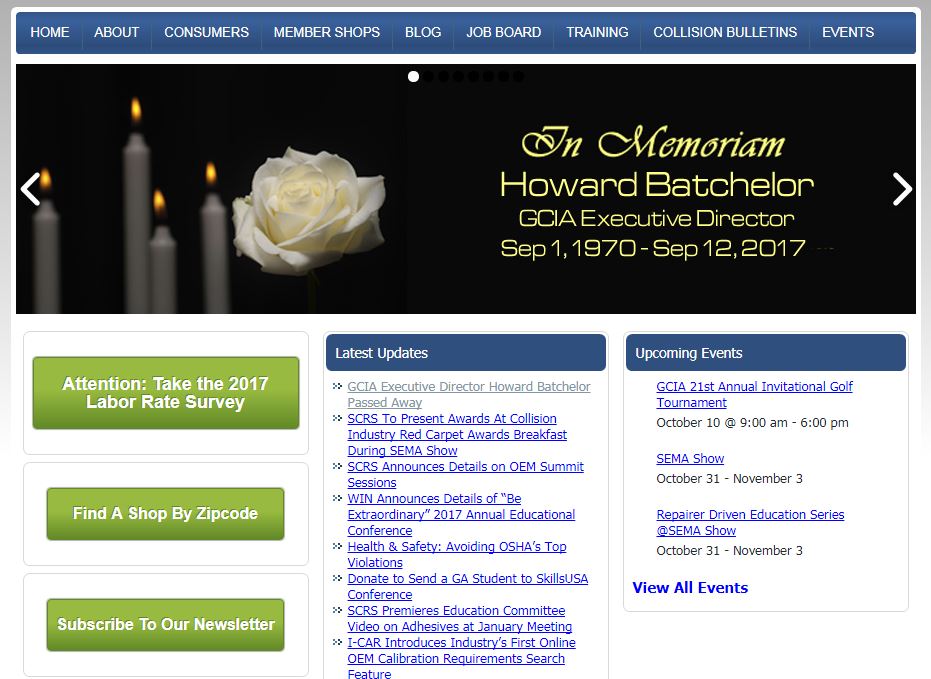 "Howard was instrumental in that," he said. GCIA ultimately didn't win, but "we made our voice heard."
Coombs said Batchelor also "truly had a passion" for making sure shops were able to properly repair cars for customers, and "he also was very passionate about the extrication seminars" to help first responders save occupants of more advanced vehicles.
She also recalled Batchelor recognized the challenge of a volunteer-only trade group.
"He always stressed to our members how important it is to volunteer," Coombs said.
Batchelor led by example in this regard.
Coombs described him as "all around a great guy" who "would give you the shirt off his back." Goff described Batchelor as a "workaholic" who at FinishMaster taught shops about items like estimating procedures and accounting and spent the rest of his time working for the GCIA.
Otherwise, "he was playing fantasy football," Goff joked. Batchelor enjoyed sports and "definitely was a big UGA fan," he said.
In 2015, the Society of Collision Repair Specialists presented Batchelor with its Collision Achievement Award for his detailed research into paint and materials taxes — and double taxation — across the country.
Batchelor had demonstrated that five states —  Connecticut, Hawaii, Indiana, New York and Rhode Island — taxed both an auto body shop for buying paint and materials and then the customer with the final bill. He also showed the P&M tax environment in nearly every other state.
Survivors include his mother, Jean Batchelor; sister, Wendy Brock; and brother, Russell Thomas.
Memorial services are scheduled for 2:30 p.m. Sept. 20 in the Chapel of Roswell United Methodist Church, 814 Mimosa Blvd, Roswell, GA.
Messages of condolence can be left online at Ingram Funeral Home of Cumming, Ga.
In lieu of flowers, donations can be made to the Collaborative Ependymoma Research Network of the CERN Foundation, P.O. Box 217, Zionsville, IN 46077.
More information:
"GCIA Executive Director Howard Batchelor Passed Away"
Georgia Collision Industry Association, Sept. 12, 2017
Howard Batchelor obituary on Ingram Funeral Home website
Georgia Collision Industry Association website
Images:
In 2015, the Society of Collision Repair Specialists presented Georgia Collision Industry Association Executive Director Howard Batchelor, right, with its Collision Achievement Award for his detailed research into paint and materials taxes nationwide. (Joel Gausten/Hammer and Dolly)
The Georgia Collision Industry Association website remembered late Executive Director Howard Batchelor on Sept. 12, 2017. (Screenshot from www.gcia.org)
Share This: