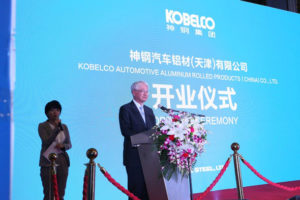 Kobe Steel announced this week that thousands of tons of metals shipped to OEMs since last year potentially were improperly represented as meeting specifications.
The supplier wrote in a news release Sunday that inspection certificates were "improperly rewritten, etc." for 19,300 tons of flat-rolled aluminum sheet and extrusions shipped between Sept. 1, 2016, and Aug. 31. Another 19,400 units of cast and forged aluminum during that time also carried what the company characterized as similar "improper conduct."
About 2,200 tons of copper tubes and strips also might have been incorrectly declared to meet quality standards.
"This incident of improper conduct came to light following self-inspections and emergency quality audits of the compliance status of contracts executed as to products shipped over the past year," Kobe Steel wrote Sunday.
However, Bloomberg Markets reported that Kobe Steel had later in the week said the misrepresentations at aluminum plants were systemic and might have dated back 10 years for some aluminum items.
The Financial Times reported Wednesday that Kobe Steel had added steel powder, used in parts like gears, to the lineup of questionable materials supplied.
"Causing this serious matter has brought overwhelming shame to the Company," Kobe Steel wrote Sunday. "The Company deeply regrets this incident and sincerely apologizes for the enormous worry and trouble this incident has caused to its customers and other related parties. The Company will report again as further progress of the investigation is made."
Bloomberg Markets suggested that several OEMs might have been affected, including Ford, General Motors, Honda, Subaru, Nissan, Mitsubishi, Suzuki and Toyota.
"For customers to which these nonconforming products were shipped, the Company has begun contacting them one by one and explaining the situation," Kobe Steel wrote Sunday. "The Company has been carrying out technical verifications with its customers on the impact of the nonconforming products on quality (including safety) of the end products. The Company has also been conducting an investigation on the facts pertaining to the improper conduct and an investigation as to whether or not similar improper conducts exist in its other business units. Verification and inspection to date have not recognized specific problems casting doubts on the safety of the nonconforming products. In the event that doubts arise on the safety of the nonconforming products, the Company will quickly take appropriate action."
Bloomberg Markets reported that Toyota said it found Kobe Steel materials with allegedly faked data on what the news service characterized as "hoods, doors and peripheral areas," and Honda had used such content in hoods and doors.
Subaru, Nissan, Mazda, Honda and GM have confirmed to Repairer Driven News that they're investigating materials supplied by Kobe Steel.
"We have confirmed that aluminum from Kobe Steel is used in the hoods and doors of some of our vehicles," Nissan group communications Director Brian Brockman wrote in an email. "However, on your question of models affected, we are currently looking into that. I do not yet have specific details to share."
"Aluminum from Kobe Steel is used in the hood of some models," Mazda operations spokeswoman Carley Hummel wrote in an email. "We are still investigating the details."
Asked what a shop who might have installed a questionable part or is working on a potentially affected Mazda should do, Hummel wrote: "With the safety and peace of mind of our customers as our highest priority, we will continue gathering information and quickly investigate the impact on vehicle quality while investigating what actions to take moving forward."
A Subaru spokesman wrote that they were investigating the issue and more details would be available later.
GM had a similar response: "General Motors is aware of the reports of material deviation in Kobe Steel copper and aluminum products.  We are investigating any potential impact and do not have any additional comments at this time."
Honda spokesman Chris Martin didn't confirm the hood issue Bloomberg Markets reporting, stating only: "We're still in the process of evaluating any potential effect on Honda vehicles.  We will continue to investigate for further details and will respond, if needed, in order to ensure our customer's safety."
Suzuki, which used to sell cars in the U.S. during the time period Bloomberg Markets reported, confirmed that none of its cars had Kobe Steel aluminum or copper, but it was checking on its motorcycles.
"Suzuki can confirm that none of its automobiles use the affected aluminium and copper products supplied by Kobe Steel, Ltd.," Suzuki said in a statement. "Our internal investigation found that they are used for some of our motorcycle products of which the details are still under investigation. Suzuki puts very high priority on the safety of our customers and will continue a full investigation on product quality and take any necessary measures. Suzuki is currently also investigating whether our Tier 1 suppliers use the products of Kobe Steel, Ltd"."
Continue to check Repairer Driven News for updates.
For body shops and mechanics, there might be little to do except monitor the situation and educate customers that a recall could be possible, particularly on exterior panels and closures. The issue also lends weight to auto recyclers' push for a means of part-specific, rather than vehicle-specific, recall tracking.
More information:
"Steel Firm Faked Data for Metal Used in Planes and Cars"
Bloomberg Markets, Oct. 10, 2017
"Kobe Steel shares plunge as scandal widens"
Financial Times, Oct. 11, 2017
Featured image: Kobe Steel CEO Hiroya Kawasaki, right, appears at the May 19, 2017, inauguration of an automotive aluminum plant in China. (Kobe Steel file)
Share This: