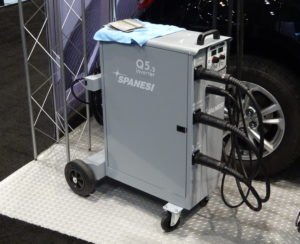 SEMA attendees shouldn't pass up a chance to enter and win the Spanesi Q5.2 Synergic Inverter MIG/MAG welding package being given away by the Society of Collision Repair Specialists and Spansei.
The welder, valued at more than $8,500, sports aluminum, silicon bronze and steel torches and the accompanying wire. The package also includes what SCRS described Tuesday as "an additional spool of Honda wire" — a reference to the 980-megapascal MAG welding wire Honda has demanded shops use since 2009. (The OEM also requires the silicon bronze MIG-brazing wire to be 0.8 mm-wide ERCuSi-A or CuSi-3.)
The 208-230V, single-phase, double-pulse welder has settings for "most popular wires, thicknesses and material," SCRS wrote. Spanesi said the welder also meets the Assured Performance requirements, which would make it approved for Ford, FCA, Nissan, Hyundai and soon Kia OEM certified shop networks.
The drawing for the welder will be held at noon, Friday, Nov. 3, at the SCRS booth, North Hall No. 11173. To enter, you'll need to do a little legwork.
First, visit the SCRS booth a couple of days before the drawing and collect a "report card" of companies which SCRS said "generously supported" the Repairer Driven Education series. (And if you haven't signed up for those classes yet, you're missing out on knowledge that could "win" you far more than $8,500 in improved shop business practices and reduced liability/bring-backs.)
Then, visit each supporting company's booth — which you were probably going to do anyway, judging by the sponsor lineup — and receive a stamp from that sponsor. Once you've collected all the sponsors' stamps, drop the card off at the SCRS booth before 11:59 a.m. on Friday, Nov. 3, to enter the drawing.
SCRS on Tuesday credited AkzoNobel; the Alliance of Automotive Service Providers; Audatex; Auto Care Association's Paint, Body and Equipment Specialists arm; Axalta; BASF; CCC; Celette; DeBeer; Enterprise; Estify; Ford; General Motors; Honda; PPG; Pro Spot; Reliable Automotive Equipment; Sherwin-Williams; Spanesi; Speciality Equipment Market Association (SEMA); and Toyota.
"It is such an honor to work with sponsoring companies like Spanesi to get great equipment like this into the hands of those who are here at the Show to better their business," SCRS Chairman Kye Yeung said in a statement. "It is such a generous way to support the industry, the education series and SCRS. I know that whomever is fortunate enough to be pulled in the raffle will get exceptional value from the equipment!"
Details: www.scrs.com, 1-877-841-0660, info@scrs.com; and www.spanesi.com.
More information:
"WIN a Spanesi Welder as Mega Prize from SCRS Booth at SEMA"
Society of Collision Repair Specialists, Oct. 17, 2017
SCRS YouTube channel, Oct. 12, 2017
Featured image: A Spanesi Q5.2 Synergic Inverter MIG/MAG welder stands at the Spanesi booth at NACE 2017. (John Huetter/Repairer Driven News)
Share This: