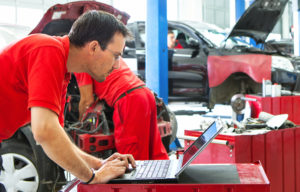 Though usage has again ticked up since the prior year, the number of shops reporting consistently consulting OEM procedures still remains far lower than where it ought to be, the most recent "Who Pays for What?" survey concluded.
CRASH Network and Collision Advice reported that a larger proportion of the 494 respondents reported checking OEM instructions at least "some of the time" than in 2016.
The percentage of shops who looked up OEM repair procedures "most of the time" or always grew to 48.8 percent, up from 48.2 percent in 2016 and much better than the 42.7 percent in 2015.
"However, at the end of the day, this should still be done 100 percent of the time," Collision Advice CEO Mike Anderson wrote in the report, released in October as the latest "Who Pays for What?" survey began. (Get a copy of the "Who Pays for What?" frame and mechanical results here.)
The latest survey, which asks about insurer receptiveness to shop supply and aluminum repair charges, is open to the industry through Oct. 31. Owners, managers or estimators are urged to complete it here, and participants will receive a free copy of the subsequent "Who Pays for What?" quarterly report. All responses are kept confidential; only aggregate statistics appear in the document.


It'll be interesting to see if the July 2018 "Who Pays?" survey records a greater use of OEM repair procedures in light of the $31.5 million verdict against a shop  who the jury found exacerbated the injury to a couple in a fiery collision by deviating from Honda's instructions on repairing their 2010 Fit.
Plaintiffs' attorney Todd Tracy's announcement of the lawsuit came in late July, after presumably some of the "Who Pays?" participants had already given their responses. The verdict came in Oct. 2.
---
Learn more from Anderson, about repair procedures at RDE classes
Learn more from Collision Advice CEO Mike Anderson during the SEMA show with "100% Disassembly Best Practices – with Parts Mirror Matching." Looking for more guidance on OEM repair procedures? Try Dave Gruskos of Reliable Automotive Equipment's "Get Attached to Following Procedures: A Comprehensive Guide to OEM Joining" or Larry Montanez of P&L Consultants' "How to Find, Read and Understand OEM Repair Procedures." The sessions are part of the Society of Collision Repair Specialists' Repairer Driven Education Series Oct. 30-Nov. 3. Register here for the individual classes or the series pass package deal.

---
The study does seem to indicate shops shifting into categories where they're at least accessing repair procedures more frequently. For example, more shops reported checking instructions "most" or "some of the time" than in 2016, while the percentages reviewing them "only occasionally" or "never" both fell. Unfortunately, the number of shops checking them on every repair fell 0.3 percentage points.
"Some shops think if they fix the same type of vehicle frequently, they don't need to check those procedures every single time," Anderson wrote. "Earlier this year, when you replaced a quarter-panel on a Ford Mustang, the procedure required replacing the roof as well. Today, Ford has a sectioning procedure. So it's important to research it every time because things change. On a 2009 Toyota Corolla, two years ago Toyota said if you R&I the airbag in the headliner area, you had to replace it. It was a non-reusable part. Today, Toyota makes the clips for that available separately so you don't have to replace it. One vehicle manufacturer last year changed the way to replace their pick-up bedside four times. You need to research that information every time, and save it on file, so if you ever get audited for whatever reason, you can say, 'The reason we did this procedure was because this is how the OEM said to do it at that time.'
"It is my opinion, and I feel I can't say this enough, that it is impossible to write a proper and safe repair plan, or repair a vehicle after a collision, unless you absolutely, 100 percent of the time, research the OEM repair procedures." (Emphasis ours.)
The "Who Pays?" survey also shows an interesting increase in the percentage of shops using I-CAR's Repairability Technical Support portal and actual OEM websites to access procedures.


46.6 percent of the 1,057 respondents said they used the I-CAR RTS, which provides links to the actual OEM websites as well as additional commentary by I-CAR, an increase of nearly 6 percentage points since the 2016 survey. The formal OEM websites saw nearly a 10-point jump from 2016.
ALLDATA remained ahead of them both at 68.2 percent, down slightly from the 68.8 posted in 2016.
Shops were allowed to select more than one answer, so it's hard to read too much into this growth and decreases in some of the third-party aggregators. However, the increased use of the I-CAR and actual OEM sites might be welcomed by automakers and others who argue that the third-party repair instruction aggregators can't keep up with the actual OEM procedure websites.
More information:
2017 "Who Pays for What?" frame and mechanical results
Take the 2017 aluminum/shop supplies "Who Pays for What?" survey
Images:
It is important to consult OEM repair procedures before every repair, even on a familiar vehicle, as automakers might have changed them. (gilaxia/iStock)
Though usage has again ticked up since the prior year, the number of shops reporting consistently consulting OEM procedures still remains far lower than where it ought to be, the most recent "Who Pays for What?" survey found. (Provided by Collision Advice and CRASH Network)
The 2017 "Who Pays for What?" survey also shows an interesting increase in the percentage of shops using I-CAR's Repairability Technical Support portal and actual OEM websites to access procedures. (Provided by Collision Advice and CRASH Network)
Share This: