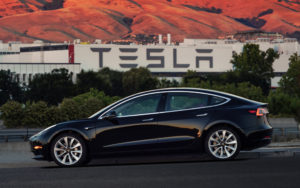 Just because a vehicle hasn't gone completely aluminum or some other exotic material doesn't mean it won't bring additional complexity to shops — or even an OEM.
A fascinating Monday Automotive News article features interviews with two manufacturing consultants discussing how the mixed-material Model 3 might be posing difficulties for Tesla not encountered on the predominantly aluminum Model S and X.
The discussion surrounds how the mass-market, sub-$35,000 electric vehicle is being joined at the company's Fremont, Calif., headquarters. Tesla CEO Elon Musk recently posted a video of the company's Model 3 auto body assembly line running at a tenth of normal speed.
Agile Group auto manufacturing consultant Michael Tracy told the newspaper that the video indicates erroneous spot welds.
"Resistance welding should make a little smoke, but when you see stuff popping out like that, that's called expulsion," Tracy told Automotive News. "It's symptomatic of weld spots getting too hot because they're poorly planned, or in this case, the metal not being pulled all the way together."
Tracy echoed comments from Dorn's Body & Paint owner Barry Dorn on a recent Society of Collision Repair Specialists video on spot welding.
Technicians might also carry a misconception of a proper weld's appearance, Dorn said. When one sees videos from a manufacturer's factory, "you see sparks flying," he said. This leads some technicians to think the sparks are "indicative to a good weld."
But if sparks are flying from a squeeze-type resistance spot weld, "that means it's not good," according to Dorn. The welder wants to achieve "as little spark as possible," he said.
"You'd be surprised the amount of people that don't know that," he said.
Tracy also told Automotive News that bad welding can decrease crashworthiness and produce squeaking and rattling — concerns that should be on auto body shop welders' minds as much as OEMs.
Oliver Wyman manufacturing consultant Ron Harbour told Automotive News that the difference between the Model 3 and Models S and X was "partly cloudy vs. partly sunny," and the Model 3 required more welding, producing a "pretty steep" learning curve compared to the the more aluminum-intensive predecessors.
"As we've always acknowledged, it will take time to fine-tune the line for higher volumes, but as we have also said, there are no fundamental issues with Model 3 production or its supply chain, and we are confident in addressing the manufacturing bottleneck issues in the near-term," Tesla told Automotive News. "There's a reason it's called production hell."
Musk also on Oct. 12 posted an Instagram video of the Model 3 body panel stamping running at full-speed, in case anyone's interested.
Mixed materials
Collision repairers need to prepare for increasingly mixed-material vehicles like the Model 3, which are seen by lightweighting analysts Ducker Worldwide as the solution to reach what it views as a likely goal of cutting 7 percent of vehicle mass by 2028 to meet federal CAFE emissions standards.
BMW, for example, has floated the idea of an architecture with a steel skeleton but an aluminum shell, requiring new joining techniques. For example, the doors on the 5 Series have been converted from a crimped and bonded all-aluminum format on the 2017 model to an aluminum outer laser-welded onto a steel inner with the next-generation 2018 edition.
Ducker Worldwide, which this summer produced for the Aluminum Association the latest in a series of reports projecting future lightweighting trends, didn't expect mixed-material vehicles to be feasible when it published the last study just three years ago, the association's Doug Richman said in a recent WardsAuto webinar.
Now, multimaterial body design is expected to be a "very widespread" philosophy for that 7 percent cut through 2028, said Richman, vice president of engineering for Kaiser Aluminum, citing the Ducker study. (If the Trump administration drops all post-2020 CAFE standards, mass only drops 4.5 percent; read more about that materials scenario here.)
OEMs just didn't have the expertise to pull off mixed-materials in 2014, according to Richman. But mixed-material design is today a "standard of the industry" and seems to be a "very durable trend," he said.
To achieve the 7 percent mass reduction by 2028 (or 2025, the target date potentially up for compromise), "all of the materials, all of the advanced materials … will be critical" to cut what would be an average of 270 pounds of a vehicle's 2015 mass, Richman said.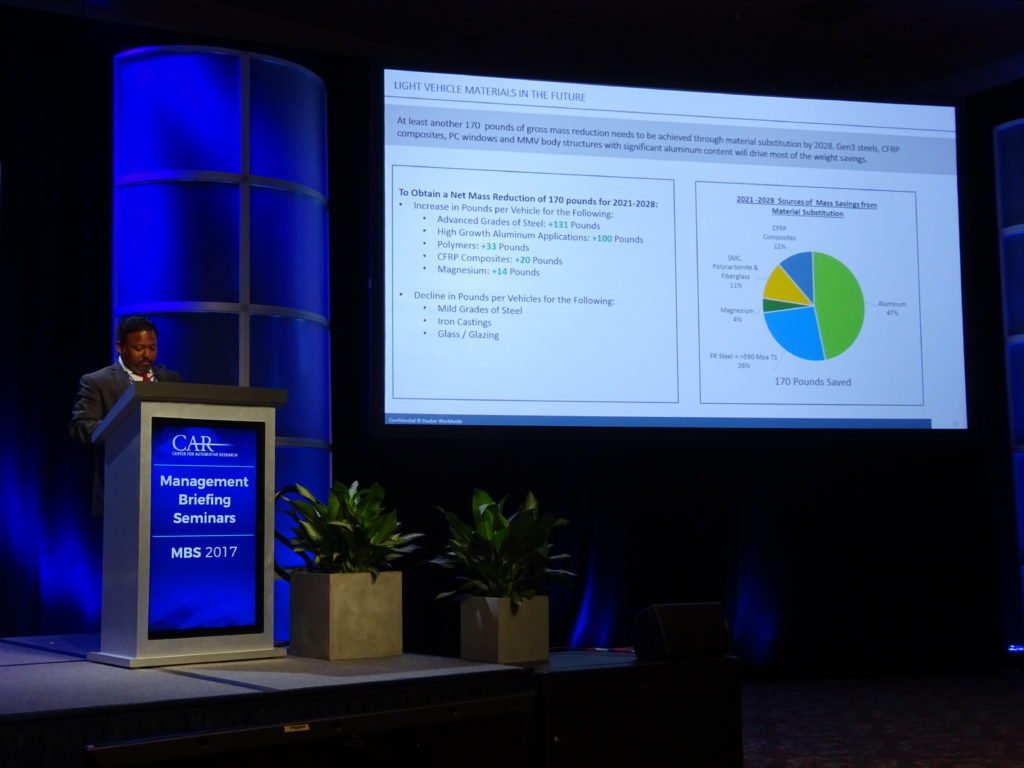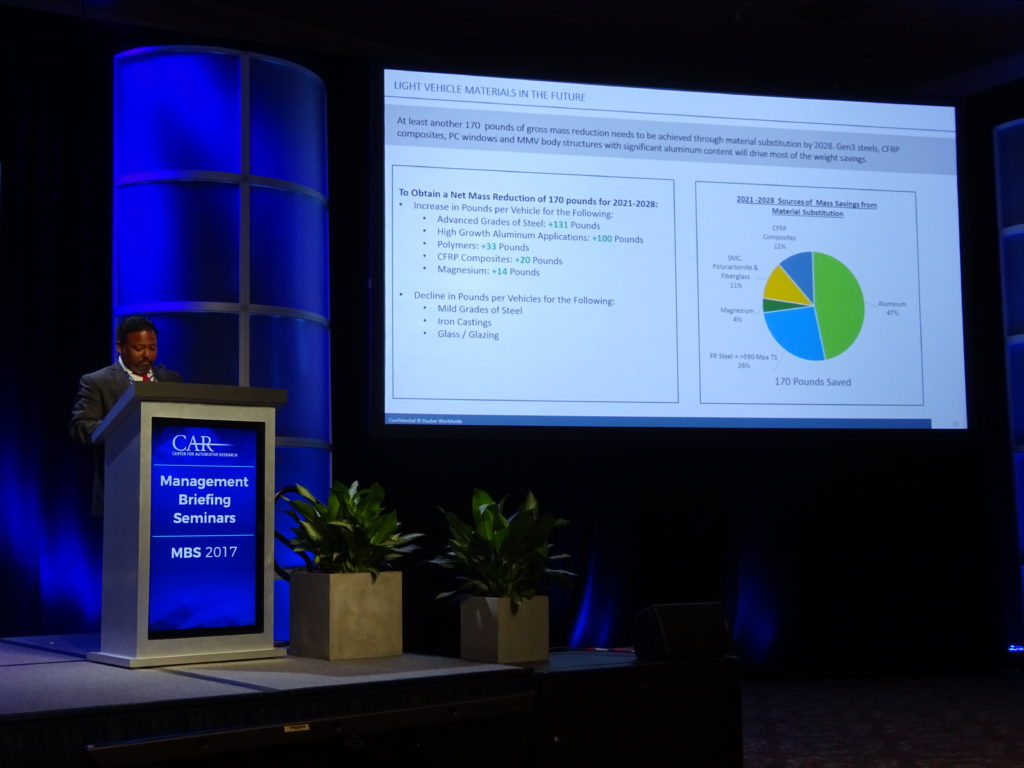 Joining posed a "major impediment" to mixed-material vehicles and even a switch to a predominantly aluminum design, according to Richman.
"That technology has just leaped forward" in the past few years, he said — and it was just in the "early stages."
"It will continue to get better for quite some time," Richman said. He said the study found that 25 percent of all vehicles would have aluminum components on the body-in-white by 2028 under the 7 percent projection.
Two-thirds of a body structure isn't strength-dependent, Richman argued (stiffness, perhaps, but that's different than strength, he said). While higher-strength steel "helps tremendously on strength-dependent parts," the rest of the body is up for grabs and poised for a mixed-material configurations, he said.
If an OEM is familiar with a material, the engineering decision to research a potential substrate switch can be made as late as about 39 months from a vehicle's release, according to Ducker automotive and materials director Abey Abraham. (That doesn't mean the switch will happen, merely that the OEM wants to see the case for it rather than locking in the existing substrate.) If the OEM's not used to working with it, "there's a much longer lead time," Richman said — possibly "easily 48 months."
Essentially, the mixed-materials substrates and joining technology available now can be used by an OEM to complicate your repair process (and for insurers, probably severity) in about three years. Ducker, for example, is confident in its projections of many closures and bumpers going aluminum in 2020 because OEMs have begun to solidify their decisions.
Both the Aluminum Association and Ducker will likely be discussing some of these substrate findings during "How Automotive Research is Driving Change in Vehicle Design, Technology and Function," which runs 9-10:30 a.m. Nov. 2. during the Society of Collision Repair Specialists OEM Collision Repair Technology Summit at SEMA. The Repairer Driven Education panel will include Ducker Worldwide Managing Principal M. Scott Ulnick and Richman. (Sign up for the class here, or buy the series pass package deal here.) 
More information:
"Why is Tesla struggling with the Model 3?"
Automotive News, Oct. 16, 2017
"SCRS Releases New Video on Resistance Welding"
Society of Collision Repair Specialists, Sept. 28, 2017
"SCRS Education Committee Presents – Resistance welding Part 1 of 3 – Power and Preparation"
SCRS YouTube channel, Sept. 28, 2017
"The Road Ahead: Aluminum Vehicle Content Surge"
Ducker Worldwide and Aluminum Association via WardsAuto, Oct. 11, 2017
"Unprecedented Growth Expected for Automotive Aluminum as Multi-Material Vehicles Ascend, New Survey of Automakers Says"
Aluminum Association, July 31, 2017
"ALUMINUM CONTENT IN NORTH AMERICAN LIGHT VEHICLES 2016 TO 2028" summary
Ducker Worldwide for the Aluminum Association, July 2017
Images:
Tesla Model 3 VIN No. 1 can be seen. (Provided by Tesla)
Ducker automotive and materials director Abey Abraham shows a projection for reducing mass by 170 pounds between 2021 and 2028 on July 31, 2017, during the Center for Automotive Research Management Briefing Seminars. (John Huetter/Repairer Driven News)
Share This: