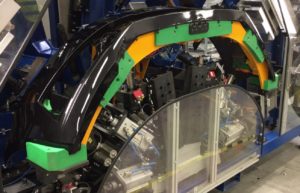 Magna on Thursday announced it had developed a torsional welding technique able to join a thinner plastic bracket to a thinner thermoplastic bumper fascia.
The Tier 1 supplier wrote in a news release that its torsional welding method "features a high-speed twisting motion that creates enough friction-based heat to join a plastic bracket to a thermoplastic fascia."
According to Magna, torsional welding allows an OEM to cut 10 percent of the bumper cover's weight — and save on materials — by connecting thinner parts than had been possible under traditional methods.
European repairers will first see the torsionally welded fascias on the 2017 Skoda Octavia, but "it has potential for other applications where materials of similar composition need to be joined."
OEMs want to cut weight out of everything they can to meet a combination of customer demands and national and international emissions standards. They also need to offset the added weight of new technology incorporated in the vehicle, a consideration specifically cited by Magna on Thursday.
As shops have certainly noticed, OEMs are cramming cars full of sensory technology, including parking and blind spot monitoring technology located the fascias.
"There may also be uses for torsional welding with the increase of advanced driver assistance systems and the development of self-driving cars," Magna wrote. "The trend will be for automotive fascias to become heavier with the increase in autonomous features, due to the addition of sensors. With torsional welding, it's now possible to reduce weight on the outer skin and brackets so more sensors can be added without impacting the overall weight of the vehicle."
Ramifications for the collision repair industry could include an inability of aftermarket manufacturers without access torsional welding to match the thin, lighter specs of fascias prepared using Magna's methods. Pricewise, Magna estimated that the material cost savings would offset any increased cost associated with using the new joining method, so there shouldn't be any surprises there.
There should be no cost increase because we are manufacturing the fascias for them with a different welding process that allows us to go with a thinner wall stock, which leads to materials savings," Magna corporate communication manager Scott Worden wrote in an email.
Magna's comments also reinforce how so-called "cosmetic" parts perform a functional role in terms of weight reduction and permitting electronics to "see" through them.
The Detroit chapter of the Society of Plastics Engineers recently honored Magna for the welding innovation, Magna wrote.
"We seek every opportunity, from design and materials to enabling technologies, to help customers meet their lightweighting goals," Magna exteriors President Grahame Burrow said in a statement. "We appreciate this recognition from SPE and look forward to expanding the use of this innovative process."
More information:
"Magna Puts a New Twist on Welding"
Magna, Oct. 26, 2017
Featured image: Magna on Thursday announced it had developed a torsional welding technique able to join a plastic bracket to a thermoplastic bumper fascia. (Provided by Magna)
Share This: