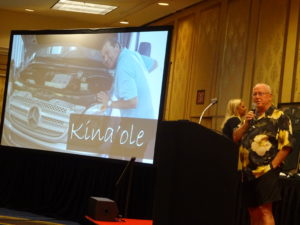 The Society of Collision Repair Specialists on Wednesday named G.W. and Son Autobody owner Gary Wano Jr. the first March Taylor Memorial Fund Kina'ole honoree.
Wano's SCRS colleagues, some growing emotional, recounted memories of the late Hawaiian repairer during the Collision Repair Red Carpet Awards Breakfast, a new SEMA Week event.
They also praised the Oklahoma City, Okla.-based Wano as demonstrating Taylor's mentoring and commitment to the Hawaiian "kina'ole" ideal of "doing the right thing, in the right way, at the right time, in the right place, to the right person, for the right reason, with the right feeling, the first time."
Dale Matsumoto, current owner of Taylor's shop Auto Body Hawaii, said Wano and the group of SCRS presenters were like Taylor in that "no one has to tell them the right thing to do."
Barry Dorn, owner of Dorn's Body & Paint, called Taylor a mentor for "years and years" and even named one of his sons after the late repairer. Even 10 years after his death, "for some of us, it's still hard." However, he observed that Wano "has definitely filled a lot of void."
Dorn called Wano "very much like him" and observed that Wano was the one who welcomed him to his first SCRS meeting in 1998. Wano has been an "absolute brother" personally and professionally, he said.
SCRS Executive Director Aaron Schulenburg, whose office includes one of Taylor's iconic work shirts — the award presented Wednesday is a framed copy of one — called Wano and Taylor "influencers."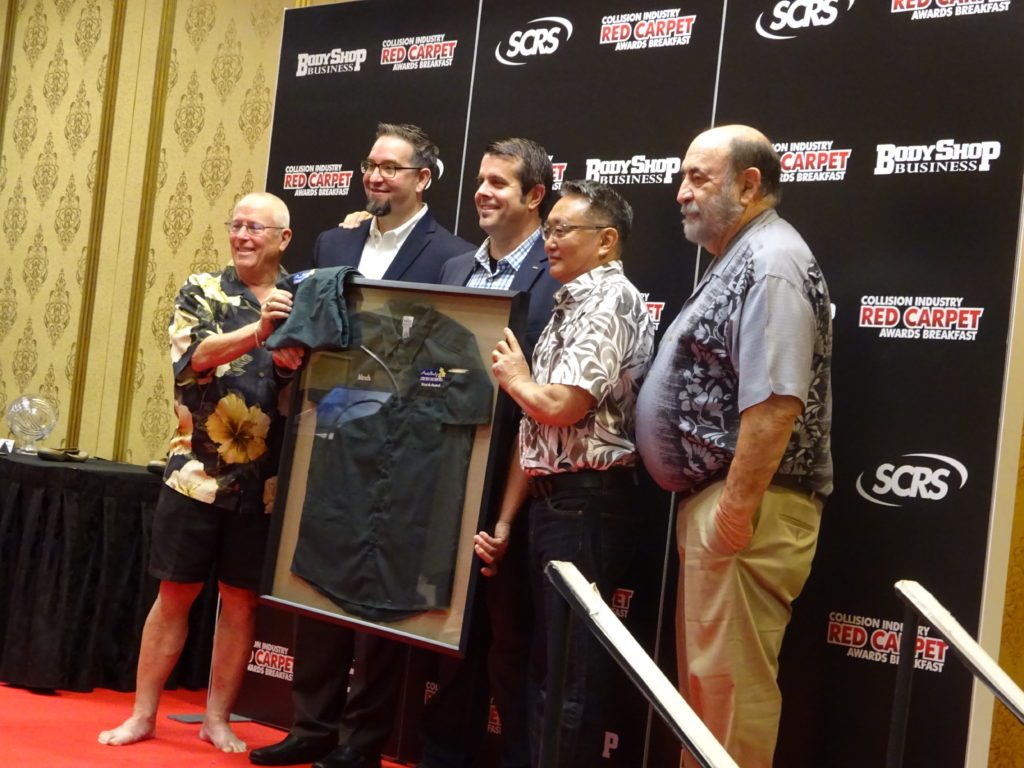 "I think it's hard to distinguish preserving the legacy and the memory of the person who meant so much and made such an impact on so many of us and recognizing the person who we see so many of those traits in," Schulenburg said.
Schulenburg said he looks up to Wano "tremendously," and while Taylor first got him involved in industry events, he's in his current role because Wano welcomed him into SCRS in an official capacity.
"Gary Wano is a pusher," said emcee Jordan Hendler (Washington Metropolitan Auto Body Association). She said he'll encourage you to participate or volunteer. "'Let's be better.' 'Let's make this industry better.'"
March Taylor Memorial Fund Executive Director Jeff Hendler (Collision Industry Conference), who appeared barefoot and sporting a Hawaiian shirt and shorts in the Taylor tradition, said Wano demonstrates "kina'ole in everything he does."
Wano "is dedicated to our industry like very few are today," Hendler said.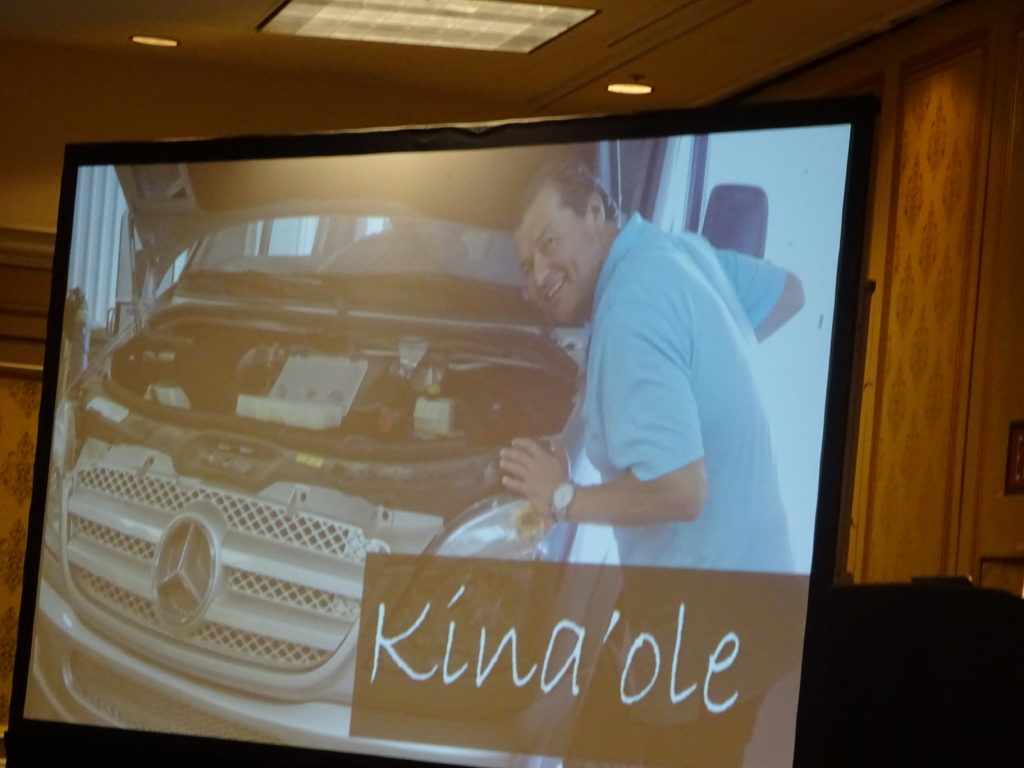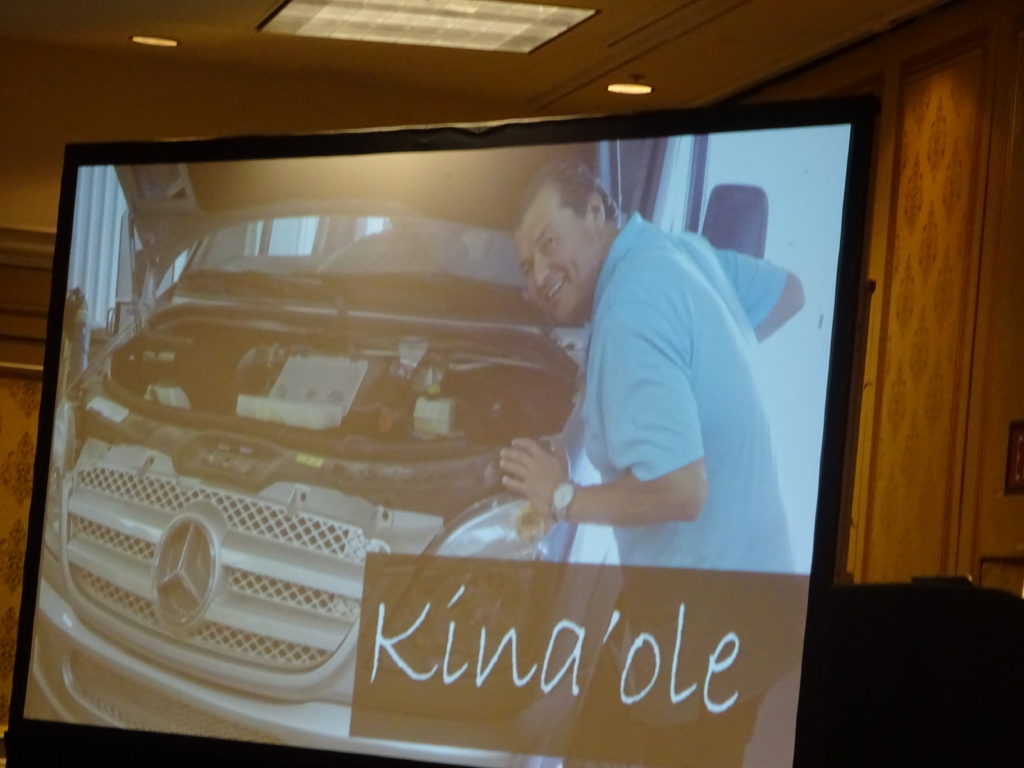 Wano has sat on I-CAR, CIC, OEM advisory, insurance advisory and database advisory committees and today serves on the I-CAR and SCRS boards of directors (as a past chairman), according to Hendler.
"He's constantly gone from his home and his own family to help us and his extended family," Hendler said.
Wano also is involved in his community and church, he said.
However, Wano wasn't on hand Wednesday to receive the award. "His family needed him," Hendler said. "… Again, kina'ole serves a purpose."
"He's always doing the right thing," Hendler said of Wano.
Taylor's daughter Tracey Taylor, who today works part-time at his shop, was also present for the award. "This industry was just everything to him," she said.
"He would be truly honored," she said of the recognition.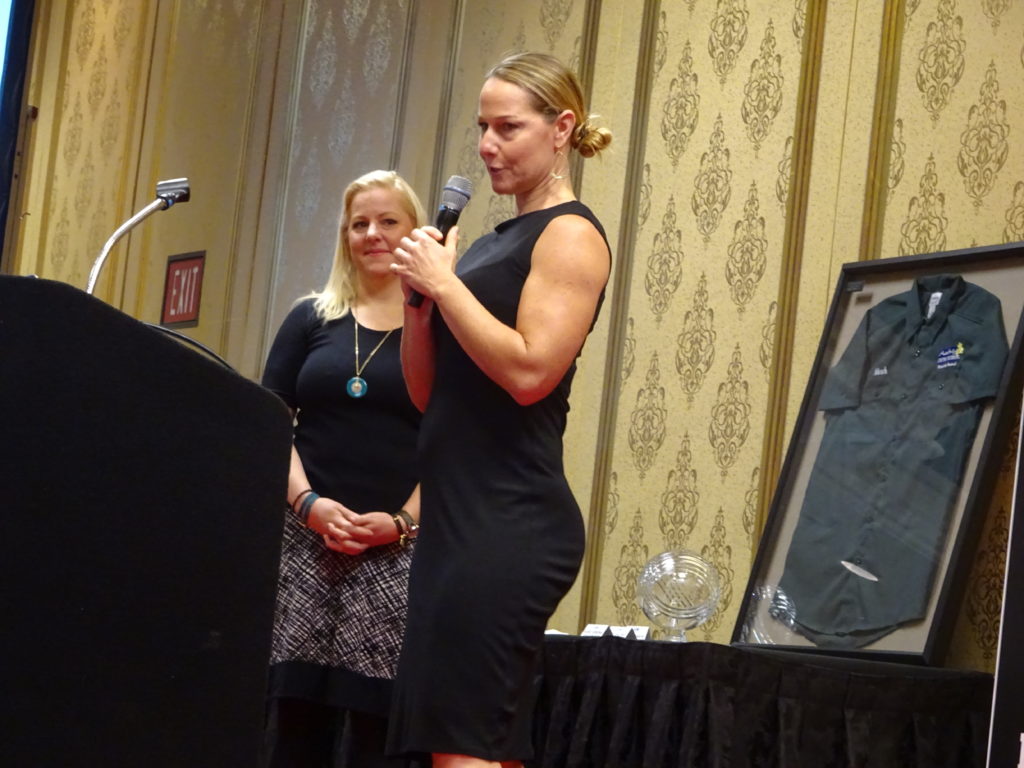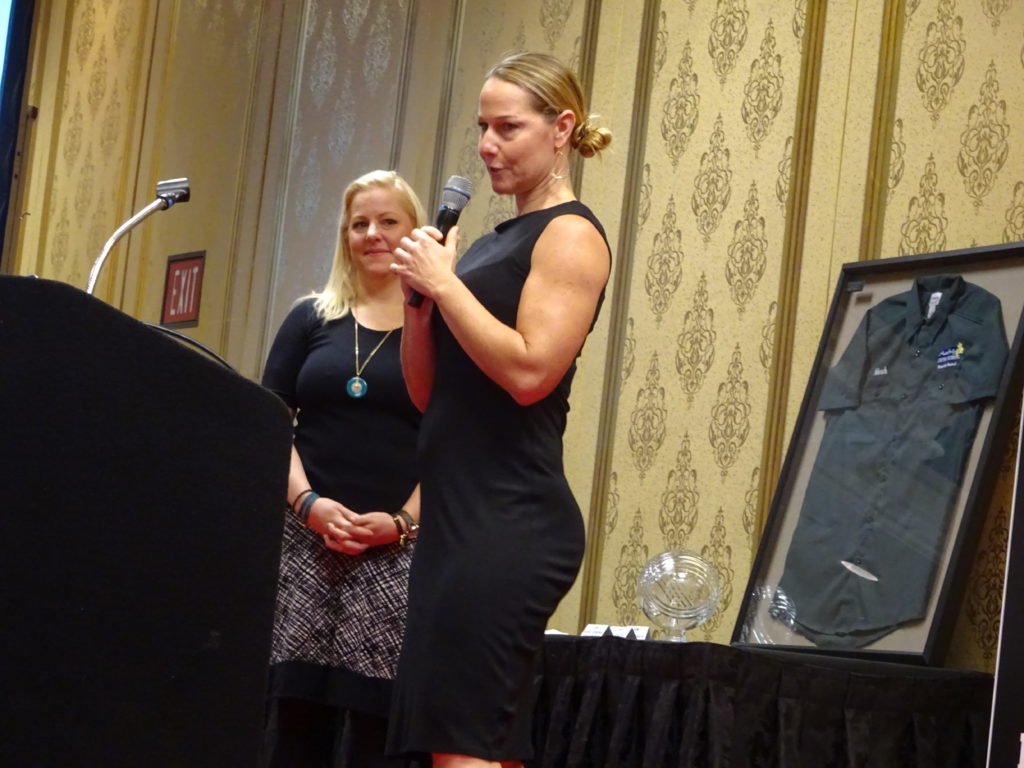 More information:
March Taylor Memorial Fund website
Database Enhancement Gateway tribute to March Taylor
Images:
The Society of Collision Repair Specialists named G.W. and Son Autobody owner Gary Wano Jr., pictured at left, the first March Taylor Memorial Fund Kina'ole honoree on Nov. 1, 2017. Fund Executive Director Jeff Hendler, right, remembered Taylor and praised Wano during the Collision Industry Red Carpet Awards Breakfast. (John Huetter/Repairer Driven News)
The Society of Collision Repair Specialists named G.W. and Son Autobody owner Gary Wano Jr., not pictured, the first March Taylor Memorial Fund Kina'ole honoree on Nov. 1, 2017, during the Collision Industry Red Carpet Awards Breakfast. The award is a framed copy of one of Taylor's iconic work shirts. (John Huetter/Repairer Driven News)
The Society of Collision Repair Specialists named G.W. and Son Autobody owner Gary Wano Jr., pictured on a screen during the Collision Industry Red Carpet Awards Breakfast, the first March Taylor Memorial Fund Kina'ole honoree on Nov. 1, 2017. (John Huetter/Repairer Driven News)
March Taylor's daughter Tracey Taylor, right, who today works part-time at his former Hawaiian shop, was also present for the naming of G.W. and Son Autobody owner Gary Wano Jr. as the first March Taylor Memorial Fund Kina'ole honoree on Nov. 1, 2017, during the Collision Industry Red Carpet Awards Breakfast. The award, pictured at right, is a framed copy of one of her father's iconic work shirts. (John Huetter/Repairer Driven News)
Share This: