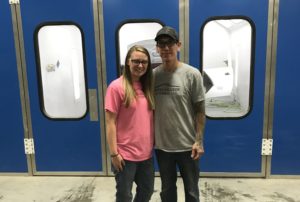 The Society of Collision Repair Specialists and Spanesi announced at SEMA and again Thursday that an Oklahoma collision repairer won its annual show raffle.
Billie Estes of Miami, Okla.-based Estes Collision & Towing won a $8,500 Q5.2 Synergic Inverter MIG/MAG welding package donated by Spanesi.
"We have been researching and looking into a new multi metal welder, and this will be a perfect fit for our growing business," Estes said in a statement. "Seeing all the latest tools and equipment, and getting to witness them being used, was absolutely one of our favorite parts of the Show. Just being there was amazing and we definitely look forward to going to more in the future."
The welder sports aluminum, silicon bronze and steel torches and the accompanying wire. The package also  the 980-megapascal MAG welding wire Honda has demanded shops use since 2009. (The OEM also requires the silicon bronze MIG-brazing wire to be 0.8 mm-wide ERCuSi-A or CuSi-3.)
Spanesi said the 208-230V, single-phase, double-pulse welder also meets the Assured Performance requirements, which would make it approved for Ford, FCA, Nissan, Hyundai and soon Kia OEM certified shop networks.
"We actually didn't realize exactly how many companies sold similar products," Amanda Estes of Estes Collision said in a statement. "It really opened our eyes to research each product further. We really feel like this Spanesi Q5.2 in particular is a great fit to exactly what we were looking for; and it will help us continue to grow and expand the services we can offer.
Billie Estes and all the other entrants had to take a "report card" from the SCRS booth and get it stamped by all of the Repairer Driven Education sponsors to be eligible.
"We really look at the prize experience at SEMA as a way to further give back to those who are making a commitment to invest in their business by seeking out current ideas, information, equipment, and opportunities. We are fortunate to have people like Tim Morgan and the Spanesi family that place as much value in encouraging those at the forefront of the industry as well," SCRS Chairman Kye Yeung said in a statement. "The SEMA Show has always proven that the future is full of promise for collision repairers, and it's rewarding to see the energy surrounding the education platform right now. It's an exciting industry, and we are pleased to help lead the way for those looking to the future."
"Spanesi Americas is excited to participate in the SCRS drawing again this year," Spanesi Americas Chief Operating Officer Timothy Morgan said in a statement. "I have an extensive background in education, and it just makes sense that Spanesi would support SCRS and the educational needs of the collision repair industry. In the collision industry, we have to continuously learn new processes, repair procedures, and new vehicle construction technologies. As professionals in this industry, we all need to continuously undergo training to make sure that we have the knowledge and understanding of how to properly fix today's most complex vehicles. We take pride in supporting SCRS, its members, collision repair facility owners and all of those individuals in the industry that have the dedication to stay on top of this rapidly evolving industry."
Details: www.scrs.com, 1-877-841-0660, info@scrs.com; and www.spanesi.com.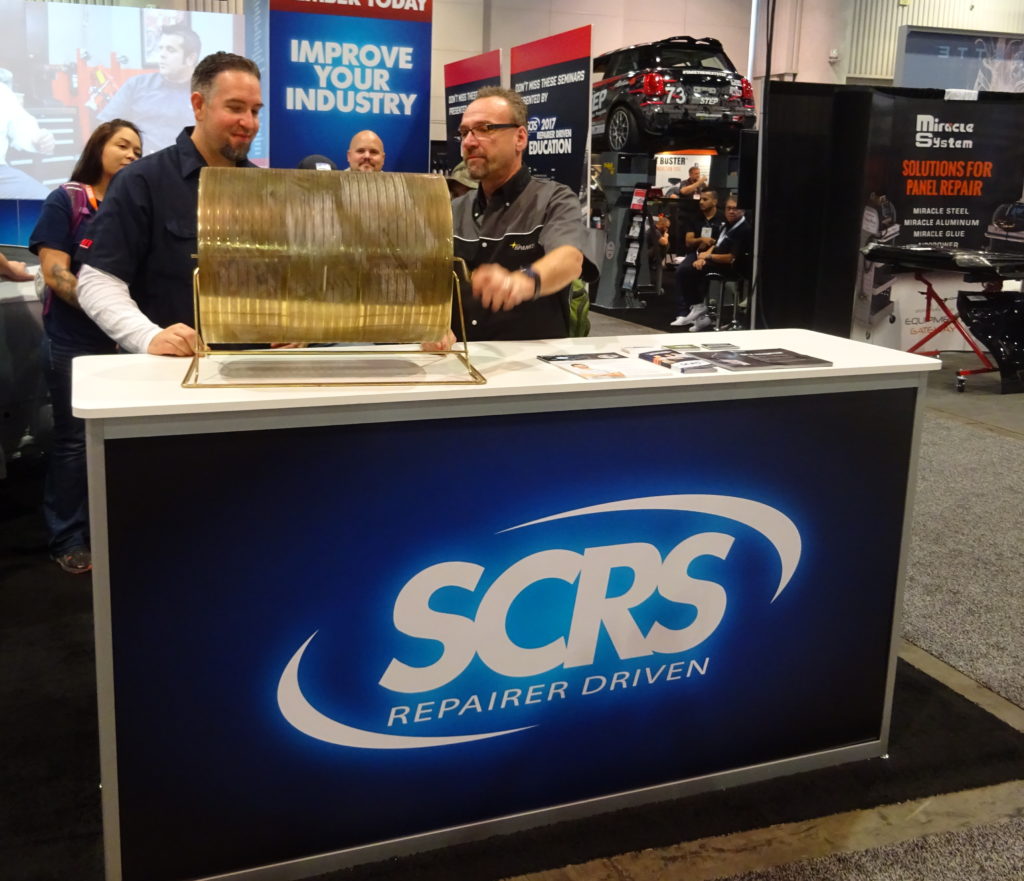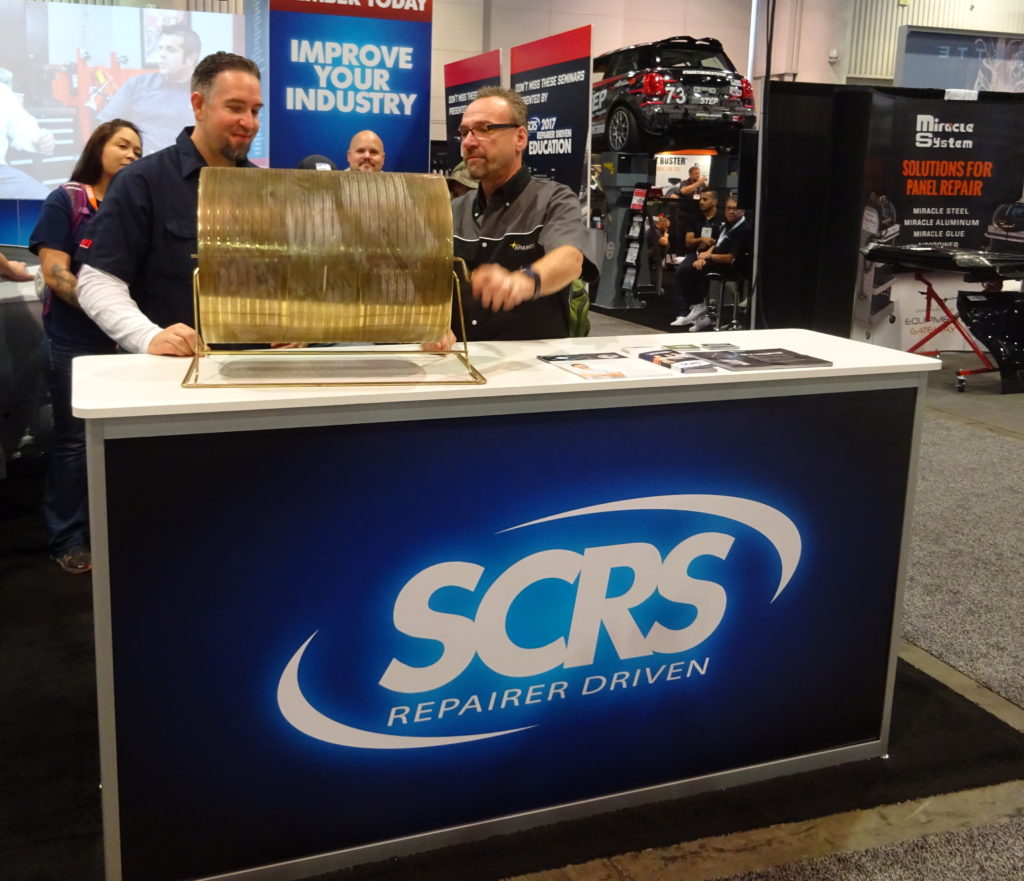 More information:
"Oklahoma Collision Repairer Wins SPANESI Q5.2 Welder From SCRS at 2017 SEMA Show"
Society of Collision Repair Specialists, Nov. 16, 2017
Images:
Society of Collision Repair Specialists Executive Director Aaron Schulenburg, left, and Spanesi Americas Chief Operating Officer Timothy Morgan,prepare to draw the winner of a SEMA Show giveaway of a Spanesi welder. (John Huetter/Repairer Driven News)
The Society of Collision Repair Specialists and Spanesi announced at SEMA and again Thursday that an Oklahoma collision repairer won its annual show raffle. Billie Estes of Miami, Okla.-based Estes Collision & Towing, right, won a $8,500 Q5.2 Synergic Inverter MIG/MAG welding package donated by Spanesi. Amanda Estes, who also works for the shop, is at left. (Provided by SCRS)
Share This: