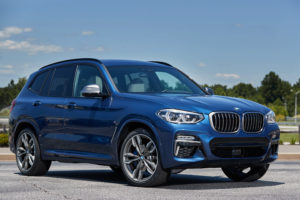 BMW's next-generation X3, which goes on sale this month, dropped more than 121 pounds than its predecessor and features a body-in-white and exterior mixing steel and aluminum.
The global version of its launch news release described the weight cut and "intelligent lightweight construction." The OEM also noted that more than 50 percent of its aluminum had been recycled.
A BMW spokeswoman in September provided us with some details into the 2018 model year's lightweight construction. Here's what we know:
For those exterior hits, know that the hood, fenders and front doors are all aluminum. The back doors are bake-hardened steel, probably for dent resistance, and the roof and quarter panel are deep-drawing steel.
Besides these exterior considerations, shops should look for the BMW Active Kidney Grille and BMW Air Curtains on the front of the vehicle; both can automatically adjust themselves to improve aerodynamics. The new X3 will also be the first BMW "Sport Activity Vehicle" in America to have a factory-installed hitch.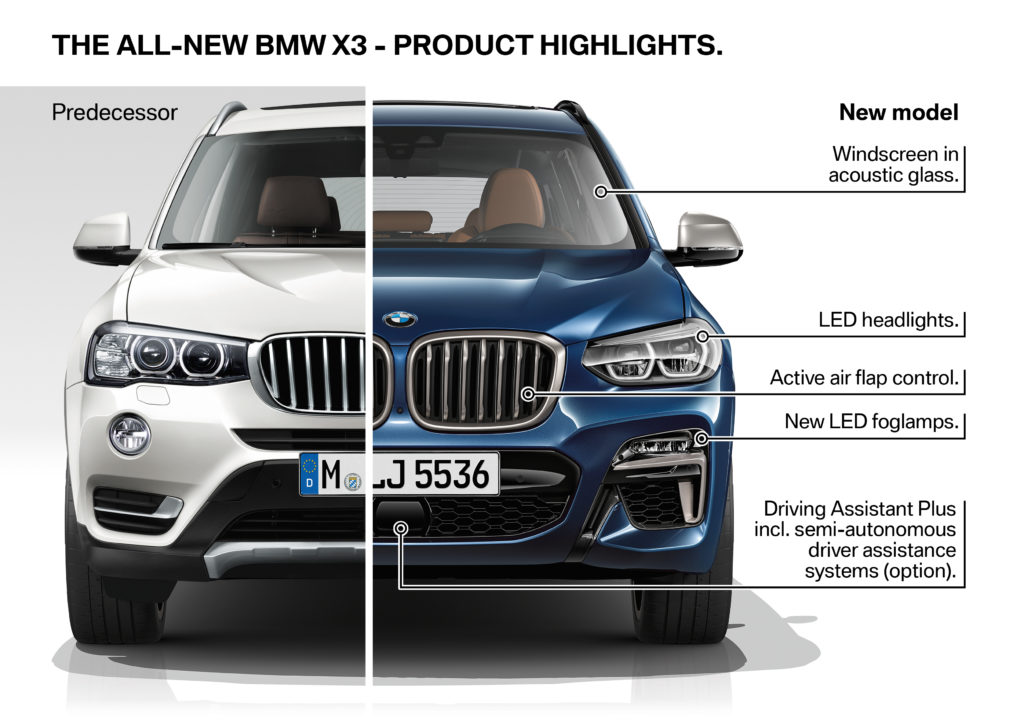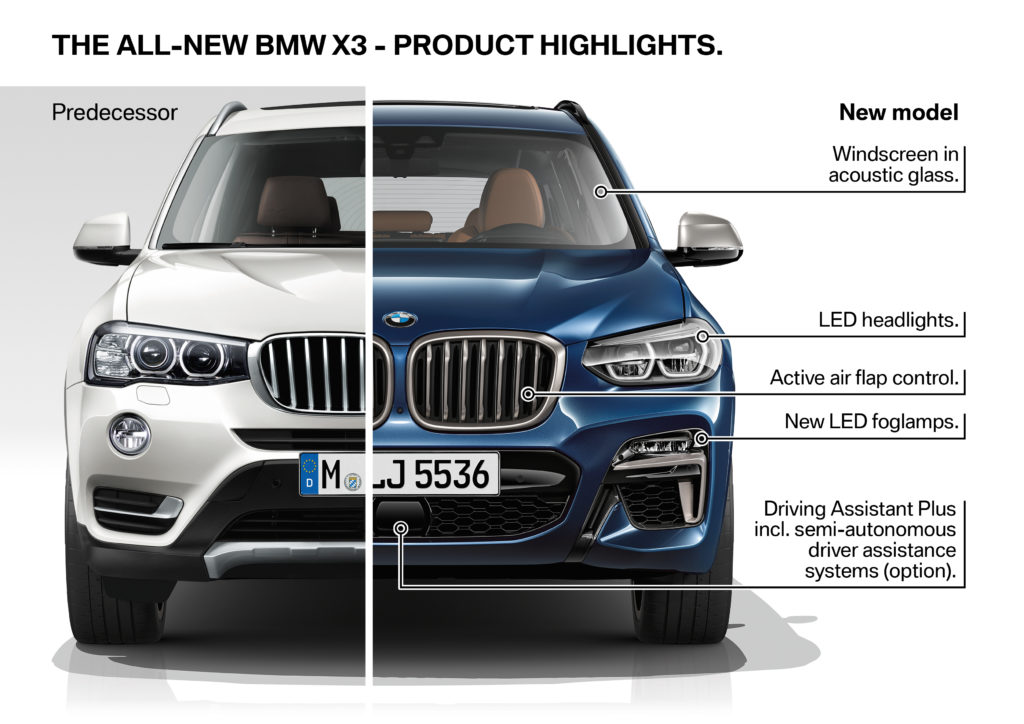 As for the body-in-white, the front roof crossmember, frame rails, and A- and B-pillars are all ultra-high-strength steel, which severely limits procedures like sectioning or repairing. The shotguns, strut towers and a floor crossmember are among the aluminum components, while other elements are multiphase steel — which while not as strong typically as ultra-high-strength steel might also have repair restrictions.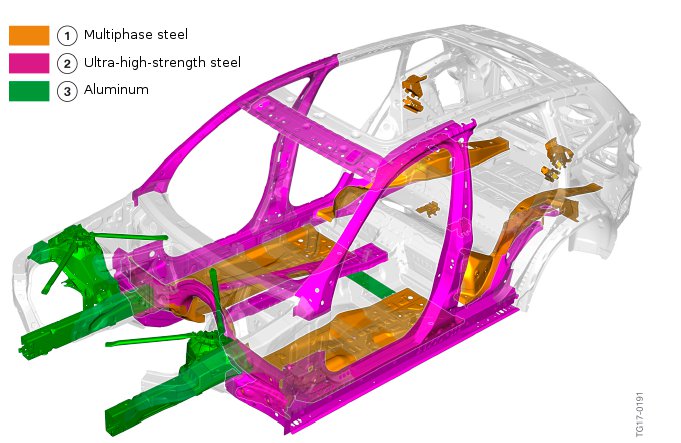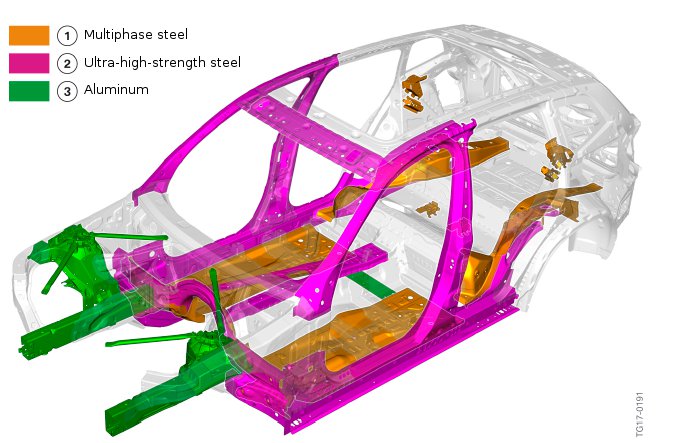 "Lowering the vehicle weight is a key factor in the efficiency and agility of the BMW X3. For this reason, intelligent lightweight design is integrated into all areas of development and encompasses every component," BMW wrote in its comprehensive press overview. "As well as the inclusion of plastics and state-of the-art composites, the increased use of aluminium components in the engine and suspension systems has also further reduced the weight of the relevant assemblies."
In other suspension-related lightweighting, BMW also wrote in its U.S. news release that: "The engineers have succeeded in reducing a considerable amount in unsprung mass by fitting aluminum swivel bearings and lighter tubular anti-roll bars as well as optimizing wheel location at the front."
The car detects accident severity and can locate itself — and according to BMW, the X3 now can detect low-speed crashes even if the airbag didn't blow.
"The driver receives a message in the iDrive display offering to contact the BMW Accident Assistance service directly," BMW wrote of its new "Teleservice Accident Assistance." "A push of a button is all it takes to obtain professional support from the BMW Accident Assistance team, who can also put the customer in touch with a BMW Service Partner if necessary."
This is interesting because such low-speed collision detection and contact could cut into the amount of business uncertified shops see, assuming these service partners BMW will set you up with include certified BMW body shops.
Other safety features include a standard system in which X3 preparing itself automatically for a collision, automatically closing the windows and moonroof and activating seat belt tensioners. If the car thinks you might rear-end someone, it "prepares the vehicle systems for a possible impact from vehicles behind" as part of its frontal collision warning. After a crash, the car can automatically stop itself.
BMW also offers a slew of other advanced driver assistance technology which will cut down on crashes but likely need calibration:
When it comes to driver assistance and semi-automated driving, all the systems currently offered by BMW are available, such as the latest generation of Active Cruise Control (ACC) with Stop & Go, whose capabilities include braking the car to a halt in stop-and-go traffic and automatically restarting to drive. The Driving Assistance Package includes Active Blind Spot Protection, Lane Departure Warning, Daytime Pedestrian Protection, Frontal Collision Warning with City Collison Mitigation, Cross Traffic Alert rear, and Speed Limit Info (Navigation system required). The Driving Assistant Plus Package offers additional comfort features: Active Cruise Control with Stop & Go, Active Lane Keeping Assistant with Side Collision Avoidance, Traffic Jam Assistant, Evasion Aid & Cross Traffic alert front and rear.
BMW sold more than 44,000 of the last-generation X3 in 2016, up 38.4 percent. So odds are good that certified shops will encounter the new edition.
More information:
BMW, June 26, 2017
BMW, June 26, 2017
Comprehensive BMW X3 media information
BMW, June 26, 2017
Images:
BMW's next-generation X3, which goes on sale this month, dropped more than 121 pounds than its predecessor and features a body-in-white and exterior mixing steel and aluminum. The European version is seen in Spartanburg, S.C., in summer 2017. (Provided by BMW)
For those exterior hits, know that the hood, fenders and front doors on the 2018 BMW X3 are all aluminum. The back doors are bake-hardened steel, probably for dent resistance, and the roof and quarter panel are deep-drawing steel. (Graphic provided by BMW; key edited and text added by Repairer Driven News)
Collision repair shops should look for the BMW Active Kidney Grille and BMW Air Curtains on the front of the 2018 BMW X3; both can automatically adjust themselves to improve aerodynamics. (Provided by BMW)
As for the body-in-white of the 2018 BMW X3, the front roof crossmember, frame rails, and A- and B-pillars are all ultra-high-strength steel, which severely limits procedures like sectioning or repairing. The shotguns, strut towers and a floor crossmember are among the aluminum components, while other elements are multiphase steel — which while not as strong typically as ultra-high-strength steel might also have repair restrictions. (Provided by BMW; key text added by Repairer Driven News)
Share This: