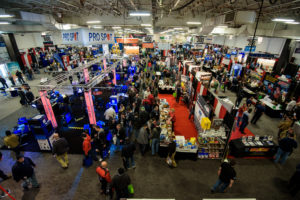 The Alliance of Automotive Service Providers of New Jersey announced Tuesday that the Washington Metropolitan Auto Body Association would produce an "exciting new educational series" at the 2018 NORTHEAST.
AASP-NJ wrote that the 2018 show, which will be held March 16-18, 2018, in the Meadowlands Exposition Center, would for the first time span two levels and was on track to be a "record-breaking event."
"Education is so important to what we do every day," AASP-NJ President Jerry McNee said in a statement. "Providing industry members with high-quality education has always been one of our main priorities, and teaming up with an association like WMABA, who has many decades of experience providing a high standard of industry training, is helping us do just that."
The concept is something along the lines of the Society of Collision Repair Specialists' popular Repairer Driven Education series at SEMA.
WMABA Executive Director Jordan Hendler said her organization sought to make the event "the Eastern version of the opportunities found at SEMA." She said that while a target audience would be those who can't make it out to Las Vegas, the ultimate goal would be for repairers to be going "twice a year" — hitting both SEMA and NORTHEAST — and otherwise taking advantage of "every opportunity available."
Not many WMABA members attend NORTHEAST, but "our goal is to grow that way" and ultimately see the show as a destination for the entire East Coast, Hendler said.
"It's really more about making it an Eastern thing," she said.
WMABA's membership can be found in Washington, D.C.; Virginia, Maryland; and now West Virginia.
"As a fellow repairer, I know that repairers need this event, and they need it to be great," WMABA President Mark Schaech (Mark's Body Shop) said in a statement. "It takes a lot of effort and dollars to get techs, managers and owners to an event, and we know what they gain here will be worth it. I'm very excited to have WMABA making these strides."
WMABA's geography also sits near those of Southern Automotive Repair Conference organizer states, but for now, the trade group is focusing on NORTHEAST, Hendler said.
More information:
"AASP/NJ Teams Up with WMABA For New Educational Slate at NORTHEAST® 2018"
Alliance of Automotive Service Professionals, New Jersey, Nov. 14, 2017
Featured image: More than 5,000 people attended the sold-out NORTHEAST 2017, according to the Alliance of Automotive Service Providers of New Jersey. (© Jargapix Photography for Greco Publishing)
Share This: