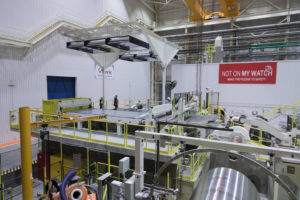 Novelis last week announced that it'd bring a "high-formable" alloy to the U.S. which offers OEMs more options for auto body exteriors and closure inners.
Advanz 6HF – e/s200, which already exists in Europe, sounds like it'd help drive the boom in aluminum auto body parts predicted by Ducker Worldwide earlier this year. It also sounds like something collision repairers would be seeing a lot of in the coming years, given the potential applications described by Novelis.
"The high-formable 6xxx-series alloy enables new opportunities to use aluminum for body sides, door inners, decklid outers and inners, and other closure panels," Novelis wrote in a news release. "The alloy can also be used in designs and applications that require bending without the risk of cracking. In addition, Advanz™ 6HF – e/s200 creates a weight savings of nearly one-third over steel in inner door applications."
Novelis described the overall 6XXX alloy as offering "greater design flexibility due to its superior formability, strength performance and weight savings for outer and inner applications," apparently a reference to competing aluminum options.
"As a global leader in automotive alloy innovation, we are excited to offer solutions to meet the growing design and manufacturing needs of North American auto manufacturers," Novelis automotive general manager and Vice President Ganesh Panneer said in a statement. "As automakers pursue more complex designs and increase the amount of in-vehicle content, the strength and advanced formability of Advanz™ 6HF – e/s200 unlocks new engineering potential while offering critical weight reduction compared to steel. The expansion of this alloy into the North American market demonstrates our ability to draw on our automotive expertise and provide proven solutions across the globe."
Aleris expansion opens
In other recent automotive aluminum news, Aleris announced Thursday that it had opened a $400 million auto body sheet production center in Lewisport, Ky., and has already sent parts to customers.
The expansion was announced in 2014 and "positions Aleris to meet significant growth in North American automotive demand as the industry pursues broader aluminum use for the production of lighter, more fuel-efficient vehicles," Aleris wrote in a news release.
Aleris cited the Ducker Worldwide study as predicting rapid growth in aluminum demand in North America.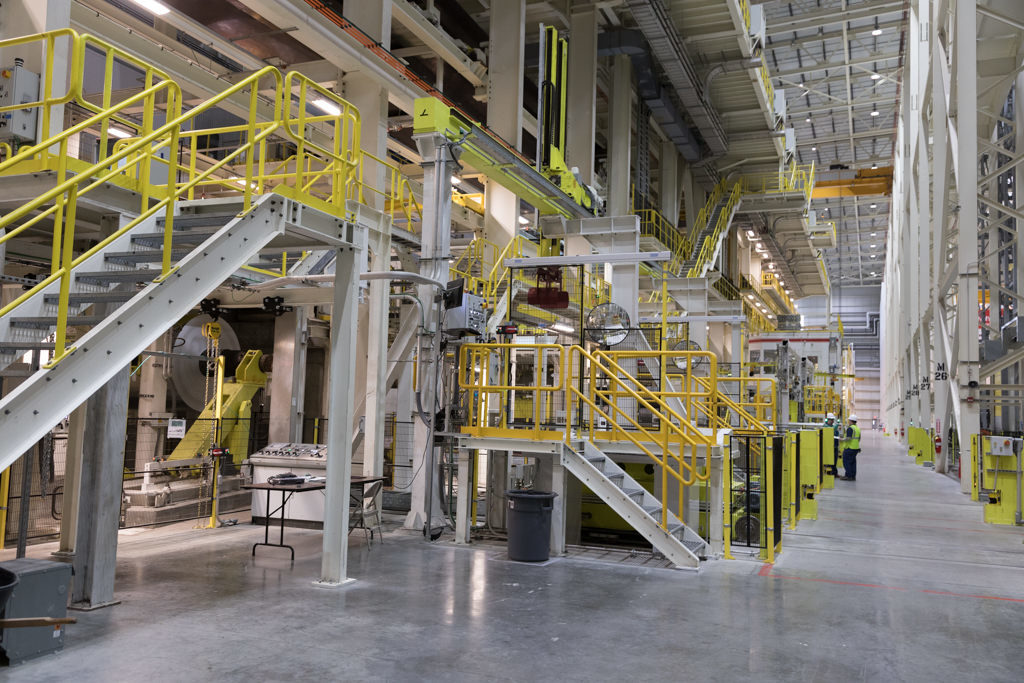 Ducker Worldwide estimated aluminum doors will have gone from virtually nonexistent in 2014 to 25 percent of the North American fleet in 2020.
The consulting firm also estimated 71 percent of hoods would be aluminum by 2020, up from 50 percent in 2015, and bumper beams would grow from 33 percent aluminum in 2015 to 54 percent in 2020.
Aleris said the Kentucky plant is its first in North America able to finish aluminum auto body sheet.
"The opening of our new automotive facility in Kentucky marks the completion of a significant piece of our strategic realignment, which includes expanding our capacity and capabilities to serve the automotive industry and other high value end uses," Aleris Chairman and CEO Sean Stack said in a statement.  "As an experienced supplier to automotive manufacturers in Europe, we look forward to partnering with customers more closely now in North America to bring them the most advanced auto body sheet products in the industry."
The expansion includes two continuous annealing lines and a wide cold mill.
"Strong customer collaboration in research and development has been a key component  of our success in serving the global automotive industry, and we look forward to building on that success with this expansion in North America," Aleris global automotive Vice President Andreas Gondorf said in a statement.
In its article on the Aleris expansion, the Lane Report noted that "Aluminum-related companies announced 92 new-facility or expansion projects in Kentucky since the beginning of 2014. Those projects total more than $2.6 billion in corporate investment in fewer than four years. That's well above the approximately $1 billion announced 2001-2013."
3-D printing concept
A third announcement drew our attention to startup Vader Systems, which uses molten droplets of aluminum rather than powder for 3-D printing.
The company announced Nov. 10 it had sold one of its Mk1 3D systems to Becker CAN-CAD-CAST. The technology melts "standard aluminum wire" and shapes parts by combining the droplets produced by electromagnetic propulsion.
Vader says the use of the wire makes the process ten times cheaper from a materials perspective compared to 3-D printing powders.
"This highly cost-effective technology will make additive manufacturing affordable for an expanded market," Vader wrote.
The company can 3-D print parts up to a cubic foot out of 4043 aluminum — but it's working on printing with the automotive staple of 6061 alumimum.
"VADER'S printing technology is a game changer for cost-effective, low-volume production of aluminum components," Becker CEO Michael Becker said in a statement. "It aligns with our goal to deliver shorter lead times and higher performance for our customers."
Though the company acknowledges that its product is about a "5" on the NASA Technology Readiness scale of 0 ("I thought of something cool") to 10 ("We have a factory pumping them out full-time"), the concept is another point in favor of 3-D printing automotive parts someday.
More information:
"Novelis Brings Advanced Aluminum Alloy to North America, Expanding Automotive Design and Engineering Capabilities"
Novelis, Nov. 14, 2017
Aleris Unveils New Aluminum Automotive Body Sheet Production Facility in Lewisport, Kentucky
Aleris, Nov. 16, 2017
"Ground-breaking Molten Aluminum 3D Printing Penetrates Commercial Market"
Vader Systems via PR Newswire, Nov. 10, 2017
Images:
A wide cold mill at Aleris' expanded Lewisport, Ky., facility. Aleris in November 2017 announced the auto body expansion had opened. (Provided by Aleris)
A new continuous annealing line at Aleris' expanded Lewisport, Ky., facility. Aleris in November 2017 announced the auto body expansion had opened. (Provided by Aleris)
Share This: