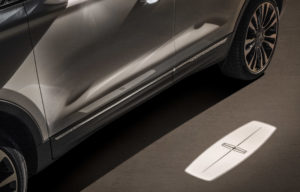 Collision repairers and insurers might encounter a new lighting trend in the coming years: Vehicles which project symbols on the ground for aesthetic or functional purposes.
Mitsubishi Electric on Nov. 1 announced that its "Safe and Secure Lighting" system in development today should be deliverable for new cars starting in 2020.
The suite displays illuminated alerts on the ground and vehicle — Mitsubishi showed off an signal in the rear windshield — to warn cars, pedestrians and cyclists to an imminent activity.
Mitsubishi Electric offered one example in which lighting projections make it even more obvious that the vehicle is about to reverse. (In case the taillights weren't clear enough.) In other display, a car signals that it's about to open a door, something which ought to prevent clotheslining cyclists or getting a door torn off by a passing vehicle.
Mitsubishi pointed out that such bold signals could be necessary to keep pedestrians and cyclists from being unfortunately surprised by the growing ranks of hybrid and electric vehicles, which can be extremely quiet.
"But even vehicles with combustion engines pose a great risk to pedestrians and cyclists, especially considering the increase in people wearing headphones," Mitsubishi Electric Automotive America engineering Vice President Mark Rakoski said in a statement.


National Highway and Traffic Safety Administration data shows pedestrian and cyclist deaths in 2016 were at their highest since 1990 and 1991, respectively. 2015 data indicates 74 percent of pedestrian deaths occur at night.
"The Safe and Secure Lighting system is based on the natural actions of drivers and passengers and does not need to be manually activated, thus ensuring adequate time for passersby and other vehicles to react to the signals," Mitsubishi Electric wrote in a news release. "The light-based nature of the indicators will also offer important automotive safety advantages."
Rakoski also said such signals could be necessary for autonomous cars.
"The intentions of self-driving cars can be tricky for drivers in legacy cars to interpret since there is no driver in the other vehicle to observe and therefore no eye-to-eye contact," he said in a statement. "This is especially true for pedestrians or cyclists who rely heavily on facial cues or hand signals from the drivers of oncoming vehicles."
Ford and Virginia Tech explored that concern in August, this time with a policelike light bar behind a Transit Connect's windshield. The research was meant to determine how passersby reacted to various signals, with a possible eye toward developing a standard industrywide set of autonomous vehicle messages like turn signals today.
Osram in January showed off an external system similar to Mitsubishi Electric's on a Rinspeed concept car. Unlike Mitsubishi Electric, the Tier 1 supplier gave no confirmation it would be installing the tech on an actual vehicle.
In a more vanity-focused lighting display, Lincoln on Tuesday announced the refreshed 2019 Lincoln MKC would greet Matthew McConaughey and other drivers with LED tail lamp and lower body lighting which "subtly illuminates."
But it would also project a "luminous Lincoln welcome mat" next to both front doors.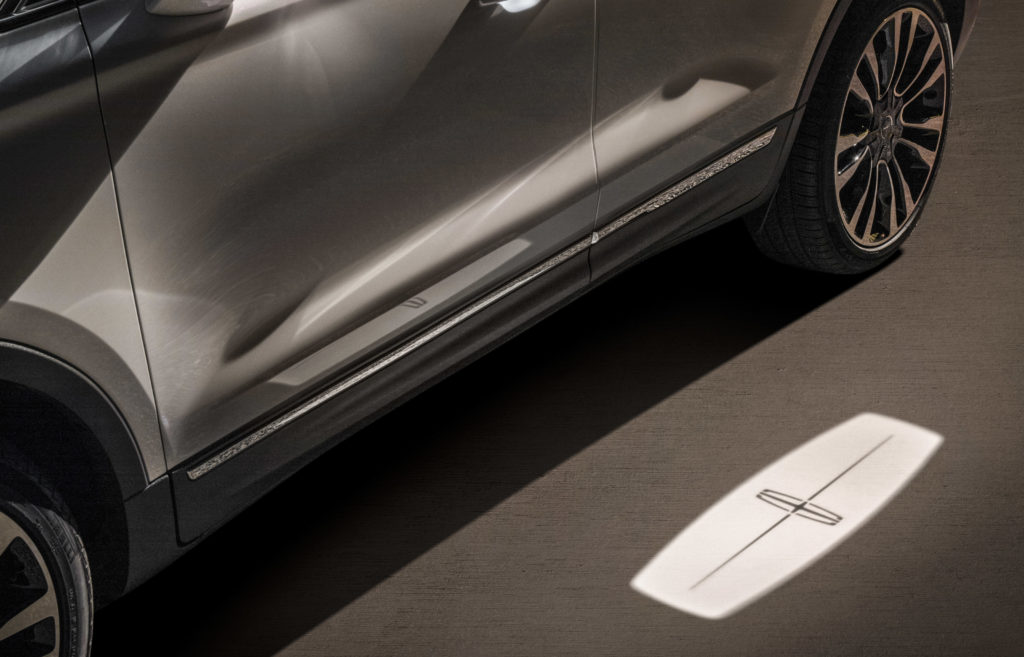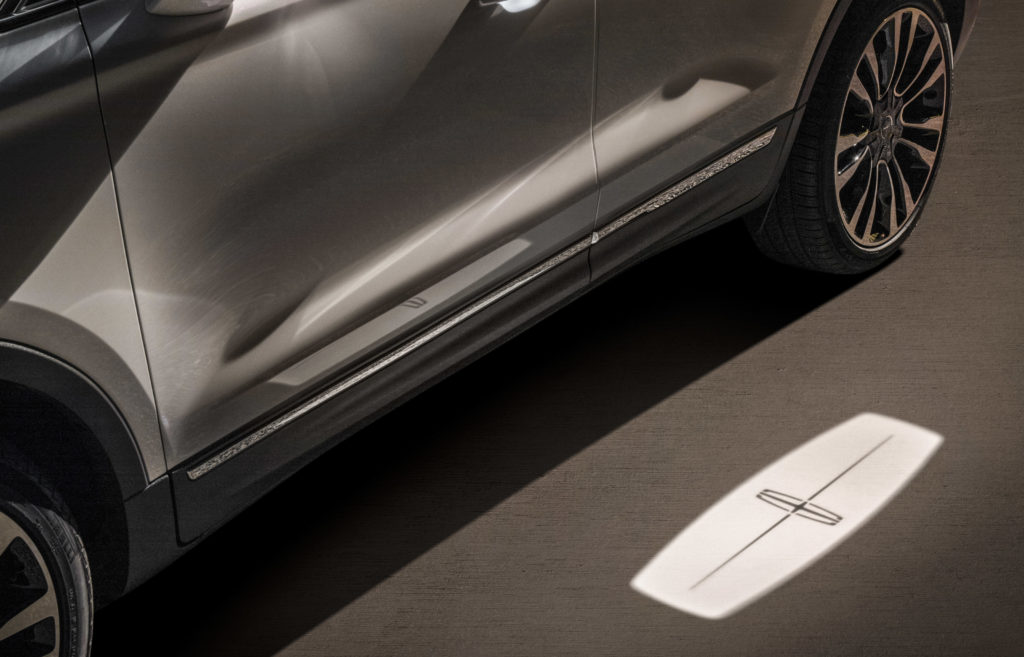 More information:
"Mitsubishi Electric Introduces New Signaling System to Clearly Indicate Vehicle Movement and Increase Road Safety"
Mitsubishi Electric via Business Wire, Nov. 1, 2017
"NEW LINCOLN MKC: SMALL SUV AMPS UP STYLE, CONNECTIVITY TO STAND OUT FROM THE CROWD"
Lincoln, Nov. 21, 2017
Images:
Lincoln said the 2019 Lincoln MKC will project a "luminous Lincoln welcome mat" next to both front doors. (Provided by Lincoln)
Mitsubishi Electric on Nov. 1 announced that its "Safe and Secure Lighting" system in development today should be deliverable for new cars starting in 2020. (Provided by Mitsubishi Electric via Business Wire)
Ford and Virginia Tech in August tested a policelike light bar behind a windshield to determine how passersby reacted to various signals communicating a Transit Connect's intent. (Provided by Ford)
Share This: