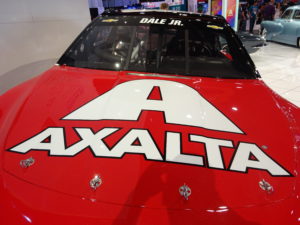 Axalta on Thursday announced it had broken off discussions with potential buyer Nippon Paint after Nippon Paint "was unwilling to meet our expectations regarding the value of the company and assume the financial leverage necessary."
The Japanese paint manufacturer has a $10 billion market value, Bloomberg reported Thursday. Axalta's market cap was $7.52 billion as of 3:26 p.m., with shares trading at $31.50.
Bloomberg reported that the deal would have been "the most ambitious ever for Nippon" had it succeeded.
Axalta's CEO said his company was happy to go it alone.
"Axalta is a premier company in the coatings industry and has recently been sought after by two global competitors," CEO Charles W. Shaver said in a statement. "While neither deal came to fruition, the keen interest by these companies underscores Axalta's global leadership position. Our current and future operational plans have not wavered during these discussions. We are well positioned to continue as a standalone growth company and will remain disciplined in generating superior long-term value for our shareholders."
Axalta announced Nov. 21 it'd broken off "merger of equals" talks with Dutch paint firm AkzoNobel.
Shaver also thanked "our customers, investors, suppliers, and employees for their patience and support" while it explored being sold to AkzoNobel and Nippon Paint.
"We look forward to continuing the performance you have come to expect of our company," he said in a statement.
More information:
"Axalta and Nippon Paint End Acquisition Discussions"
Axalta, Nov. 30, 2017
"Nippon Paint Fails to Strike Deal With Buffett-Backed Axalta"
Bloomberg, Nov. 30, 2017
Featured image: Dale Earnhardt Jr.'s No. 88 Axalta Chevrolet SS is shown at the Axalta booth at SEMA 2017. (John Huetter/Repairer Driven News)
Share This: