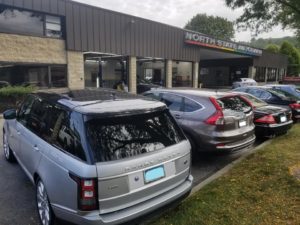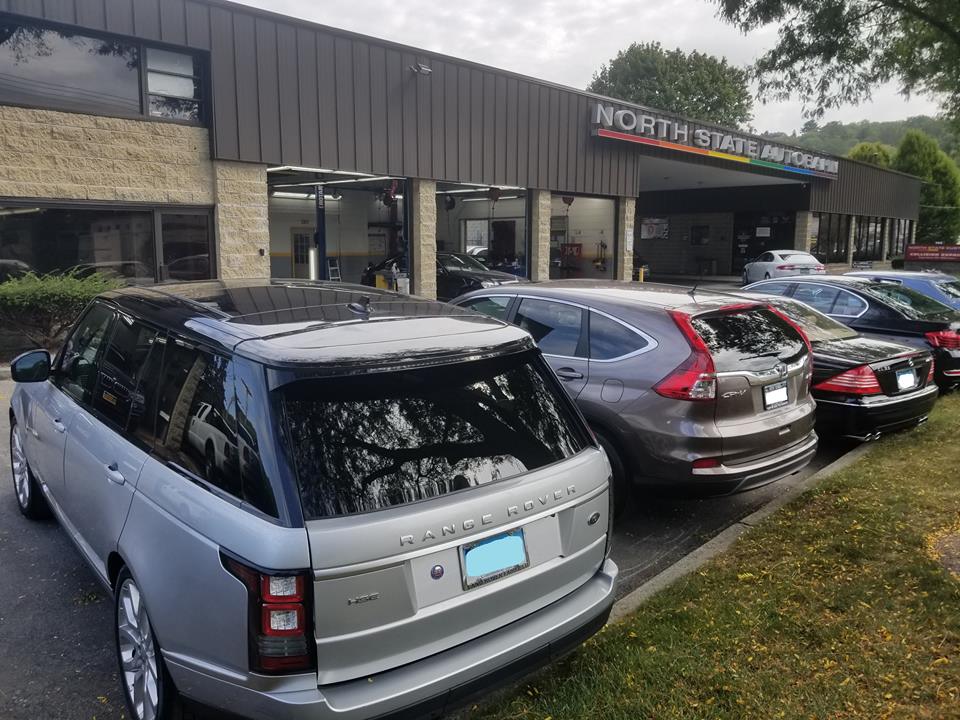 A Mercedes dealership accused of demanding a "mafia-style bribe" from a New York body shop in exchange for renewing an OEM certification sponsorship has fired back with a defamation countersuit.
An attorney for Celebrity Auto of Westchester (which does business as Mercedes-Benz of Goldens Bridge) declared on Thursday that North State Custom and owner Greg Coccaro Jr. "acted in reckless disregard for the truth when they made their false allegations."
The countersuit filed aganst North State Custom and Coccaro Nov. 22 brings claims for defamation, trade libel, false light, and tortious interference with prospective economic advantage in response to a North State Custom press release and interview regarding the litigation. It also alleges abuse of process for filing the lawsuit with an ulterior motive "to make 'a significant impact on the collision repair industry.'"
"Truth is a defense, and we'll see you in court," North State Custom attorney Anthony Mamo said Thursday in response to the countersuit.
The first lawsuit
North State Custom's lawsuit stated that when it pursued Mercedes collision repair network recertification earlier this year, "Celebrity's service manager and body shop coordinator responded that although Celebrity had been advised by Estate Motors, Inc. that North State Custom does excellent work, they (Celebrity's representatives) wanted to know what percentage of each Mercedes-Benz automobile repair North State Custom was willing to kick-back to Celebrity in exchange for Celebrity continuing to allow the MBUSA-North State Custom relationship to continue."
According to Coccaro, the dealership sought a 25 percent payment on labor and to make 100 percent on parts sold to North State Custom.
"Celebrity's body shop coordinator also informed North State Custom's representatives that Celebrity would no longer be selling the parts required to repair the vehicle to North State Custom but rather, Celebrity would be giving the parts to North State Custom and Celebrity would then charge the customer or its insurance company for the repair parts and receive the entire mark-up on those parts, with North State Custom receiving nothing from the sale of those parts," the lawsuit states.
"Celebrity's Court filings state that after a dispute arose with North State regarding the manner in which North State would bill Celebrity for parts, North State claimed falsely that 'Celebrity is not a registered authorized repair shop,' and it accused Celebrity of unlawful conduct," a news release from Fox Rothschild partner Marc Gross, Celebrity Auto's attorney, stated Thursday.
The North State Lawsuit stated that the dealership sought to upend the claims process by demanding that "whenever a Mercedes-Benz vehicle comes into Celebrity for a repair, that vehicle would be evaluated for repair at the Celebrity Dealership by Celebrity employees who would write a repair estimate and arrive at an agreed repair price with the customer or his/her insurance company and then send that car to North State Custom for it to do the repairs in accordance with Celebrity's estimate of repair," the lawsuit states. It alleges that Celebrity also wanted to invoice the customer.
If North State Custom refused Celebrity's terms, the dealership wouldn't sponsor their Mercedes certification any longer, the body shop alleged.
"It was a flat-out, mafia-style bribe," Coccaro said in October, one of the comments called defamation by the countersuit.
"North State and Coccaro communicated such claims to third parties, other than Celebrity, with the intent of lowering Celebrity's general reputation in the community and/or deterring third parties from associating with Celebrity," the countersuit states.
"We intend to hold North State and Coccaro accountable to the fullest extent under the law," Gross said in a statement. "Suing a business and seeking to harm its reputation and recklessly utilizing false facts is not something that should go unpunished."
'Authorized repair shop'
Gross' news release devotes much of its ink to attacking North State Custom's statement in the initial version of its lawsuit that "it is a violation of 11 NYCRR 216.7 (b) (2) for an insurer to negotiate a repair with an unauthorized repair shop [Celebrity is not a registered authorized repair shop]."
"Not only is Celebrity a licensed, fully authorized repair shop," Gross said in a statement, adding, "North State and Coccaro acted in reckless disregard for the truth when they made their false allegations, and they grossly failed to conduct even the most minimal due diligence.  All they had to do was check New York's DMV's website and they would have seen for themselves that Celebrity is fully licensed."
An Nov. 22 memo in support of a motion to dismiss the case highlights this point as well, stating that North State Custom "entire theory of recovery is essentially grounded upon the fatal flaw."
New York regulations allow any registered "motor vehicle repair shop" — which Celebrity is — to conduct auto body repairs, according to the state DMV. No special endorsement to that license is required to get into body work.
"It is beyond dispute that Celebrity is a licensed repair shop and Plaintiff, an experienced litigant, knew or should have known that its contrary contentions were recklessly made," the memo states.
But North State Custom in a revised complaint Monday and Mamo on Thursday argued that the dealership would fail to qualify as a collision repairer in practice.
"For example, Celebrity does not have the requisite Westchester County Department of Health Permits or Certifications to operate automotive refinishing processes as required by Chapter 873 Article XIII specifically Sections 873.1306.1 and 873.1306.3 of the Laws of Westchester County as well as 6 NYCRR Chapter 3, Sub Chapter A (801-8.3 et seq.) of The New York Department of Environmental Code."
"They couldn't refinish the car," Mamo said.
A "Mercedes-Benz approved paint system" is required to be on Mercedes' certified program, according to a Mercedes document filed as an exhibit by North State Custom. New York regulations also demand that "A repair shop shall have adequate equipment, adequate facilities and personnel competent to perform the services it offers."
Celebrity: Demanding money isn't illegal
Celebrity's motion to dismiss also raises an interesting argument — and one that if successful, might give OEMs, dealerships and repairers even more food for thought about the notion of dealerships sponsoring certified body shops.
According to Celebrity, it's not illegal in New York to demand payments in exchange for OEM certification business.
"Indeed, Plaintiff fails to cite a single statute, regulation, or any other authority whatsoever to suggest that payments to a licensed repair shop, such as Celebrity, for work it sends to a body shop, qualify as an unlawful activity," the memo in support of dismissal states. "In fact, Plaintiff fails to cite to any authority for such a prohibition because there is no such prohibition. Plaintiff should not be permitted to make blanket, inflammatory allegations about Celebrity's licensed business practices without having any legal or factual basis to support its contentions."
In fact, Celebrity wanting to make money means it can't be sued for prima facie tort, it wrote. "Plaintiff has acknowledged in its Complaint that Celebrity acted with motives of profit and economic self-interest," the memo in support of dismissal states. "Thus, its acts were not motivated "solely by malice or 'disinterested malevolence.'"
More information:
"Re: Mercedes-Benz Dealership Repair Practices"
North State Custom, Oct. 18, 2017
"Lawsuit Against Local Mercedes-Benz Dealer and MBUSA Will Be Heard for Dismissal"
Marc Gross of Fox Rothschild via PR Newswire, Nov. 29, 2017
Featured image: The luxury-certified North State Custom auto body shop is shown. (Provided by North State Custom)
Share This: