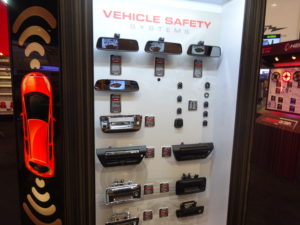 A Ducker Worldwide-Center for Automotive Research study released last month by SEMA found that retrofitting vehicles with advanced driver assistance systems could bring in more than a billion dollars to the aftermarket by 2021.
Some of the estimated $1.512 billion in product sales and service revenue could flow to collision repairers, SEMA vehicle technology Vice President John Waraniak said Nov. 2 at the SCRS OEM Collision Repair Technology Summit.
Waraniak, citing Ducker and CAR's research, described passive systems like forward collision or lane departure alerts as the "low-hanging fruit" worth pursuing first, as opposed to the more active systems like autobraking and lane keeping which can take control of the actual car.
But despite the relative lack of complexity and vehicle integration (which probably makes for a more affordable consumer product), Waraniak indicated that some passive aftermarket systems still require procedures such as diagnostic scanning. As aftermarket installers might lack capabilities like scan tools, "they need a partner" — and that's where body shops might have a lucrative opportunity, according to Waraniak.
"You know how to repair with confidence, they want to know how to customize with confidence," Waraniak said. A "tremendous collaboration" could be possible, he said.
The Ducker-CAR report anticipates that independent repairers will control 60 percent of the market for ADAS aftermarket sales and service by 2022, down from 80 percent in 2017 but still suggesting a major opportunity. Parts chains rise from 10 percent to 35 percent, while dealerships fall from 10 percent to 5 percent.
"ADAS is among the fastest-growing automotive segments today, and it presents a significant opportunity for aftermarket retrofitting and new vehicle upgrades," SEMA CEO Chris Kersting said in a statement Oct. 9.  "We're confident that the findings from the research report will be of interest to the industry and help members capture the opportunities ahead."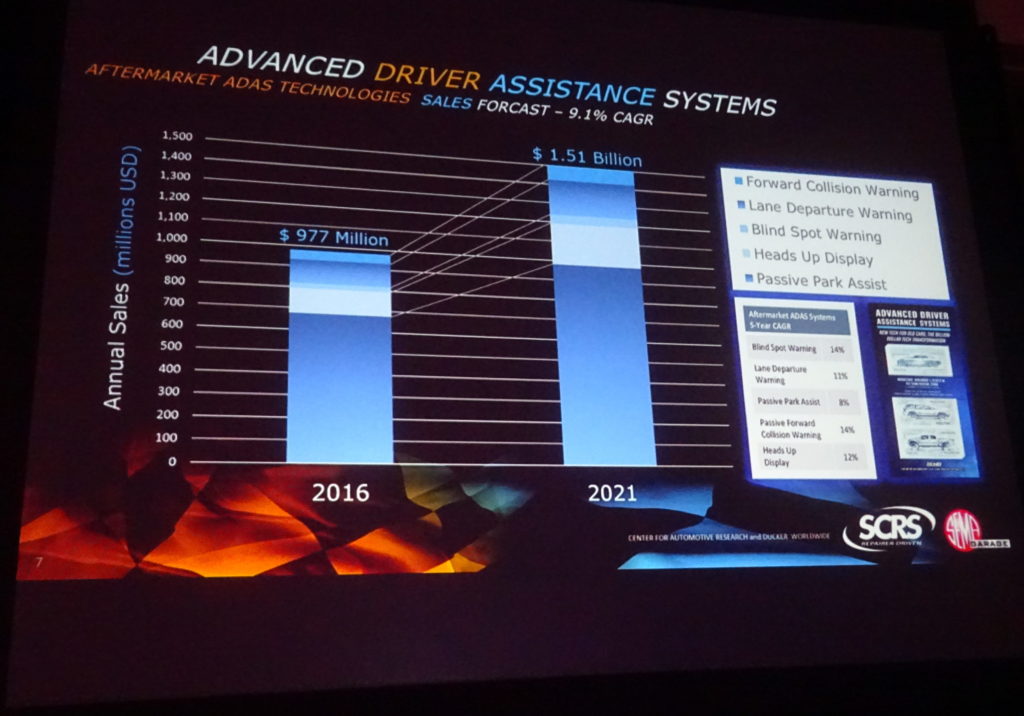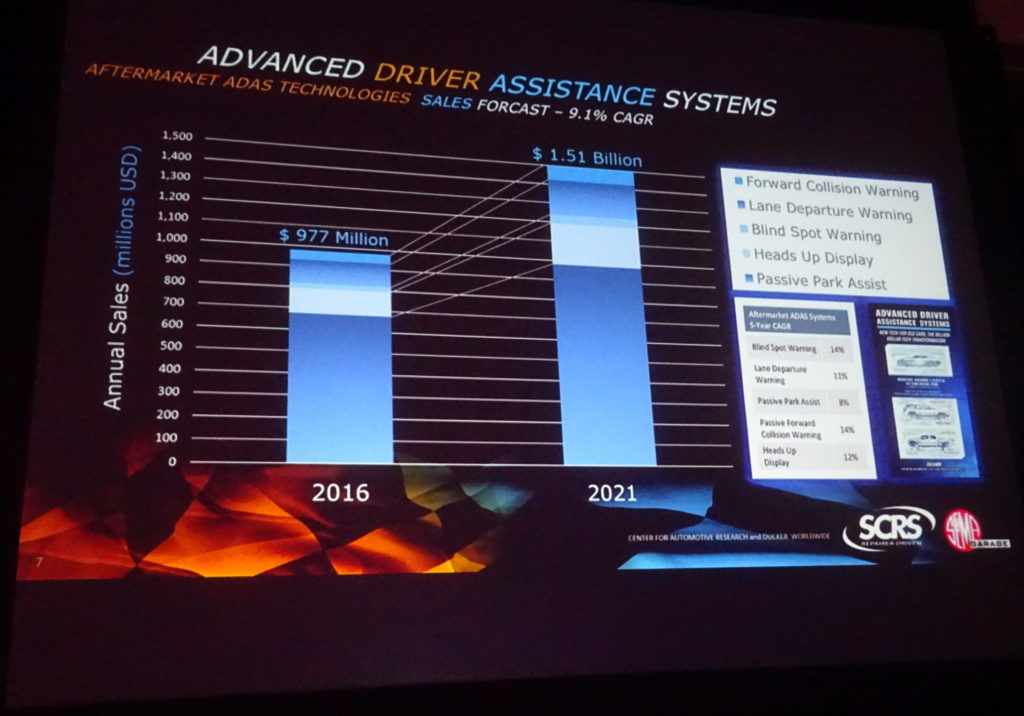 The Ducker-CAR study focused on a sweet spot of low complexity and high existing aftermarket presence. It found lane-departure and blind-spot warnings, forward collision warnings, and parking assist alerts and cameras the most likely candidates for adoption. (It also noted that heads-up displays had serious potential, though these aren't ADAS.) Backup cameras appeared to have been lumped in with the parking assist category.
Ducker and CAR estimated the blind-spot and forward-collision warning systems would each grow at a 14 percent compound annual growth rate. Lane-departure warning would follow at 11 percent, with passive parking assist systems (which include rear cross-traffic alerts and backup cameras) growing 8 percent. (HUDs rose 12 percent.)
The report noted that the existing demand for ADAS retrofits comes from commercial fleet industries, "due to safety concerns for a large-vehicle population; these systems provide protection against rising insurance rates."
But it saw the market shifting from a 60-40 fleet-individual driver split in 2016 to an even 50-50 divide by 2021.
"Individual end users are forecasted to increase their share of the market based on increasing knowledge and acceptance of ADAS technology and systems," the report stated.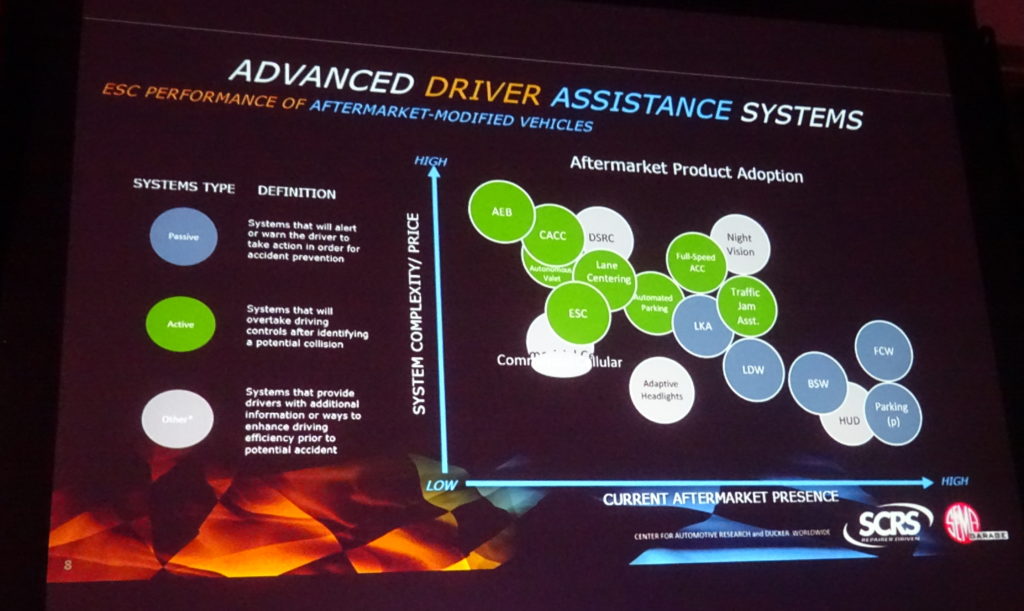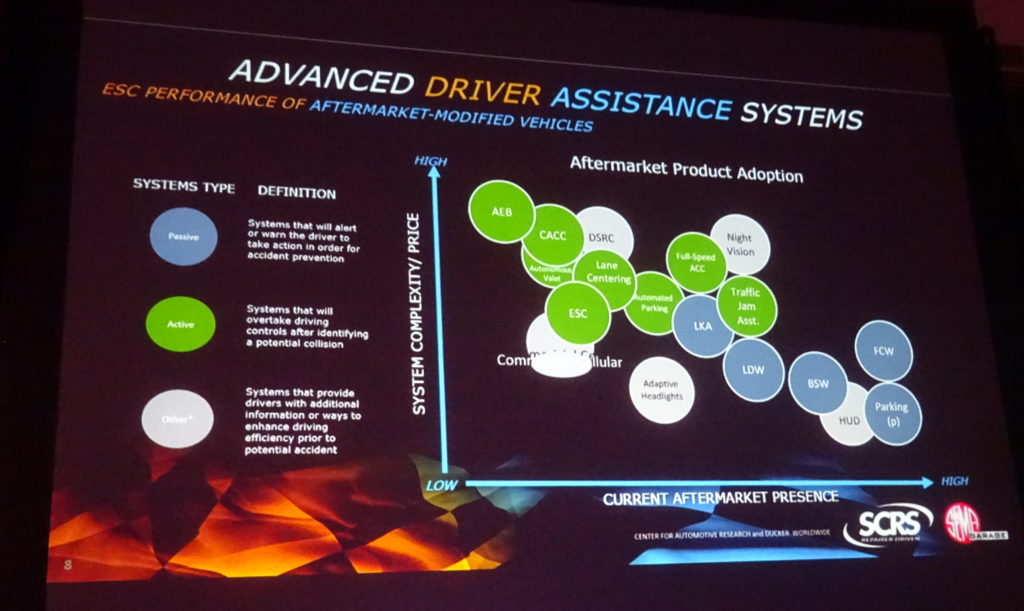 The idea here is that as customers see the technology become more ubiquitous, they look at ways to retrofit their older cars for the same benefits. Or they just want a single ADAS system, buying it in the aftermarket rather than than pay for a pricey options package.
Ducker and CAR described the aftermarket installing a combination of devices like cameras, radar, sensors or even LiDAR. However, it's possible to deliver some passive safety alerts with nothing more than one's phone and a mount, which while perhaps not as accurate would seem to reduce some of the demand for pricier aftermarket ADAS systems.
Though business opportunities might exist for collision repairers in the form of installation, scanning and calibration, the growth in ADAS retrofits could further reduce a collision volume already depressed by OEM-installed ADAS.
"Research attributes the reduction in the amount of rear-end accidents by 10% – 15%–and reduction of severity of injuries during an accident by 15% to 20%–to implementation of forward-collision warning systems," Ducker and CAR wrote. (When forward collision warnings are combined with the autobraking OEMs will make standard in 2022, rear-ending falls 50 percent, the report noted.)
According to Ducker and CAR, aftermarket forward-collision warning systems alone cost about $800 on average, compared to about $2,500 for an OEM options package including FCW.
Lane-departure warning on the whole can cut all collisions by 3 percent, though they hack head-on crashes 45-50 percent, according to Ducker and CAR. However, "they are relatively unpopular with consumers," the researchers wrote.
On the other hand, customer feedback suggests blind-spot monitors might be "one of the most attractive systems for retrofit applications," Ducker and CAR wrote. What options exist today in the aftermarket get good reviews and are "highly functional," but customers might not have as high an opinion of the tech on vehicles with "limited mirror space" for the alert, the researchers wrote.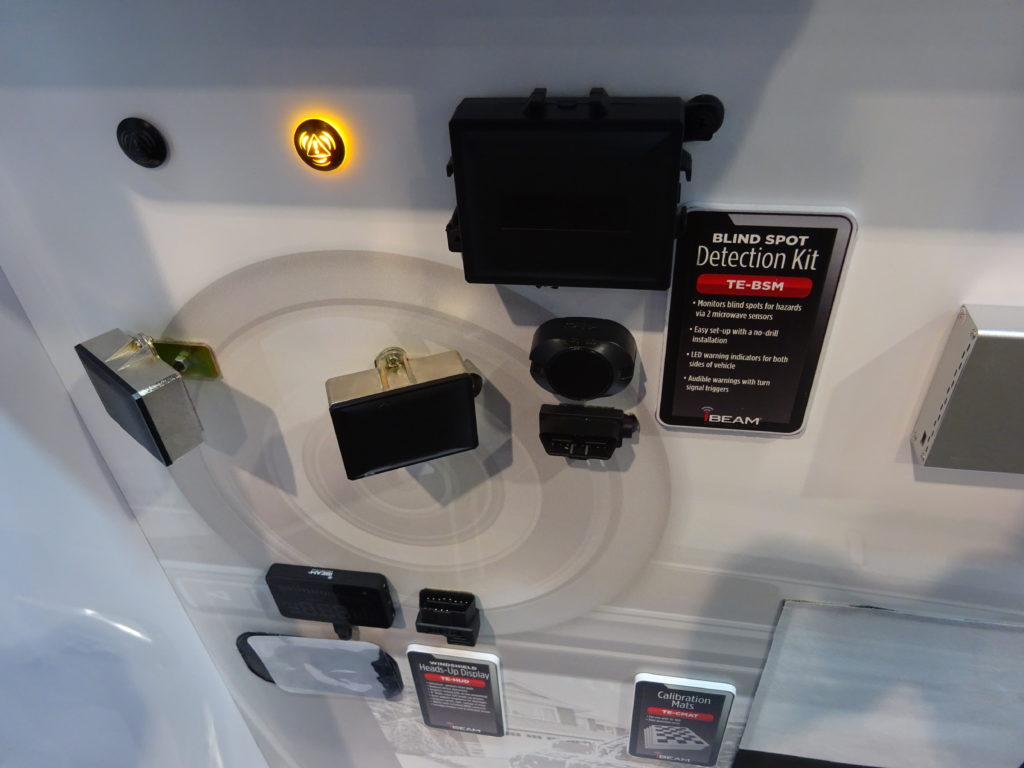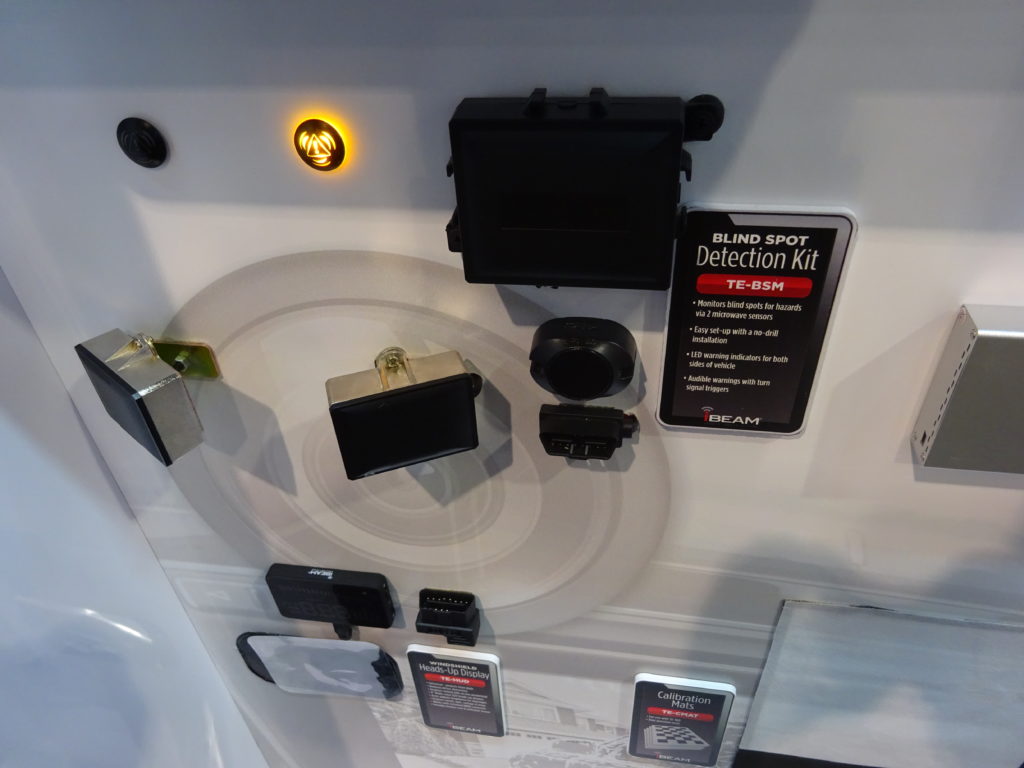 "There are also often additional costs associated with installation due to the complexity of end users working with mirrors and system calibration ($200-400)," Ducker and CAR wrote. That sounds like $200-$400 shops could be collecting for doing that work.
Finally, backup cameras, which can fall into Ducker-CAR's passive parking assist category, have been projected by the National Highway Traffic Safety Administration to cut 46 percent of all backup collisions.
The government made OEMs install the cameras standard in 2018, and passive parking systems have been around for a decade, but Ducker and CAR estimated that the aftermarket would still see at least 4 million sales a year of passive parking tech through 2021. The researchers also observed that there has been a "continued decline in the price of camera and radar-based systems," which we'd think would seem to make it more attractive to customers.
It'd be interesting to see if insurers begin to grant the kind of discounts they're giving fleets to private passenger drivers who install these systems. That could spur demand beyond that projected by Ducker and CAR — thereby boosting the positive and negative impacts of the technology upon the collision repair industry.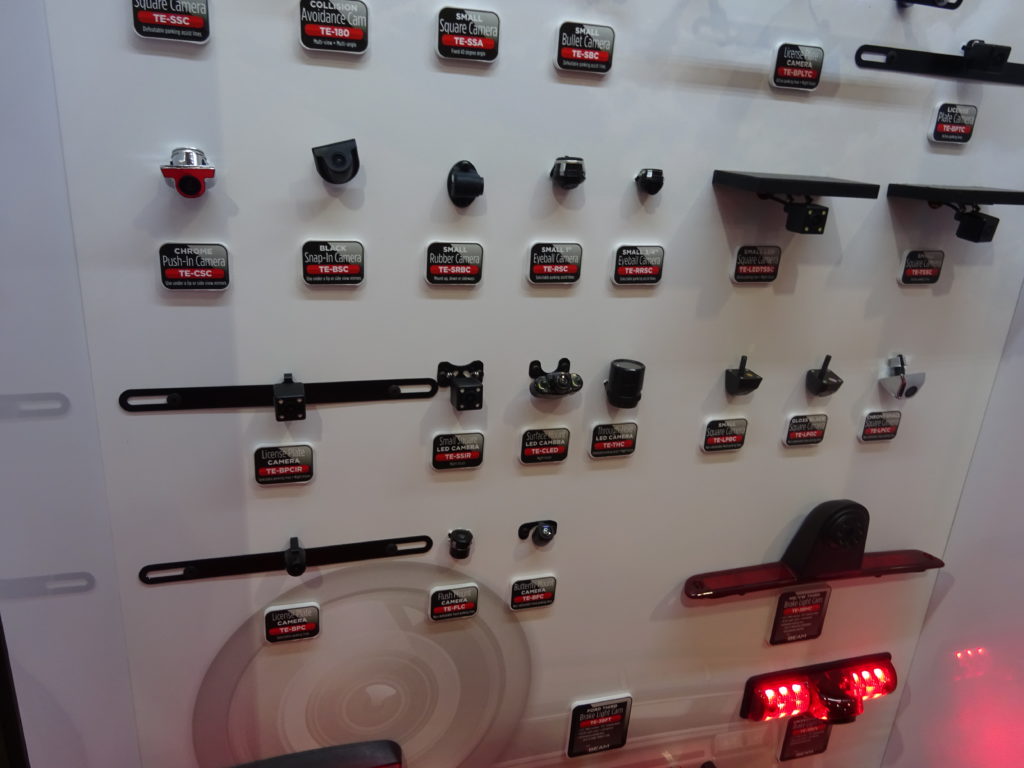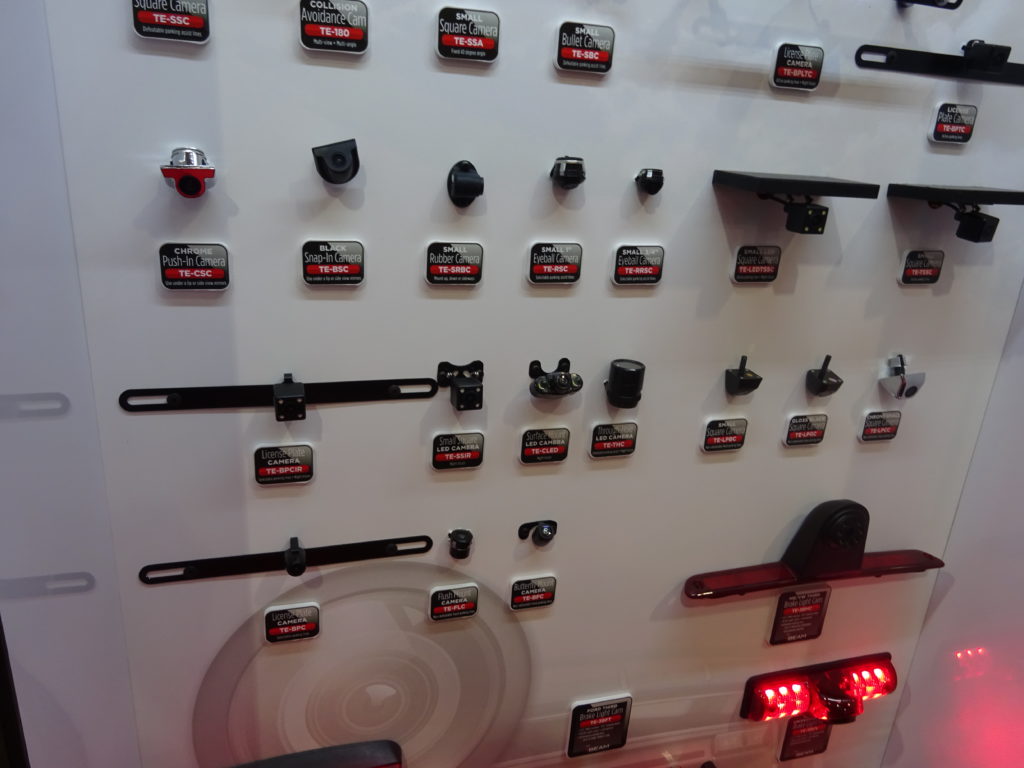 More information:
"New Technology Opens Up $1.5 Billion Market for Aftermarket Industry"
SEMA, Oct. 9, 2017
"Advanced Vehicle Technology Opportunity Study"
Ducker Worldwide and Center for Automotive Research via SEMA, Nov. 1, 2017
Images:
A Ducker Worldwide-Center for Automotive Research study released last month by SEMA found that retrofitting vehicles with advanced driver assistance systems could bring in more than a billion dollars to the aftermarket by 2021. (John Huetter/Repairer Driven News; slide provided by SEMA)
SEMA vehicle technology Vice President John Waraniak, citing Ducker Worldwide and the Center for Automotive Research's research, described retrofits of the passive systems like forward collision or lane departure alerts as the "low-hanging fruit" worth pursuing first by the aftermarket, as opposed to the more active systems like autobraking and lane keeping which can take control of the actual car. (John Huetter/Repairer Driven News; slide provided by SEMA)
Aftermarket backup camera systems from iBEAM are shown at the 2017 SEMA Show. (John Huetter/Repairer Driven News)
An aftermarket blind spot monitor from iBEAM is shown at the 2017 SEMA Show. (John Huetter/Repairer Driven News)
Share This: