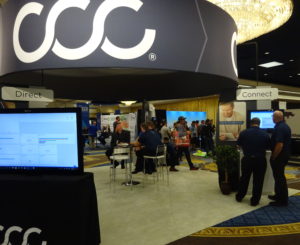 CCC  on Wednesday declared its CCC X telematics data exchange open for business and announced 14 more companies which would give and receive information via the platform
A data exchange is a way of translating a variety of different information inputs from different companies and data collection technology into a standardized format useful to end users like insurers, repairers and OEMs. CCC spokesman Pete Wiltjer wrote in an email Thursday that the exchanges "are going to change the face of the automotive world."
"Powered by the hyperscale CCC ONE™ platform (CCC ONE), CCC X can aggregate and normalize connected data from a rich variety of sources, including beacons, dongles, mobile applications, fleet and professional devices, and connected cars," the information provider wrote in a news release Wednesday. "CCC X can pass that data to customers on the CCC network through software-driven workflows that serve the automotive ecosystem. Data accessed via CCC X can be deeply integrated into existing insurer business operations for UBI programs, underwriting, increased claims automation, and more. Similarly, it can be integrated into software services for repairers on the CCC network."
CCC is already handling data from a variety of sources, notably its own telematics crash detection and analysis and electronic first notice of loss system CCC DRIVE. On Wednesday, it announced it was adding the following contributors/users:
Access Development – provider of location-based mobile coupons
Air Pro Diagnostics – provider of OEM-compliant scanning, diagnostics, and safety system calibrations
Assured Telematics Inc. – provider of fleet management solutions
asTech™ – provider specializing in diagnostic and vehicle electronic repair solutions
AutoEnginuity® – provider of OEM-level, professional diagnostic scan tools
Azuga – provider of rewards-driven GPS fleet tracking and insurance telematics solutions
Baron – provider of historical, live, and forecast road weather data
CalAmp® – provider of telematics solution enablement systems and services
Cambridge Mobile Telematics –provider of smartphone telematics and big data analytics
Danlaw –provider of automotive-grade aftermarket products that support various telematics services and verticals
Radius Networks– provider of Bluetooth® beacons for smartphone-based UBI programs
TrueMotion – provider of smartphone-powered UBI and Distraction programs
Urgent.ly – Provider of digital roadside assistance and secondary towing
Vehcon – provider of VIN, mileage, and visual verification technologies (Minor formatting edits.)
"We're thrilled to add these providers to our network," CCC telematics general manager Mac Fraser said in a statement. "Each brings valuable data to the broad automotive ecosystem, which can be directly and seamlessly delivered to OEMs, insurers, collision repairers, and other interested parties. We look forward to working with each of them and welcoming more data sources to CCC X."
Asked for clarification that shops had indeed given permission for their asTech, AirPro and AutoEnginuity scan data uploaded through the upcoming CCC Diagnostics tool to be aggregated and monetized by CCC through means like CCC ONE X, market solutions Vice President of Market Solutions Mark Fincher said, "We will require that anyone that sends us data has permission to do so."
"In the case of vehicle diagnostic reports, we will ensure that shops have given permission to the service provider or tool provider," he continued in a statement. "We envision this being done through the configuration of the tool/application, but that will be up to and unique to each diagnostic solution provider."
Fraser said CCC X data would feed CCC ONE users and their customers.
"The true value of connected data is rooted in what you can do with it," Fraser said in a statement."Unlike other exchanges, CCC X enables customers to put connected data to work. It works in conjunction with the CCC ONE platform where data is enriched, becomes more meaningful, is easily shared with users who value it, and can then be deployed into real-life experiences for our customers and the consumers they support."
You can imagine the benefits to a CCC ONE-using shop and insurer with such partners on the data exchange. Here's one hypothetical scenario that seems feasible given CCC's capabilities and descriptions of its partners:
CCC DRIVE detects and analyzes a collision. Baron describes the weather conditions at the time so the insurer can look at contributory factors (or fraud), and Vehcon spits out the VIN, odometer and build data so the shop has a sense of the scope of the repair. Urgent.ly gets notice of the crash, and dispatches a tow truck to take the owner to their preferred shop (or a certified or DRP shop recommended by an OEM or insurer). The system draws on a history of similar crashes' diagnostic scans from asTech, AirPro, and AutoEnginuity technology to predict what might be wrong electronically and add relevant procedures to the estimate. And this information is all available immediately.
"Key among the experiences CCC X can help transform is the claims and repair process," CCC wrote in a news release. "CCC X can ingest crash data at the point of impact and because of CCC's deep integration in claims that data can be used to increase the digitization of the claims process – including first notice of loss, determining the potential severity of injuries, estimating damage severity, repair scheduling, and beyond. CCC has processed over $1 trillion of historical claims and repair estimates."
Wiltjer noted that a recent Frost and Sullivan study found that only 15 percent of 140 commercial use cases for a vehicle's more than 200 sensors are being monetized today. This suggests a huge market for CCC and other businesses to tap.
More information:
"CCC Launches CCC™ X Connected Data Exchange"
CCC, Dec. 6, 2017
Featured image: The CCC booth at SEMA 2017 is shown. The booth for Collision Diagnostic Services, one of the companies participating in the CCC X data exchange, can be seen in the background. (John Huetter/Repairer Driven News)
Share This: