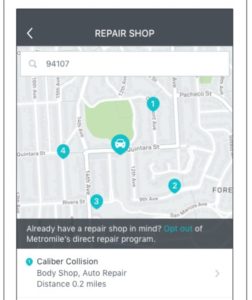 Pay-per-mile insurer Metromile on Wednesday announced its artificial intelligence capabilities could allow automated claim reimbursement to its customers and touted a smooth direct repair program process for policyholders.
Metromile confirmed its direct repair program to us last year, but the announcement indicates that it's ready to put the concept before its customers. It likewise announced the immediate payments and AI "Ava" in June but apparently hadn't given them a grand opening until now.
The carrier, which seeks to expand beyond its current turf of California, Illinois, New Jersey, Oregon, Pennsylvania and Virginia, charges customers a base premium and then "just pennies per mile" based on how much on how much they individually drive. (According to the company, the bill comes out an average of $500 cheaper than imprecise traditional insurance.) Each mile is tracked through an OBD-II port plug-in that also keeps tabs on where the car is parked and if diagnostic trouble codes have been tripped.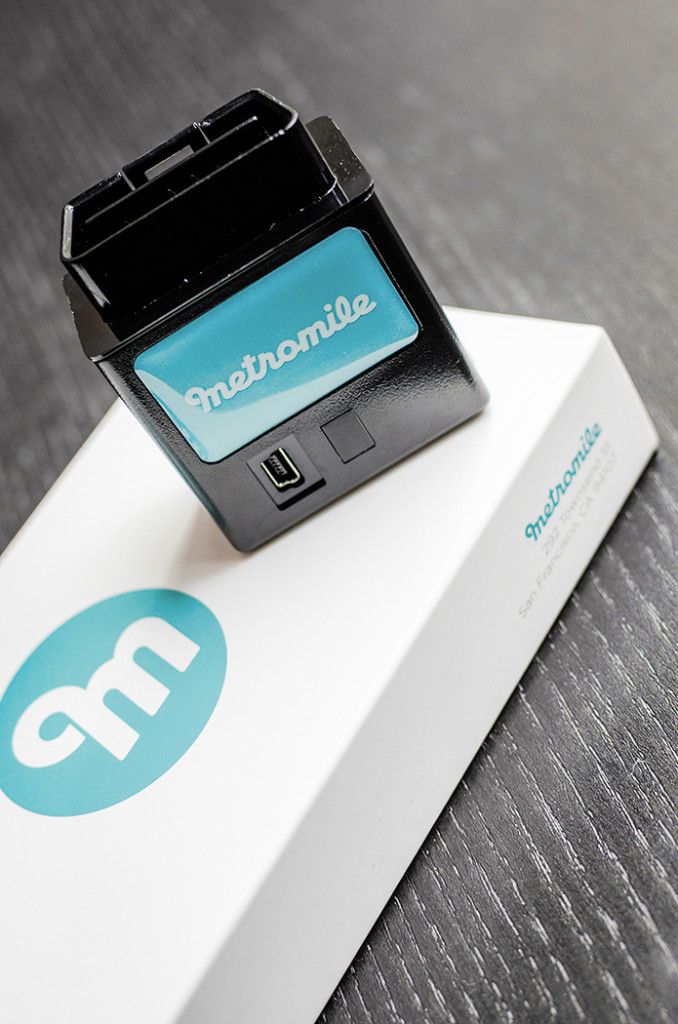 Most importantly from a claims perspective, the dongle also records telematics data about a collision for review when a customer makes a claim. Metromile runs this information through AVA, eliminating fraud — which is said to be 10 percent of an insurance company's loss payouts — and giving the carrier the confidence to pay the customer immediately in some cases.
"Using Metromile Pulse sensor data, AVA can reconstruct the scene of an accident to instantly determine if claim details are accurate," Metromile wrote in a news release Wednesday. "If the claim is verified, Metromile is able to automatically approve payments within seconds. With the addition of these automated capabilities, Metromile aims to eliminate the back and forth between consumer and claims adjustors and provide the best customer claims experience in the industry. "
The company also said that the AI "will assist and automate the process of identifying, managing and directly paying repair facilities so customers can focus on getting back on their feet faster, without the added hassle of speaking to a claims representative. … Repair payment will also be automatically processed through AVA, doing away with the stress that typically surrounds claim reimbursement. AVA will also notify customers of repair updates, changes to pricing or delays in service."
This level of automation would seem to require the shop keeping AVA well informed and could make supplements relatively painless for a DRP shop. A Metromile public relations representative was early Monday afternoon looking into setting up an interview for more details about the DRP program and app; continue to check Repairer Driven News for updates.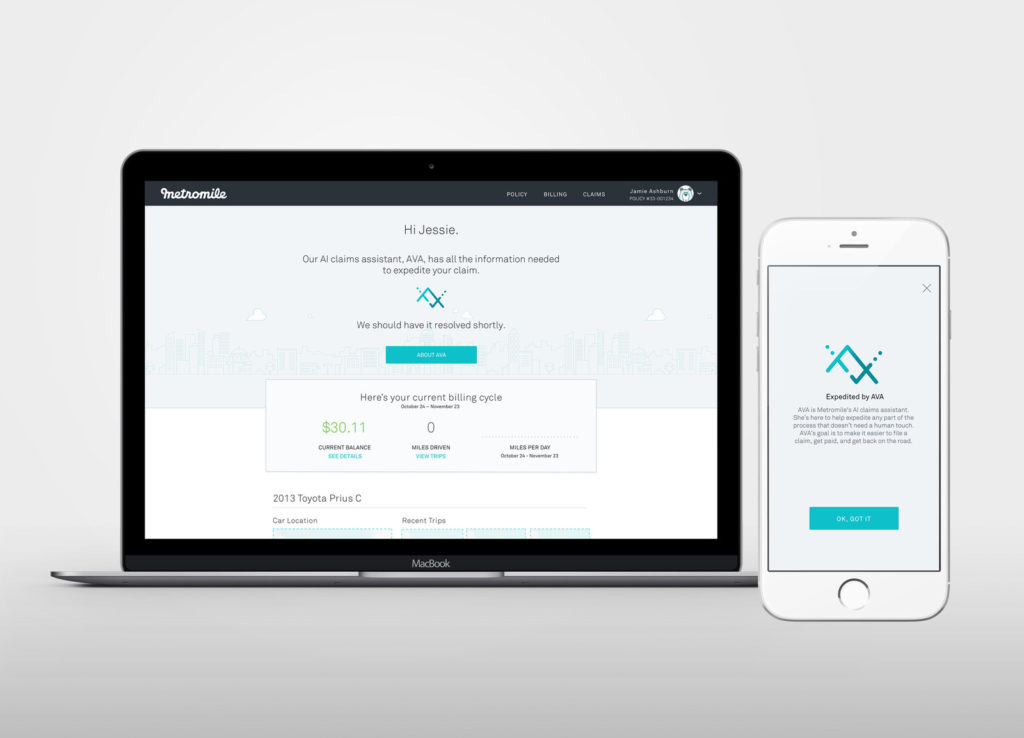 While Metromile did pitch the DRP shops as an easier experience for the customer, it seems like some of the selling points here could be extended to non-DRP shops as well.
Relying on a fraud-detecting AI rather than an army of adjusters keeps personnel costs low, potentially compensating for higher rates and fewer concessions from an unaffiliated shop. A desire to "eliminate the back and forth between consumer and claims adjustors and provide the best customer claims experience in the industry" doesn't seem to support micromanaging or stalling claims payments to customers opting for a non-DRP shop.
Steering considerations
The claims portion of the app does reflect shop choice laws — though some shops might find grounds to complain of "steering" based on some media shared by the company.
According to a screenshot provided by the insurer, the Metromile app displays a map of DRP shops in the user's area of San Francisco and a message stating "Already have a repair shop in mind? Opt out of Metromile's direct repair program."
A demo video shows a similar Bay Area map but instead declares, "If you already have a repair shop in mind, click here." It's unclear which one made the final cut.
In the video, clicking on the hyperlink to select one's own shop brings up a pop-up window declaring "The Metromile Difference."
"Metromile will honor any repair shop of your choice. If you choose a shop within the Metromile network, we offer a limited lifetime guarantee on those repairs.
"Are you sure you want to find  your own repair shop?"
Asking the customer to reconsider their decision feels a bit sketchy from a shop choice perspective, though Metromile is technically just stating facts. As shops and the state learned in Minnesota, factual statements by an insurer are permitted under the First Amendment — even when their delivery seems like steering.
Ironically, a new regulation in California aimed at preventing steering seems to have unintentionally created a loophole where these kinds of pop-ups would be acceptable.
No insurer shall …
(2) after a claimant has chosen an automotive repair shop, suggest or recommend that the claimant select a different repair shop, except as permitted by California Insurance Code section 758.5. For purposes of California Insurance Code section 758.5 and this section, a claimant has chosen an automotive repair shop when the claimant has specified to the insurer a specific automotive repair shop where he or she wishes to repair the vehicle.
California Insurance Code 758.5 says that an insurer can keep pitching one of its own shops if a "claimant has been informed in writing of the right to select the automotive repair dealer." (Emphasis ours.)
Which Metromile has done as part of the the pop-up. (Technically, the customer by clicking to opt-out also hasn't yet declared a specific shop either, which would also under the regulation seem to suggest that Metromile also could keep recommending its network.)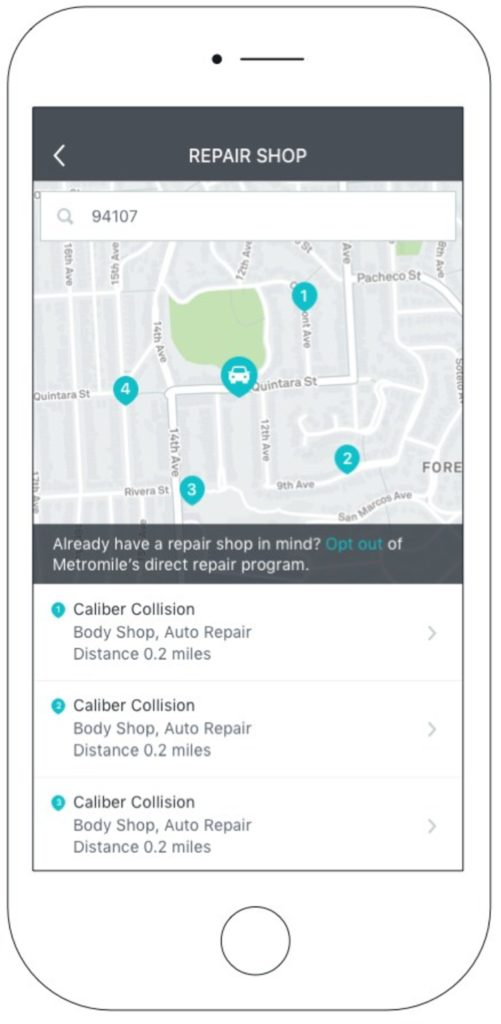 The customer in the demo ultimately picks a Metromile DRP shop, at which point the app also delivers the notice 758.5 requires in 10-point type:
"WE ARE PROHIBITED BY LAW FROM REQUIRING THAT REPAIRS BE DONE AT A SPECIFIC AUTOMOTIVE REPAIR DEALER.  YOU ARE ENTITLED TO SELECT THE AUTO BODY REPAIR SHOP TO REPAIR DAMAGE COVERED BY US.  WE HAVE RECOMMENDED AN AUTOMOTIVE REPAIR DEALER THAT WILL REPAIR YOUR DAMAGED VEHICLE.  WE RECOMMEND YOU CONTACT ANY OTHER AUTOMOTIVE REPAIR DEALER YOU ARE CONSIDERING TO CLARIFY ANY QUESTIONS YOU MAY HAVE REGARDING SERVICES AND BENEFITS.  IF YOU AGREE TO USE OUR RECOMMENDED AUTOMOTIVE REPAIR DEALER, WE WILL CAUSE THE DAMAGED VEHICLE TO BE RESTORED TO ITS CONDITION PRIOR TO THE LOSS AT NO ADDITIONAL COST TO YOU OTHER THAN AS STATED IN THE INSURANCE POLICY OR AS OTHERWISE ALLOWED BY LAW.  IF YOU EXPERIENCE A PROBLEM WITH THE REPAIR OF YOUR VEHICLE, PLEASE CONTACT US IMMEDIATELY FOR ASSISTANCE."
However, Metromile's encouragement of this completely digital process might on the whole be preferable for non-DRP shops when compared to traditional customer-insurer shop selection interactions.
The app's process is straightforward and automated and complies with California law, based on the demo. That eliminates the chance for a human carrier or subcontracted call center operator to get cute or overreach with scripted or unscripted dialogue and run afoul of California or other states' antisteering laws.
The demo also shows the "customer" opening a page for a particular DRP shop — and that page offers an opportunity to see the facility's Yelp reviews.
A customer who visits the shop's Yelp page and sees its score would be able to judge DRP shops on more than the insurer's say-so, allowing quality DRP shops to distinguish themselves from lesser rivals in a given market. The Yelp feature also allows non-DRP shops to still compete thanks to the "You might also consider" and "People also viewed" lists Yelp populates on the DRP shop's page.
Rental cars
Finally, Metromile on Friday announced it had built the process of renting a car from Enterprise into the app, further streamlining things for customers. (Customers can opt to use a different rental car provider if they wish.)
"We strive to provide the fastest and simplest claims experience for our customers, and we are successfully doing that by leveraging automation and artificial intelligence," Metromile CEO Dan Preston said in a statement. "The addition of Direct Repair Program, Rental Cars, and Claim Payments to AVA's capabilities allows us to further expedite the claims process by taking those repair, rental and reimbursement claims experiences mobile; ultimately getting our customers back on the road faster."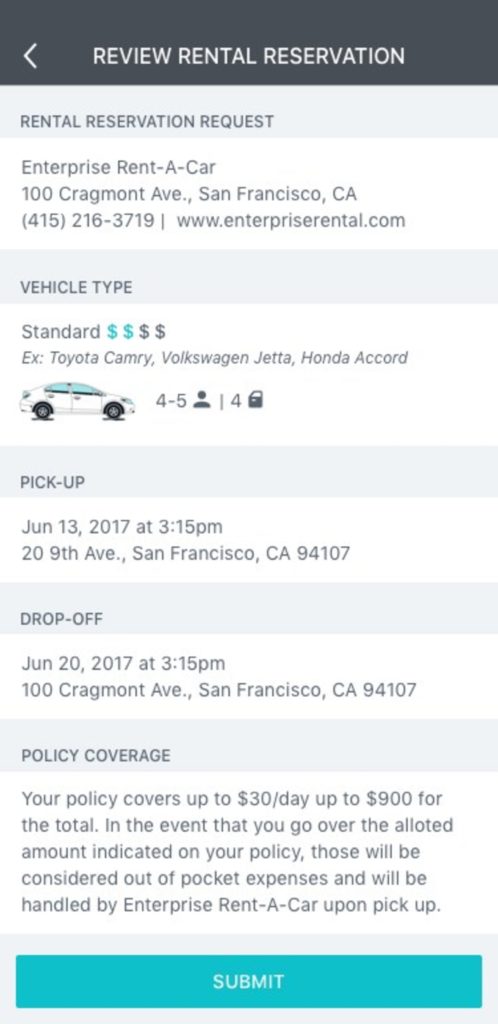 More information:
"Metromile Revolutionizes The Claims Experience With Automated Direct Repair, Rental Car And Claim Payments Programs"
Metromile via PR Newswire, Dec. 6, 2017
Images:
The Metromile app helps find direct repair program shops for policyholders. (Provided by Metromile via PRNewsFoto)
The Metromile app helps rent a car through Enterprise. (Provided by Metromile via PRNewsFoto)
Share This: