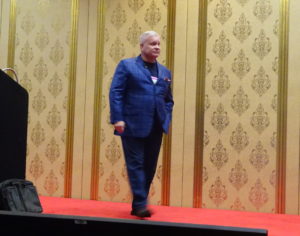 The Iowa Collision Repair Association announced Thursday that attorney Todd Tracy, who made headlines with a $31.5 million verdict against a Texas body shop, will deliver the keynote address at the 2018 Midwest Auto Body Trade Show in February.
"The 2018 show is responding to the current demands of the collision repair industry," the ICRA wrote. "Keynote Speaker will be Attorney Todd Tracy who won the $42M lawsuit for improper repairs in Texas. In his presentation, he gives hands-on engineering techniques that will enable body shops to conduct more detailed repair estimates as they begin to start thinking like crashworthiness experts. In addition, Tracy will discuss strategies for shops 'to keep people like him out of their business.'"
A Dallas County jury found that John Eagle Collision Center's failure to follow OEM repair procedures for a 2010 Honda Fit during a more than $8,000 hail repair increased the severity of a collision for the vehicle's next owners, Matthew and Marcia Seebachan.
The jury found the auto body shop's work responsible for 75 percent of related to the 2013 crash — and therefore $31.5 million out of the $42 million in damages awarded. The Dallas County jury attributed the other 25 percent of the blame to the other driver. The Seebachans have since settled with the dealership for an undisclosed amount.
"That Is 42 million reasons to fill the Midwest Auto Body Trade Show," the association wrote on its website. It predicted record turnout at the Feb. 16-17, 2018, event at Prairie Meadows in Altoona, Iowa.
Tracy starting Monday will professionally crash-test three Honda Fits, one with aftermarket parts, one with a glued roof like the Seebachans' and one with zero alterations. He ought to have results by the February trade show, which could make for an even more compelling presentation.
Another way to keep attorneys like Tracy from exposing your shop's mistakes is to train hard so you don't make as many in the first place. According to the ICRA, the event has you covered there as well with offerings including I-CAR and Automotive Management Institute training and courses on industry culture and autonomous driving.
"Leading industry educators will fill the compelling agenda," the trade group wrote.
The next generation of repairers will also be present, including busloads of auto body students brought in by the Collision Repair Education Foundation. That's good news for any shops in Iowa or nearby states who have entry-level spots to fill.
The show will also feature the Iowa Community College Refinish Competition, which the ICRA notes delivers "some very innovative and crazy hoods."
"Our students really like being involved with the show," Des Moines Community College collision repair Chairman Gary Sanger said in a statement, "it is encouraging to see the industry reach out."
More information:
Midwest Auto Body Trade Show webpage
Featured image: Todd Tracy, the attorney responsible for a $42 million verdict largely falling upon a Texas dealership body shop, on Nov. 1, 2017, at SEMA offered collision repairers ways to avoid suffering the same fate. (John Huetter/Repairer Driven News)
Share This: