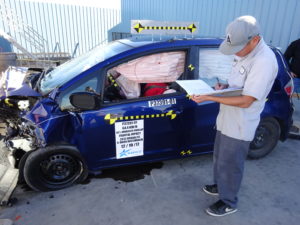 A Tracy Law Firm crash test of a 2013 Honda Fit on Tuesday might cast some doubt on the claim that aftermarket parts are "like kind and quality" to OEM originals.
A control Honda Fit of the same generation (the 2009-13 Honda Fit are structurally identical) will be tested later this month. But a comparison of the aftermarket part-laden Fit tested Tuesday and a 2009 Fit subjected to the same moderate-overlap crash test last decade shows at least one major difference.
The 40 mph tests crash 2009-13 Honda Fits (which are structurally identical) into a honeycomb aluminum barrier covering the driver's side 40 percent of the front of the car.
The 2013 Fit crashed Tuesday carried Certified Automotive Parts Association-certified fenders and a CAPA-certified hood; a NSF-certified bumper reinforcement beam; an uncertified aftermarket radiator support, windshield and drivers-side front wheel; and two uncertified aftermarket hood hinges.
Representatives of LKQ, the Automotive Body Parts Association, NSF and CAPA did not respond to a request for comment before the testing Tuesday.
Aftermarket parts are not generally approved or recommended by auto manufacturers for use by body shops. "The original parts used on a Honda automobile are designed and built to work together within their respective systems to provide optimum performance, safety and system integrity," Honda wrote in a 2010 position statement. "Other parts – whether aftermarket, counterfeit or gray market – are not recommended. The quality, performance, and safety of these parts and whether they are compatible with a particular Honda vehicle are unknown."
The aftermarket wheel had a rough time of it during Tuesday's test, while the OEM one tested by the Insurance Institute for Highway Safety last decade remained nice and round.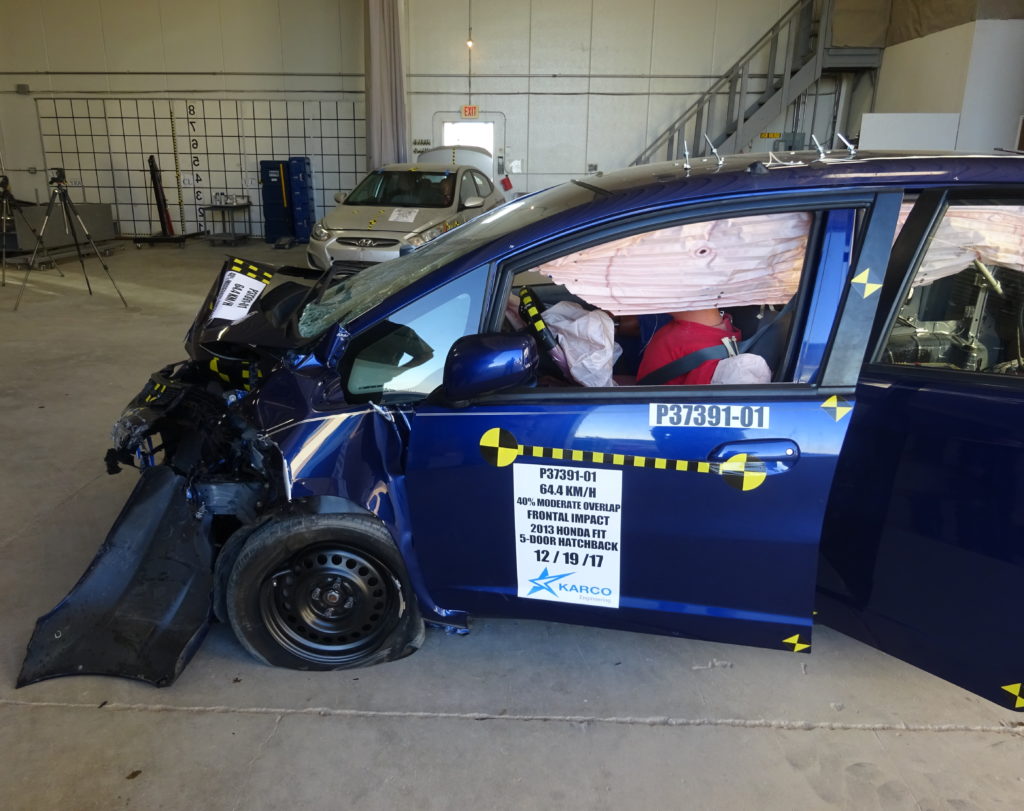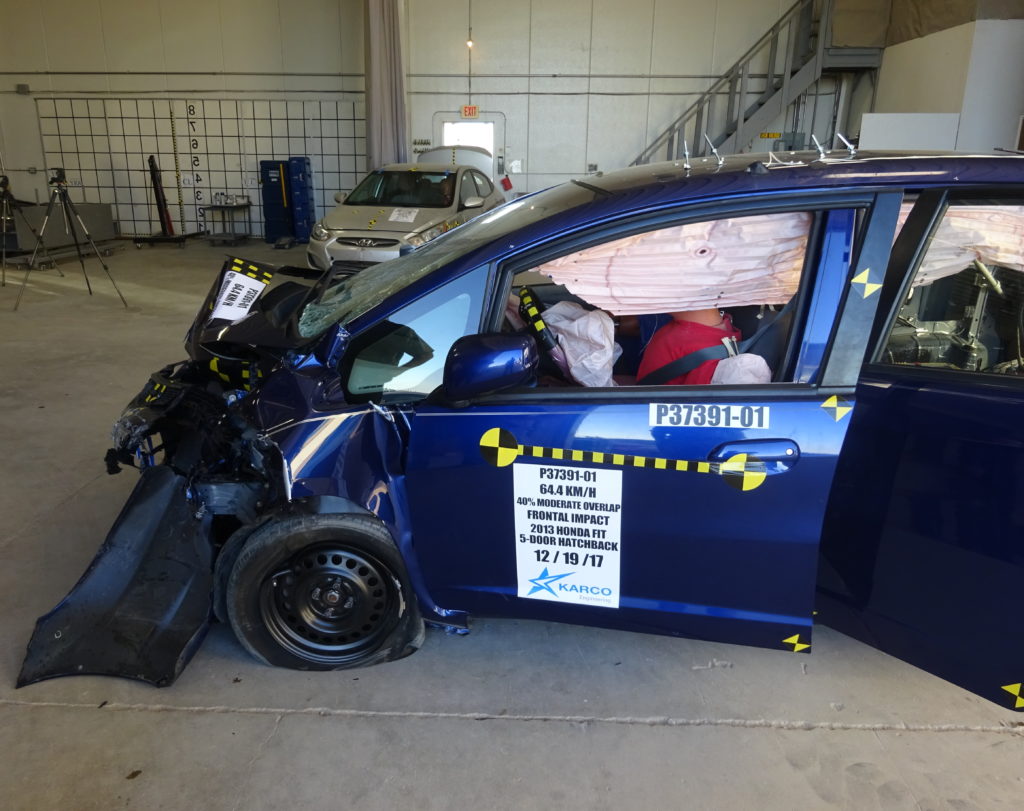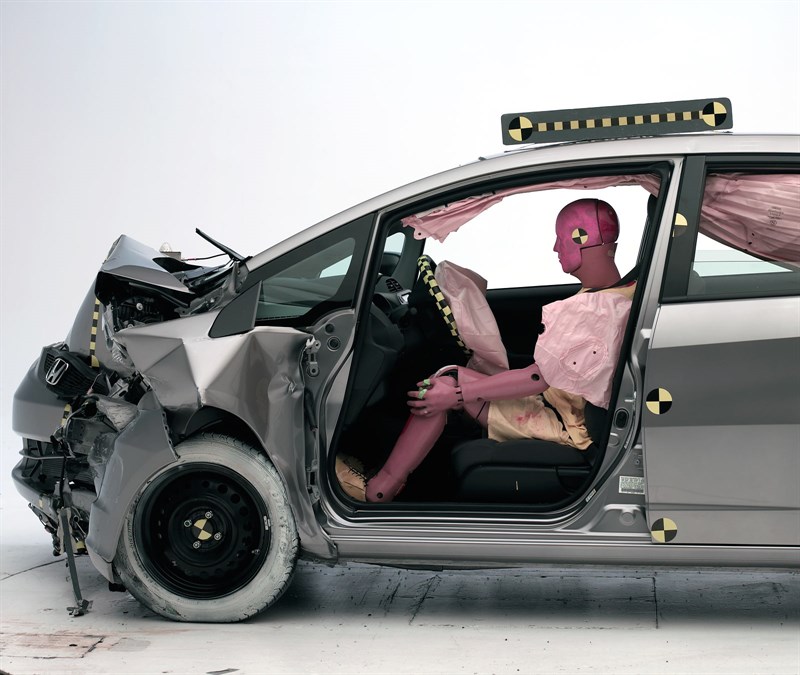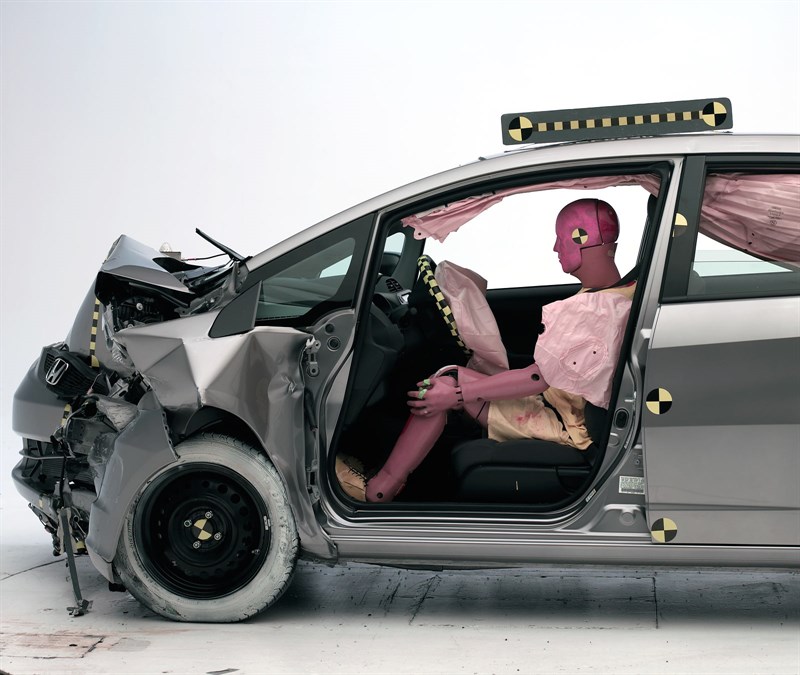 Monday's test of a 2009 Honda Fit with an improperly bonded roof and aftermarket windshield also left its OEM wheel in good condition.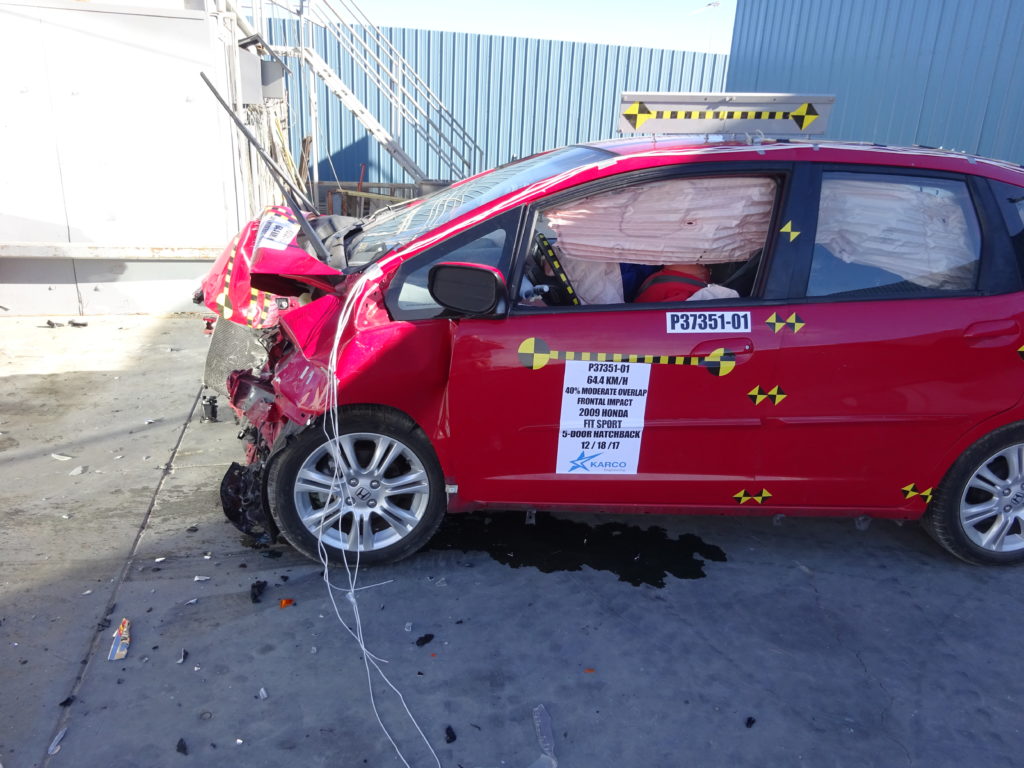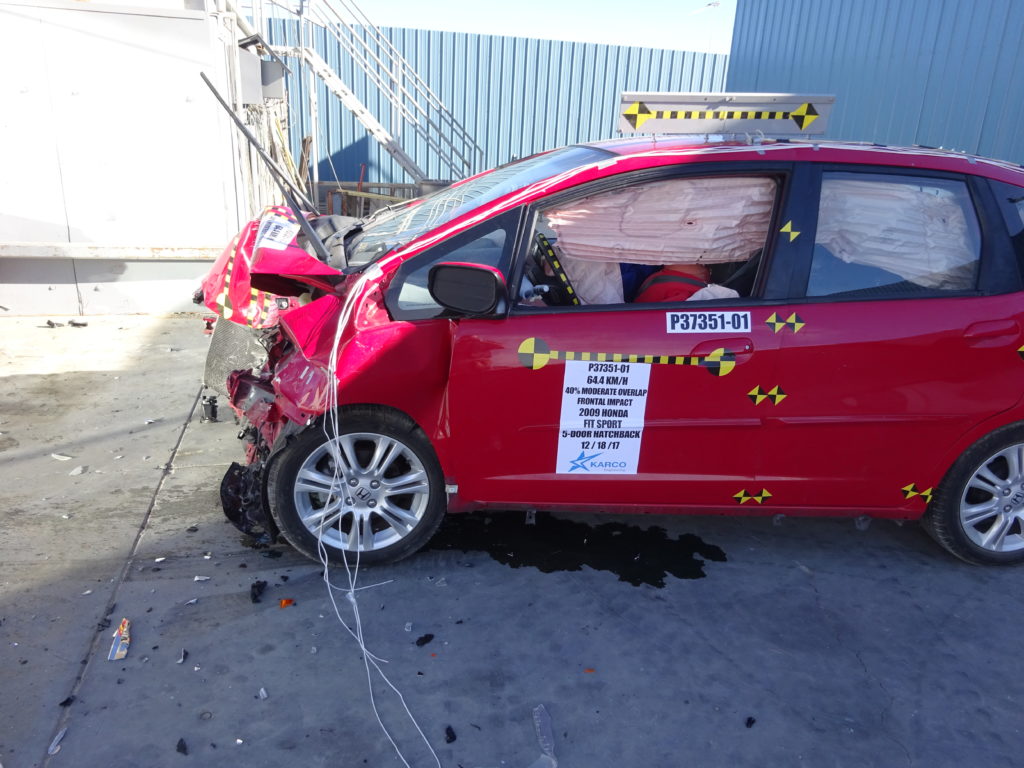 Another noticeable difference: The aftermarket glass on the 2013 Fit tested Tuesday appears far more warped than the OEM glass on the 2009 Honda Fit crash-tested by the IIHS. The aftermarket windshield (which was also improperly bonded) on Monday's test Fit held up better.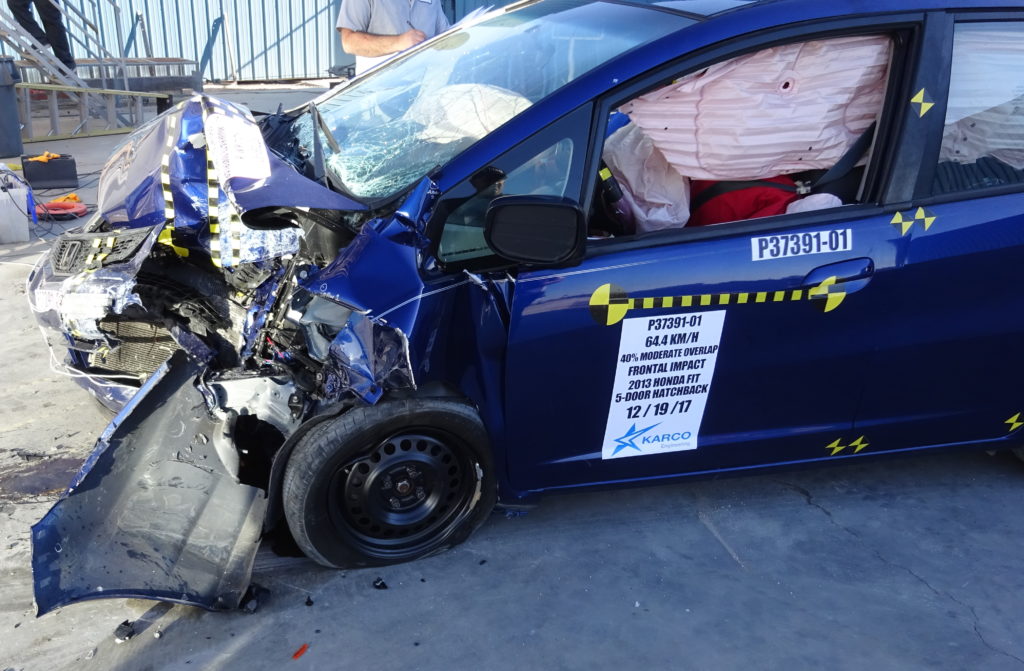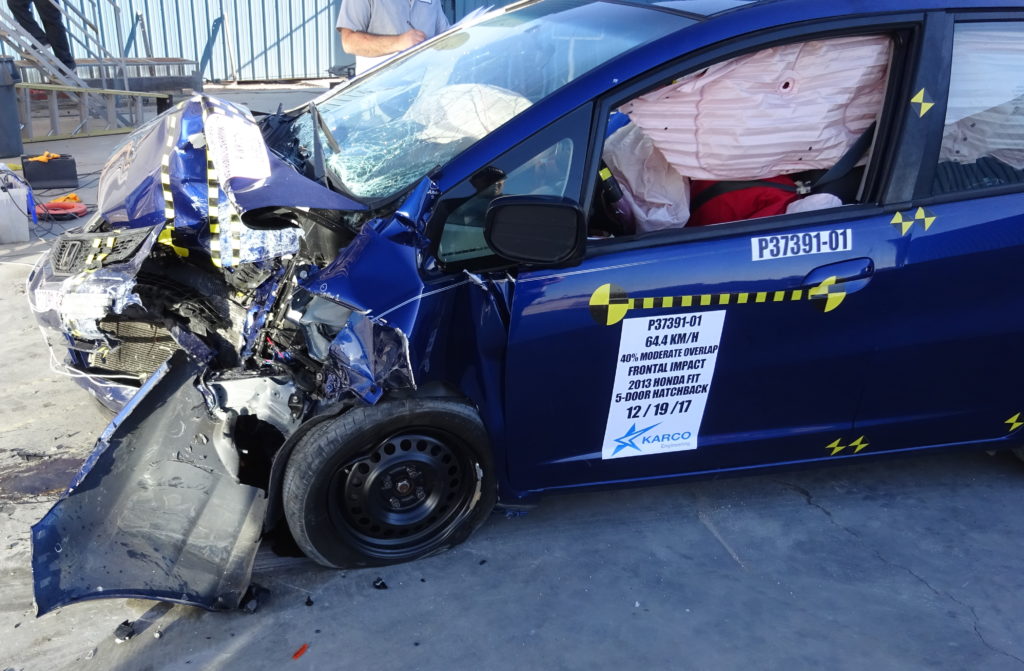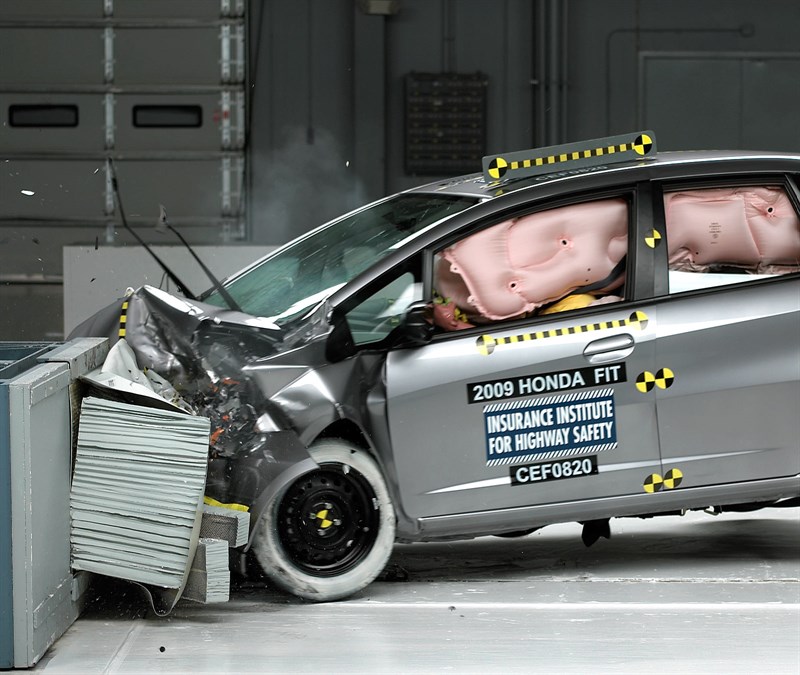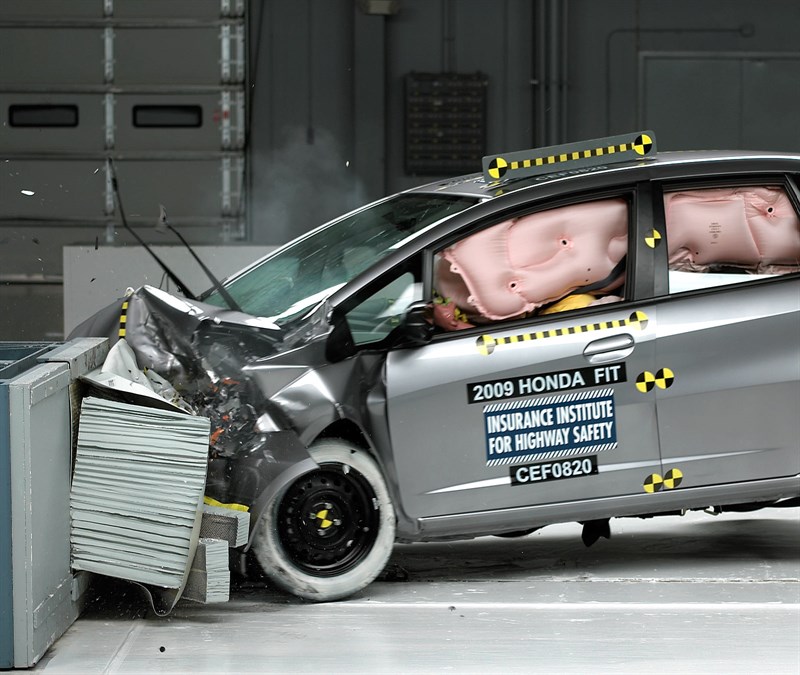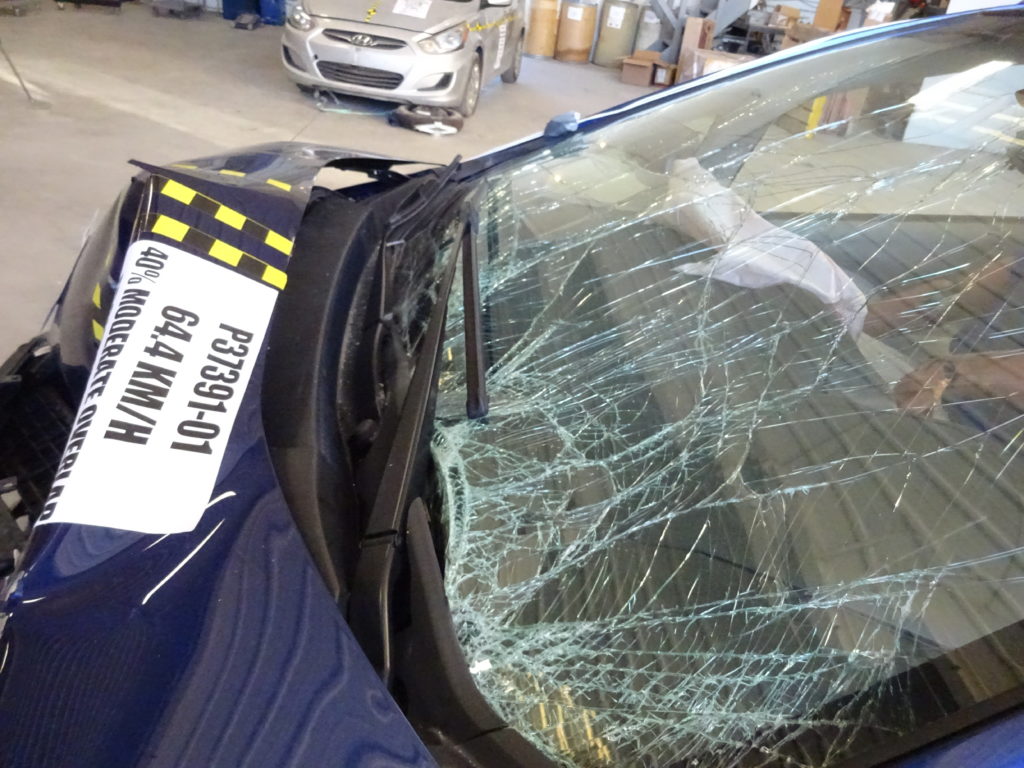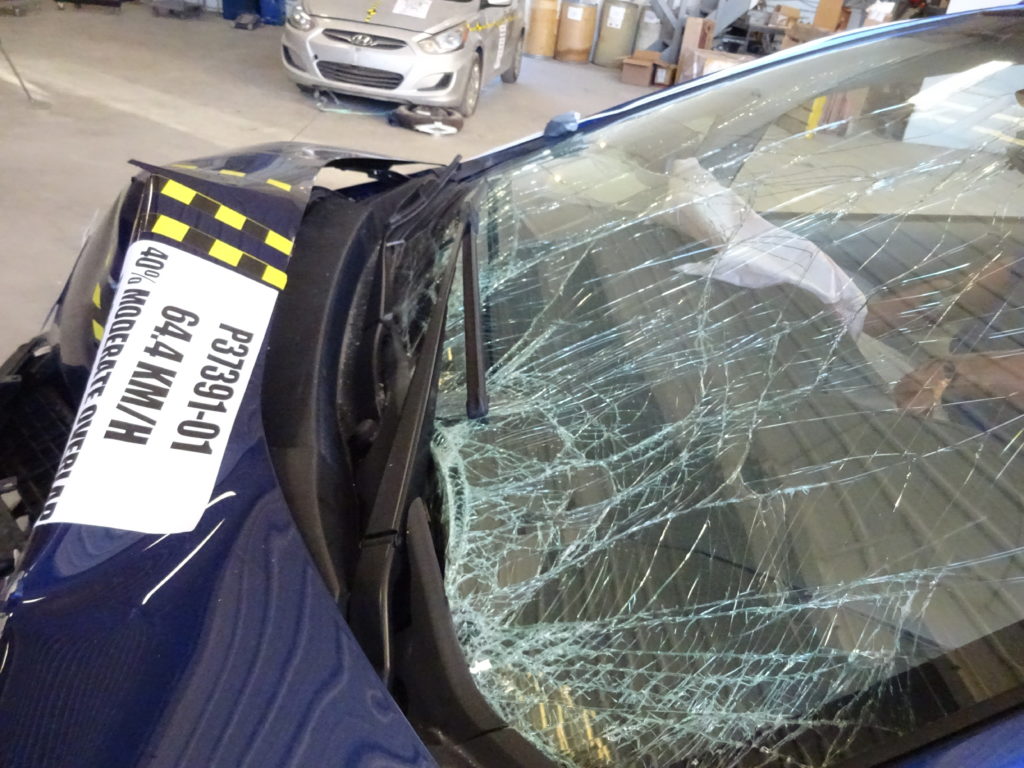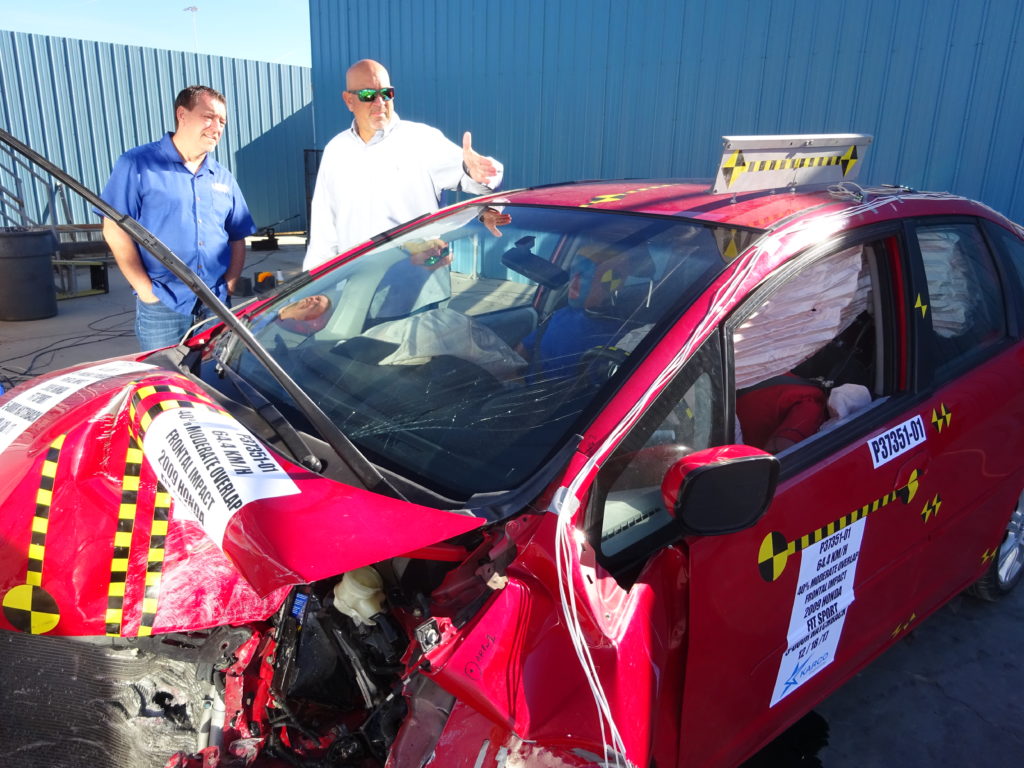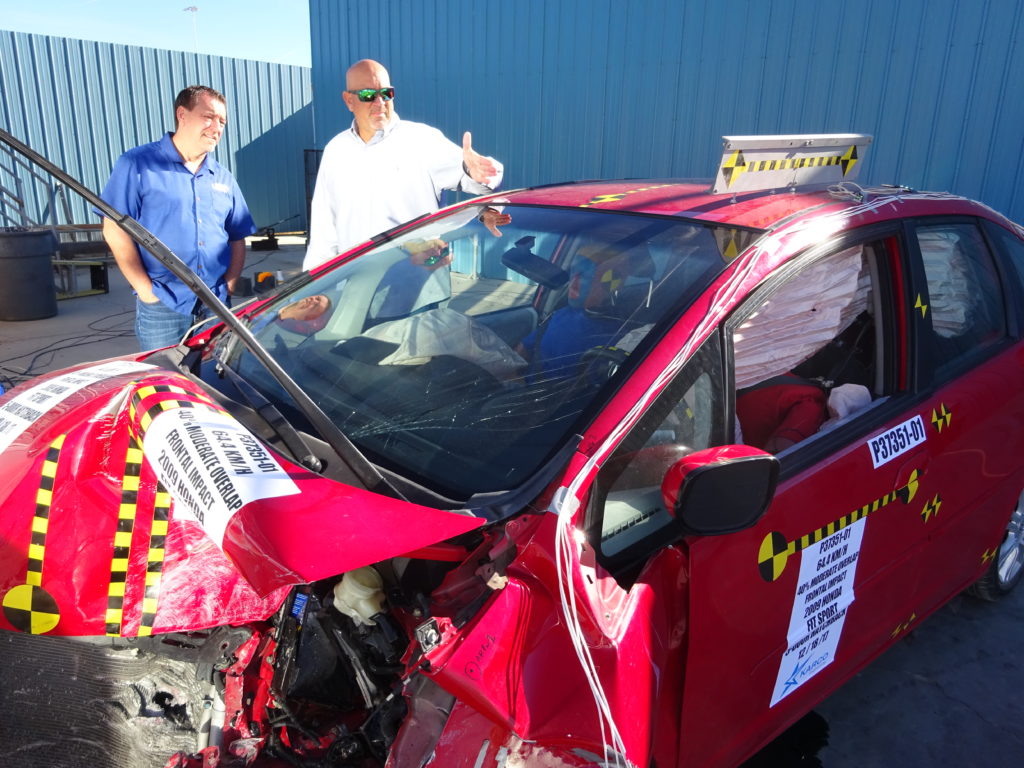 It'll be also interesting to see how well the control Fit's door opens. The blue 2013 Fit carrying aftermarket parts took some effort from a Karco staffer and ultimately allowed only a narrow angle for an occupant to exit the car.
The IIHS doesn't describe what happened with the door on its 2009 Fit, but for what it's worth, the door on the glued-roof red 2009 Fit opened much wider.
Here's footage of the Karco test matched to the IIHS' test footage.
And here's some images of the aftermarket-parts Fit compared to other IIHS' photos from its test.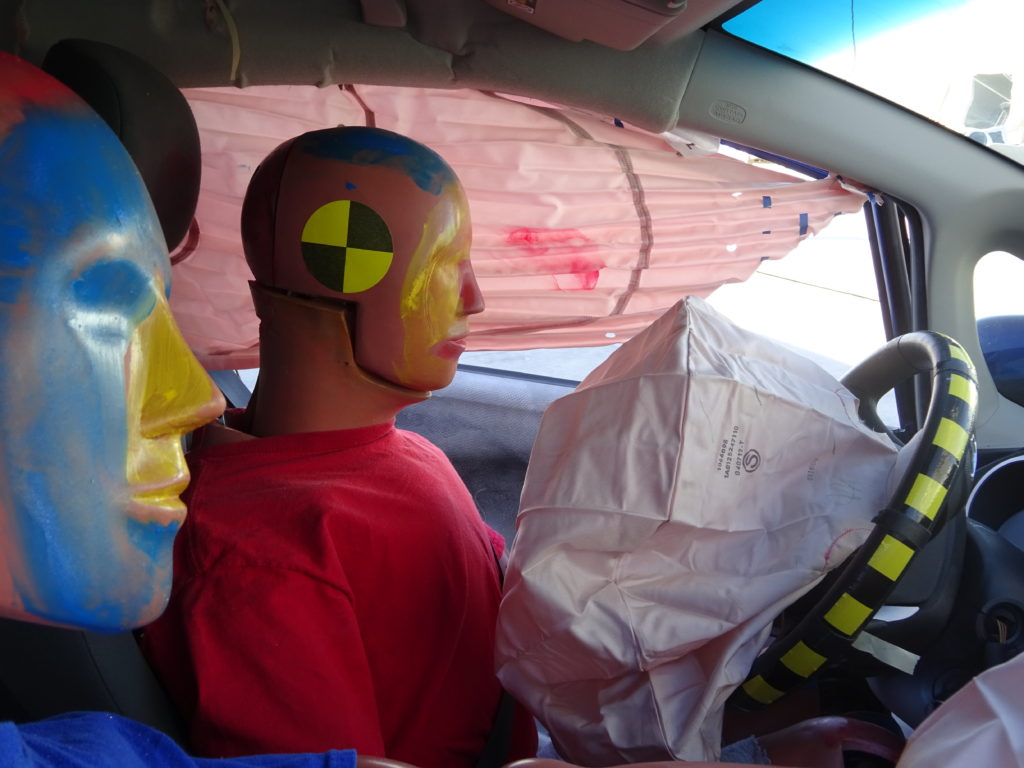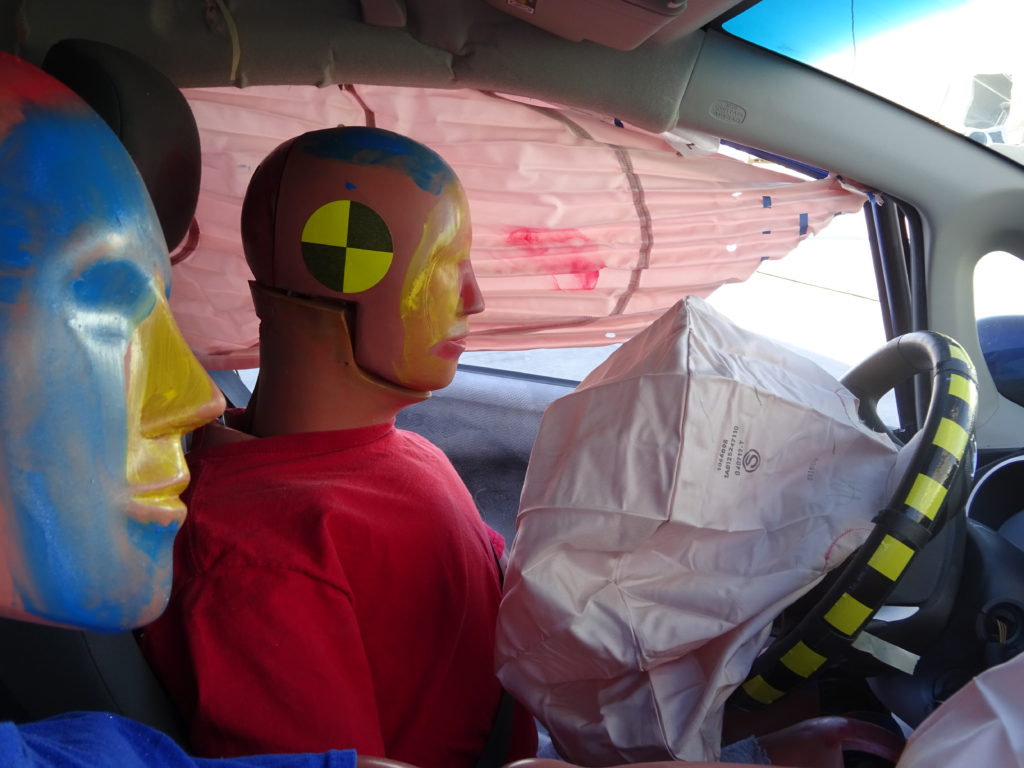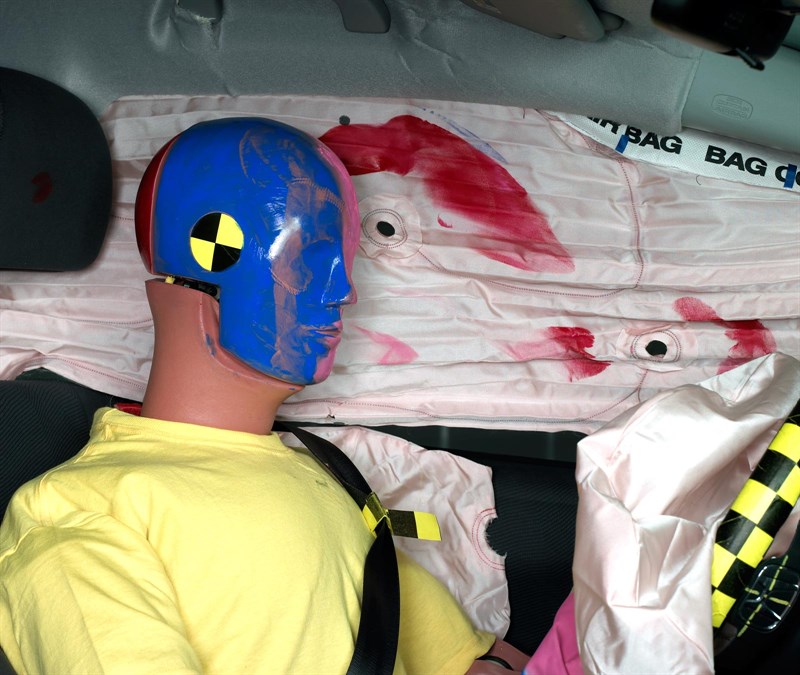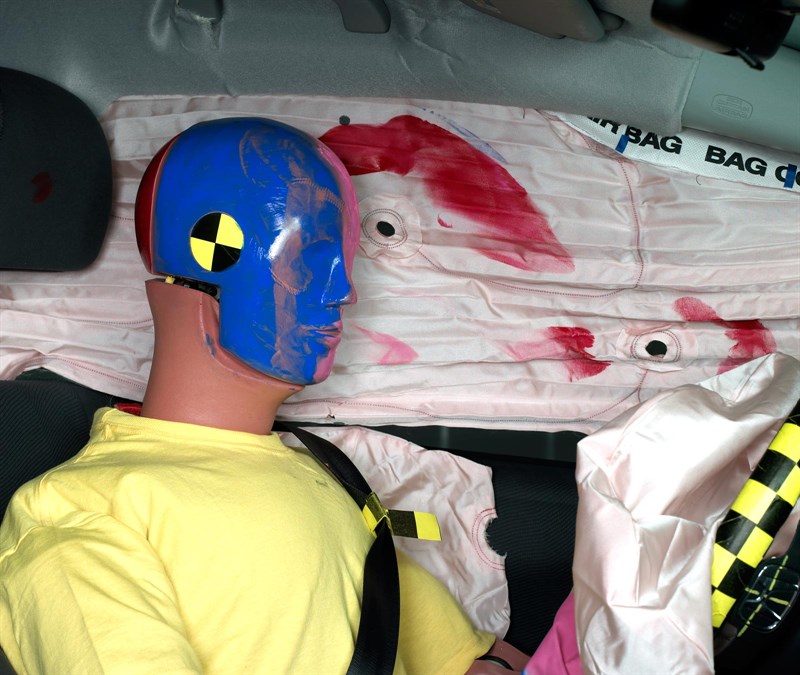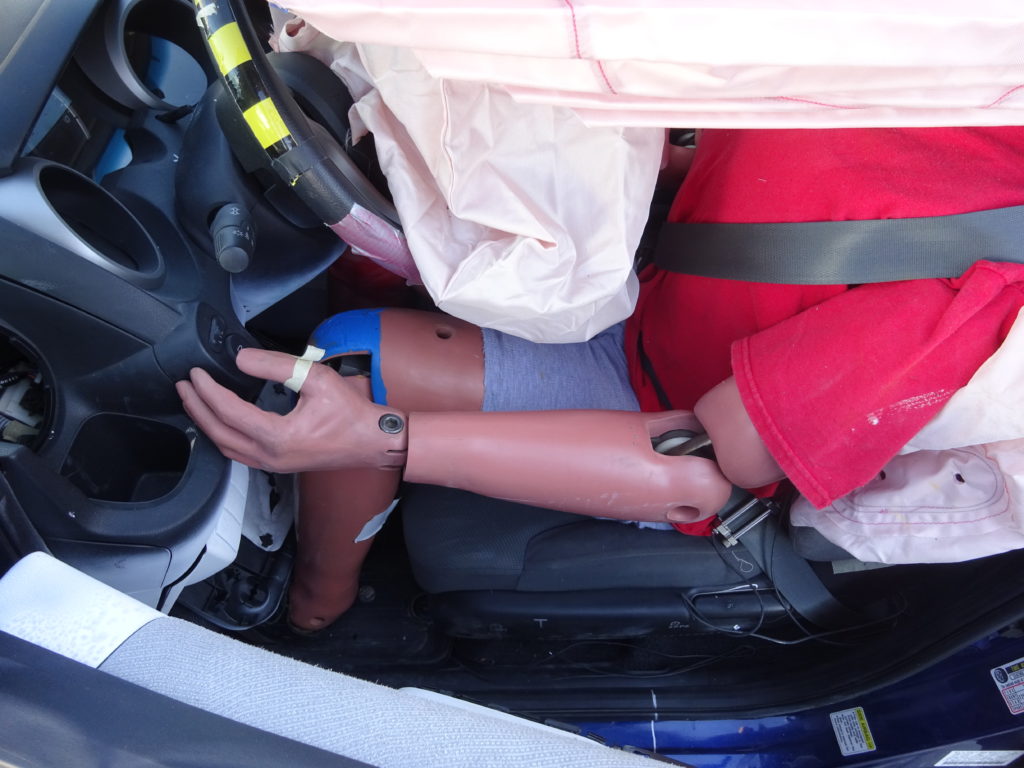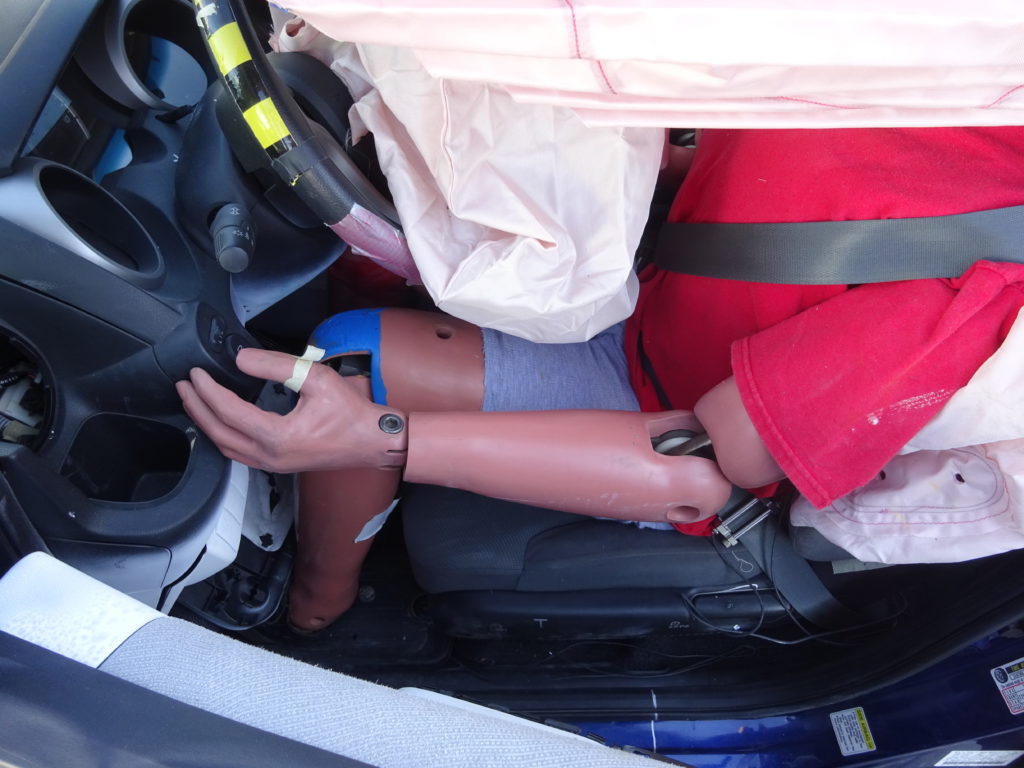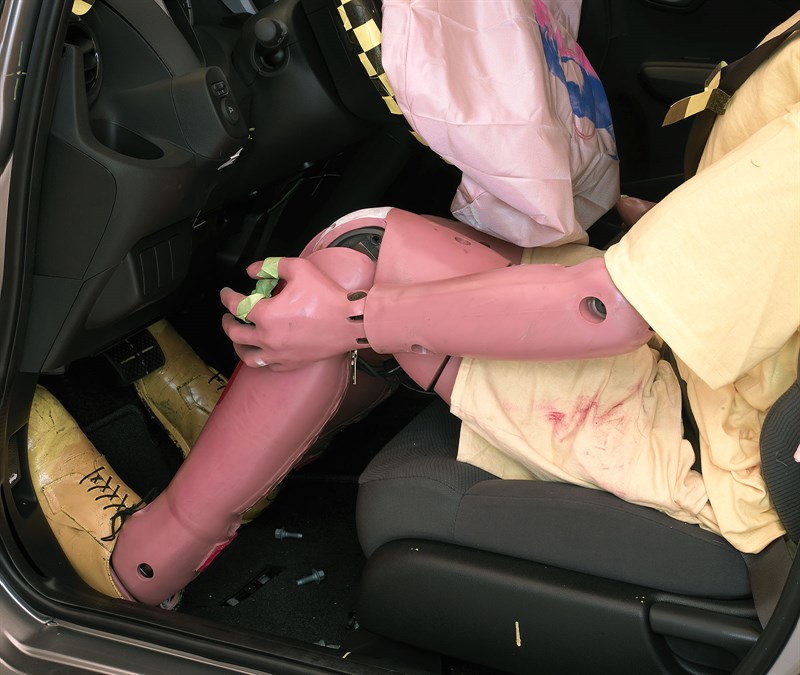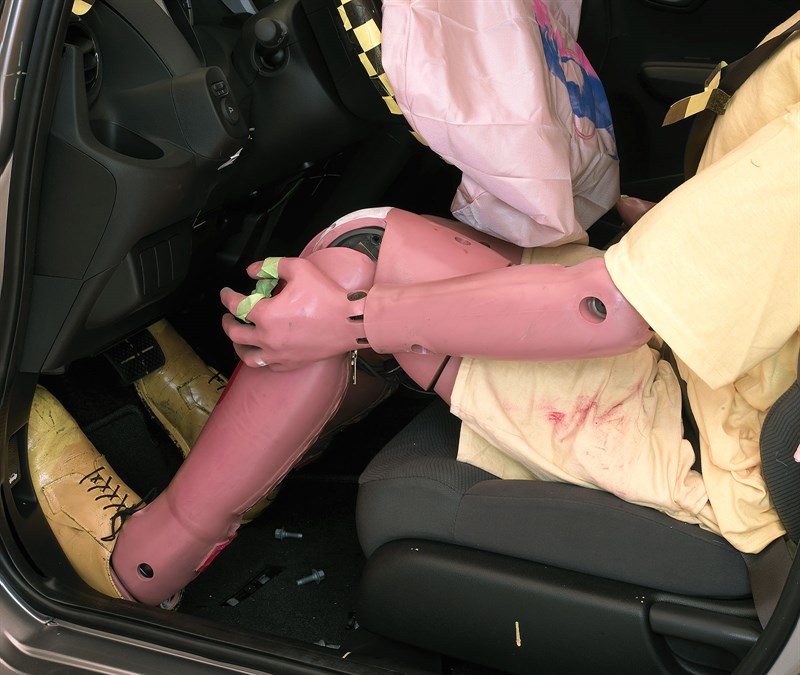 Tracy called the Tuesday results "monumental." He wrote in an email that the testing "gives scientific, engineering based proof that aftermarket parts are deadly and dangerous" and "do not perform like (OEM) parts."
He said insurance carriers "can no longer hide behind component parts tests, conjecture and speculation."
Full results from the testing should be ready by the end of January 2018. Stay tuned.
More information:
Insurance Institute for Highway Safety 2009 Honda Fit crash testing
"Putting Car Insurance Bullies To The Safety Test"
Tracy Law Firm YouTube channel, Dec. 7, 2017
Images:
A Dec. 19, 2017, test at Karco crashed a 2013 Honda Fit into a 40 percent moderate-offset barrier at 40 mph. The Fit was carrying multiple aftermarket parts. (John Huetter/Repairer Driven News)
Results from an Insurance Institute for Highway Safety moderate-overlap crash test of a 2009-13 Honda Fit. (Provided by IIHS)
A Dec. 18, 2017, 40 mph test at Karco crashed a 2009 Honda Fit into a honeycomb aluminum barrier covering the driver's side 40 percent of the front of the car. The Fit had been "repaired" to mimic the conditions found on a 2010 Honda Fit — which is structurally identical to the 2009 Fit — owned by attorney Todd Tracy's clients Matthew and Marcia Seebachan. (John Huetter/Repairer Driven News)
Share This: