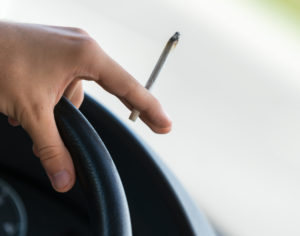 Advances in technology might pare down the number of crashes repaired by the nation's auto body shops, but legalized marijuana might help win some of that business back, according to a 2017 Insurance Institute for Highway Safety report.
That's good news for collision repairers in states which have approved recreational use of the drug — notably shops in California, which had to grant commercial licenses to sell pot no later than Monday. (The state has allowed residents to grow their own marijuana for more than a year.)
Other states' repairers should expect to see more collisions as well once their legalizations truly kick in this year. Maine will allow retail sales as early as February. Massachusetts commercial sales can start in July. Nevada sales began in July 2017.
The IIHS' Highway Loss Data Institute last year published research attributing a 2.67 percent increase in crashes to pot legalization, in contrast to a National Highway Traffic Safety Administration 2015 study of Virginia Beach, Va., drivers that the IIHS described as failing to tie pot use to crash risk.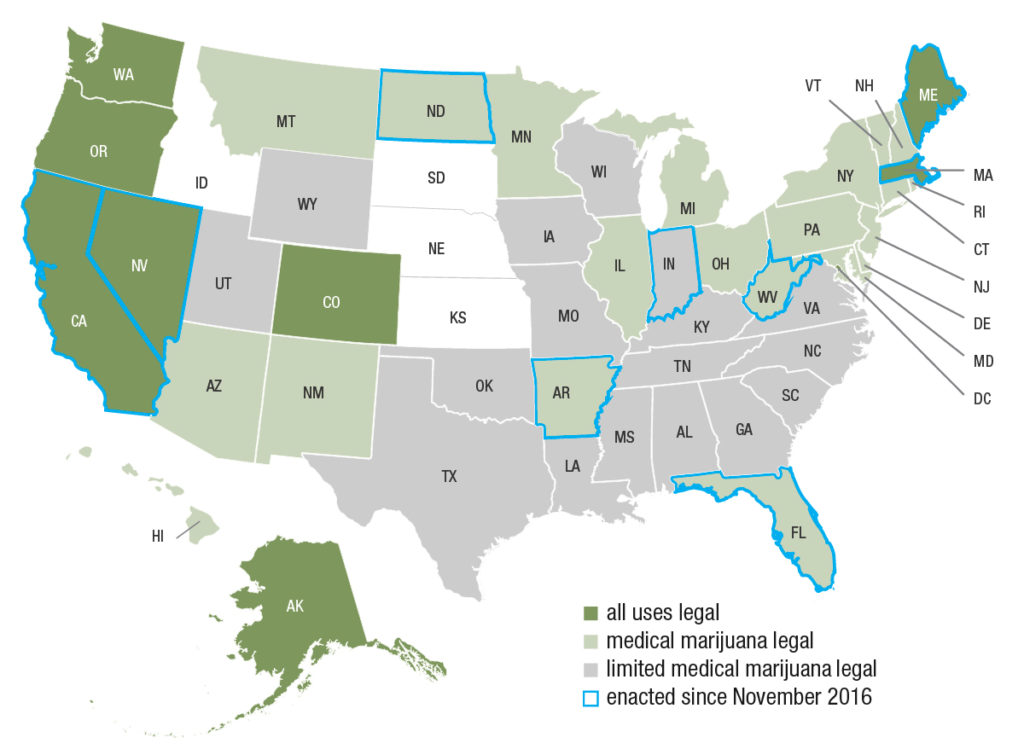 The IIHS examined a different variable, studying collision claims in Colorado, Oregon and Washington, which legalized recreational pot in 2014 and 2015, and those in neighboring states which hadn't. (Some of the nearby Western states had legalized medical marijuana, while others hadn't; Colorado, Oregon and Washington approved medical pot years ago.)
"The combined-state analysis shows that the first three states to legalize recreational marijuana have experienced more crashes," HLDI Senior Vice President Matt Moore said in a statement. "The individual state analyses suggest that the size of the effect varies by state."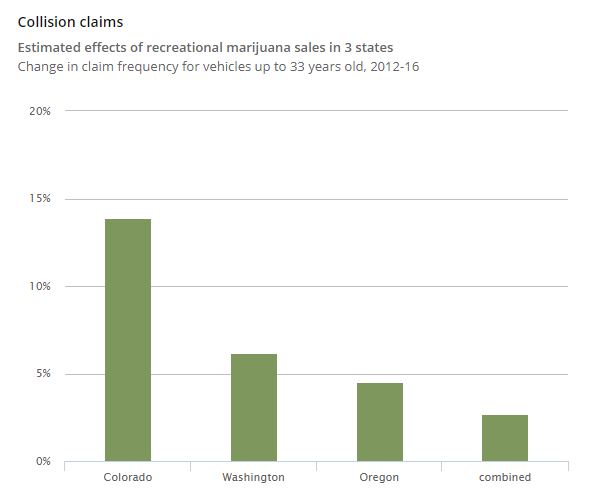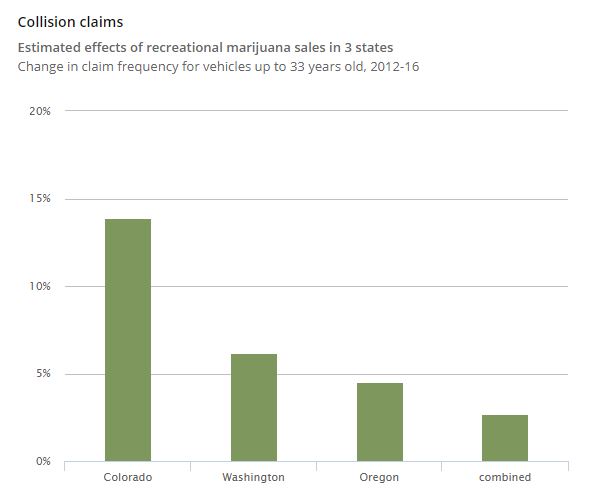 The study looked at claims filed between January 2012 and October 2016, a time period which includes both voters approving recreational pot sales in November 2012 (Colorado and Washington) and November 2014 (Oregon) and the launch of legal pot sales in the three states. (January 2014 for Colorado, July 2014 for Washington and October 2015 for Oregon).
Colorado drivers overall filed 13.9 percent more claims during that time compared to policyholders in Nebraska, Utah and Wyoming. Washingtonians posted 6.2 percent more collision claims than Idaho and Montana. Oregonians reported collisions to insurers 4.5 percent more than drivers in Montana, Idaho and Nevada. (Remember, pot wasn't legalized in Nevada until November 2016.)
So shops in Nevada, Maine, California and Massachusetts might easily see a bump in business exceeding the overall 2.67 percent figure — how much depends on your market's driving ability or pot usage, we suppose.
More information:
Insurance Institute for Highway Safety Status Report, June 22, 2017
"Recreational marijuana and collision claim frequencies"
IIHS Highway Loss Data Institute Bulletin, April 2017
Images:
Advances in technology might pare down the number of crashes experienced by the nation's auto body shops, but legalized marijuana might help win some of them back, according to a 2017 Insurance Institute for Highway Safety report. (sestovic /iStock)
California, Maine and Massachusetts repairers should expect to see more collisions as well once their marijuana legalization really kicks in this year. (Provided by Insurance Institute for Highway Safety)
The IIHS' Highway Loss Data Institute last year published research attributing a 2.67 percent increase in crashes to pot legalization. (Provided by Insurance Institute for Highway Safety)
Share This: