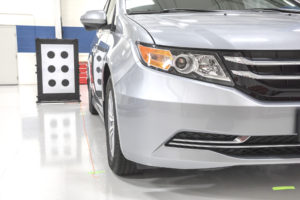 AAA Automotive recently put out a really nice overview of the various advanced driver assistance systems on the market and how they could raise collision (or glass) repair costs.
It's an insurance industry validation of the importance of following automaker repair procedures for calibrating a car — even when it raises severity or requires OEM parts — and both shops and carriers should check out the Nov. 22 post.
"There is no question that ADAS make driving easier and safer," AAA Automotive concludes. "However, the added complexity of these systems and their sensors comes with costs beyond their original purchase price. Just having a windshield replaced or a wheel alignment performed on a modern car with ADAS can be much more expensive. First, because any operation that alters sensor aiming calls for a time-consuming precision calibration procedure. And second, because the use of OEM parts, such as windshields and bumper covers, may be specified to ensure that the sensors acquire accurate data. These requirements can add to the cost of vehicle repairs, but must be observed to ensure optimum vehicle safety."
Putting safety above cost is a good message for the insurance and collision repair industries to hear from AAA. But the article also provides a solid introduction to the various ADAS systems and their calibration for shops and adjusters struggling to catch up or who haven't yet seen many of these features on their local fleet. We guarantee you will soon.
Another good resource is the I-CAR OEM Calibration Requirements Search database, which is alluded to in the video below. While it won't tell you how to calibrate a car or precisely which features exist on the particular model in front of you — you'll need the OEM repair procedures and OEM VIN build data, respectively, for that — it does allow a shop and insurer to see all the things that might exist as options on a given later-model car. (One other caveat: I-CAR launched the database in 2016 with the 2016 model year, but ADAS systems date back years prior.)
AAA and fellow insurers might in the end still catch a break on cost.
A recently shared study by Honda and Allstate challenges the conventional wisdom that ADAS equals lower crash frequency but raises repair severity. The OEM and carrier found that severity fell as well on 2016 Honda Civics equipped with the Honda Sensing ADAS suite, down 7.76 percent. The percentage of nondriveable vehicles also dropped — also a likely money-saver for a carrier.
Honda has hypothesized that the technology is reducing the intensity of crashes enough that the insurer still comes out ahead on the deal. For example, a base-model Civic and one with Honda Sensing can't avoid a crash. The one with ADAS sees the autobraking shave 5-10 mph off of the car's velocity before the inevitable impact. That can matter.
More information:
"ADAS Sensor Calibration Increases Repair Costs"
AAA Automotive, Nov. 22, 2017
I-CAR OEM Calibration Requirements Search portal
Featured image: A target is placed behind a 2017 Honda Odyssey to recalibrate a lane-watching camera's aim. (Provided by I-CAR)
Share This: