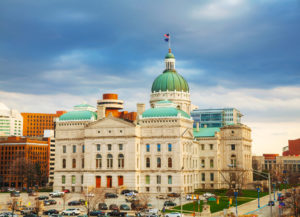 A bill clarifying that third-party claimants have the same collision repair parts rights as first-party policyholders has returned for the 2018 Indiana legislative session.
Indiana Code (seen here on FindLaw) guarantees "the insured" the right to pick between new OEM parts, aftermarket parts and recycled parts for the first six model years of a vehicle's life.
But it makes no reference to third-party claimants, who have no contractual obligation (in the form of a policy) to accept any alternative parts but are getting them anyway, according to Indiana Auto Body Association President Doug Martin (Martin's Body Shop).
Martin said in an interview last year that carriers will often for a third-party claimant write "whatever they feel is most cost-effective" in terms of parts on an estimate, and "it's a matter of us advocating" for the third-party owner.
House Bill 1189 rectifies this by adding "or third party" after multiple references in Indiana Code 27-4-1.5 regarding the parts rights of "the insured."
It's sponsored by state Rep. Matt Pierce, D-Bloomington, who also sponsored last year's similar HB 1159. That bill died after failing to receive a committee hearing.
Ironically, in the year since, Pierce's wife had been involved in a collision. The other driver was at fault, he said, but the carrier wouldn't admit it.
That crash happened in July, Pierce said — and in January 2018, he was still waiting. The idea of filing with his own insurance company and going through subrogation was "not a very satisfying" answer, he said.
Filing with one's own insurance, rather than the at-fault driver's, to obtain first-party parts-choice rights on a third-party claim shouldn't be necessary, he said.
HB 1189 was "closing what I consider to be a loophole," Pierce said. The goal was to give third-party claimants the same rights as first-party claimants.
"I'm not really changing any other aspect of the law," he said.
Martin's IABA was not involved in the drafting of HB 1189 or HB 1559 last session. But the trade group supports the legislation.
"We're all for it," Martin said.
Martin said that based on state law, "the insurance carriers aren't bound" to offer third-party claimants any concessions on parts, leading to the kind of behavior he described.
But it seems like a third-party unsatisfied with that behavior could sue or threaten to sue the insured who hit them — placing the carrier under obligation to defend the policyholder and the parts indirectly "chosen" by that policyholder to make the third party whole.
Under such a scenario, the bill might complicate that third-party claimant's rights by implying that he or she doesn't get a choice of parts after Model Year 6. Assuming OEMs are still selling new parts for the vehicle, there's no contractual reason why an third-party owner with a seven-year-old car should have repairs dictated by the carrier of the person who hit them. They didn't sign that property damage policy, after all.
Of course, such legal action could prove impractical for many third-party policyholders, a point in favor of the bill.
Asked about the potential the bill could affect a third-party customer's rights, Martin acknowledged the possibility Wednesday but said IABA still supported the measure. Asked if the sentiment was that HB 1159 was better than nothing, he said, "Kind of, unfortunately."
HB 1189 has more sponsors than just Pierce, and even bipartisan support. State Reps. Jeff Ellington, R-Bloomington, and Terri Austin, D-Anderson, co-authored it.
"Really to me, it's about fairness," Ellington said. "Why should anybody be treated any differently?"
He said he's received both OEM and aftermarket parts, and for "most, usually" there is a difference on the aftermarket. Some might be good, while others might be of low quality.
"How you gonna keep track of that?" he said.
The bill could remove points of insurer-body shop contention from the repair process, he said.
Asked about the possibility that a third-party claimant might see fewer rights under this, Ellington said he didn't know but if so, would have to be examined and the bill possibly amended.
"It's all about fairness," he said of the bill's intent. "… It's all about, I think, safety also."
However, if a customer did choose to use parts other than OEM, he was fine with it — "that's your choice."
Ellington said he wasn't sure if his presence as a Republican co-sponsor would help the bill gain more traction than the prior year. Pierce said he hoped the bipartisan nature and support from co-sponsors might encourage the Insurance Committee chairman to give it a hearing.
Pierce encouraged collision repairers to quickly urge their elected representatives to support the bill, as Indiana was in a "short session" which had to conclude March 14.
Every bill needs to be ready for the floor by the end of the month. "People are going to have to work fast," he said.
If the bill didn't go anywhere this year, Pierce said he might attempt to introduce it as a second-reading amendment on another insurance bill. Under Indiana House rules, a lawmaker can't introduce the content from a standalone bill as an amendment, Pierce said — you have to pick one or the other tactic.
"It's kind of a strategy decision you have to make"
Be heard: Indiana legislator contact information can be found here.
Featured image: The Indiana Capitol is shown. (AndreyKrav/iStock)
Share This: