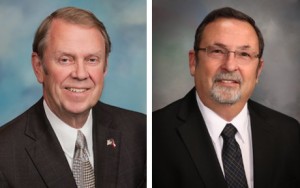 The Mississippi Collision Repair Association and Mississippi Insurance Department have partnered to offer free inspections of used cars in an effort to keep consumers from being duped into buying flood-damaged vehicles.
The effort might be one for other states' trade groups and insurance associations to consider.
The National Insurance Crime Bureau, which announced the campaign Thursday, reported that thousands of Florida, Louisiana and Texas vehicles affected by Hurricane Harvey and Irma flooding have already ended up in Mississippi.
The Department of Justice estimates a million vehicles were flooded during the two storms, Republican Mississippi Insurance Commissioner Mike Chaney said on an NCIB video. "We don't want them relocated into Mississippi," he said.
"Many of the cars have been sold to unscrupulous dealers or dismantlers who will clean them up, retitle them and sell them for a quick profit," the NCIB wrote.
"It's easy to deceive the public," Chaney said on the video. He said uninsured vehicles pose the biggest risk to customers, as totaled cars have a paper trail.
"While those insured cars may show up in NICB's VINCheck® database, the ones that didn't have insurance are likely to be sold by the original owner for a few hundred dollars and then cleaned up and retitled by an unscrupulous dealer who will resell it for a few thousand dollars with no indication that the vehicle suffered any flood damage," Chaney said in a statement. "It's truly a buyer beware situation."
Chaney on the video described 4- to 6-year-old vehicles with only liability insurance as potential candidates for such unethical flipping.
Mississippians with a used car can have any MCRA member shop inspect the vehicle. The MCRA also has a list of flooding red flags for consumers scrutinizing a vehicle.
"If you're thinking about buying a used car, let one of our members check the car to verify that it has not been in a flood," MCRA member John Mosely (Clinton Body Shop) said in a statement. "In addition to checking the hidden areas of the car for signs of damage, we can also run a scan of the car's computer system to look for any codes that might indicate it had been exposed to water."
Mosley in the NCIB video describes some of the inspection process, making particular note of scanning and checking the seat tracks, as "that's the first place that rust'll show up due to a real thin e-coat" on the tracks and subassemblies.
According to the video posted Thursday, not many Mississippians have sought a free inspection. But that doesn't mean there's minimal risk to consumers, according to the NCIB. The NCIB video points to "speculation" that many flood cars might be sold in the coming months, and Mosley suggests that owners might still be determining if they're going to sell them to rebuilders or launder the title through a laxer state.
The effort brings two political rivals together for the benefit of consumers. Mosley unsuccessfully ran against Chaney in the 2015 Republican primary. 
"We applaud this cooperative effort to keep consumers from being scammed," NICB CEO Joe Wehrle said of MCRA and the MDOI in a statement. "Far too many vehicles that were flooded were not insured and if they go undetected, they can end up being a financial disaster for the buyer as well as a potential safety hazard."
More information:
"NICB: Mississippi Acts to Protect Buyers from Flood of Flooded Vehicles"
National Insurance Crime Bureau, Jan. 11, 2018
"Mississippi Warns Residents From Buying Flood Damaged Vehicles"
NICB YouTube channel, Jan. 11, 2018
Featured image: Republican Insurance Commissioner Mike Chaney, left, and Clinton Body Shop owner John Mosley. (Provided by Mississippi Insurance Department, John Mosley)
Share This: