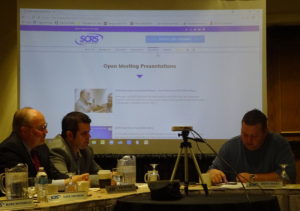 A major redesign of the SCRS website launched Wednesday might make it easier for the collision repair industry to find the trade group's free resources — including a new feature to help individual shops and affiliates understand and apply for workforce development grants in their state.
"We actually launched the new site this morning," Society of Collision Repair Specialists Executive Director Aaron Schulenburg told an open board meeting Wednesday in Palm Springs, Calif.
He said the old site offered a great deal of content, but its design might have buried the information. The new www.scrs.com features a cleaner interface for visitors.
The biggest highlight of the redesign is the new grant section, which addresses what Schulenburg said was "one of the most common" things SCRS hears from new members — the difficulty in finding the right people for open positions.
SCRS last year worked with DH Leonard Consulting & Grant Writing Services owner and President Diane H. Leonard to research workforce development grants which could be deployed by state affiliates. The information accumulated for all 50 states has been compiled and posted on the new www.scrs.com/grants page, along with videos and slideshows offering grant-writing advice for shops and affiliates. SCRS sought to answer the 10 basic questions affiliates had about the process with the multimedia.
For example:
Grant writing might seem intimidating, but Leonard told us last year that economic development grants understand small business owners aren't going to be English Ph.Ds and tend to ask specific questions demanding specific, short answers that draw from one's business plan, she said. You can't be incoherent, but the process is very guided, she said.
As every state and even region handles the process differently, a shop will have to do a little research to see how to apply in their area and if having a nonprofit like a trade group seek the grant was a better option. "It's really state-specific," she said.
Which is where the new SCRS site comes in handy.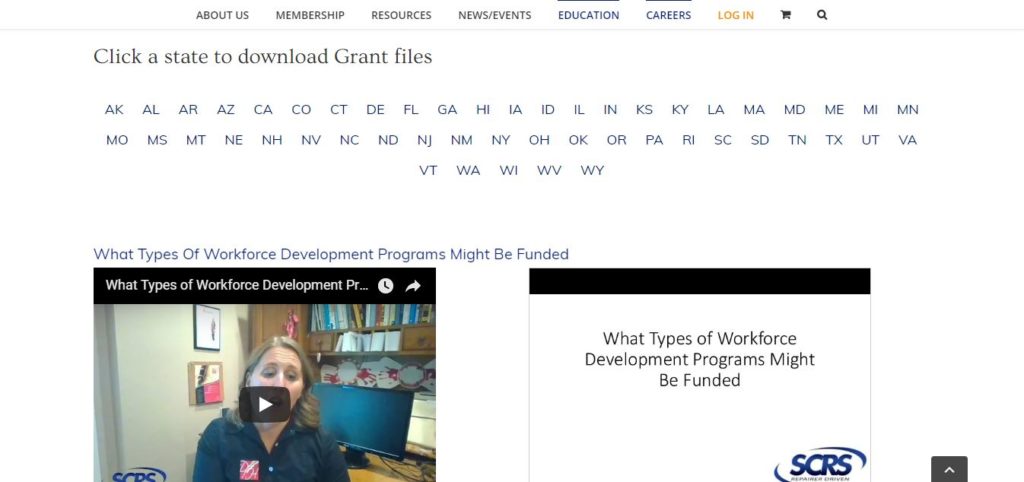 Other highlights which might be more accessible to shops under the new format:
easily accessible on the new website:
More information:
Society of Collision Repair Specialists' website
Images:
A major redesign of the SCRS website launched Wednesday and could be seen in the background of SCRS' open meeting that day. (John Huetter/Repairer Driven News)
A major redesign of the SCRS website launched Wednesday might make it easier for the collision repair industry to find the trade group's free resources — including a new feature to help individual shops and affiliates understand and apply for workforce development grants in their state. (Screenshot from www.scrs.com)
Share This: