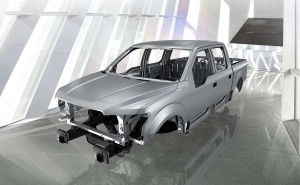 With three years of aluminum F-150s on the road and new editions of some of the most popular vehicles in the country appearing with one or more aluminum part, consumers and insurers might start to see more aluminum-specific labor rates on their estimates.
Data from two high-profile industry rate surveys — the CRASH Network/Collision Advice "Who Pays for What?" study and National AutoBody Research's Variable Rate System —  offer an idea of what they might find there.
Such rates can be necessary to amortize the cost of aluminum training and gear like a dedicated workspace, tools and vacuum system — even for a single aluminum part on an otherwise steel body. The rates might also be necessary to compensate a technician or shop for the opportunity cost of the extra time spent on an aluminum component.
All three major estimating services now carry the ability for users to generate their own labor rate categories and input the accompanying rate. CCC users had this capability since at least 2015, Mitchell added it in March 2017, and the Database Enhancement Gateway announced in May 2017 that Audatex had done so in a recent software update (the exact date is unclear). CIECA in 2015 announced aluminum labor rate codes would accompany an update to the industrywide Business Message Suite standard.

'Who Pays?'
The recently released October 2017 "Who Pays for What?" survey describes aluminum rates for OEM certified shops "for structural and non-structural aluminum repairs when working on a vehicle make that the facility is certified to repair." (Emphasis theirs.)
That study asked shops about their aluminum rates for 17 OEMs, ranging from Ford to Ferrari. (Take the latest anonymous quarterly survey on refinish procedures today, the last day before it closes.)
For many shops, insurers and customers, the most relevant data would likely be that reported by the Ford-certified shops, given the F-150's popularity and the larger sample size of responding shops. In 2017, 142 Ford-certified repairers completed the survey, compared to 173 in 2016.
What's interesting here is that the Ford-certified shops don't seem to have increased their aluminum rates year-over year.
The median structural Ford rate (the 50th percentile), was identical for responding shops in 2016 and 2017: $90. The median nonstructural aluminum rate actually fell $3 to $77.
The fifth- and 25th-percentile facilities in 2017 also charged the same amount for Ford structural aluminum as those percentiles in 2016.
A percentile refers to the proportion of respondents who charge less than that amount.
In this case, the fifth percentile in 2016 and 2017 was $50 — which means that only 5 percent of Ford-certified shops charged less than $50 to fix an aluminum Ford vehicle, while 95 percent of shops charged more than that amount both years. The 25th percentile — which means three-fourths of responding shops charged more — stood at $75 for Ford structural aluminum work both years.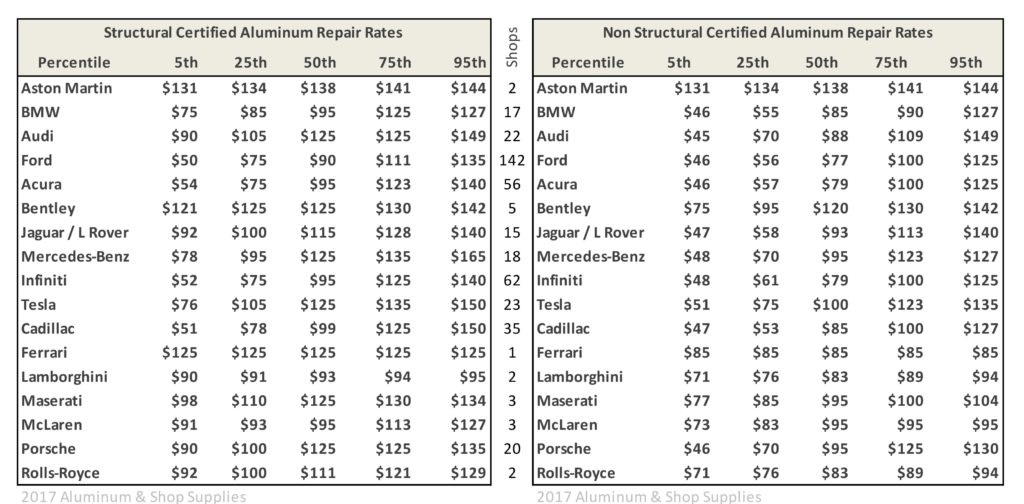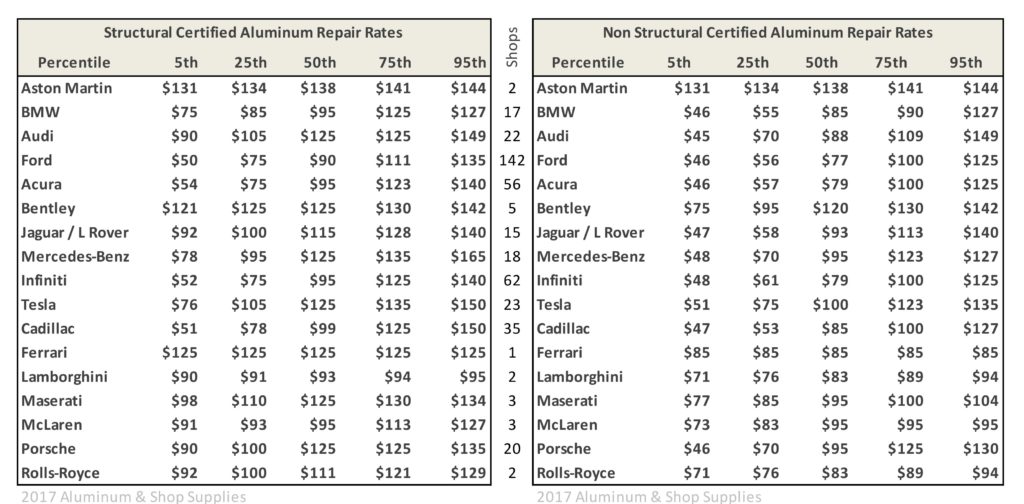 The 75th percentile rose slightly to $111 from $110, while the 95th percentile fell $6.60 to $135.
As for nonstructural Ford aluminum, the fifth percentile rate fell $1.10 to $46, the 25th percentile barely rose $0.25 to $56/hour, and the 95th percentile held steady at $125. Only the 75th percentile saw real movement, increasing $4.25 to an even $100.
The consistent results seem to suggest the kind of range of Ford aluminum prices insurers, customers, and competitor repairers might expect in a given market — and that that range might by relatively stable.
Help the industry by taking the current "Who Pays for What?" survey on refinish procedures here through Jan. 31. All answers are kept confidential — data is published only in the aggregate — and participants receive a copy of the report.  Collision Advance and CRASH Network encourage a shop to designate the person "most familiar with the shop's billing practices and the payment practices of the largest national insurers" to complete the poll.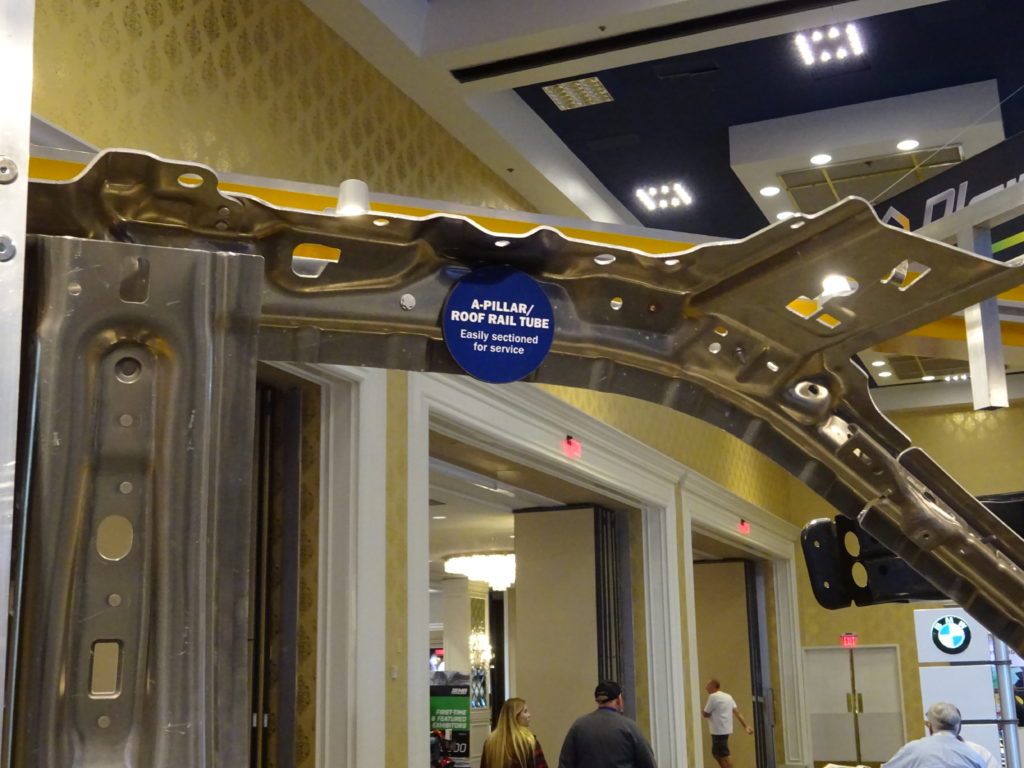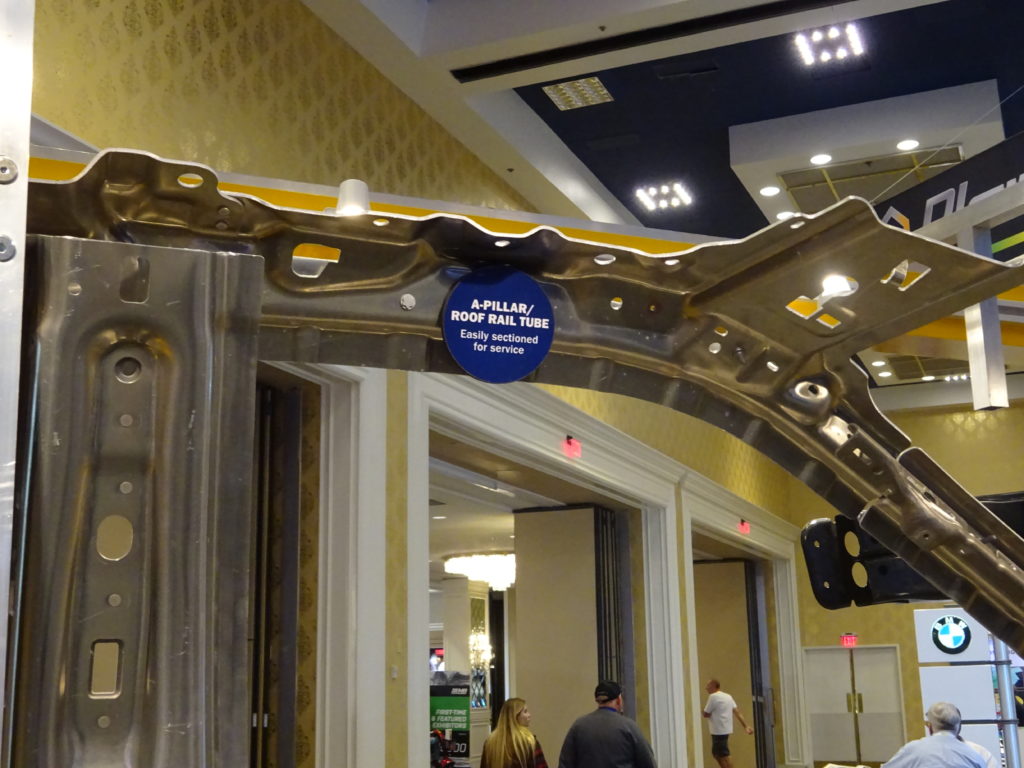 Variable Rate System
NABR's Variable Rate System does things a little differently. It's a running tally — repairers are constantly joining or updating their labor rates in the study — of posted labor rates at a regional and national levels. Therefore,  year-over-year comparisons aren't really possible.
However, there is still value and context in examining its national aluminum results and those for Ford.
Nationally, the system has polled about 4,700 shops, though not all of those are going to be providing aluminum data.
Those who did declared an average of $91/hour for nonstructural work and $98 for structural aluminum repair. The median price for aluminum bodywork was $90, while the structural aluminum median reached $100.
Ford-certified repairers reported even higher rates to NABR, which is interesting. Of course, it's likely that some of the Ford-certified shops carry more intense aluminum certifications and have adjusted their overall door aluminum rates upward in response to those expenses.
The 310 Ford-certified repairers who responded to date reported an average body aluminum rate of $94 and an average posted structural aluminum rate of $103.
Only 26 Ford-certified shops reported Ford-specific aluminum rates to NABR, which might be too small of a sample set to conduct any real analysis. But for what it's worth, the average Ford body aluminum rate was $101, and the average structural Ford aluminum rate was $109.
Take the regular VRS and the specialty materials VRS surveys here.
More information:
Take the 2017 refinish operations "Who Pays for What?" survey
2017 "Who Pays for What?" aluminum and shop supplies results
Take the National AutoBody Research Variable Rate System surveys
Variable Rate System results by state
Images:
The 2015 F-150's body and frame are shown. (Provided by Ford)
A software update granted Audatex users the ability to generate their own labor rate categories and input the accompanying rate, the DEG wrote in May 2017. (Screenshot of Audatex provided by the Database Enhancement Gateway)
The Ford SEMA 2017 booth shows some of the aspects of the aluminum F-150 that make it easier to repair. (John Huetter/Repairer Driven News)
Share This: