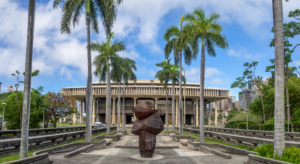 The Hawaii House Intrastate Commerce Committee has recommended a bill preventing some customers from going out-of-pocket for choosing OEM parts be replaced with language convening a task force to study the issue.
The proposed new language is still being drafted and should appear in the next couple of days, but the office of Intrastate Commerce Committee Chairman Takashi Ohno, D-Honolulu, described the substance of what was approved by the panel Jan. 31 following a hearing. (Watch the video here starting around 10:17.)
Eight Intrastate Commerce Committee representatives had voted for the changes, and Rep. Beth Fukumoto, R-Mililani, voted for them with reservations. No committee members opposed the decision, and two representatives were excused.
Ohno's office said that the Department of Commerce and Consumer Affairs would oversee the proposed task force, which would be made up of the different interests (insurers, repairers, aftermarket parts manufacturers, etc.) supporting and opposing the original version of House Bill 1620.
A DCCA official, Hawaii Insurance Commissioner Gordon Ito, had campaigned Jan. 31 against the original HB 1620, declaring that the bill would raise premiums, total more cars and offer no additional consumer protection.
The proposed task force would be charged with developing recommendations on the issue before the 2019 legislative session, Ohno's office said.
The original House Bill 1620 would have prevented insurers from forcing customers choosing new OEM parts over recycled, aftermarket or remanufactured ones to pay the difference out-of-pocket if the manufacturer recommended new OEM components be used. Hawaii law right now states consumers must pay the difference unless new OEM parts "are required by the vehicle manufacturer's warranty."
Automotive Body and Painting Association board member Van Takemoto (Island Fender) called Hawaii's definitive transfer of that obligation to the consumer unusual, with other states "just moot on it" and leaving it as a contractual matter between claimant and insurer. He agreed it was a blow to third-party claimants, who would otherwise face no obligation to accept non-OEM parts from the insurer of the driver that hit them, and said changing that language was a goal of the bill and his association.
Takemoto said he hadn't heard yet of the task force proposal when contacted Monday. but observed "that actually would be great, if we can expand what the purpose of the task force is."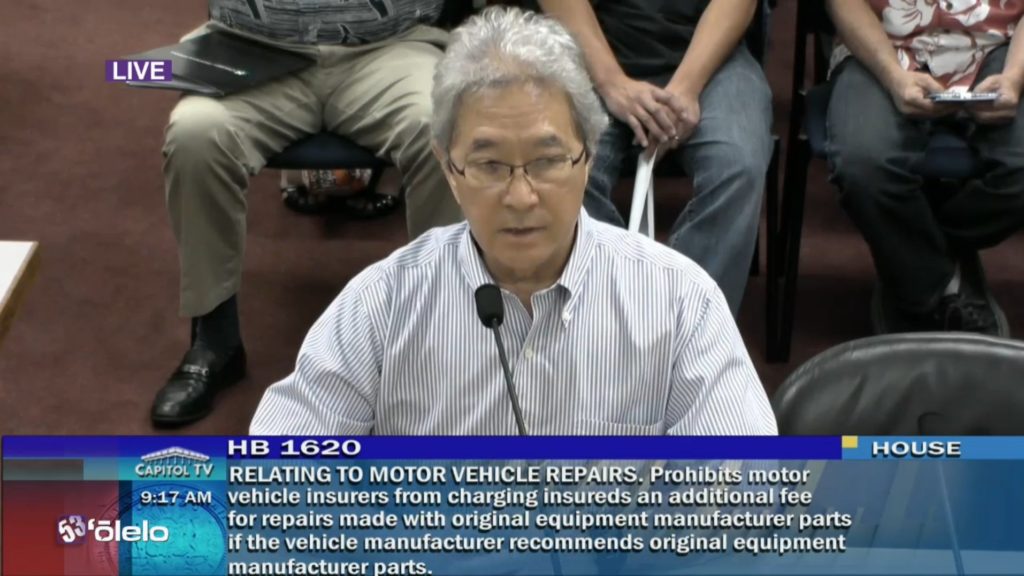 He said his group had planned to seek such an investigative body following its efforts on behalf of HB 1620, mentioning one possible area of study could be insurers' failure to register certain direct repair programs with the state. (Hawaii allows an HMO-type system where customers can be forced to use a network shop — but carriers must register such networks.)
Ideally, both a task force and the original HB 1620's provisions would occur this session, Takemoto said.
Takemoto said the companion Senate Bill 2243, which remains unaltered, was likely to receive consideration before the Senate Commerce, Consumer Protection, and Health Committee rather than languish unheard.
"It should be heard," Takemoto said, noting that committee Chairwoman Rosalyn Baker, D-Lahaina, was a co-sponsor. SB 2243 will only be heard by a single committee before it would go to the floor, as opposed to HB 1620, which will also go before the House Consumer Protection and Commerce Committee.
Be heard: Hawaii legislator contact information can be found here.
Images:
The Hawaii Legislature on Aug. 6, 2016. (jewhyte/iStock)
Automotive Body and Painting Association board member Van Takemoto (Island Fender) speaks Jan. 31, 2018, on behalf of House Bill 1620. (Screenshot from 'Ōlelo broadcast of Hawaii Legislature)
Share This: