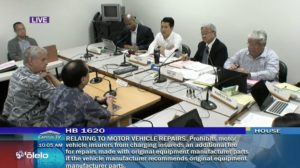 Hawaii Insurance Commissioner Gordon Ito last month carped about auto manufacturers in opposing an OEM parts bill, but offered no skepticism for the status quo sought by the insurers he's supposed to be regulating.
"It would be simple for any car manufacturer to just recommend all parts in an accident be original," Ito said in opposing the original form of House Bill 1620, which would prevent insurers from forcing policyholders to go out-of-pocket to choose new parts if the OEM recommends such parts. He gave no acknowledgement to a similar profit motive from the insurers pushing alternative parts to customers.
The current law mandates insureds pay the difference for choosing new OEM parts unless the part is required to be OEM to preserve a warranty. (Its sloppy wording almost reads as though the customer must pay out-of-pocket, even if their insurer wanted to cover the difference.)
Ito also apparently took on faith that all aftermarket parts sold in Hawaii are in fact the " like kind and quality part of an equal or better quality" insurers are required to offer as an option under Hawaii law, despite evidence to the contrary. (Under the same statute, certified parts are also required unless unavailable.)
"The proposed change lacks an obvious benefit to consumers," Ito told the Hawaii House Intrastate Commerce Committee at a Jan. 31 hearing on House Bill 1620. "Insureds would pay higher insurance premiums, since accidents routinely involve damage to motor vehicle parts, and original body parts cost significantly more than aftermarket parts."
We pointed out the holes in his argument here. But it's also telling what Ito didn't say.
Essentially, the commissioner offered no sign that he saw any issues under the current system deserving as a legislative fix. But a consumer and collision repairers raised issues with the existing law's application and suggested that OEM parts have value besides enriching automakers.
Consumer preference
ABPAH board member Dale Matsumoto (Auto Body Hawaii) pointed to a flaw in the current law — it allows insurers to force third-party claimants to pay out-of-pocket for OEM parts, even though that arguably does not satisfy the insured's duty to make them whole.
"Are you OK with that?" Matsumoto asked the committee, asking them to consider having a brand-new car but only receiving aftermarket parts from the insurer of the driver who hit them. "… Tell me, honestly, are you OK with it?"
Besides third-party claimants, the law also seems to punish lease customers, who are often required to fix a vehicle with OEM parts or pay a penalty.
Consumer Kevin Rathbun described his difficulty with aftermarket parts and in exercising his right to pick OEM parts under the current law.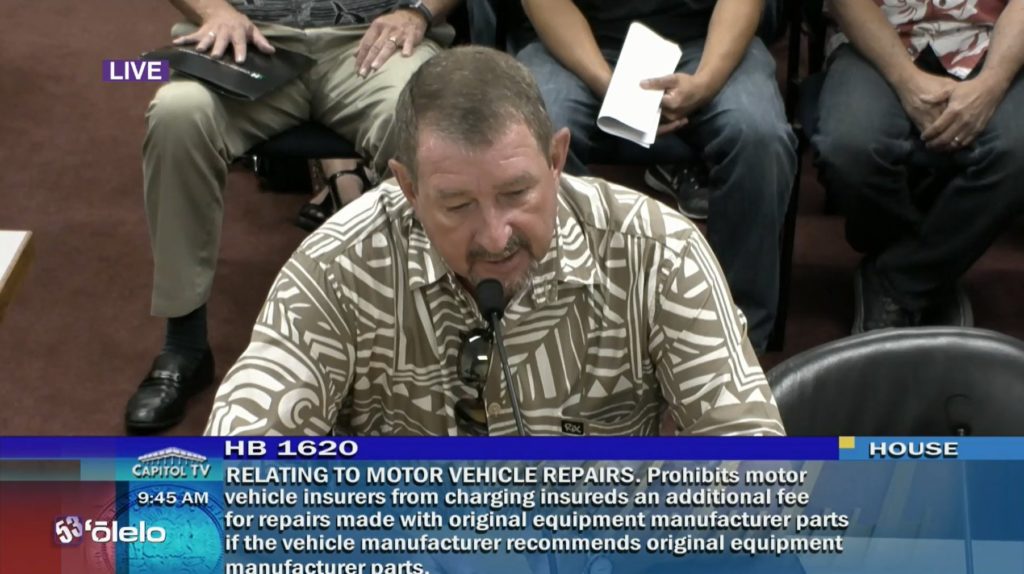 Rathbun remembered a collision repair experience where the aftermarket parts failed to fit properly and caused a delay of more than a week. When his wife's car was later struck in a parking lot, "I was very specific" that OEM parts were desired.
"It was quite a battle," Rathbun said. He said he wasn't told there was a choice to pay the difference.
The owner of three late-model vehicles, Rathbun said that "having an expensive car" meant he expected to have it fixed with the parts recommended by the manufacturer.
The cost should be disclosed, and consumers should be given such a choice, he said.
"Currently, it's very muddy," Rathbun said, arguing that "most people don't read their whole policy."
Complaints?
Asked about how frequently the Insurance Division receives complaints about going out-of-pocket for OEM parts, Ito said, "I'm sure from time to time to time we get complaints about it."
He wasn't sure specifically how many complaints occurred regarding the issue — something you'd think an insurance commissioner would research before declaring a position on that topic — and promised to provide more information about his office's records to the committee.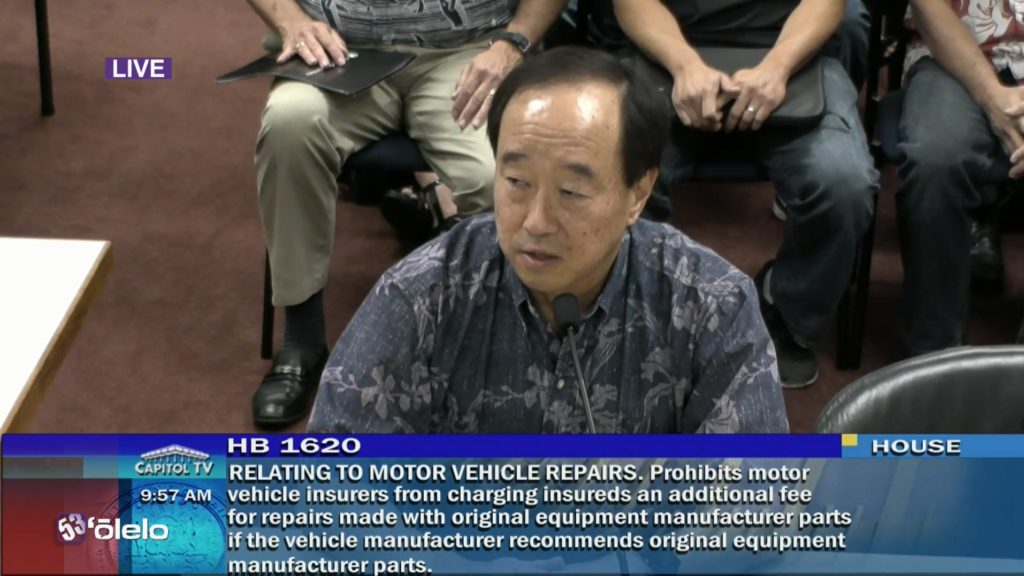 However, Ito assured lawmakers: "Believe me, we take any complaint seriously, and we take appropriate action."
Asked if his office ever followed an investigation by sending industrywide notices to carriers reminding them of the law, Ito said he hadn't.
"The insurers are well aware of the requirements of the law," Ito said.
ABPAH President Sabrina Dela Rama (Tony Group Collision Center) in an interview Tuesday pointed out that searching for complaints might not be a true indicator of issues related to the current law.
As state law allows insurers to require consumers to pay the OEM parts price difference out-of-pocket, it'd be pointless to file a complaint saying such behavior happened. There'd be nothing illegal for the insurance division to investigate.
Tim Dayton, GEICO general manager for Hawaii and Alaska, said "our customers aren't complaining" on the issue either. In contrast to Rathbun's account, Dayton argued that customers all were presented with the choice for OEM parts and made the conscious decision to refuse them and save the price difference.
"Because it's huge. There's a reason that they don't," he said.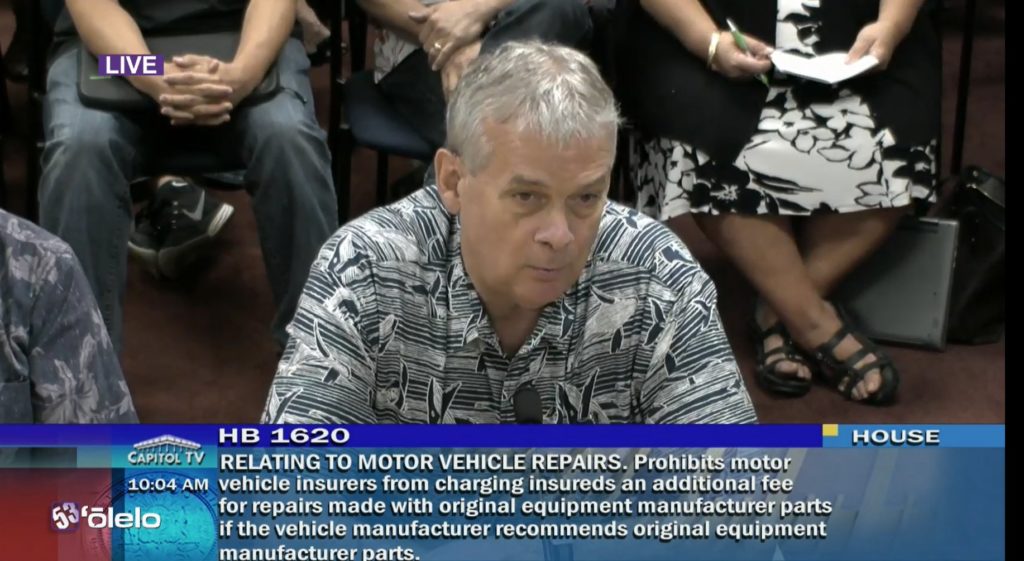 Were HB 1620 passed, "we're just going to raise everybody's cost" rather than the "universe of people" who want to pay more for OEM parts, State Farm attorney Rick Tsujimura told the committee.
See why premiums might not increase much, if at all, with our analysis here.
Parts quality
Automotive Body and Painting Association of Hawaii board member Van Takemoto (Island Fender) argued that he'd never seen engineering data on parts crashworthiness and it wasn't a given that aftermarket parts truly were like kind and quality, as opposed to something like antifreeze.
He said the ABPAH questioned if changing part of a vehicle engineered to crash as a safety system would preserve that safety system, he said.
"That terminology doesn't really apply anymore" to crashes today, ABPAH Secretary Brandon Okahara (Oka's Auto Body) said of "like kind and quality." "… The technology has changed significantly."
A bumper used to be an almost "aesthetic piece," he said, but that wasn't the case anymore.
Matsumoto said that cars are complex today, and "we're not into redesigning the car." As a repairer, his shop follows OEM procedures, part of which includes using OEM parts.
"Airbag timing has to be precise," Dela Rama said at the hearing. Swap out a single part, and "we don't know the timing," she said.
Takemoto explained that should he deviate from OEM repair procedures and OEM parts and a customer dies in a subsequent wreck, it's an excuse for a manufacturer to say, "'Well, its not our system. you modified the system.'"
"The liability comes back to me," Takemoto said, calling this why his shop doesn't install aftermarket parts.
"We just do not," he said.
Testing by Honda and attorney Todd Tracy have shown how non-OEM parts can alter airbag timing, and even the Insurance Institute for Highway Safety raised this possibility in 2010 following crash testing of CAPA-certified and uncertified bumpers. (Ironically, the 2010 testing, which proved critical of non-CAPA aftermarket parts — is cited by aftermarket advocates as evidence all aftermarket parts are safe.)
Matsumoto also argued that the up-front cost savings in using aftermarket parts might be wiped out if such parts produce a more severe subsequent collision. A 2016 study by Volkswagen found such a result.
Warranty
Takemoto said that the current law had more relevance for mechanical parts, not collision parts, which is why it discusses warranties.
"There's no warranty on the crashworthiness" or airbag timing of a vehicle, he said.
And even if a car passes out of warranty, "that car still has a safety system," according to Takemoto. The car's still supposed to protect the owner — and even all future owners, an issue raised in the infamous Seebachans v. John Eagle Collision Center case. The jury in that $42 million litigation found a collision repairer liable for injuries sustained in a crash because of work it did for the vehicle's prior owner.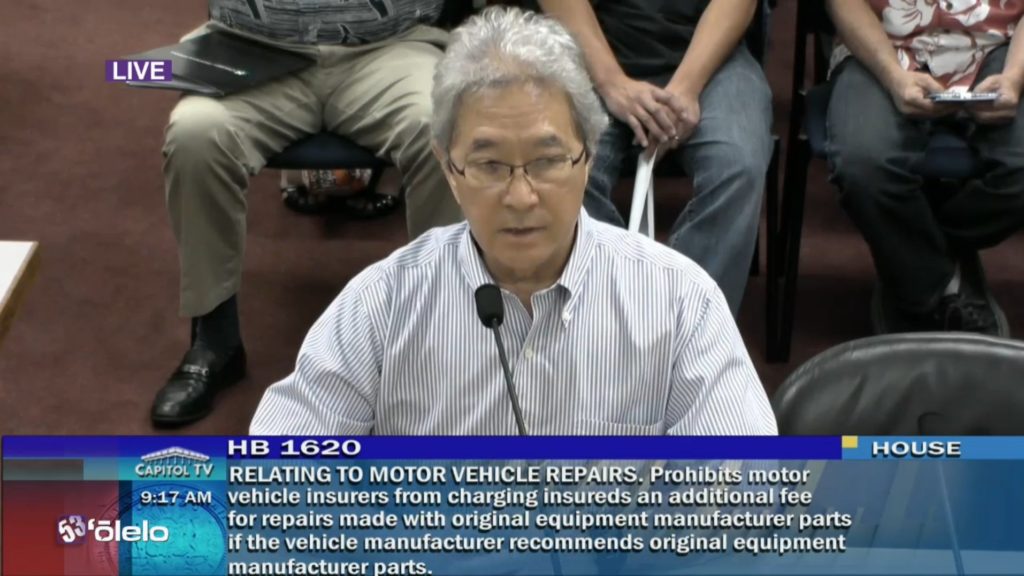 "Warranty has nothing to do with insurance-paid repairs," argued LKQ lobbyist Ray Colas, who told the committee that a collision automatically voids a warranty.
"This has nothing to do with warranties," Colas said.
Colas' "collision = voided warranty" hypothesis doesn't appear to be accurate unless the vehicle is totaled or flagged with something like a salvage title, assuming the vehicle is fixed correctly. (For example, here's the 2017 Ford warranty, an a Honda spokesman on Wednesday agreed with our assessment as well.) Though OEM parts might make the warranty process smoother, under Magnusson-Moss, an aftermarket part can't void a warranty either unless it compromises something else on the vehicle.
Ironically, if he was correct, then Colas just scored a big point in favor of HB 1620 or some other reform. If collisions automatically void warranties, then the current law doesn't protect policyholders from paying-out-of-pocket for OEM parts under any circumstances, and arguably the state of Hawaii might really want to look at the issue.
The state might want to do so anyway, for based on the FTC's analysis of Magnusson-Moss, no scenario would exist where a warrantied OEM part required by a manufacturer would carry an out-of-pocket cost.
"The manufacturer or dealer can, however, require consumers to use select parts if those parts are provided to consumers free of charge under the warranty," the FTC wrote.
ADAS
Besides the overall passive safety and airbag timing question raised by the repairers, aftermarket windshields and overly thick replacement bumper fascias might affect advanced driver assistance systems.
"It worries me to know that shops use aftermarket parts that aren't made for these specific vehicles sensors/ technology," Tony Group estimator Brandee Lee wrote to the committee after noting aftermarket part fit issues. "By Putting an aftermarket bumper on a vehicle with sonar or distance sensors could affect the very reason it was made. The sensor may not read properly because the bumper is thick or too thin. Therefore, the sensor with an aftermarket bumper may read that it has 5 inch till impact, when you really only have 2inch. As a consumer/ mother a few inches is a lot when I am driving with my child. I would never want someone to force fit or drill holes to adjust a part to 'fit' my vehicle."
ADAS also came up in the discussion Jan. 31 with comments from GEICO Hawaii and Alaska general manager Tim Dayton and Ito on the higher repair cost of vehicles equipped with such technology. This cost put upward pressure on premiums, both said. The implication seemed to be that there was no room for increased premiums tied to more customers requesting OEM parts.
"Safety is a concern, but on the other hand … (ADAS in bumpers) that's really what's putting upward pressure on auto insurance rates," Ito said.
Technological features improving vehicle safety and comfort "are great," Dayton said, but they make vehicles "also a lot more expensive."
Both men seemed to have missed the insurance industry-backed Insurance Institute for Highway Safety' advocacy and research regarding such technology. The IIHS has proven most of the major ADAS features are successful in reducing collisions — thereby lowering insurer frequency — and now demands autobraking to be an option to achieve a top safety rating.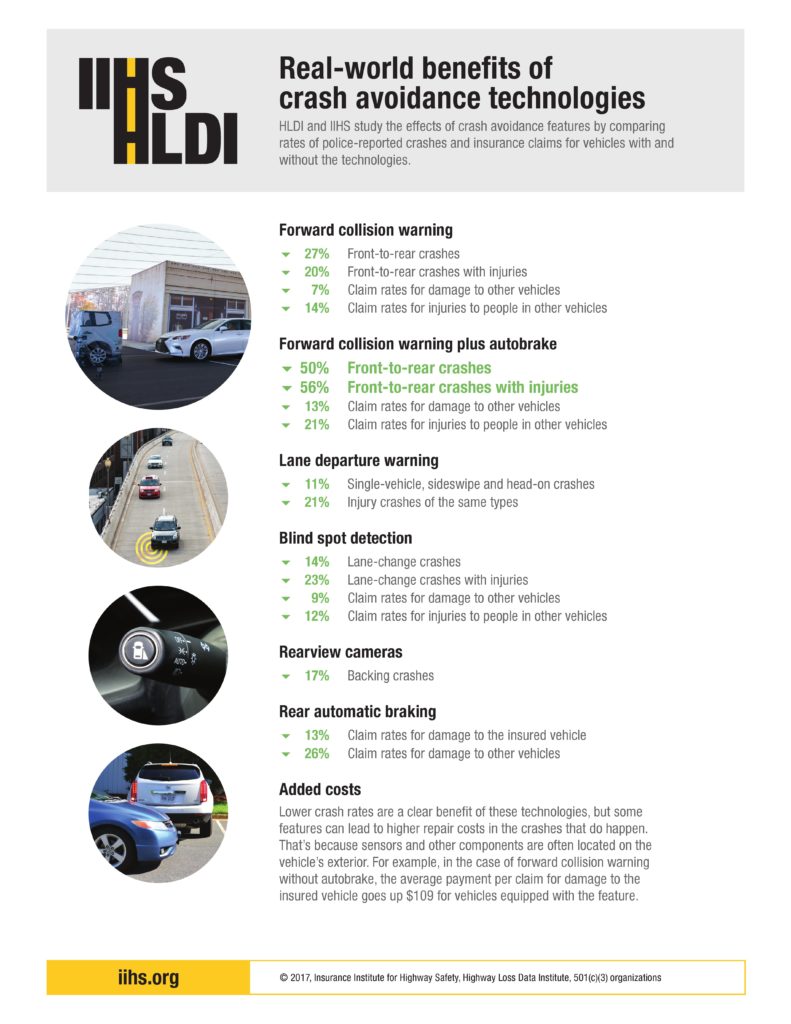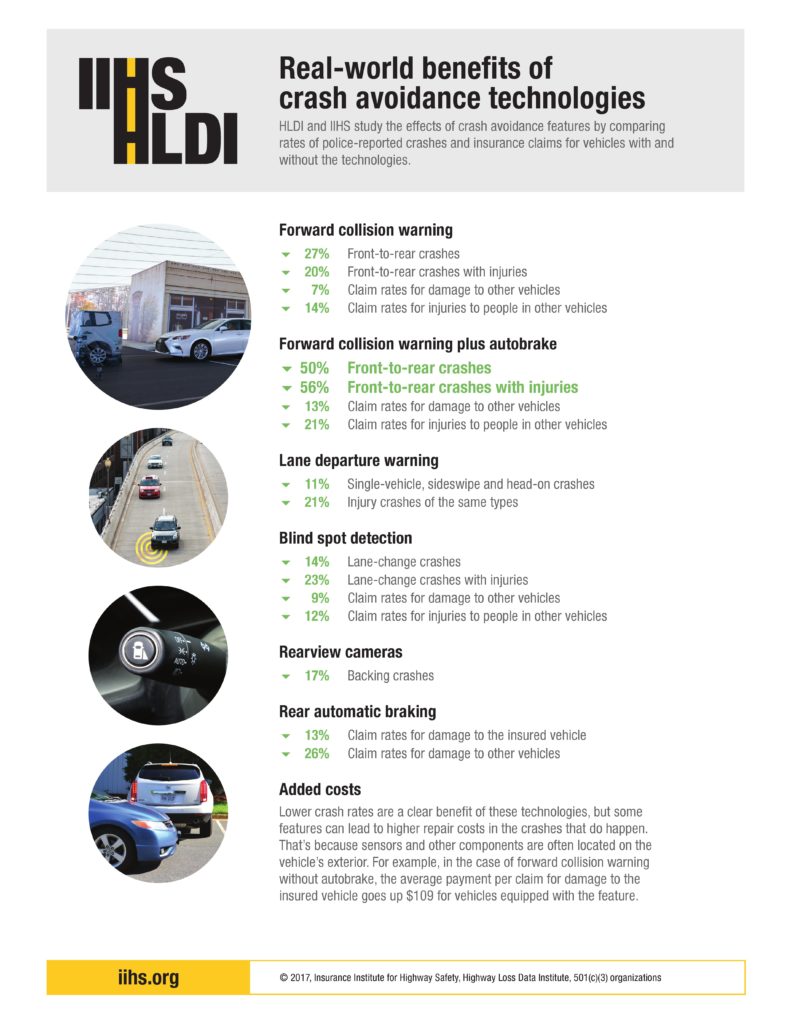 While some insurers might be baking the cost of the technology's repairs into higher premiums, the Chicago Tribune indicate others are offering discounts to consumers for having such features. A Honda analysis of Allstate claims has found that the Honda Sensing ADAS suite not only cut frequency — it surprisingly cut severity as well.
Ito apparently doesn't recognize any of this research or the benefits to insurers, and instead blamed OEM engineers.
"There is a safety issue," Ito said. "The question is really, I think, on cost and who should bear the burden. Because of the increase of sensors in the bumpers and other things, I mean my suggestion to the car manufacturers is 'Take it out of the bumpers and put it someplace where in a fender-bender situation, the sensors are not damaged.'"
There you have it, OEM engineers. The Hawaiian insurance commissioner has solved ADAS design for you: Put it somewhere that can't be damaged in a collision.
Ito didn't say where this magical vehicle location would be. Perhaps in a drone hovering over every vehicle? Or perhaps: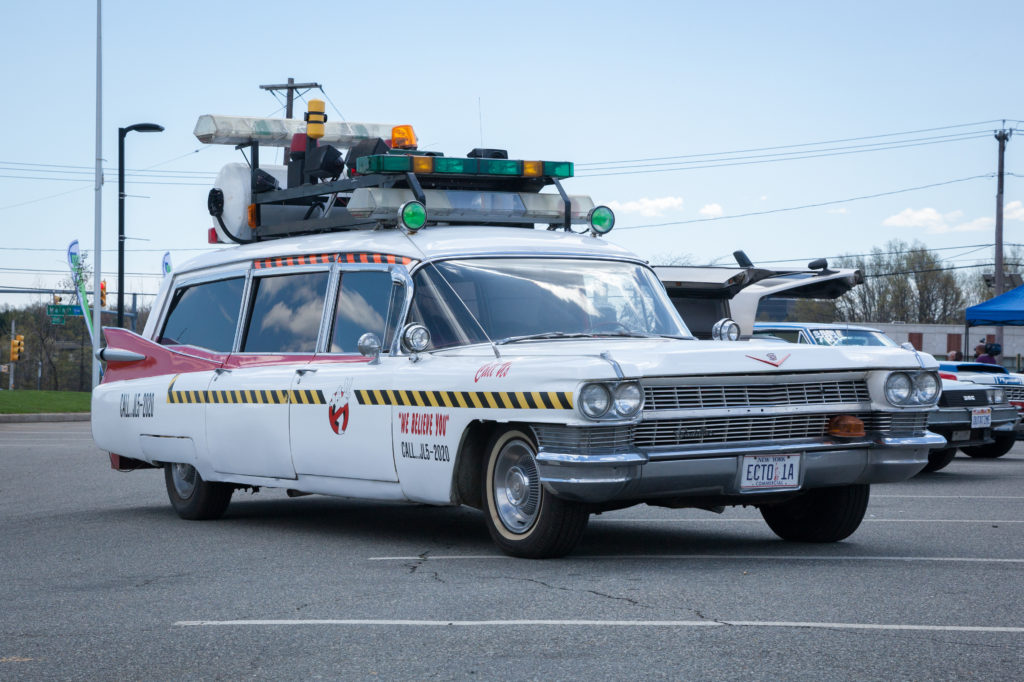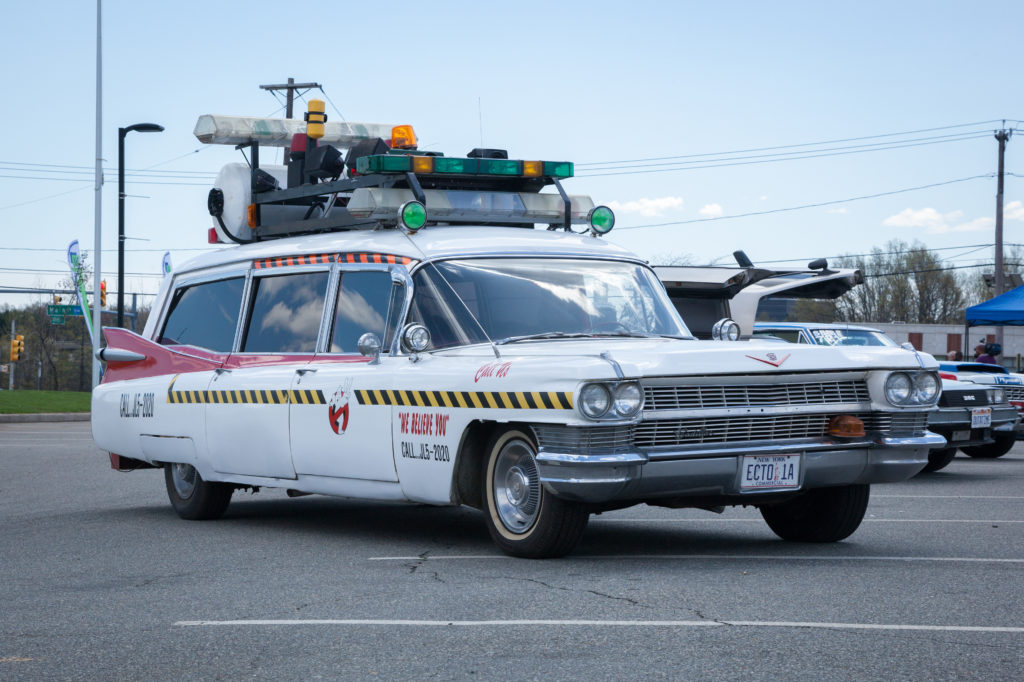 Be heard: Hawaii legislator contact information can be found here.
More information:
Tim Dayton of GEICO, front left, and Hawaii Insurance Commissioner Gordon Ito, front right, spoke in opposition to House Bill 1620 on Jan. 31, 2018, at a House Instrastate Commerce Committee hearing. (Screenshot from 'Ōlelo broadcast of Hawaii Legislature)
Consumer Kevin Rathbun spoke in support of House Bill 1620 on Jan. 31, 2018, at a House Instrastate Commerce Committee hearing. (Screenshot from 'Ōlelo broadcast of Hawaii Legislature)
Hawaii Insurance Commissioner Gordon Ito spoke in opposition to House Bill 1620 on Jan. 31, 2018, at a House Instrastate Commerce Committee hearing. (Screenshot from 'Ōlelo broadcast of Hawaii Legislature)
Tim Dayton, Hawaii and Alaska GEICO general manager, spoke in opposition to House Bill 1620 on Jan. 31, 2018, at a House Instrastate Commerce Committee hearing. (Screenshot from 'Ōlelo broadcast of Hawaii Legislature)
Karco crash-testing footage of three Honda Fits shows obvious variations between the airbag timing on the two experimental cars compared to a control Fit within the same design generation. Seen here are the black 2010 Honda Fit without any damage or repairs; the red 2009 Honda Fit with a glued roof, aftermarket windshield and other repairs similar to a 2010 Fit owned by Tracy Law Firm clients; and the blue 2013 Honda Fit with multiple certified and uncertified aftermarket parts. Each is undergoing a 40 mph moderate-overlap crash test like the IIHS'. (Screenshot from Karco video provided by Tracy Law Firm)
Automotive Body and Painting Association board member Van Takemoto (Island Fender) speaks Jan. 31, 2018, on behalf of House Bill 1620. (Screenshot from 'Ōlelo broadcast of Hawaii Legislature)
Insurance Institute for Highway Safety Highway Loss Data Institute research has determined that numerous common advanced driver assistance systems are effective in reducing crashes. (Provided by Insurance Institute for Highway Safety)
Share This: