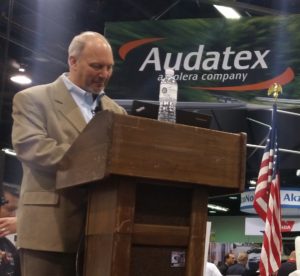 Repairers daunted by OEM repair procedure websites can get a better handle on navigating through them with a new free webinar series from Collision Advice CEO Mike Anderson.
"Learn to Research, Research to Learn" will run monthly through 2018, Collision Advice announced Monday. The webinars will be interactive — viewers can text in questions, according to a news release — and Anderson will often be accompanied by an OEM's representative.
"I'll be focusing on a different automaker each month, and I will walk shop owners, estimators and technicians through the process of using that OEM's specific website to locate the repair procedures, information and position statements they need," Anderson said in a statement.
Anderson's "Who Pays for What?" surveys, produced in conjunction with CRASH Network, have revealed that repairers aren't checking OEM repair procedures every single time. That's contrary to what he and other industry experts have instructed and the standard of care advocated by I-CAR and all three major national industry trade groups.
Anderson's webinars will teach the inner workings of the OEM repair procedure sites, but don't forget to use I-CAR as a resource as well on the topic. The educational organizations has step-by-step instructions on how to find and log on to every major OEM's website through its Repairability Technical Support Portal, and it offers classes similar to Anderson's for some OEMs.
"Once you understand the automakers' websites and begin using them, it becomes a much faster and easier process, and these webinars will help shops do that," Anderson said in a statement. "Repetition is key."
First up for Anderson: Toyota's Technical Information System. The inaugural webinar on the repair procedure website will be held at 2 p.m. ET on Feb. 21. Register here.
ASA (and Bosch)
The Automotive Service Association also recently announced a new free monthly "Webinar Wednesdays" series for members and nonmembers. Nonmembers may watch and participate in the live webinars, held the third Wednesday of every month, but only members can watch the replays of the videos.
ASA collaborated with Bosch for its January webinar and will do so for scanning- and calibration-related courses through May.
Next up is "In-House Money Makers: Diagnostic pre- and post-scanning in-house can make you money," scheduled for 1 p.m. ET Feb. 21. Register here.
"We designed this Wednesday webinar series to be a convenient training tool for our members to get advanced training without leaving their shop," ASA Vice President Tony Molla said in a statement. "In addition, it offers prospective members a taste of the great training that is one of ASA's strengths. We are excited to be partnering with Bosch, which is a respected leader in the automotive aftermarket."
Bosch and ASA will provide certificates acknowledging participating in a class and a separate recognition for those who attend all five.
More free stuff
Other free monthly webinars to remember: Collision Hub's "Repair University Live" is technically subscription-based, but corporate sponsorships have led to several episodes being released for free — including the latest one.
Collision Hub as of Friday, Feb. 9, was also running a promotion where the entire year's $500 "Repair University" OE Edition season pass is free. Register here with provider code "RSG" before the promotion ends.
VeriFacts' Guild 21 monthly calls are also free and a great resource as well.
More information:
Share This: