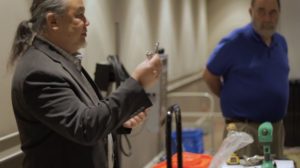 The Collision Industry Conference slides and our coverage Monday provide an opportunity to learn about the "Kool Tools" from the 2017 SEMA show, but nothing compares to seeing the equipment being demonstrated by a collision repairer.
Now, technicians and shop owners who missed the live 2018 "Kool Tools" presentations in Palm Springs, Calif., last month can see the gear in action with a new video released Wednesday by the Society of Collision Repair Specialists.
SCRS Chairman Kye Yeung (European Motor Car Works) and collision repair guru Toby Chess (Kent Automotive), two members of the SCRS Education Committee, have an annual tradition of buying and testing intriguing tools from SEMA.(See our coverage from 2015, 2016 and 2017.) According to SCRS, they seek out items "that they feel provide notable value in fixing today's damaged vehicles."
The 2018 lineup saw everything from a rubber grip installer to a single-phase double-pulsed welder from Pro Spot. Check the picks out here:
Subscribe to the SCRSCollision YouTube channel to keep up with its video releases.
SCRS also last month posted a video of a SEMA Week discussion of the liability risk to an auto body shop failing to use OEM repair procedures.
The lively session featured noted collision repair attorney Erica Eversman (Vehicle Information Services); Seebachans v. John Eagle Collision Center attorney Todd Tracy (Tracy Law Firm); Audi collision programs director Mark Allen; and Aaron Clark (Assured Performance), whose former shop Collision Solutions was the target of a lawsuit. Ellis & Associates Managing Director John Ellis moderates.
Unlike the free YouTube videos, you'll need a free SCRS account to watch the liability video, which is found on SCRS' overhauled website. It's easy, and anyone can obtain one — you don't need to be a formal SCRS member or work at a body shop.
If you're an SCRS member who's registered a password with SCRS.com, log in here.
If you're an SCRS member who hasn't yet established an account on SCRS.com, visit www.scrs.com/set-password to get that ball rolling.
If you're not an SCRS member, sign up for a free Premium Content account here.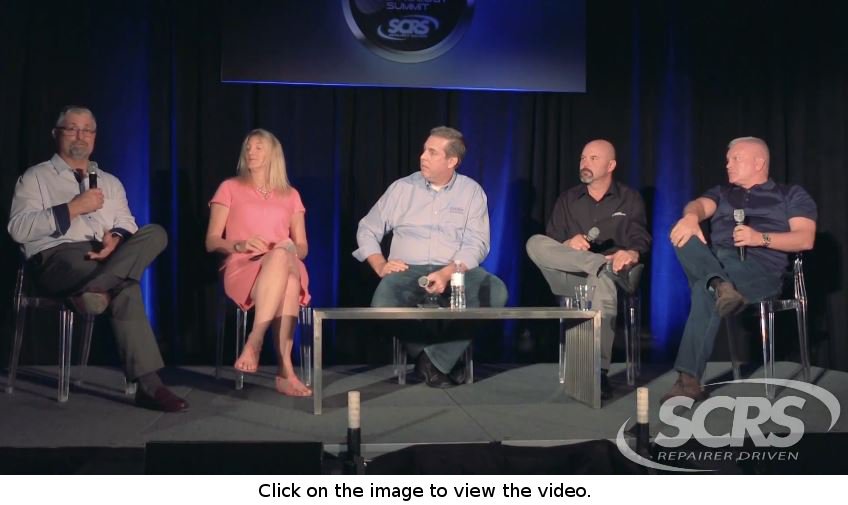 Finally, SCRS collaborated with I-CAR on two other free videos released last month by the educational organization.
The films showcase new I-CAR vehicle technology courses but largely examine what the underlying subject matter could mean for your shop.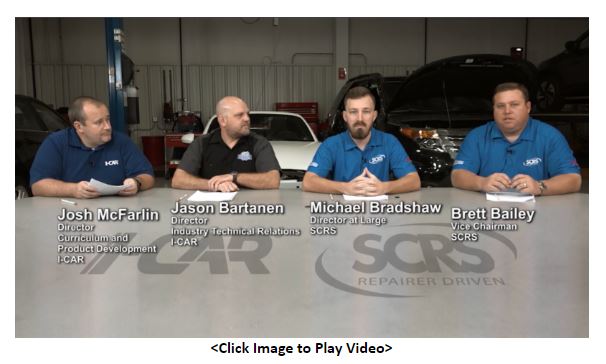 SCRS board member Michael Bradshaw (K&M Collision) and Vice Chairman Brett Bailey (A&B CARSTAR) shared a collision repairer's perspective in the discussion with I-CAR curriculum and product development director Josh McFarlin and I-CAR industry technical relations director Jason Bartanen.
See those videos here and here, or click on the images above and below.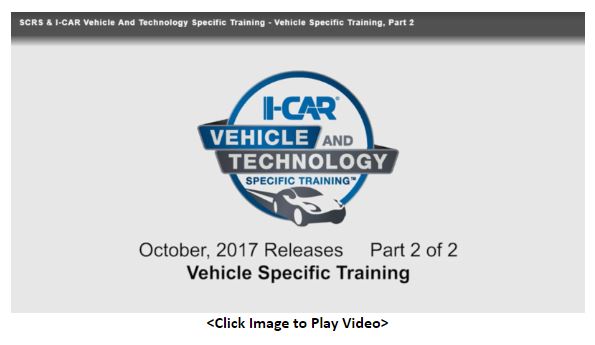 Details: Visit www.scrs.com, call 877-841-0660 or email info@scrs.com.
More information:
"SCRS Education Committee releases video of 'Kool Tools from 2017 SEMA Show & More'"
Society of Collision Repair Specialists, Feb. 14, 2018
"SCRS Education Committee Presents – Kool Tools from 2017 SEMA Show & More"
Society of Collision Repair Specialists YouTube channel, Feb. 13, 2018
Images:
Society of Collision Repair Specialists Chairman Kye Yeung (European Motor Car Works), left, holds up an ARIA Tools universal air coupler while collision repair guru Toby Chess (Kent Automotive) looks on during the Jan. 17, 2018, Society of Collision Repair Specialists' open board meeting. (Screenshot from SCRS YouTube video)
"The Hidden Dangers of Vehicle Technology, Improper Repair Methodology and Your Liabilities" was perhaps the most memorable panel during the SCRS OEM Collision Repair Technology Summit. See a video of the session on www.scrs.com. (Screenshot from www.scrs.com video)
Two new videos released by the Society of Collision Repair Specialists and I-CAR on Wednesday showcase nine new vehicle technology courses but largely examine what the underlying subject matter could mean for your shop. From left, I-CAR curriculum and product development director Josh McFarlin and I-CAR industry technical relations director Jason Bartanen appeared along with SCRS board member Michael Bradshaw (K&M Collision) and Vice Chairman Brett Bailey (A&B CARSTAR). (Screenshot from I-CAR and SCRS video)
Share This: