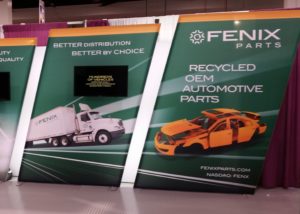 Upstate Shredding has made an unsolicited offer to buy Fenix Parts for $0.50 a share in what appears to be a more than $10 million cash bid.
The recycler, whose dream to be a dominant No. 2 to LKQ in recycled parts suffered with its 2017 delisting from the Nasdaq and other setbacks, said the offer wasn't part of its "strategic alternatives process."
"Fenix Parts said its Board of Directors would continue to work with its financial and legal advisors to pursue a strategic or financial transaction that it believes is in the best interest of the Company and Fenix Parts shareholders," the company wrote in a news release. "The Company said that it does not expect to provide further updates on the progress of this process until it deems appropriate and cautioned its stockholders not to assume that the aforementioned non-binding offer, or any other transaction with Upstate Shredding or any other party, will be completed."
Stifel Nicolaus & Co. has since March 2017 been examining ways to improve the company's prospects, such as "including a business combination, debt and/or equity financing, or a strategic investment into the Company, that will provide the Company with improved liquidity and maximize shareholder value. Since the appointment, Stifel has conducted a comprehensive, confidential market outreach program to identify potential interested parties. In addition, interested parties have approached Stifel and the Company. … The Company has received a substantial number of proposals for financial transactions and the Special Committee of the Board overseeing the process has reviewed each of the various proposals with Stifel."
Fenix Parts wasn't going to report such dealmaking publicly, but confirmed Upstate Shredding's bid after the latter announced Feb. 9 an offer of nearly double Fenix Parts' Feb. 8 close price of $0.27 a share. The last reported common stock volume for Fenix Parts was 20,327,685 on July 20, 2017. Using that number would mean Upstate Shredding — one of the largest scrap metal outfits in the country — would be paying about $10.16 million for Fenix Parts.
The company's stock sat at about $0.46 a share late Tuesday afternoon, likely buoyed by takeover speculation.
"Fenix is in the business of automotive recycling and has many characteristics that are attractive to Upstate," Upstate Shredding wrote Feb. 8.
Rebuilding
Fenix has made strides since its switch to the pink sheets. The company filed its 2016 10-K in July 2017, and it filed its first-quarter 2017 report in October 2017.
The company reported that net revenues grew 6 percent over January-March 2016 to reach $34.1 million, with recycled parts sales growing from $28.3 million to $29.2 million.
Early last month, Fenix announced it had reached a forbearance agreement with creditors BMO Harris Bank and BMO Harris' Canadian Bank of Montreal, from which it appears to have borrowed at least $21 million. The companies could have taken action against Fenix for failing to issue quarterlies and meet certain financial obligations, but have agreed not to do so until Feb. 28. They've also agreed to let Fenix add its 2017 interest payments to its principal and defer the principal payments owed until Feb. 28.
Finally, on Jan. 19, Fenix announced that the Securities and Exchange Commission ended its inquiry without taking action — which ought to further boost the company's financial health.
"We are pleased to have a favorable outcome and closure to this matter," CEO Kent Robertson said in a statement. "The conclusion of this matter will allow Fenix to stop incurring significant legal costs and committing management resources associated with the inquiry."
The company's dwindling number of shareholders and Nasdaq delisting also meant it could halt quarterly, annual, and other SEC filings, which could also help.
"The decision of the Company's Board of Directors to suspend the Company's SEC reporting obligations was made after careful consideration of the advantages and disadvantages of being a public company under current circumstances and took into account several factors, including the significant costs associated with preparing and filing periodic reports with the SEC and high outside accounting, audit, legal and other costs and expenses associated with being a public company, including Sarbanes Oxley compliance, as well as the small number of Company stockholders and the relatively low level of trading in the Company's common stock in the months following the delisting of the Company's common stock from the Nasdaq Stock Market," Robertson said in a statement. "This decision should result in a benefit to the Company's stockholders by reducing expenses and permitting management and staff to focus more energy on operating matters."
Fenix Parts will instead produce "periodic updates," and reported Jan. 19 that for the nine months ended Sept. 30, 2017, saw $96.6 million in revenue. That tally had been reduced from the $99 million the prior year by an April 2017 fire that shut down an $8 million-a-year Toronto facility and an 8 percent reduction in car buying that left less inventory to sell.
"We continue to see strong demand for our recycled OEM parts, supported by positive industry dynamics," Robertson said in a statement. "Unfortunately, we are not getting the full benefit of the strong demand and higher commodity prices because of our reduced car volume and the negative impact of the suspension of operations as a result of the fire at the Toronto facility. The Company continues to face significant challenges due to its strained liquidity position as a result of high professional fees for the periods covered in this update and limits to its borrowing capacity under its credit facility."
The 16-location (counting the closed Toronto site) Fenix remains an interesting company to watch because its concept of consolidating salvage yards seems like a plausible corollary to the consolidation going on in the collision repair and paint and equipment distributor sectors. Based on the company's prospectus, there's plenty of room for it or someone else to grow to be a clear No. 2 to LKQ.
"The automotive recycling industry is highly fragmented, with few multi-facility operators," its 2015 prospectus stated. "According to the (Automotive Recyclers Association), there are an estimated 9,000 vehicle recycling facilities in the United States and Canada."
More information:
"Fenix Parts Confirms Receipt of Unsolicited Offer from Upstate Shredding, LLC"
Fenix Parts, Feb. 13, 2018
"Fenix Parts Announces Conclusion of SEC Inquiry, Files to Suspend SEC Reporting Obligations and Provides Business Update"
Fenix Parts, Jan 19, 2018
"Fenix Parts Enters into Forbearance Agreement and Provides Update"
Fenix Parts, Jan 4, 2018
"Fenix Parts Files First Quarter 2017 Form 10-Q"
Fenix Parts, Oct 31, 2017
"Fenix Parts Files 2016 Form 10-K"
Fenix Parts, Aug 16, 2017
Featured image: The Fenix Parts booth is seen at NACE 2016. (John Huetter/Repairer Driven News)
Share This: