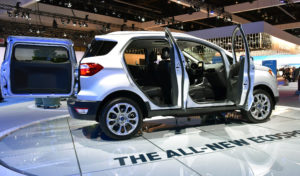 The 2018 Ford EcoSport has gone on sale in what the Detroit Free Press reports is the model's U.S. debut, and American repairers can get a feel for the tiny SUV in the latest issue of On Target.
Forbes contributor Neil Winton reported that an IHS analyst forecast Ford would sell about 60,000 in the U.S., so odds are good that you'll see one or two in your shop.
"More people are choosing to spend their time and money sharing experiences with friends and family instead of buying more stuff," Ford U.S. marketing executive director Chantel Lenard said in a statement in 2016. "EcoSport fits perfectly into this growing lifestyle. It's our smallest SUV, packed with features and personality."
On Target reports that despite the vehicle's small size, Ford still used some ultra-high-strength steels on the vehicle. The OEM described the vehicle's body as "(h)igh-strength, low-alloy (HSLA), high-strength, ultra-high-strength (UHSS) and mild steels," though it doesn't specify percentages of different steel grades. The rear bumper reinforcement is ultra-high-strength steel, according to the collision repair newsletter. (Unfortunately, it doesn't report the composition of the front beam.)
The document makes no reference to aluminum. On Target describes the hood, "luggage compartment lid," quarter panels and fenders and roof as steel, with the fenders made of "(d)ent-resistant" steel. It also states that certain structural body parts are dual-phase steel, and the EcoSport has (u)nderbody components constructed of mild, dual phase and high-strength steels."
Ford also offers repairers a taste of what it'll take to replace a DP600 steel fender apron panel reinforcement with partial instructions for the work. Based on the newsletter, shops will need both a resistance spot welder and a MIG/MAG welder to swap out the part on the sub-$20,000 vehicle. (On Target doesn't offer details into just what specs those two pieces of equipment will have to meet.) The OEM also directs shops to "Restore the vehicle to pre-accident dimensions, if required," which means an repairer would likely have to a) possess a measuring system up to Ford specifications and b) measure the vehicle first to see if such restoration is necessary.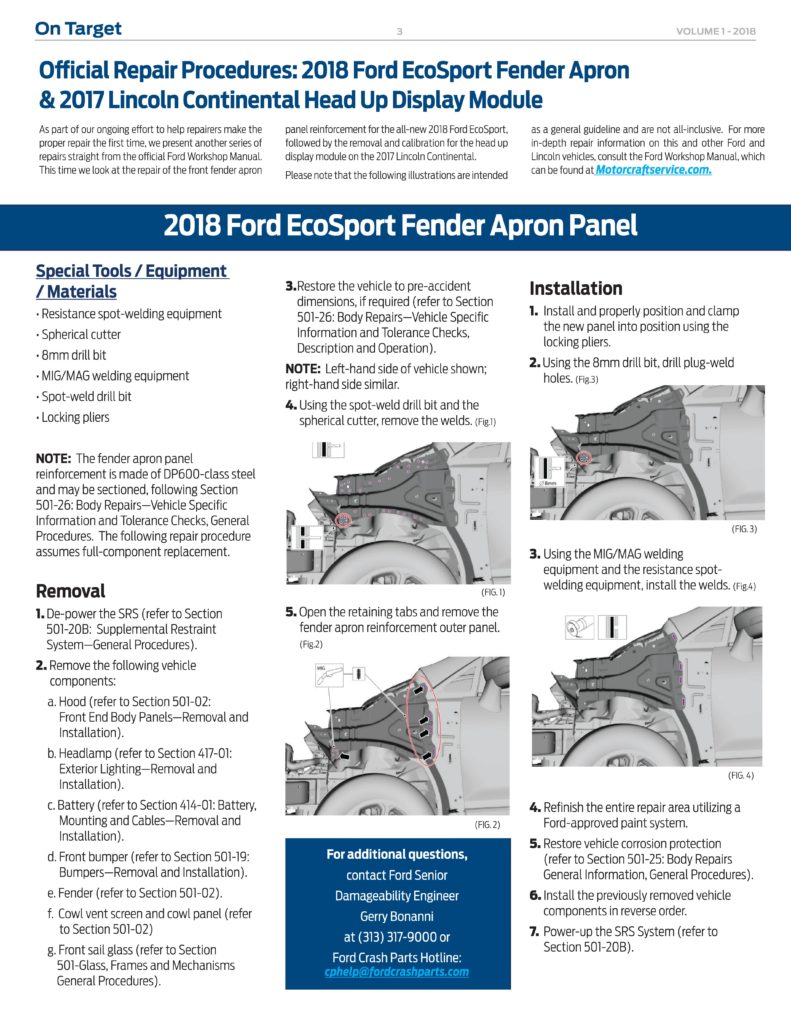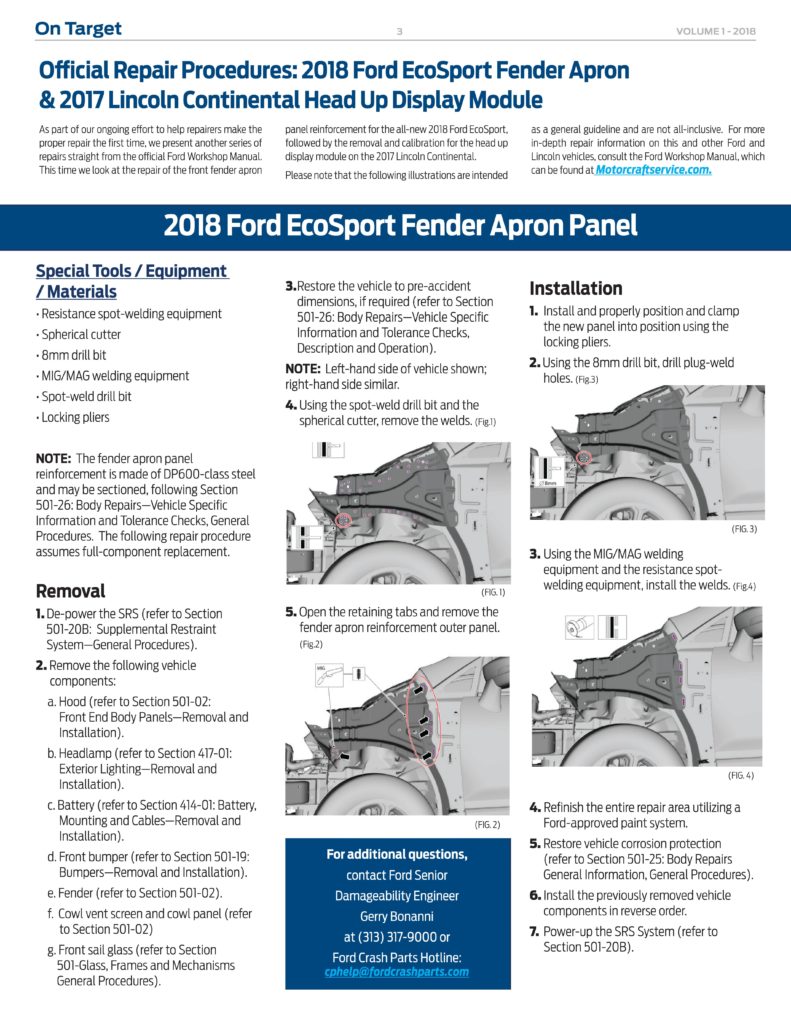 To steal a lesson from Jake Rodenroth of asTech, it's also worth pointing out that Ford mentions separate repair instructions for deactivating or removing elements like the supplemental restraint system, hood, headlamp, battery, bumper and sail glass — shops ought to study these procedures as well, no matter how rudimentary some might seem.
Other EcoSport highlights possibly of interest to collision repairers:
• Unlike other newer-model vehicles (and future Ford models), the 2018 EcoSport doesn't appear to have many advanced driver assistance systems available, which ought to make life a little easier for repairers and insurers. Reverse sensing — which alerts the driver if you're going to back into something but doesn't appear to include rear autobraking — is available as an option, which makes sense since the SUV seems made for parallel parking in tight spots.
• The EcoSport does come standard with "SOS Post-Crash Alert," an interesting safety feature in which the vehicle makes a scene to attract passers-by and first responders whenever it detects certain airbag or seatbelt activity signifying a crash. As presumably every second counts in such a situation, shops are going to want to restore this feature precisely as Ford wants.
"The SOS-Post Crash Alert System™, available on most Ford and Lincoln vehicles, alerts passers-by and first responders to a vehicle's location," Ford wrote in a 2016-17 sustainability report. "In the event of airbag or safety belt pre-tensioner activation, it automatically starts the hazard lights and, in non-European vehicles, sounds the horn. The system also sends a signal to unlock the vehicle doors to aid exit or access to first responders."
• All EcoSport trims include "a swing-gate-style tailgate."
More information:
"Feature Vehicle: 2018 Ford EcoSport"
Ford On Target, Volume 1, 2018
2018 Ford EcoSport fender apron panel reinforcement repair procedure overview
Ford On Target, Volume 1, 2018
"GO SMALL, LIVE BIG WITH ALL-NEW ECOSPORT – FORD'S SMALLEST SUV WITH THE BIGGEST PERSONALITY"
Ford, Nov. 14, 2016
Images:
The Ford EcoSport appears Nov. 16, 2016, at the 2016 AutoMobility Los Angeles. (Provided by Ford)
Partial repair procedures for the 2018 Ford Escape fender apron panel reinforcement are featured in Volume 1 of Ford's 2018 On Target publication year. (Provided by Ford)
Share This: