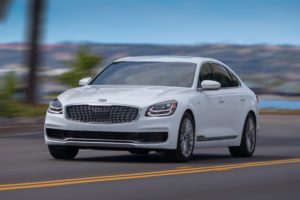 Kia this week debuted its flagship 2019 K900 luxury vehicle, which it calls "the most technologically advanced Kia ever."
It might be as well from a body construction perspective. The OEM said the steel unibody car had 25 hot-stamped parts — the kind of components which can reach gigapascal-level tensile strengths — calling it in a press release "the most of any Kia vehicle" and "four times more hot stamping" than the outgoing 2017 edition.
Kia didn't discuss the proportion of higher-strength steels found overall in the vehicle, but other next-generation Kias are more than 50 percent advanced high-strength steel (typically starting at about 590 megapascals) or higher. The 2018 Stinger, Kia's new muscle car, is 55 percent AHSS.
Besides high-strength steel limiting repair methods, collision repairers are also going to have to contend with more than double the amount of structural adhesive in the vehicle. The 2019 edition has 679 feet of the bonding agent, compared to just 279 feet in the old K900.
On the whole, the vehicle's torsional stiffness grew 33 percent from the prior generation, "helping to give the vehicle a more solid and premium on-road feel."
The OEM also sought to class up the car by adding "new and enhanced insulation throughout the vehicle structure, including the engine compartment firewall, the rear seat sandwich panel, under floor cover and vibration pad behind the headliner."
Kia frowns on aftermarket parts anyway, but its warning might take on more relevance with some noise, vibration and harshness-related upgrades added to elements like its OEM glass and wheels.
"An acoustic film on the windshield and front side glass dramatically quiets the cabin as does the use of resonance chambered wheels, plastic bands within the wheels which reduce road noise while driving," the OEM wrote.
Aftermarket radiators might not cut it either. According to the OEM, "Kia's development team exceeded internal targets and over-engineered a system that utilizes a wider radiator for more efficient cooling and airflow, and adopted a high-capacity 600-watt brushless electric fan motor."
Other body-related elements to watch and make sure to preserve include wheel air curtains and full underbody panels for aerodynamics and underbody cooling ducts for the brakes. The OEM also has an "active air flap" which automatically adjusts itself depending on the driving speed, again for aerodynamics.
Other items possibly of interest to collision repairers:
The grille has "176 jewel-like 'cells,'" according to Kia.
"To further elevate the mood, the K900 features interaction lighting thanks to an Intelligent Lighting Control system that uses proximity sensors to brighten 20 percent when the driver's hand is sensed reaching for a switch on the dash."
A free year of the telematics service UVO luxe is included.
ADAS systems include both front autobraking and rear cross-traffic autobraking. The K900 also has a blind-spot camera feed, a blind-spot alert that vibrates the steering wheel and "Safe Exit Assist, which can help notify the driver or passengers if it detects potential hazards, including passing cars, bicyclists or pedestrians, when opening any door to get out of the vehicle," Kia wrote. The car can keep itself within a lane automatically but also has an apparently separate feature which can "provide a degree of automatic steering control in certain circumstances during Advanced Smart Cruise Control (ASCC) operation based on analyzing lane markings and radar-based front vehicle information that it detects," according to Kia.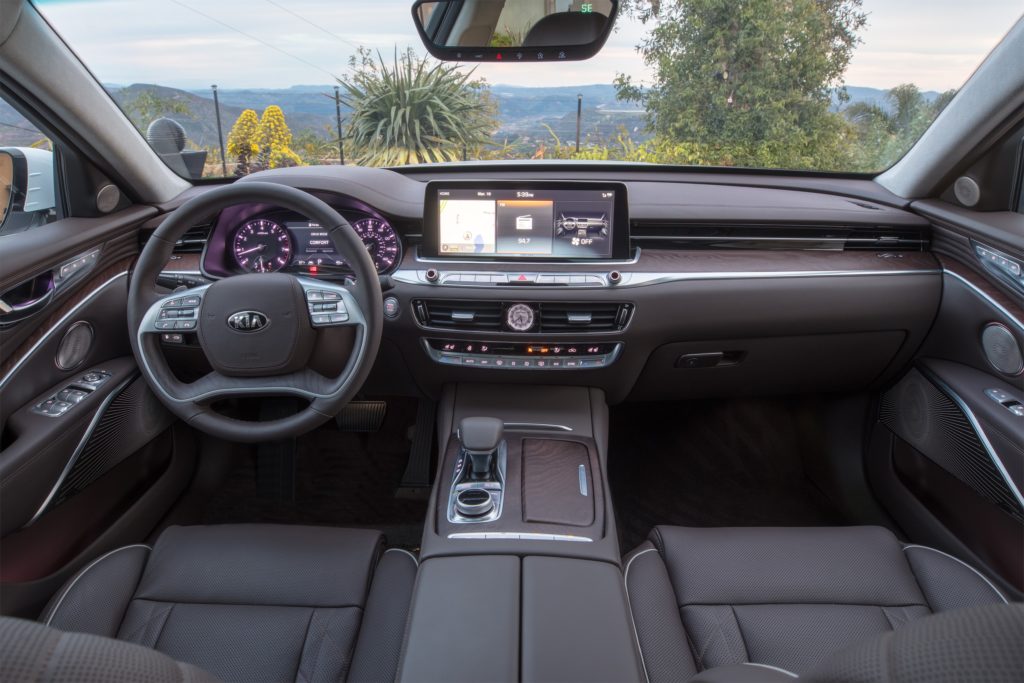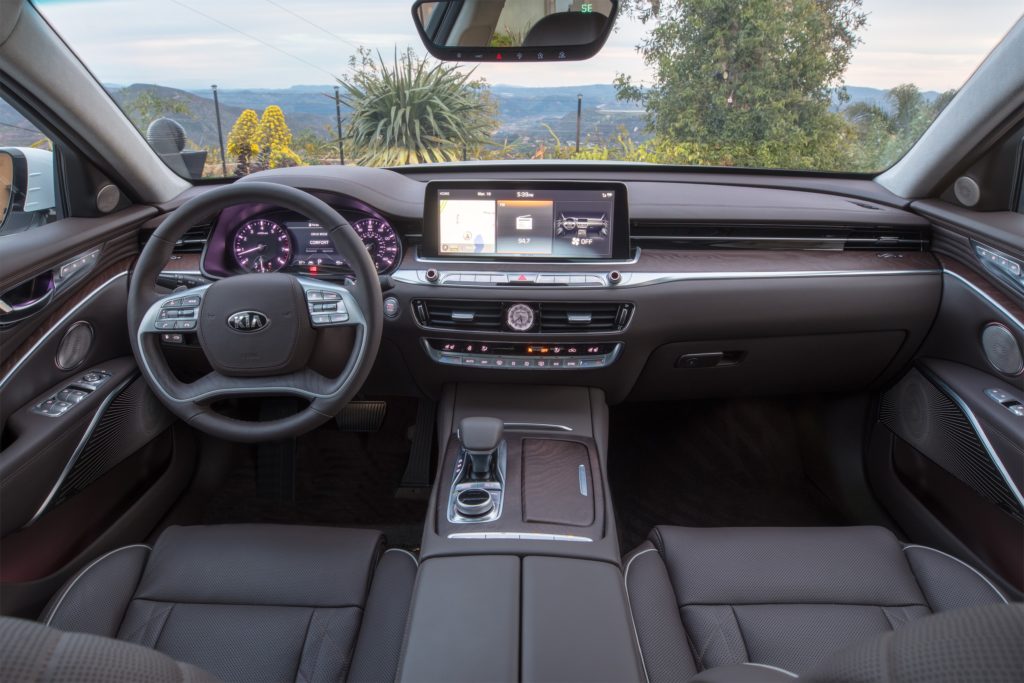 Finally, the K900 also includes "Driver Attention Warning,"  which watches driving behavior and warns the driver to take a break if it looks like they're not doing a very good job. It's unclear if this includes an internal camera facing the driver or just tracking the motion of the vehicle.
The car has all-wheel drive and automatically adjusts itself based on the road condition, which Kia says "elevates traction and handling to help the K900 compete against its premium European competitors." An optional electronical controlled suspension uses wheel acceleration sensors to examine road quality and adjust the suspension itself.
"There's also a brake drying feature that can periodically apply the brakes (undetectable to the driver) to sweep water build-up and maintain consistent performance in certain conditions," Kia wrote.
The K900 has not been a high seller — just a couple thousand in 2015 and less than 1,000 in 2016— but Kia might be able to turn that around and make it more likely you'll see one in your shop following its release in the fourth quarter of 2018. The OEM has gone from the butt of jokes to a back-to-back J.D. Power Initial Quality champion, and customers seem to be responding well to the notion of a Kia muscle car judging by Stinger sales. A luxury Kia might not seem as odd as it would have a few years ago.
But even if you don't see any K900s or the technology within, don't forget that the luxury features like those we're discussing here have a way of trickling down to more mainstream models.
"The all-new 2019 K900 is much more than a generational redesign, as it takes on a whole new look, feel and character over its predecessor.  Only its name – K900 – is carried over," Kia product planning Vice President Orth Hedrick said in a statement. "Our designers and engineers have done an extraordinary job of reimagining the K900 to fully meet the needs and desires of consumers shopping in the luxury sedan segment with the promise of a tremendous value proposition that only Kia can deliver. The all-new K900 is a push into new territory and serves as further evidence this brand is moving in a forward direction."
More information:
"REIMAGINED 2019 KIA K900 MAKES GLOBAL DEBUT AT NEW YORK AUTO SHOW"
Kia, March 28, 2018
Featured image: The 2019 Kia K900 is shown. (Provided by Kia)
Share This: