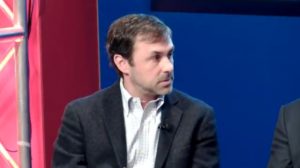 Editor's note: The recent National Automobile Dealers Association Show in Las Vegas included a panel which discussed "connected cars." The trade group's March 24 blog coverage of the forum revealed the conversation touched on applications relevant to collision repairers inside and independent of dealerships. We asked the trade group if we could reprint the piece as a guest post to better educate our readers, and NADA graciously agreed:
By Matt Aukofer, NADA
The car of the future is the "connected car."
Not only will these vehicles employ a host of technologies to make the roads safer and occupants happier, but they also will help new-car dealers streamline their operations and solidify long-term relationships with their customers.
Three panelists gave their visions of the future on March 24 during a Live Stage appearance at the 2018 NADA Show in Las Vegas: Michael Burdiek of CalAmp; David Braunstein of Together for Safer Roads; and Brian Greaves of AT&T. The Live Stage was sponsored by LoJack, along with ACV Auctions and the Television Bureau of Advertising (TVB).
Improving driver safety with instant post-crash event reporting to law enforcement is the most obvious application for this high-tech data connectivity.
"If you can reduce the time that first responders take to get to a vehicle – to get to a person who has been injured – you dramatically improve their chance of survival in a crash," Braunstein said.
"Not only more rapid response, but more informed response about the relative severity of the accident – about the dynamics surrounding the accident – because ultimately that helps first responders provision the right assets to respond to the accident," Burdiek added.
The second most obvious application of connected technology is to provide occupants with richer entertainment, infotainment and communications solutions. The panelists informed new-car dealers in attendance at the show about all of the ways they are working with an ecosystem of third-party vendors, partners, OEMs, and suppliers to provide a robust telematics platform to serve consumers and dealers equally.
"From the dealer perspective, these technologies give the dealers an opportunity to engage over a longer life cycle with the customer," Burdiek said. Telematics technology makes it possible to further consumer engagement, for things such as service and maintenance programs and tailored messages about the status of their vehicles, he added.
"I think what you [dealers] are really doing is establishing trust with those end consumers – the consumers that are coming to your dealerships every day – by having these types of technologies, whether it is embedded or aftermarket," Greaves said. "You are now having this information at your fingertips to where you can better message with your end consumer, bringing them back to your dealership. You know what is going on with their car before they do and you can message appropriately with the appropriate services or the appropriate actions that they need to take. And there is a huge opportunity for upsell, not only at the point of sale for new vehicles to add on these additional services … but also aftermarket."
A third but perhaps less understood application for connected technology is how car dealers can use it in their operations. The telematics platform can be added to every new vehicle that comes onto the lot and configured to tell dealers exactly which vehicles are on the lot, where the vehicles are located, whether they are available for a test drive, and how much fuel they have in them, for example.
The technology can then be re-purposed for consumers post-sale with a focus on safety, entertainment and communications.
"That is very powerful for the dealers," Burdiek said. "Dealers can rely on the same telematics technology platform that can be sold through to the consumer that have all these various value-added features, in addition to safety and security attributes."
"Many of you [dealers] are trusted advisors to your customers," Braunstein said. "You want to have a long-term relationship with them. There is no better way to do that than to give them the peace of mind that you're keeping them safe."
This post originally appeared March 24 on the NADA blog here.
Matt Aukofer is the National Automobile Dealers Association director of online communications.
More information:
"'Connected Cars' of the Future Will Play Many Roles, Including Improving Operations for Auto Dealers"
National Automobile Dealers Association blog, March 24, 2018
"The Connected Car: Paving the Way for More Dealer Revenue and Secure Roadways"
NADA YouTube channel, March 25, 2018
Featured image: Together for Safer Roads President David Braunstein discusses connected car notification of emergency services during the National Automobile Dealers Association Show in Las Vegas. (Screenshot of NADA video on YouTube)
Share This: