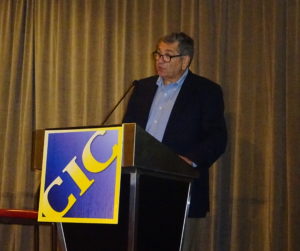 Legal or regulatory ramifications of workplace conditions — including how an employer handles staffers with guns and drugs — are among the topics scheduled for the Denver-area April 2018 Collision Industry Conference, and shops in Colorado and nationwide still on the fence about it shouldn't wait any longer to make plans.
The highlight of the event might be a presentation by collision repair human resources attorney Cory King (Boggs, Fine & Perkins) that a CIC agenda described as "HR Hot Topics: Wages, Sex, Marijuana and Guns." The presentation 8 a.m. Thursday, April 12, is particularly apt given recent headlines and the conference's location in the more drug- and gun-friendly Western United States.
Another crucial presentation for collision repair employers and employees will follow at 10:30 a.m. April 12 when the Governmental Committee will feature Christine Hoefler of the Colorado Department of Public Health and Environment Small Business Assistance Program and John Olaecha, Occupational Safety and Health Administration compliance assistance specialist. "Government and the Shop Environment" sounds like a great way to keep your shop out of hot water from a compliance perspective and, like King's speech, something to miss at your own peril. Even shop owners and staffers with the best intentions might find themselves inadvertently violating a regulation or in a workplace injury situation, and it's important to be as educated as possible to minimize these situations or regulatory penalty.
The April CIC runs 1-5:30 p.m. April 11, with the reception 6:30 p.m. that day, and 8 a.m.-12:30 p.m. April 12 at the Westminster, Colo., Westin, 10600 Westminster Blvd. Registration is $75 at the door; $65 in advance.
A special $169 CIC rate is available at the Westin Westminster. See if rooms are still available by calling 303-410-5000 or checking online here.
Other highlights from the April 11-12 agenda include:
Wednesday, April 11
The Emerging Technologies Committee last CIC offered a really great set of definitions on various scan tools, and they'll return 1:30 p.m. April 11 with "When to Scan? New Scanning Skill Set Requirements / Job Descriptions," according to the agenda.
The Technical Committee will follow at 2:15 p.m. with a video on "The Good, The Bad, The Ugly" on plastic repair. The topic would seem to be even more crucial given the potential for ADAS sensors to be located behind a plastic fascia.
The Insurer-Insurer Repairer Relations Committee will follow with "Shared Perspectives: Steering, Certifications, Luxury Brands," which should make for some interesting discussion. The certification issue should have even greater resonance, as State Farm Select Service shops will be past the March 31 deadline to pass I-CAR's welding program, and GM and Subaru are in the process of developing certified collision network.
The technician shortage seems to remain one of the top issues for shops, and you'll possibly get some ideas on how to handle your own hiring challenges at 4:30 p.m. with a special presentation from the Collision Repair Education Foundation featuring a student guest speaker. Last April's presentation by CREF Student of the Year Annie Michalski was quite strong, and showed there are inspirational kids out there who want to learn the trade — if the industry and society takes steps to encourage them.
Finally, the Education and Training Committee will at 4:45 p.m. discuss "New Task Force Findings &
Reviews: #1 OE Hands-on Training, #2 Role Based Credentials."
Last year, the committee presented data showing that even the industry's most elite shops weren't training to the level OEMs feel is appropriate, as well as research that employees prefer hands-on training.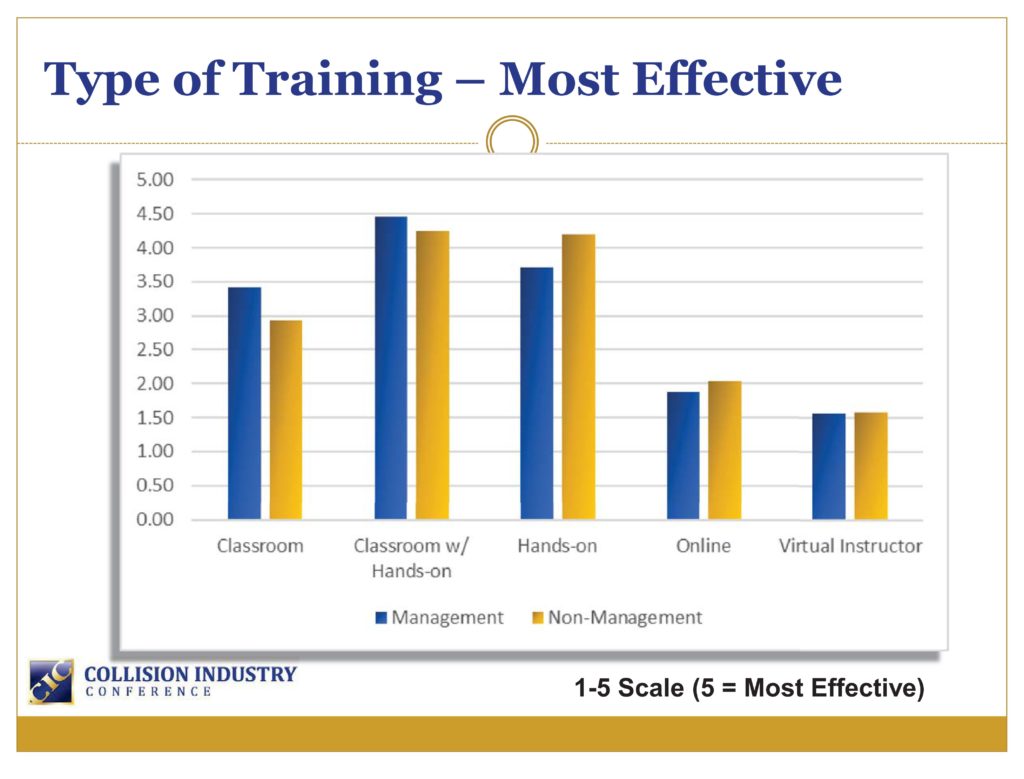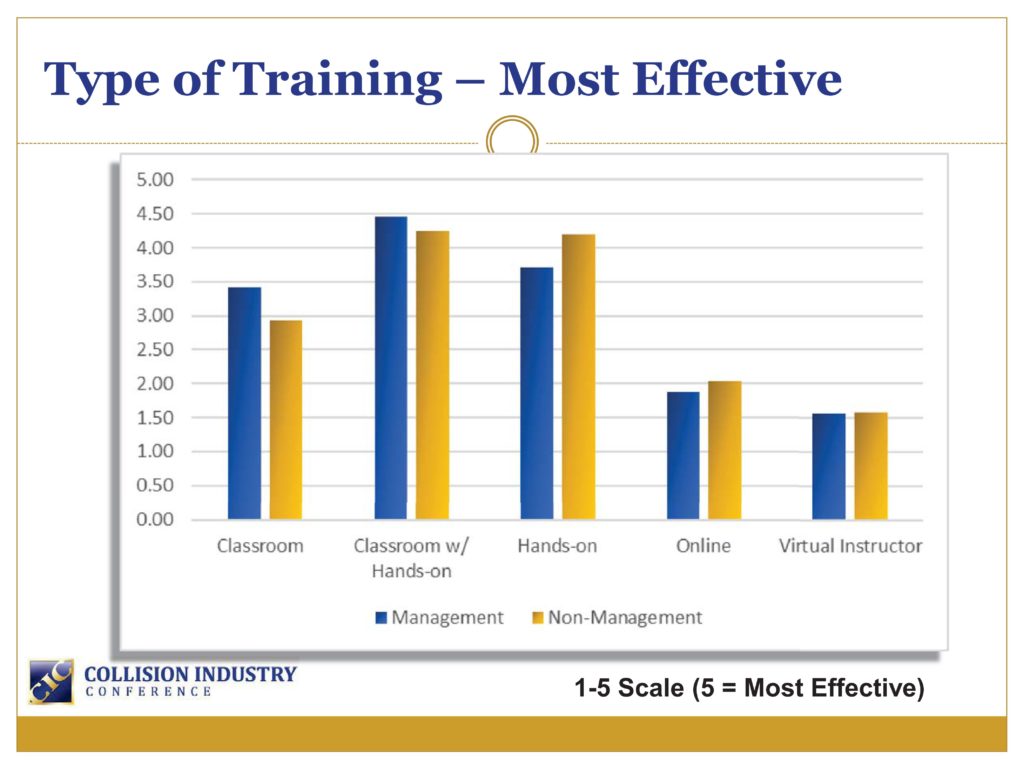 Thursday, April 12
Day 2 of CIC contains a couple of other highlights besides the appearances by King and the regulators.
The Definitions Committee at 9:15 a.m. April 12 will give the audience a presentation of the new collision definitions Wiki announced at the January CIC and now available here. It sounds like a great way for everyone in the collision repair ecosystem — particularly auto body shops and insurers — to be on the same page and educate one another about various terms.
Finally, the Parts & Materials Committee will wrap up the event with guest speaker Susanna Gotsch, CCC director and analyst and the lead author of the 2018 "Crash Course" report. She'll give shops an overview of the free, data-packed annual publication, which contains information shops, insurers and other industries should use to develop business strategies. Get a copy here.
Other events:
CIC Week also houses other events as well, notably a series of items from the Society of Collision Repair Specialists. Here's the details. Don't forget to RSVP to SCRS and CIECA so they can accommodate the demand.
Society of Collision Repair Specialists open board meeting: April 10, 3-5 p.m.
SCRS board election: April 10, 5:15 p.m.
SCRS Repairer Roundtable: April 11, 8 a.m.  (RSVP by April 6.)
SCRS Corporate Member Recognition and Industry Awards Luncheon: April 11, 11:15 a.m. (RSVP by April 6.)
Collision Industry Electronic Commerce Association open board meeting: April 11, 8:30 a.m. (RSVP here.)
Collision Industry Prayer Meeting: April 12, 6:30 a.m.
"One exciting related meeting we'd like to make sure everyone knows about is the SCRS Repairer Roundtable featuring the CFO of Chipotle Mexican Grill," CIC Chairman Guy Bargnes (Painters Supply and Equipment) said in a statement. "We have a lot of information being presented during our April meeting week, to add value to every person of every segment of the collision repair industry. Make sure you are registering in advance to save your spot!"
More information:
April 11-12, 2018, Collision Industry Conference agenda
Collision Industry Conference, March 19, 2018
Collision Industry Conference schedule
Society of Collision Repair Specialists, March 27, 2018
"SCRS Announces Details of Repairer Roundtable in Colorado; Welcomes CFO of Chipotle Mexican Grill"
Society of Collision Repair Specialists, March 12, 2018
SCRS April 11 Repairer Roundtable, luncheon registration
Images:
Collision Industry Conference Chairman Guy Bargnes (Painters Supply and Equipment), runs a Collision Industry Conference meeting in July 2017. (John Huetter/Repairer Driven News)
Data from surveys of about 340 repairers conducted by the Collision Industry Conference in 2017 is shown. (Provided by Collision Industry Conference)
Share This: