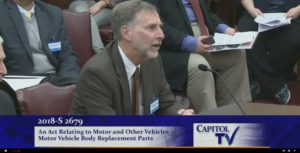 Yet again, a member of the auto insurance industry attempted to suggest that an "industry standard" is a comparable substitute for OEM repair procedures, this time during a Rhode Island Senate Judiciary Comittee hearing.
The assertion is absurd. The three major auto body repair trade associations seven years ago pronounced the OEM repair procedures to be the standard of care. I-CAR, which is advised, supported and run in part by the auto insurance industry, has for a similar time period declared automaker repair procedures to be "service specifications" and the way to fix vehicles. The courts agreed, famously with the John Eagle Collision verdict in 2017.
And yet here's the auto insurance industry — not the guys building or fixing the cars — suggesting some other magical equivalent exists out there. It's irresponsible, given the potential harm to policyholders in Rhode Island and elsewhere shops deviating from tested, proven repair instructions would cause. There seems to be no reason to cling to this incorrect position other than to duck paying for legitimate, clearly necessary repair procedures.
In this case, the insurer's example of an alternative standard seemed to backfire and make the case for OEM repair procedures after all. Here's how it went down this time:
Rhode Island Senate Bill 2679 would extend the state's parts choice law to third-party claims, increase the duration for that choice and open up a wider range of parts to the law.
But while the alternative parts versus OEM parts discussion took up much of the hearing Tuesday, the most important part of the bill might be language declaring, "No insurance company may require any repairer to use repair specifications or procedures that are not in compliance with the recommendations of the original equipment manufacturer for those parts."
I-CAR ≠ OEM standards? Oh, wait…
Amica Vice President and General Counsel Robert Suglia Sr. said Tuesday his carrier's position was that "all vehicles should be repaired properly in accordance with industry standards."
However, Amica's "concern" was that the language "limits" repair options "to only what's in the manufacturer's standards," Suglia said. "There are other industry standards out there, such as I-CAR."
He said I-CAR "sets standards for repair of cars, widely accepted in the industry" and any difference between I-CAR and other repair manuals "should be a discussion with the repairer" so the vehicle was fixed properly.
(The sad part is that comments during the hearing seemed to paint Amica as one of the better insurers to deal with.)
Jina Petrarca, who was representing Providence Auto Body in support of the bill, explained to the committee later that I-CAR also says to follow OEM repair procedures.
She also recounted the John Eagle Collision case's lesson of liability for failing to fix a car using manufacturer repair procedures, citing testimony implying the shop didn't do so because the insurer wouldn't pay. (In fairness, we note State Farm has denied it pressured John Eagle Collision to glue the notorious Honda Fit roof, and the shop also in the same deposition suggested it internally embraced adhesive bonding as an SOP.)
Petrarca (Petrarca & Petrarca Law Offices) also noted Tuesday that while many insurers are willing to pay for shops to follow automaker instructions, "there are many that do not."
The insurers that don't "need your action in order to do the right thing," she told the committee. She said it didn't take much thought to conclude that the manufacturer who built the car knew best how to put it back together.
Suglia said Amica also had a problem with the bill mandating insurers to appraise vehicles based on OEM repair procedures but not forcing shops to follow the repair procedures. He said "shops should have that requirement" too as this was a consumer protection bill.
"We certainly would not be opposed to that," Petrarca said during her testimony.
But she noted that it's probably not necessary to impose that rule on collision repairers, for "we're liable. Not the insurance company. … If we do a bad repair, we have a serious problem."
"We certainly won't object to fixing a car right," she also said. However, sometimes shops are precluded from doing the right thing, as "they don't get paid to."
Be heard: Rhode Island legislator contact information can be found here and here.
More information:
Senate Judiciary Committee hearing on Senate Bill 2679
Rhode Island Legislature Capitol TV, April 3, 2018
"Repair University Live: What does I-CAR say?"
Collision Hub YouTube channel, July 27, 2017
"Always Follow Vehicle Maker Procedures"
I-CAR, July 7, 2016
Images:
Amica Vice President and General Counsel Robert Suglia Sr. speaks at an April 3, 2018, Rhode Island Senate Judiciary Committee hearing. (Screenshot from Rhode Island Capitol TV video)
Share This: