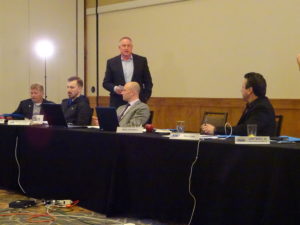 Voters returned a former director and three current ones to the Society of Collision Repair Specialists board, the trade group announced Wednesday during its annual Corporate Member Recognition and Industry Awards Luncheon.
PPG industry relations senior manager Dominic Brusco (Pa.), who served on the board from 2012-15, and incumbents Michael Bradshaw, K&M Collision (N.C.), Bruce Halcro, Capital Collision Centers (Mont.), and Paul Sgro, Lee's Garage (N.J.) were elected during Thursday's election to the four open board seats.
"The last 5 years I have spent on the SCRS Board has been an honor, not only to serve with very dedicated industry leaders, but to know that I am part of an association that exists for the greater good of the collision repairer," Halcro, SCRS' secretary, wrote to voters.
Bradshaw said Tuesday that he didn't truly understand the commitment that serving on the board would mean prior to his election in 2015, but "I'd do it all over again." Sgro called the board an "elite team of warriors" and said he would behave in a way that showed the membership and board they could depend on an attitude of having "got your back."
"This is the place that I can give back everything that I've learned, to make a difference, make it even better than it is," Brusco said.
Brusco defeated incumbent Mark Boudreau, Caliber Collision (Va.), for the fourth seat. SCRS Chairman Kye Yeung recognized the outgoing board member Wednesday, calling it a shame and hoping that the trade group's association with Boudreau wouldn't end there.
Yeung said the Virginia repairer had been an "integral part of our board" who offered his time and "shared great, great ideas."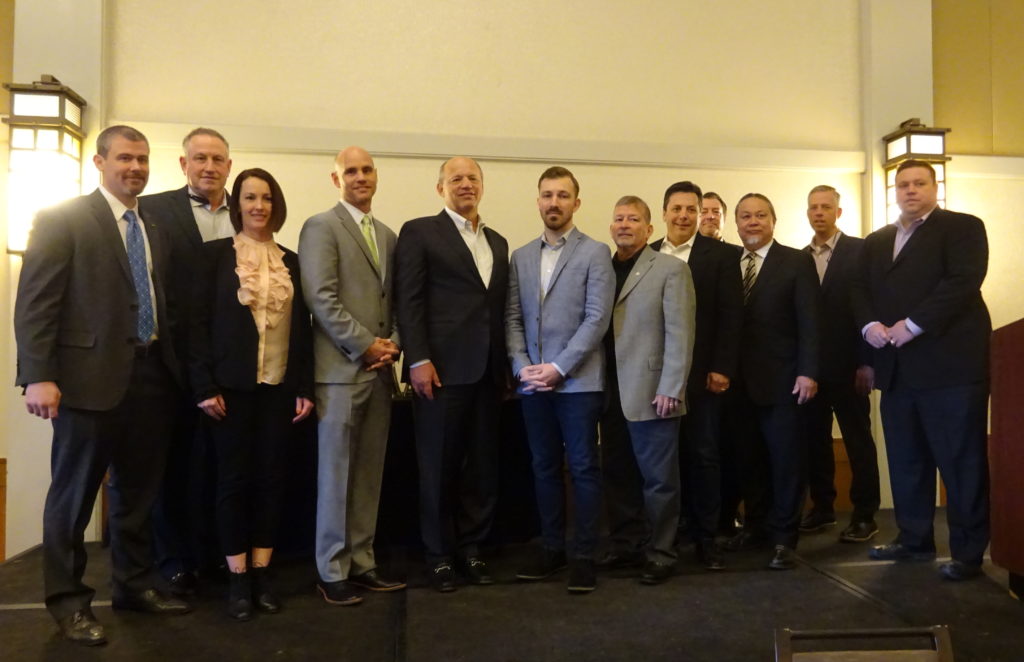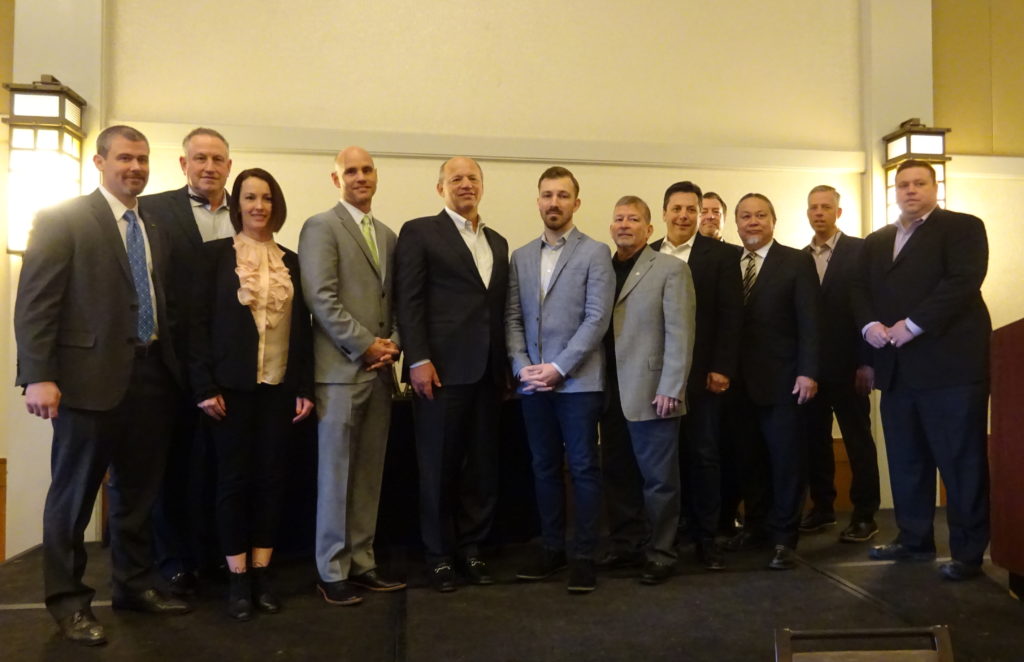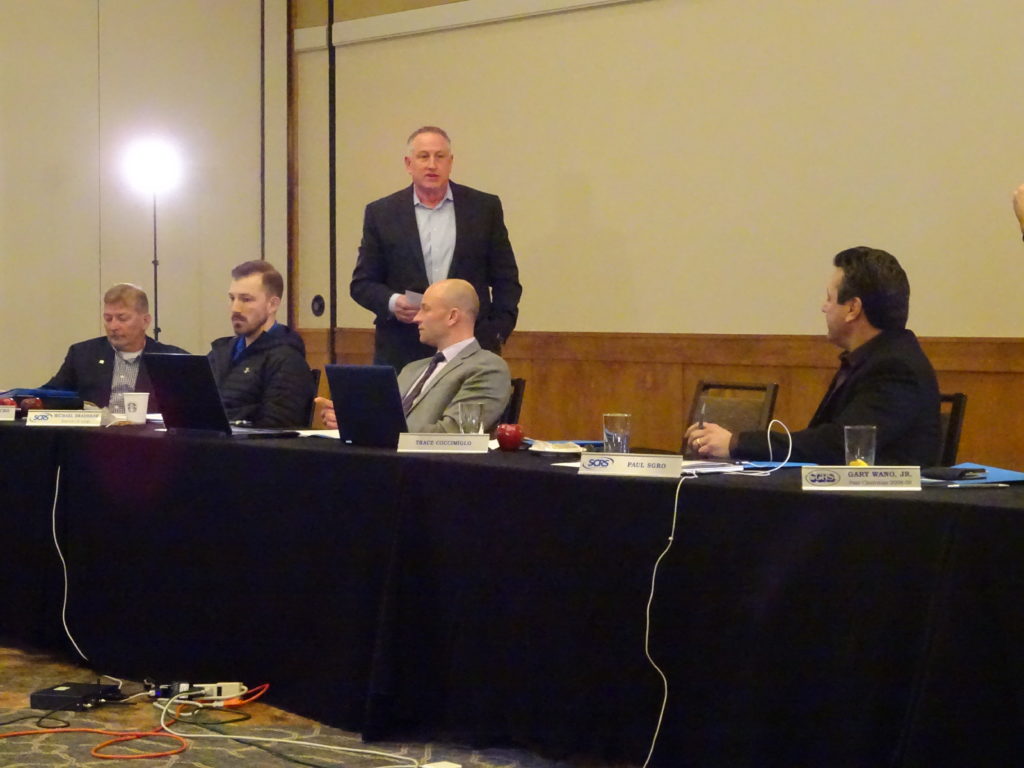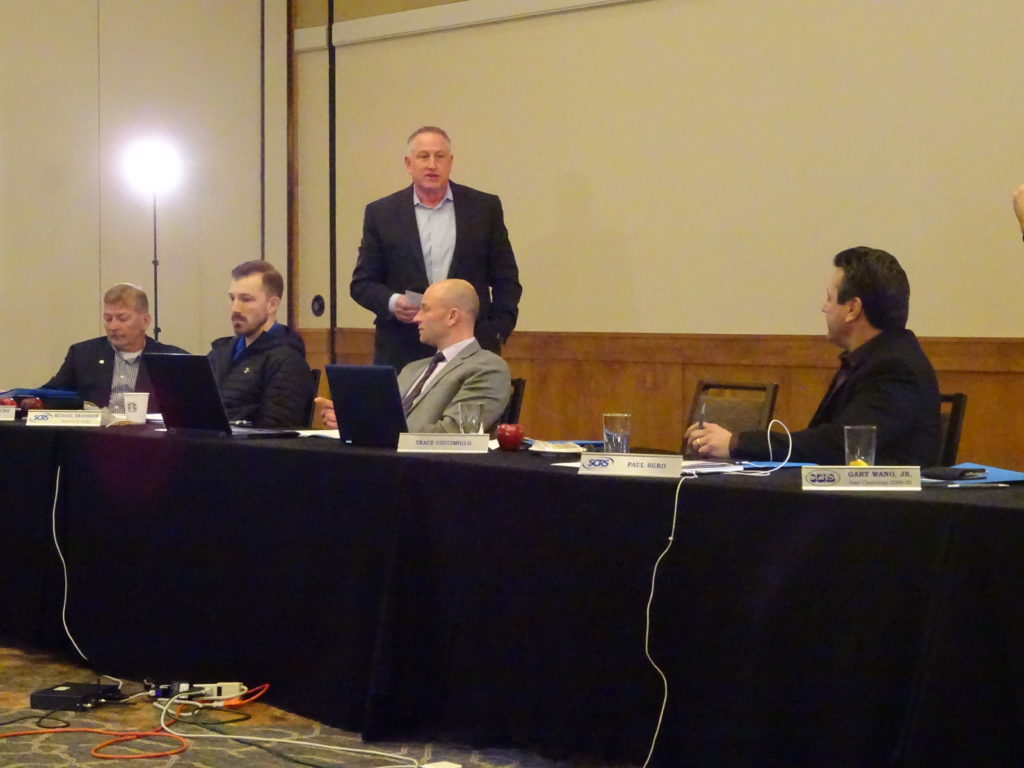 The luncheon also touched on the heritage of the organization the new board will run. Former Chairman Jeff Hendler (Collision Industry Conference), noted that support from corporate members like those honored Wednesday saved SCRS during financial struggles in the 1990s.
"Because of that support and dedication (from repairers and corporate members), we are able to do some things that we never, ever dreamed of 10, 15, 20 years ago," said Hendler, who'd been with SCRS since the beginning.
The luncheon itself dates back 30 years. "Thirty years is a long time, and we are so blessed to continue that tradition," Yeung said.
Besides recognizing SCRS' corporate members, the luncheon saw the presentation of two special SCRS awards. The trade group doesn't give out all of its awards annually, bestowing them only when it feels an effort truly merits one. "I think that holds a lot of value," said Vice Chairman Brett Bailey (A&B CARSTAR).
Collision Advice and CRASH Network won the Non-Individual Service Award for their work on the quarterly "Who Pays for What?" surveys. 
The surveys ask how frequently shops are paid for numerous not-included refinishing operations when they request them of the nation's Top 8 insurers. Hundreds of shops respond to the polls, proving that "we don't pay for that" is incorrect for the nation's Top 8 insurers and disproving "you're the only one asking" in various regions of the country.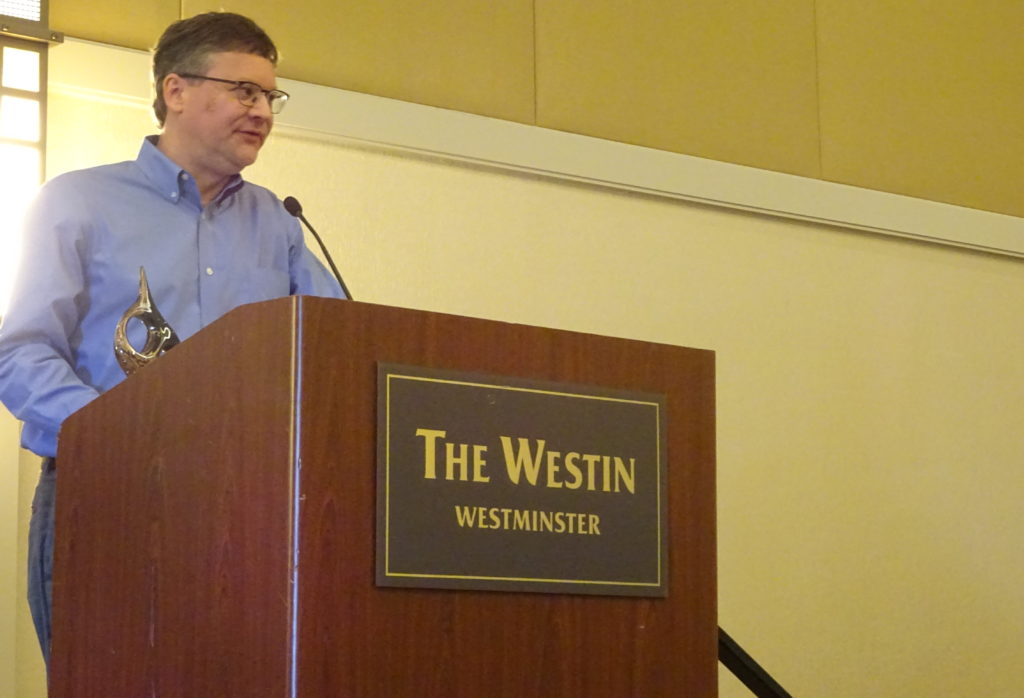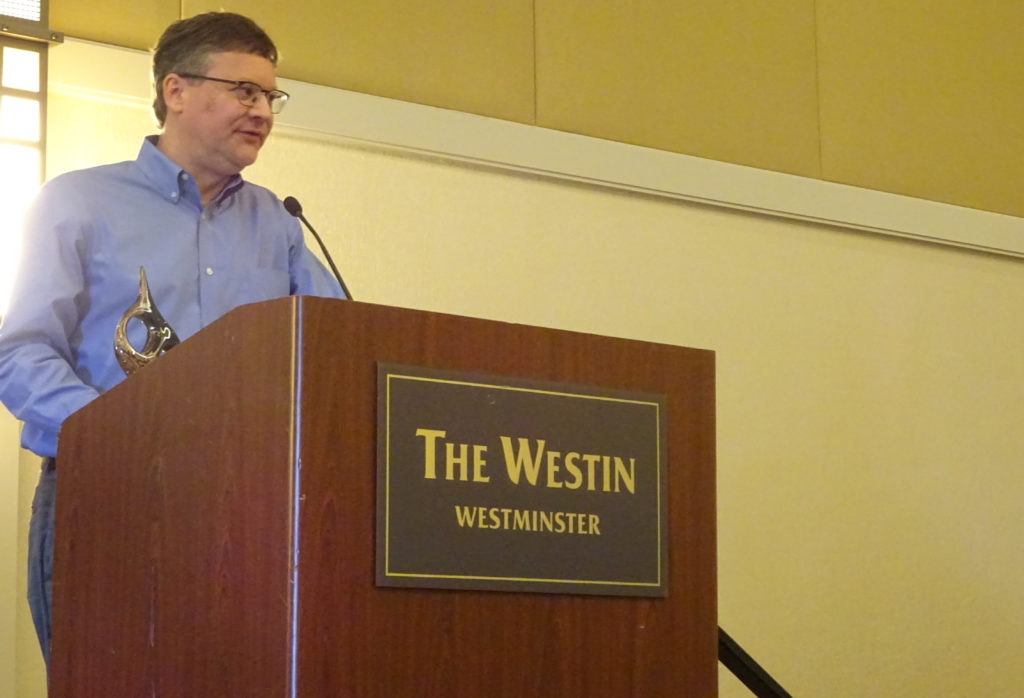 SCRS Treasurer Amber Alley (Barsotti's Body & Fender) said the studies, which began three years ago, helped "reshape the conversation" many shops have daily.
In her role as a shop manager, "I find this resource to be valuable beyond words," Alley said.
Accepting the award on behalf of his publication and Mike Anderson's Collision Advice, CRASH Network editor John Yoswick said the 3,237 respondents who've taken the survey since its inception truly deserved the award. "Please continue to do so," he said.
Take the current "Who Pays for What?" survey on body labor operations here through April 30. All answers are kept confidential — data is published only in the aggregate — and participants receive a copy of the report. Collision Advance and CRASH Network encourage a shop to designate the person "most familiar with the shop's billing practices and the payment practices of the largest national insurers" to complete the poll.
PPG director of business development Bill Shaw received the SCRS Humanitarian Award for his work as president of the Collision Industry Foundation.  The 501(c)3 charity provides replacement tools and necessities to collision professionals impacted by catastrophes.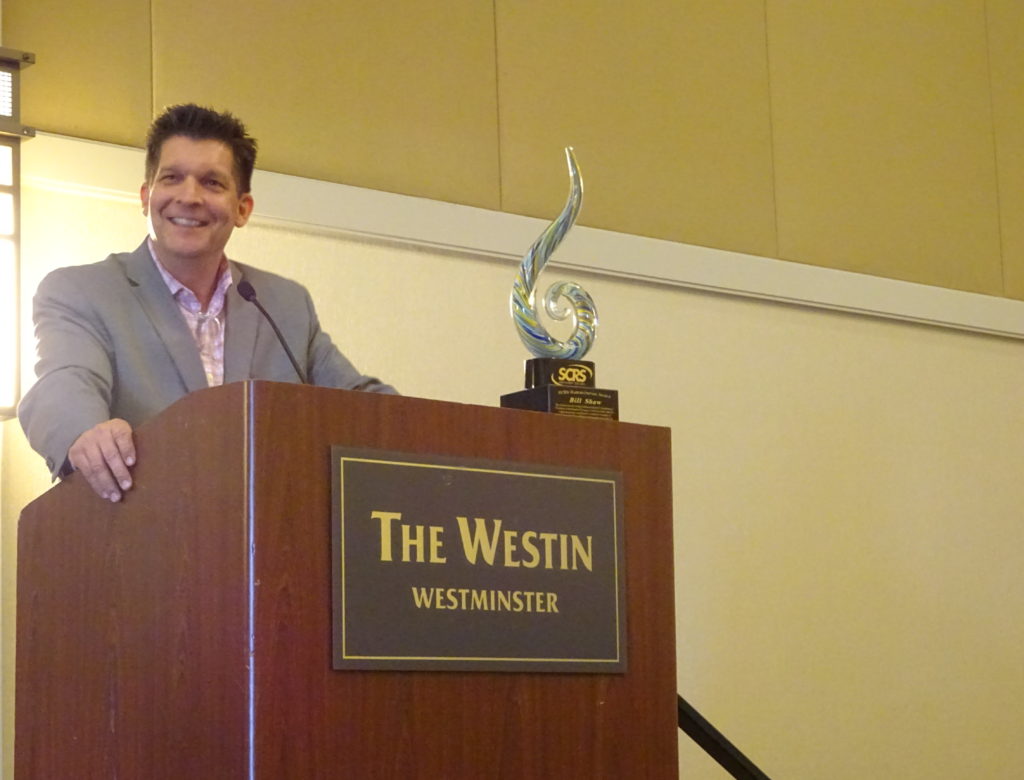 Shaw recounted CIF's origin following Hurricane Katrina, when thousands in the industry were impacted — and the "industry rallied."
He said the group most recently helped 78 industry families in Texas and Florida following Hurricanes Harvey and Irma.
"It's just a real joy to work with everybody," Shaw said of his time at CIF.
Donate to CIF here, and request aid here. You can also email collisionindustryfoundation@gmail.com or call 855-424- 3243 or 804-427-6982. Also, don't forget that the Collision Industry Foundation is on Amazon Smile. If you designate them as your charity and buy stuff on smile.amazon.com instead of the regular Amazon website, the retail giant will donate a little bit to the foundation every time you buy one of millions of designated products.
More information:
Society of Collision Repair Specialists board of directors
Society of Collision Repair Specialists award recipients
Society of Collision Repair Specialists corporate members
Images:
The Society of Collision Repair Specialists' most recently appointed or elected members are seen April 10, 2018, prior to the actual vote the same day. From left, incumbent Bruce Halcro, Capital Collision Centers (Mont.); incumbent Michael Bradshaw, K&M Collision (N.C.); candidate PPG industry relations senior manager Dominic Brusco (Pa.); freshly appointed board member Matthew McDonnell, Big Sky Collision Group, Mont.; and incumbent Paul Sgro, Lee's Garage (N.J.), are shown. (John Huetter/Repairer Driven News)
The 2017-18 Society of Collision Repair Specialists Board of Directors poses April 11, 2018. (John Huetter/Repairer Driven News)
CRASH Network editor John Yoswick accepts the 2018 Society of Collision Repair Specialists Non-Individual Service Award on behalf of his company and Mike Anderson's Collision Advice on April 11, 2018. They won for their work on the quarterly "Who Pays for What?" surveys. (John Huetter/Repairer Driven News)
PPG director of business development Bill Shaw received the 2018 Society of Collision Repair Specialists Humanitarian Award for his work as president of the Collision Industry Foundation on April 11, 2018. (John Huetter/Repairer Driven News)
Share This: