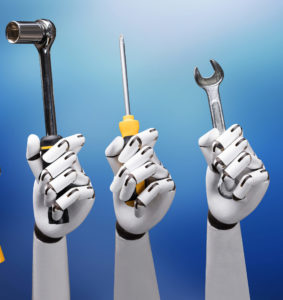 Bosch last month unveiled "Charlie," a "virtual service assistant" for service advisers and technicians which Automotive News's Fixed Ops Journal described as "sort of the automotive equivalent of Siri and Alexa."
Fixed Ops Journal reported that the artificial intelligence was "more a concept than a production model." Bosch called Charlie a "(p)roof-of-concept" that it wanted to pilot "with a forward-thinking OEM this fall."
If Bosch can make the design work, Charlie could be of great benefit to collision repair technicians as well. The Tier 1 supplier and aftermarket equipment vendor specifically mentions auto body work in its description of the system.
"This patent-applied-for dealership partner aims to bring a focused approach to all dealership services, including scheduled maintenance, collision repair, general repair, warranty processing and technician training," Bosch wrote in a news release.
Even if Bosch focuses Charlie more on quote-unquote mechanical work, "he" might still have plenty of applications for collision repair. Collision Advice's recent webinars on Toyota and FCA demonstrated that OEMs are placing material highly relevant to auto body technicians within the mechanic-facing sections of their repair procedures. A Bosch virtual assistant focused on conveying those sections to dealerships would seem to therefore possess valuable information for auto body shops as well.
Technicians speak to Charlie, which will be part of the Bosch BEST system, through a headset.
According to Bosch, Charlie will use machine learning to do a lot of impressive things, including:
• Customer service and satisfaction with wait-time reports and ratings
• eMPI reports for customers and vehicle turn-ins
• Warranty processing for filing warranty work reimbursement claims
• TSBs, helping guide techs directly to the repair faster
• Repair order triage, to connect technician skill level with job difficulty and estimated time to repair, and step-by-step instructions for on-the-job training
• Parts ordering to manage inventory, getting the right parts when they're needed to eliminate downtime
• Service bay capacity to help increase vehicle turn, so dealerships can service more vehicles in the same amount of time (Minor formatting edits.)
Bosch also states that Charlie will help automate elements of customer service, such as keeping the vechile updater
A third-party machine-learning system might have difficulty keeping up with OEM repair procedures being adjusted on the fly by the manufacturer or, in the case of collision repair, not being led astray by a data set of repairs done incorrectly. However, the system also sounds like it could be a valuable resource for making sure various items don't get overlooked by the tech.
"If the repair is approved, Charlie can be configured to order parts necessary while updating dealer management systems with billing, payment and work order information," Bosch wrote in a news release. "For the repair, Charlie would work directly with technicians, understanding their skill level and assisting with service info and repair procedures to reduce comebacks and ensure the repair is completed correctly and on time."
Charlie also can be used to keep an eye on slowpoke techs, it appears, by tracking all procedure times and "assigning each a grade based on estimated completion time to meet customer expectation and maximize labor efficiency."
It'd be interesting if an estimator could harness this repair procedure time calculator to instead generate average shop labor times for various not-included operations. That'd seem to be a big help in backing up such manual line items to insurers or customers.
It's also intriguing to consider if Charlie could modify the kind of customer interactions Bosch describes to the point where a body shop could outsource similar conversations with insurers to Charlie:
For technicians, Charlie can learn to guide them through an entry MPI, documenting any service needs and compiling a report for customers. If any service needs arise beyond the original appointment item, Charlie will flag critical issues that need action and contact the customer, providing them with an updated cost estimate, wait time and photos of service work needed to obtain customer approval.
One could almost see a future where a shop AI like Charlie alerts an insurer's AI to a supplement and secures approval from the other virtual assistant. An insurer would save money on staff, and the shop's productivity would increase by having to spend less time communicating with carriers.
Bosch says Charlie also can facilitate the process of providing updates to customers and "personally" survey them about their service experience, though it's unclear how either of these features would be much different from existing customer management offerings.
The system also "keeps a record of all service procedures, including year, make, model, engine, VIN, mileage and overall vehicle condition, providing a dealership with important data it needs when selling a vehicle," according to Bosch. "… Charlie will estimate the next scheduled maintenance service for customers, calling them to schedule an appointment to bring in their vehicles. The increase in accuracy and detail during MPI helps keep vehicles properly maintained with a full service record, including YMME, VIN, mileage and overall vehicle condition. This helps a used vehicle retain more value for future sale while strengthening customer relationships."
More information:
Share This: