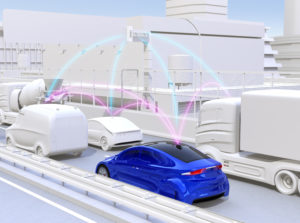 Ford and Toyota's recent announcements of widespread connectivity could lead to dramatic reductions in crashes by simply allowing the popular OEMs' cars to tell each other where they are.
The Obama administration in December 2016 proposed making vehicle-to-vehicle "V2V" connectivity standard, declaring it and related vehicle-to-infrastructure "V2I" tech (for example, a traffic light tells cars it's red, and the cars begin to slow or stop) as likely to save many lives. A really neat concept even sees the cars being aware of the cellphones in the population's purses and pockets and preventing inattentive drivers from running into inattentive pedestrians.
"NHTSA estimates that safety applications enabled by V2V and V2I could eliminate or mitigate the severity of up to 80 percent of non-impaired crashes, including crashes at intersections or while changing lanes," the National Highway Traffic Safety Administration wrote in a news release then.
Ars Technica reported late last year that the anti-regulation Trump administration said the rule hadn't been killed and was still being considered. "In all events, DOT hopes to use the dedicated spectrum for transportation lifesaving technologies," the government told the website. "Safety is the Department's number one priority."
An OEM trade group praised the regulation proposal in 2016, and the NHTSA described automakers as supportive of having this one coordinated by the feds rather than rolled out piecemeal by individual OEMs.
"Today's release of the V2V NPRM is a critical step to enabling connected car technologies that promise to improve highway safety and deliver significant lifesaving benefits," Association of Global Automakers President and CEO John Bozzella said in a statement then.
But as NHTSA observed back in 2016, OEMs who can get the technology to market sooner might have a significant advantage — which might explain the moves by Ford and Toyota over the past two months.
"These OEMs will be able to capitalize on arriving to market earlier than their competitors, and the customers of these OEMs will realize safety, mobility, and environmental benefits earlier than others," NHTSA wrote then. "As such, the agency does not envision granting credits for early compliance with this schedule as there are sufficient incentives already in place for OEMs to consider early compliance."
Ford
Ford in March announced that it would by 2019 deliver "standard connectivity on new vehicles, paving the way for over-the-air updates and the Transportation Mobility Cloud, an open platform that will empower tomorrow's mobility systems."
"All of our vehicles will be connected by the end of 2019," Ford North America product communications manager Mike Levine said.
In January, Ford described this Transportation Mobility Cloud vision as including vehicle-to-everything ("V2X") communication. Levine in March said such connectivity features would be free; customers would only have to pay for upgrades like using the 4G LTE as a Wi-Fi hotspot.
"(Transportation Mobility Cloud) can manage information flow and basic transactions between a variety of components in the transportation ecosystem — service providers, personal vehicles, bicycles, pedestrians, mass transit systems and city infrastructure, including traffic lights and parking locations," Ford mobility product solutions Vice President Rich Strader and Automomic CEO Sunny Madra wrote in a January Medium post.
"With this platform, cities will be able to facilitate communication between various transportation methods and services operating within them, including individual vehicle data. The Transportation Mobility Cloud can take in and process that data in real-time, and provide numerous services including vehicle connectivity, third-party connectivity, location-based services, route mapping, alerts, identity management, payment processing, data and analytical services, and much more. This enables developers to offer new apps and services that make getting around easier and more efficient. …
"As an example of the platform's capability, cities could use real-time location updates from vehicles to control traffic flow, dynamically rerouting cars to reduce congestion, improve commuting times or account for construction projects, sporting events and emergencies. A city can ensure no empty self-driving vehicles are driving on the most important arteries used by people during their rush hour commute home. This platform can even help cities define safer pick-up and drop-off zones for ride-hailing services."
Ford and Automatic wrote that the OEM was "reaching out to other automakers, suppliers and large-scale fleet operators to offer them an opportunity to participate in and shape this shared platform."
The connectivity allowing Ford to deliver over-the-air software updates also could have an impact on some shops if the updates alter repair procedures or diagnostic trouble codes. Certain third-party repair procedure aggregators or scan tools might be unable to keep up with the changes, making shop access to Ford's official website and OEM scan software a necessity.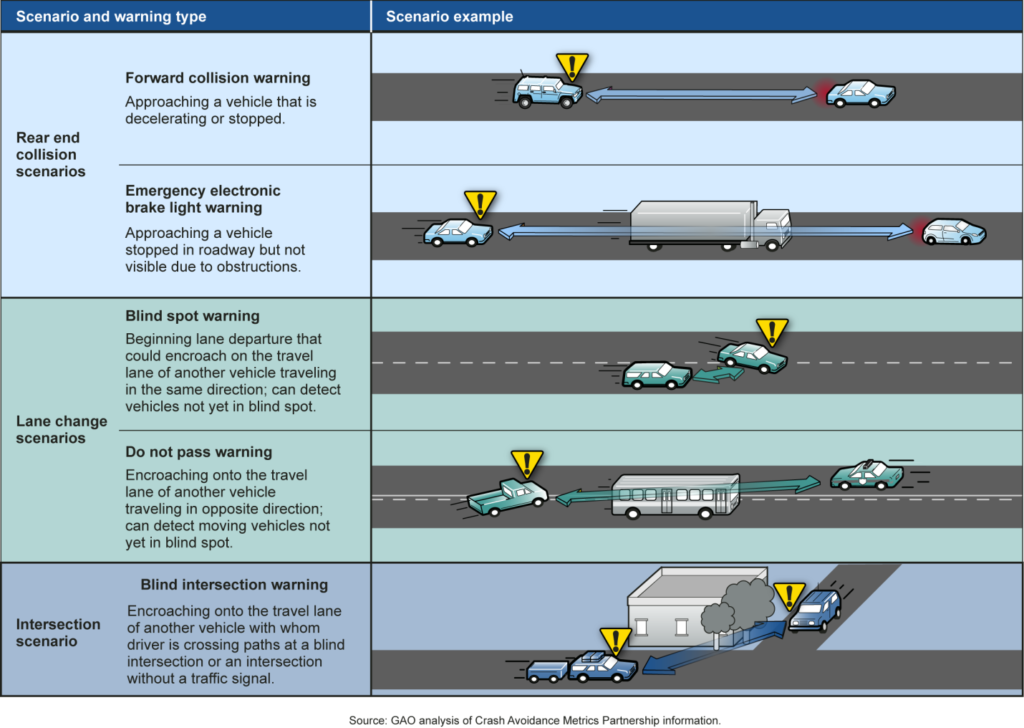 Toyota
Toyota on Monday announced it would start producing V2V-equipped vehicles starting in 2021, "with the goal of adoption across most of its lineup by the mid-2020s."
Toyota's format uses seven channels on the 5.9GHz spectrum for its Dedicated Short-Range Communications, which sounds similar to what NHTSA had proposed in 2016.
"By allowing vehicles' intelligent systems to collaborate more broadly and effectively through DSRC technology, we can help drivers realize a future with zero fatalities from crashes, better traffic flow and less congestion," Toyota North America CEO Jim Lentz said in a statement.
However, that system is different enough from Ford's Transportation Mobility Cloud that Ford and Toyota vehicles won't be able to communicate.
"They don't talk to each other," Toyota safety and quality communications manager Brian Lyons said Tuesday.
However, he said the radio system certainly can communicate with General Motors' DSRC V2X systems on the Cadillac CTS. GM made 5.9 GHz V2V standard on the sedan in 2017, and the system can "handle 1,000 messages per second from vehicles up to about 1,000 feet away," according to Cadillac.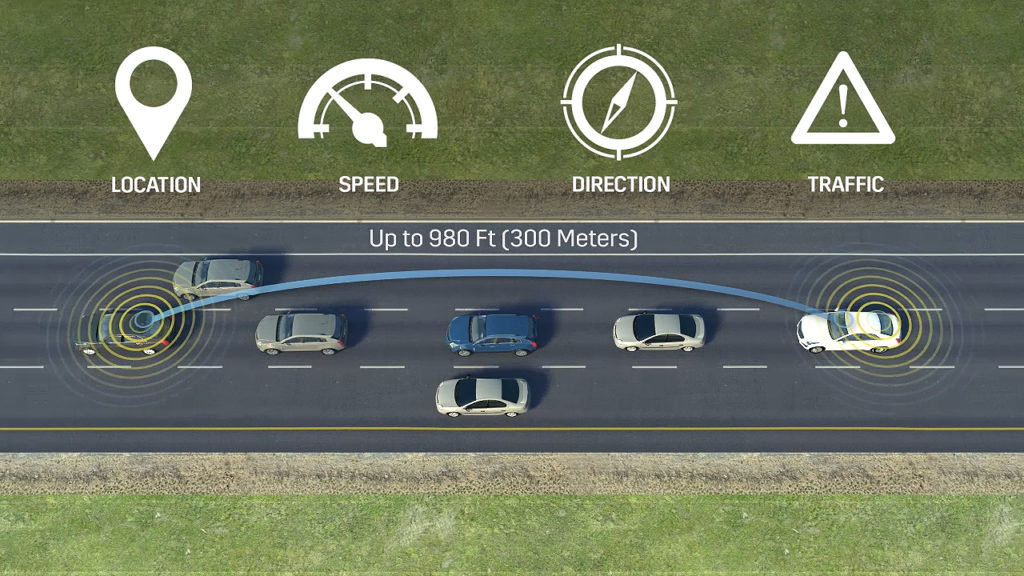 "I know we talk to them a lot," Lyons said of General Motors. He said GM, Nissan and Honda were all "really high on DSRC."
Lyons said Toyota had been testing in the 5.9 GHz band for 13 years.
However, he said concerns existed that the government would take that spectrum it had granted to OEMs and reallocate it to some other purpose, and Toyota hoped to spur automakers to stake a claim now.
"We know it works," Lyons said.
He said Toyota's product cadence didn't allow it to move sooner than 2021, but other OEMs could get moving on DSRC communications sooner.
Lyons said cellular technology was promising but it wasn't available yet, and Toyota pointed to the additional cost of using a cell network.
"Importantly for consumers, because the technology does not require a cellular or data network, vehicles equipped with DSRC do not incur any cellular network carrier charges," the OEM wrote in a news release. "DSRC is based on industry standards, so Toyota vehicles will be able to communicate with other automakers' equipped vehicles, multiplying the safety benefits for all."
Calibration
Presumably, some sort of calibration will be necessary of an OEM or aftermarket V2V based at least on some of NHTSA's precise 2016 description of a potential baseline configuration.
In a nutshell, the NHTSA in 2016 was considering saying the car needs to be accurate within 1.5 meters of longitude and latitude and 3 meters of height, key off a datum point derived from a flat road, and be accurate to 1 kph/0.62 mph of speed. Some of this will probably be the manufacturer and GPS industry's problem, some of it might be yours.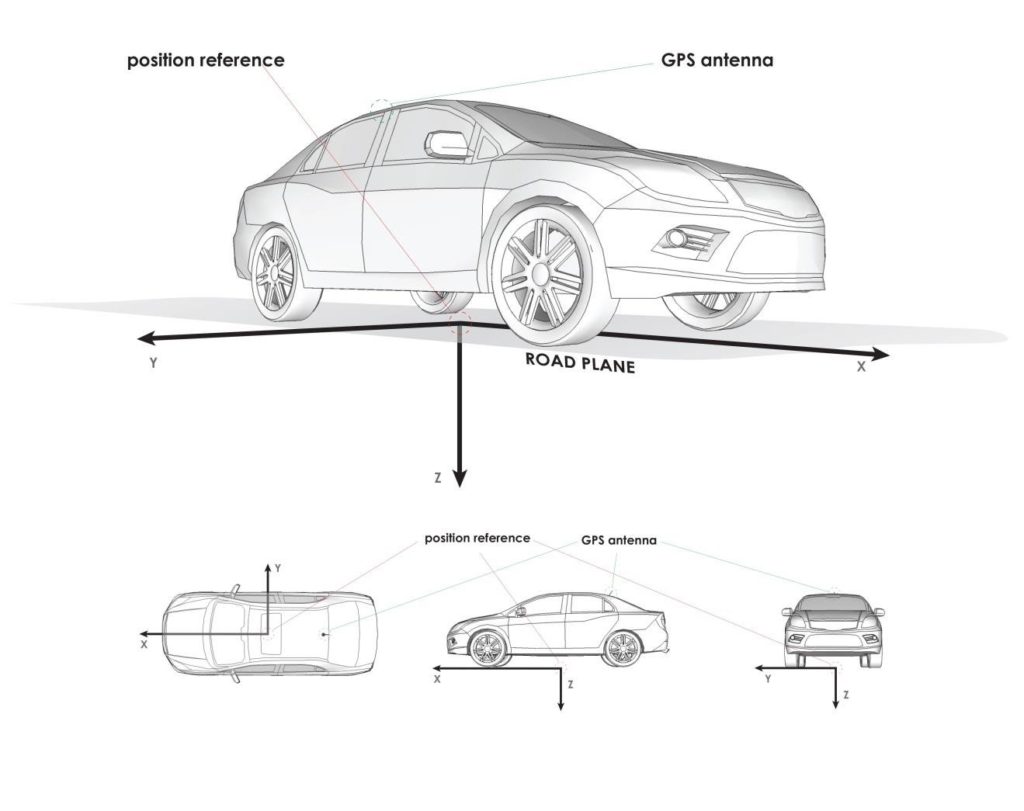 The NHTSA also proposed a method of testing to make sure the V2V system will work quickly after a driver starts the car. One wonders if repairers will be tasked with the same work during an installation or if this is more of a factory-level thing:
In summary, NHTSA is proposing to require that, after a conditioning procedure, vehicles begin transmitting basic safety messages with the required content and at the required frequency within 2.0 seconds after the driver puts the vehicle into the forward or reverse gear. The conditioning procedure would specify that the vehicle is under open sky conditions as in our test procedure for evaluating the content of the basic safety message. Then the procedure would specify that the test technician:
• drives the vehicle in any heading at any speed for five minutes;
• stops the vehicle and deactivates the vehicle for any amount of time between 30 minutes to an hour;
• checks to ensure that the V2V system components are in a powered off state;
• opens the driver's door to any width,
• closes the driver's door;
• activates the starting system using the key; and
• selects any gear (forward or reverse) at any time not less than 4.0 seconds and not more than 6.0 seconds after the driver's door is opened. The driver door is open when the edge of the driver's door opposite of the door's hinge is no longer flush with the exterior body panel. (Minor formatting edits.)
More information:
"Why We're Working with Autonomic to Create a Platform That Can Power Future Cities"
Ford and Autonomic, Jan. 9, 2018
"Ford Readies North America's Freshest Lineup by 2020 with Onslaught of Connected New Trucks, SUVs and Hybrids"
Ford, March 15, 2018
"Toyota and Lexus to Launch Technology to Connect Vehicles and Infrastructure in the U.S. in 2021"
Toyota, April 16, 2018
"V2V Safety Technology Now Standard on Cadillac CTS Sedans in US"
Cadillac, March 10, 2017
Images:
Vehicle-to-vehicle and vehicle-to-infrastructure communication could cut 80 percent of not-impaired crashes. (Chesky_W/iStock)
Examples of how vehicle-to-vehicle communication could prevent crashes. (Government Accountability Office, Crash Avoidance Metrics Partnership via NHTSA)
The vehicle-to-vehicle system on the Cadillac CTS can work at distances of up to 980 feet. (Provided by Cadillac/Copyright General Motors)
A National Highway Traffic Safety Administration diagram related to proposed V2V configuration on vehicles. (Provided by NHTSA)
Share This: