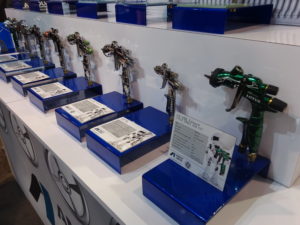 Besides providing proof that an auto body shop isn't "the only one" charging for a particular refinish operation, the latest "Who Pays for What?" survey carries advice and analysis for the paint and estimating departments about the work.
Understanding such items can make shops more profitable and produce better paychecks for piece-rate employees. Collision Advice CEO Mike Anderson recommends shops ask themselves: "Is it required to return the vehicle back to pre-accident condition?"; "Is it included in any other labor operation?"; "Are there pre-determined times?"; and "What is it worth?"
Below are some items Anderson felt merited additional commentary and some color about how shops and insurers are handling them.
Also, don't forget to help the industry by taking the current "Who Pays for What?" survey on body labor operations here through April 30. All answers are kept confidential — data is published only in the aggregate — and participants receive a copy of the report. Collision Advance and CRASH Network encourage a shop to designate the person "most familiar with the shop's billing practices and the payment practices of the largest national insurers" to complete the poll.
Refinishing adjacent panels after weld burns
Heat from welding can affect nearby panels, producing a need for additional painting beyond the collision-damaged area to restore the vehicle to pre-loss condition, according to Collision Advice and CRASH Network.
"I see a lot of shops leave this off of estimates," Anderson wrote in the April "Who Pays for What?" report. "When you replace a quarter-panel, for example, there are more than two dozen items (including the trunk floor, rocker panel and rear body panel) you may need to paint because of weld burn damage."
Of the shops who do ask to be compensated for that work, 65 percent reported being reimbursed "always" or "most of the time" by the nation's Top 8 carriers, down a percentage point from the 2017 survey.
As is typically revealed by the "Who Pays?" surveys, State Farm and USAA are more receptive to shops than their insurance competitors, with State Farm paying it always or mostly nearly three-quarters of the time. Those two carriers were the "best" for all of the other items featured in this article.
Tinting
Most of the surveyed shops were asking to be reimbursed for tinting, and 55 percent of them found insurers paying "always" or "most of the time," up 1.2 percentage points from the previous year.
It sounds like insurers need to step up their game on this one. Unlike other not-included operations, a customer is going to notice the absence of this work by virtue of the vehicle not looking the same. It's hard to see where the customer leaves satisfied with their carrier if the shop explains the denial, refuses to do the work for free, and either balance-bills the customer or delivers a visually flawed vehicle.
"If you take any paint company course or I-CAR class, it's made clear that you need to tint to achieve a blendable match," Anderson wrote. "In some cases, you may need to tint AND blend; it's not an either/or thing. And as we start to see more 3-stage and 4-stage paints, tinting may become even more commonplace."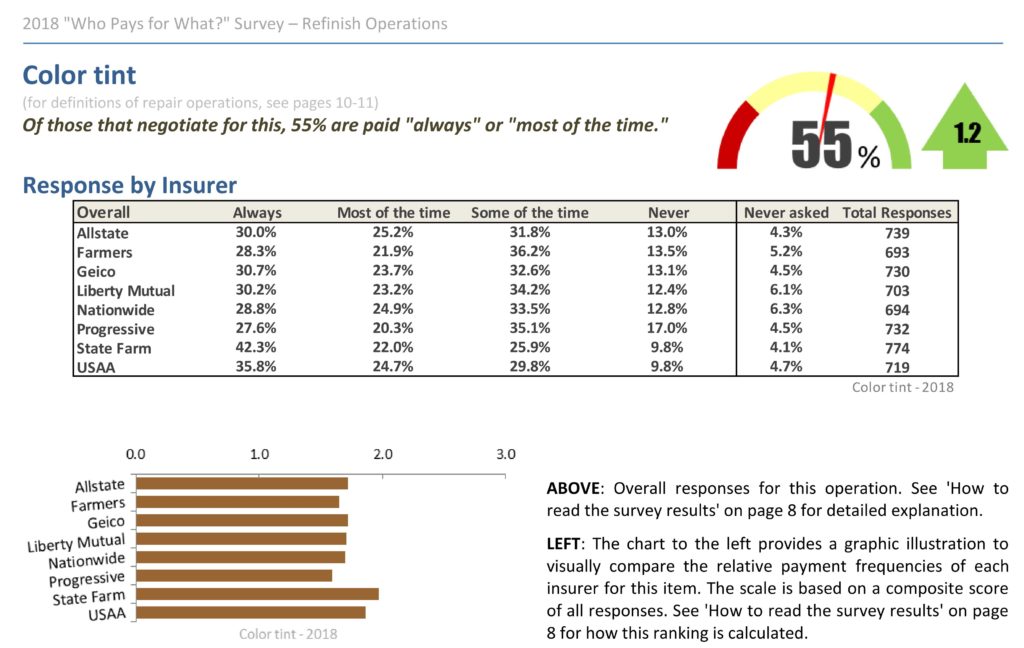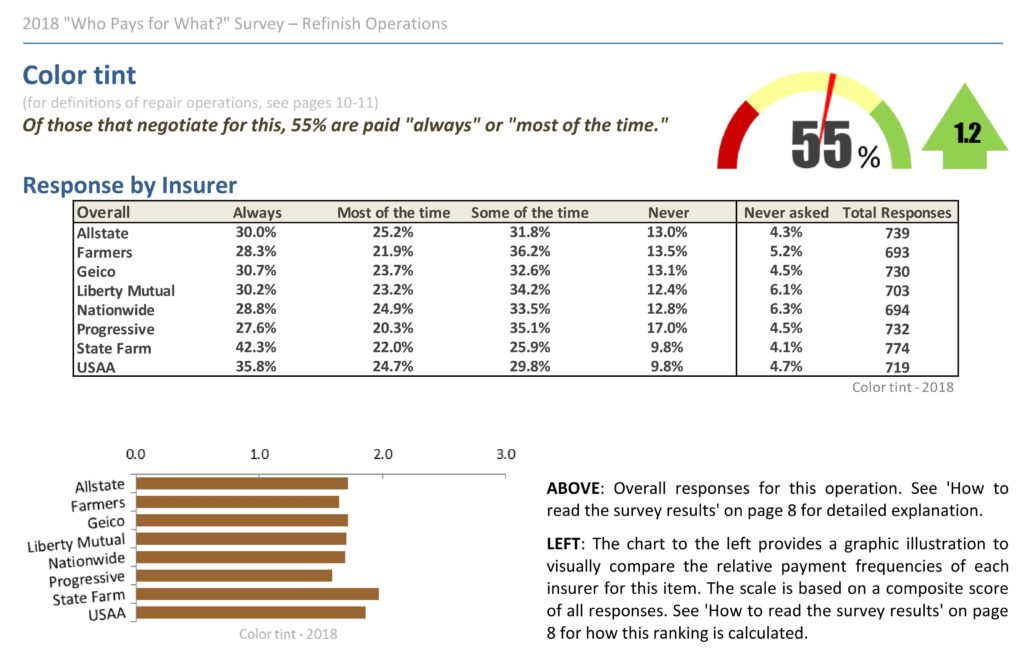 Refinishing the other part of a panel
More than a fifth of the more than 600 shops that responded to the January CRASH Network-Collision Advice poll reported they never invoiced insurers for refinishing the back or underside of a panel.
Which meant they were likely leaving money on the table, as 56 percent of their fellow shops reported being compensated "always" or "most of the time" — up 2.7 percentage points.from 2017.
"Understand that refinish times are for 1-side and 1-side only," Anderson wrote. "You need to consider: Do you need to paint the top and the bottom? Or do you need to paint the inner and the outer? If you do, and there's not a paint time, consider submitting an inquiry about it to the DEG (Database Enhancement Gateway).
Nearly a third of the shops surveyed also said they never asked to be paid for second color set-up, a similar consideration.
"This is additional labor in order to look up and mix a second formula when an inside area, such as the trunk or under-hood, is a different color than the exterior of the vehicle," Anderson wrote. "… Audatex is currently the only estimating system that has a formula for this (it's two-tenths)."
Only 42 percent of shops who ask are paid "always" or "most of the time," according to the study.
Except for State Farm, insurers were more likely to pay shops "never" than "always" for this work, which might reflect a lack of knowledge among certain regional adjusters and management.
More information:
Take the 2018 body repair operations "Who Pays for What?" survey
"Who Pays for What?" refinish results
Images:
The Anest Iwata booth at SEMA 2017 is shown. (John Huetter/Repairer Driven News)
55 percent of the shops surveyed in the January "Who Pays for What?" study reported insurers paying "always" or "most of the time," up 1.2 percentage points from the previous year, for color tinting. (Provided by CRASH Network and Collision Advice)
Share This: