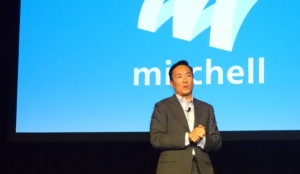 Private equity firm Stone Point Capital will buy out KKR and Elliott Management's position in Mitchell, the current owners announced Thursday.
Terms of the sale — expected to close this quarter — were not disclosed. The Wall Street Journal in February 2017 reported that KKR was exploring a sale valuing Mitchell at between $2.5-$3 billion, plus debt, after buying the company for $1 billion in 2013 from Aurora Capital Group. It's unclear how much of Mitchell Elliott owned.
"We are proud of the partnership we had with Mitchell's leadership team and the growth we have been a part of since our initial investment in 2013. Together, we expanded Mitchell's market focus through organic investment in, and acquisition capital for, cloud estimatics, parts, diagnostics, specialty bill review, utilization review, pharmacy and other areas of focus for our key customers," KKR technology, media & telecom investment team head Herald Chen said in a statement. "Under the leadership of Alex Sun and the management team, Mitchell has successfully enhanced and expanded its products and services offerings through a strong commitment to deliver better outcomes to the claims and repair process."
Mitchell has 2,400 employees and processes transactions for more than 300 insurers, 30,000 auto body shops and more than 65,000 pharmacies annually. It's had a busy run over the past year in the auto claims space, marketing a collision repair diagnostic system based on Bosch scan tools in June 2017, building on its AI photo estimating partnership with Tractable, announcing the multipart Project Freedom in October 2017 and formally in January, and being announced in March as the point partner on General Motors' shop certification program.
"We have built our leadership position in the Property and Casualty and collision repair industries by investing in our people, products and services, and focusing on the value we deliver to our clients. Stone Point shares our vision for being a growth-oriented, customer-driven company built on strong values," Mitchell President and CEO Alex Sun said in a statement. "We are extremely appreciative of the role KKR played in our growth over the years, and we are very excited about our partnership with Stone Point as we focus on Mitchell's next phase of development. With Stone Point's investment and experience, I look forward to maintaining our current strategic direction, continuing to grow across all our business segments and finding new ways to provide valuable, innovative solutions to our clients."
According to the Wall Street Journal, Stone Point is the latest in more than a decade of private equity masters for Mitchell. Hellman & Friedman bought it in 2000 and sold it to Aurora Capital Group and General Electric Pension Trust for $400 million in 2007, who in turn sold it to KKR for $1 billion in 2013, the newspaper reported.
No details about personnel or management changes were released. KKR kept Sun on as president and CEO following the 2013 sale, and Aurora kept him as president when it bought Mitchell from Hellman & Friedman in 2007. (He became both president and CEO in 2008.)
Stone Point's $19 billion portfolio is much smaller than Elliott's $35 billion and dwarfed by KKR's $97.5 billion. It'll be interesting to see if the Mitchell's relative weight in relation to Stone Point's overall assets leads to a different form of oversight than Mitchell experienced under KKR. Stone Point's website details a portfolio including multiple insurance companies but doesn't indicate an automotive presence.
"Mitchell is a well-established market leader in helping to ease the complexities of navigating the Property and Casualty insurance and collision repair ecosystems," Stone Point Senior Principal Nick Zerbib said in a statement. "We share Mitchell's vision of using the power of technology, expertise and connectivity to improve the efficiency and effectiveness of its clients.  In partnership with Mitchell's leadership team, we look forward to supporting Mitchell's future growth plans as it continues to invest in its market-leading solutions and its customers."
The Mitchell sale makes it three for three for the industry's estimating services in the past three years.
First, Vista Equity Partners reached a deal to buy Solera, which owns Mitchell rival Audatex, for $6.5 billion in 2015. (The sale closed in 2016.) The amount was nearly double the company's $3.255 billion market cap prior to sale rumors.
CCC announced in February 2017 that Advent International bought the company from Leonard Green & Partners and TPG Capital for an undisclosed amount. Bloomberg reported earlier that month that Leonard Green and TPG had valued CCC at $3 billion.
More information:
"Mitchell Secures New Investment Partner in Stone Point Capital in its Continued Commitment to Growth and Innovation"
Mitchell, Feb. 26, 2018
"Mitchell International, Developer of Insurance-Claims Software, Exploring a Sale"
Wall Street Journal via Dow Jones Newswires, Feb. 15, 2017
Featured image: Mitchell CEO Alex Sun speaks at Mitchell's "Project Freedom" event Jan. 17, 2018. (John Huetter/Repairer Driven News)
Share This: