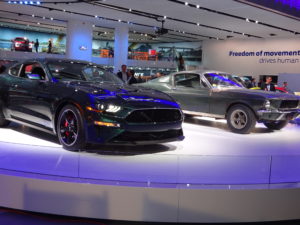 In a historic move, Ford announced Wednesday it would phase out production of all small cars and sedans in the "next few years," keeping only the Mustang and the upcoming Focus Active — which it characterizes as a crossover.
Ford predicted that by 2020, almost 90 percent of its portfolio would be trucks, SUVs and CUVs, and commercial transportation like vans and police cars.
This is part of a strategy of "(b)uilding a winning portfolio and focusing on products and markets where Ford can win," a first-quarter earnings release stated Wednesday.
"Given declining consumer demand and product profitability, the company will not invest in next generations of traditional Ford sedans for North America," the OEM wrote in the release. "Over the next few years, the Ford car portfolio in North America will transition to two vehicles – the best-selling Mustang and the all-new Focus Active crossover coming out next year. The company is also exploring new 'white space' vehicle silhouettes that combine the best attributes of cars and utilities, such as higher ride height, space and versatility."
Automotive News reported that all Lincoln sedans are safe for now.
Ford car sales were down 13.7 percent through the end of March and 14.2 percent in 2017.
"We are committed to taking the appropriate actions to drive profitable growth and maximize the returns of our business over the
long term," Ford CEO and President Jim Hackett said in a statement. "Where we can raise the returns of underperforming parts of our business by making them more fit, we will. If appropriate returns are not on the horizon, we will shift that capital to where we can play and win."




Granted, the line between a crossover and a traditional station wagon or hatchback vehicle has been blurred these days — as evidenced by Ford calling a vehicle a crossover and car in the same sentence. Ford's larger cars can weigh more and take up more of the road than than some of its smaller crossovers.
But on the whole, it appears as though repairers and insurers might encounter greater severity based on Ford's existing pricing model and the dimensions of the SUVs (bigger panels, for example, could incrementally boost labor times, and higher curb weights might lead to more aluminum being incorporated).
The Taurus, Ford's most expensive car outside of the Mustang, costs more than only the EcoSport and Escape. Go down a level to the Fusion, and one finds the car costing more than the EcoSport but alternating with the Escape for the higher-priced crown, depending on configuration. Go down one more car level to the Focus, and even the smaller (but heavier) EcoSport crossover costs more.
Ford also observed that its average new vehicle sale prices was $36,300, outpacing the industry average for full-line OEMs.
Repairers and insurers also should expect changes to Ford's existing lineup. The company plans to have refreshed 51 percent of its vehicles by the end of 2019 in a process that began in 2017, and it boasted of 11 launches in 2018. It's just another reason why you need to check Ford repair procedures online on each vehicle — the instructions could be updated based on new refreshes or new models (or even midway through a production run).
More information:
"Ford Delivers First Quarter $1.7B Net Income, $2.2B Adj. EBIT; Fitness Actions Improve 2020 Outlook"
Ford, April 25, 2018
"Ford brand sedans to be nixed in N.A. under deeper cost targets"
Automotive News, April 25, 2018
Images:
The 2019 Ford Mustang Bullitt and the 1968 Mustang from the movie "Bullitt" are shown at the North American International Auto Show on Jan. 15, 2018. (John Huetter/Repairer Driven News)
Specifications for the 2018 Ford fleet of cars are shown. (Provided by Ford)
Specifications for the 2018 Ford fleet of crossovers and SUVs are shown. (Provided by Ford)
Share This: