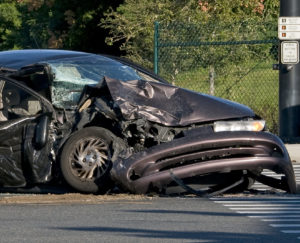 A CCC executive said Wednesday that insurers have begun to use its artificial intelligence Smart Total Loss tool, which can predict whether a vehicle is destined for a salvage auction based upon a photo, on "live claims today."
A number of carriers are testing out the product, but some are actually using it in the field, CCC product management Vice President David Bliss said Wednesday.
Smart Total Loss will come to shops for tests "very soon," said Bliss, putting the date around mid-2018. He said shops should contact their CCC account reps if they'd like to participate in the Smart Total Loss testing.
He said insurers' "response has been great," and the early system has proven to offer "quite sold" results and a "significant uplift" in accuracy over older total loss predictive methods — including CCC's own.
Bliss noted that customers aren't talking to a trained adjuster or appraiser at the time of the crash; "it's more like a first notice of loss representative." Those representatives might lack the knowledge to flag total losses, and the insurers might provide the representative with tools to help make that determination, according to Bliss. Smart Total Loss has been more accurate than those systems, he said.
Bliss said CCC continues to refine Smart Total loss and further boost its accuracy.
Ultimately, the ideal scenario would be for a carrier to make the totaling determination at the first notice of loss (which could be right from the crash scene) where "total losses don't show up at shops in the first place, and they might not have a need for such a solution," Bliss said.
But until that point, where the "true value lies," Bliss said CCC sees a "sort of transition period" where both carriers and shops are using the tool. He said CCC plans to make it available in a fashion not tied to a specific claim as well.
CCC Director and analyst Susanna Gotsch in January predicted the percentage of non-comprehensive total losses would rise to 18.6 percent in 2018 — up more than half a percentage point from 2017's s 18.2 percent and way up from the 14.8 percent proportion in 2013.
In her 2018 "Crash Course," the information provider reported that CCC estimates put average value of vehicles declared a total loss at $9,125 if you throw out the vehicles affected by Hurricane Harvey.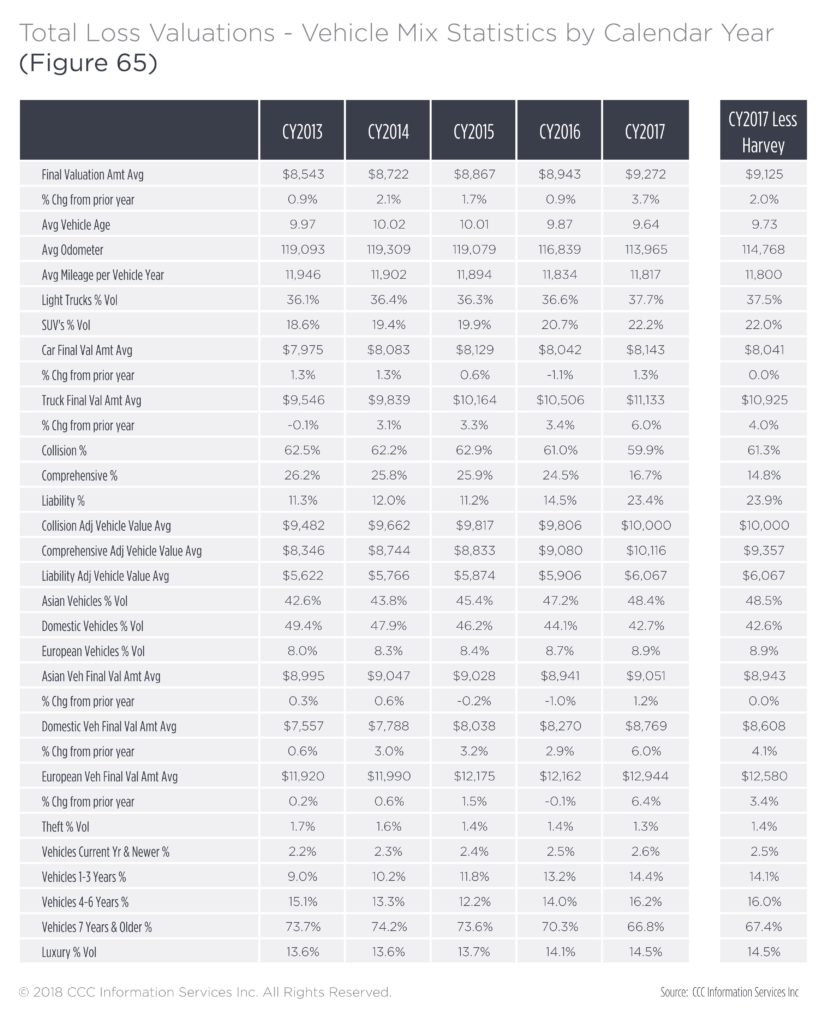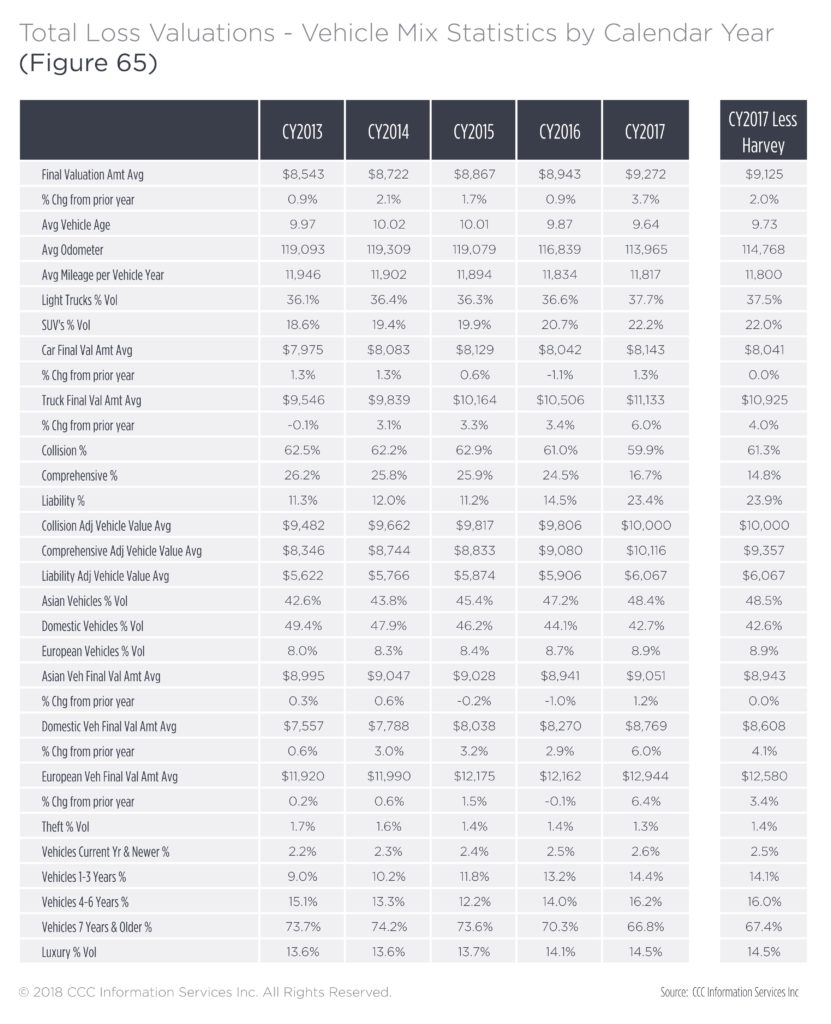 Correction: An earlier version of this story incorrectly identified the non-comprehensive total loss reported by CCC for 2017. The correct percentage is 18.2 percent. The story has since been updated to reflect this.
More information:
"CCC Uses a Single Photo to Usher in New Era of Smart Claims"
CCC, Oct. 16, 2017
Images:
A CCC executive said April 26, 2018, that insurers have begun to use its artificial intelligence Smart Total Loss tool, which can predict whether a vehicle is destined for a salvage auction based upon a photo, on "live claims today." (JCPJR/iStock)
CCC in the 2018 "Crash Course" reported that CCC estimates put average value of vehicles declared a total loss at $9,125 if you throw out the vehicles affected by Hurricane Harvey. (Provided by CCC)
Share This: