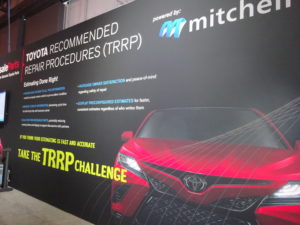 The Database Enhancement Gateway, which allows repairers and insurers to make inquiries and suggestions of the Big 3 estimating providers at no cost, was augmented in 2015 to offer weekly tips for repairers on the Audatex, Mitchell and CCC programs online and through the Society of Collision Repair Specialists' email list.
If you haven't used the free service before to submit questions about estimating collision repair work or just browse responses to other carrier and shop questions, check it out. It's a good way to find IP best practices and help write the most accurate estimates or appraisals possible.
Here's some areas spotlighted as tip-worthy by the DEG. To receive the tips as soon as DEG releases them, like/follow the DEG's Facebook and Twitter feeds. (It also posts videos to a YouTube channel once in a while.) Or just browse the more than 10,000 inquiries and responses in the database and see what else you learn.
Mitchell: Refinish times don't include interior parts
If a repairer needs to refinish something like an inner to restore a vehicle to pre-loss condition, the shop and insurer should add that work manually in Mitchell, the Database Enhancement Gateway advised in April.
The tip keys off of a December 2017 inquiry about how to refinish a replacement inner quarter panel on a 2015 Jeep Grand Cherokee. The user suggested that Mitchell add an inner quarter refinish time, but the estimating service declined and instructed the user to just plug in that amount manually.
"Individual refinish times are not developed for brackets, braces, minor components or interior structure," Mitchell wrote.
"Should a component require refinish individually, Mitchell Estimating provides functionality to allow the user to manually input a refinish time for that component."
It referred the user back to the P-Pages entry on "Comprehensive Labor Times" in the General Estimating Information section.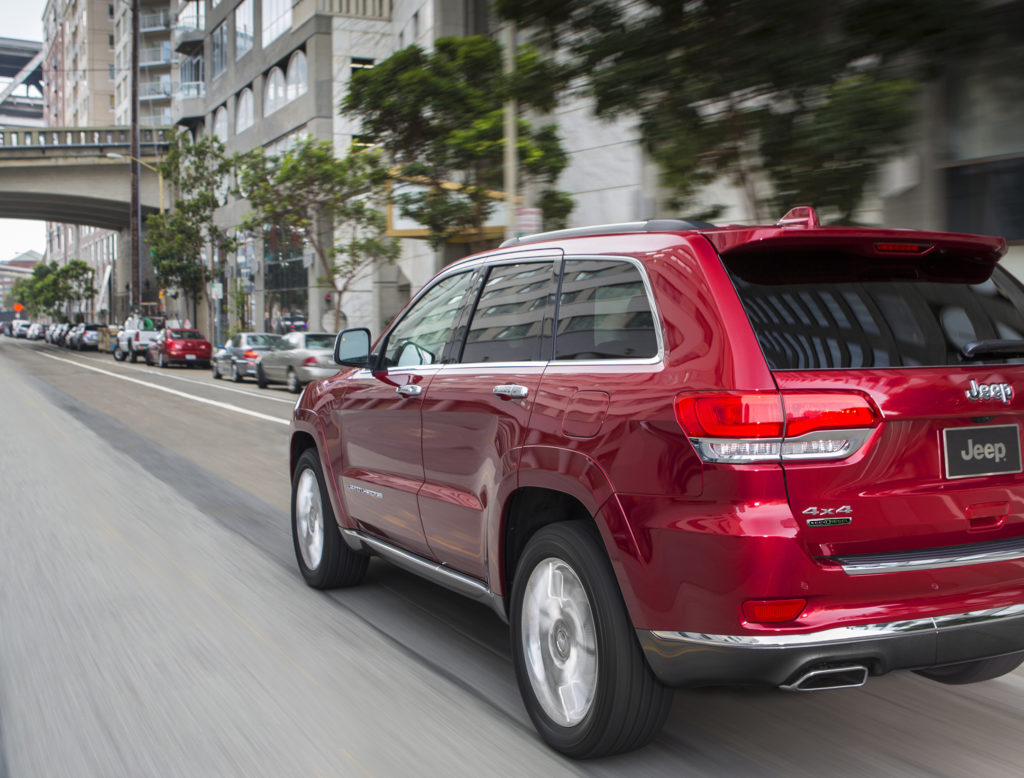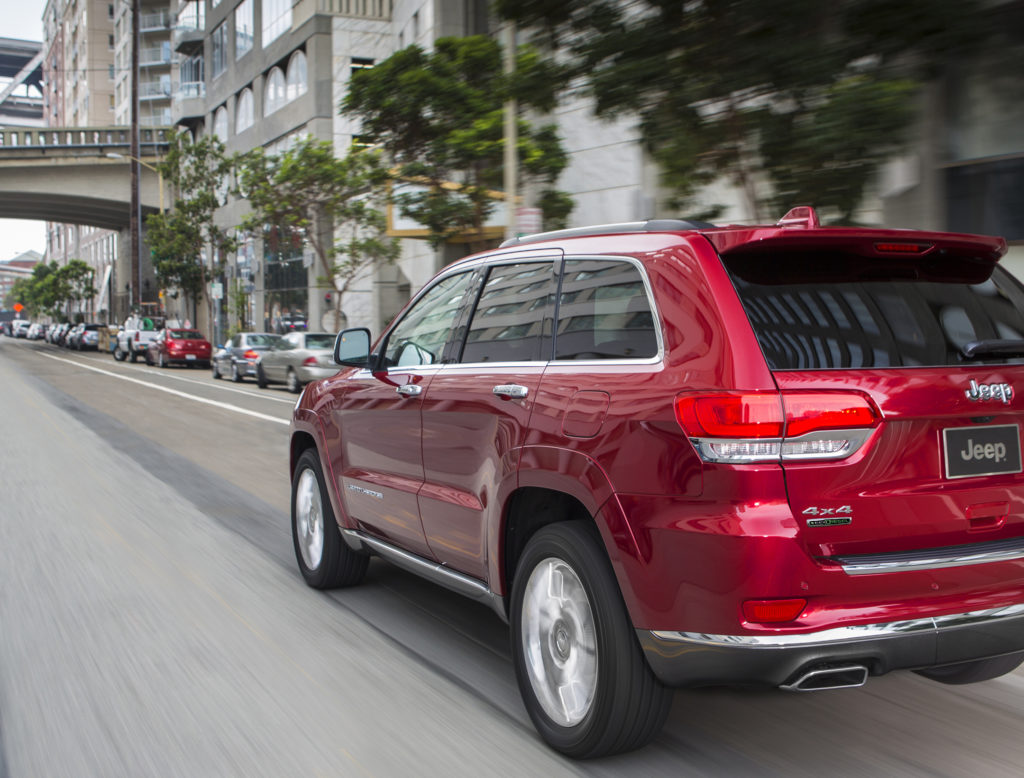 "While completeness is strived for in each Guide, there will be instances, however, in which a labor time has not been established for an operation at the time of publication," Mitchell wrote. "If an item requires replacement and can be replaced as an individual item but shows no time, a time should be agreed upon among all parties and recorded on the damage report. It also should not be inferred that a component with no established Mitchell labor time has been included in another component's replacement allowance."
As we've noted before, it's impossible for the estimating services to keep tabs on every possible operation required to restore the unique combination of vehicle, damage and repair procedures before a shop and insurer. In fact, the information providers' times generally only refer to installing new parts on new vehicles. Therefore, far more collision repair line items than you might expect end up being manual judgement calls by the estimators and adjusters who've actually seen the car and read its current repair procedures.
CCC: Check to ensure correct version in use
Just as experts advise looking up OEM repair procedures online on each individual vehicle in case the instructions have changed, it's important to keep your estimating service current to ensure precision.
"Sometime users may experience incomplete or outdated information in the CCC database, as a result of using an incorrect version," the DEG warned in January.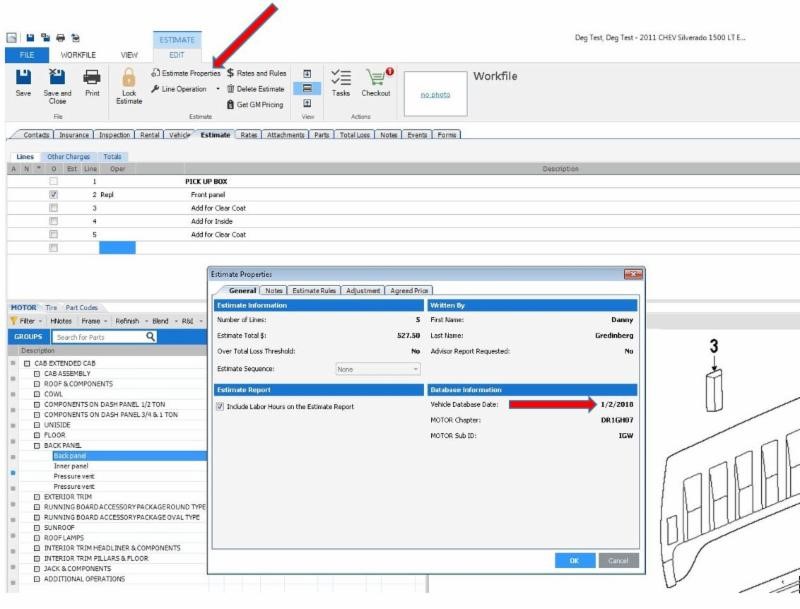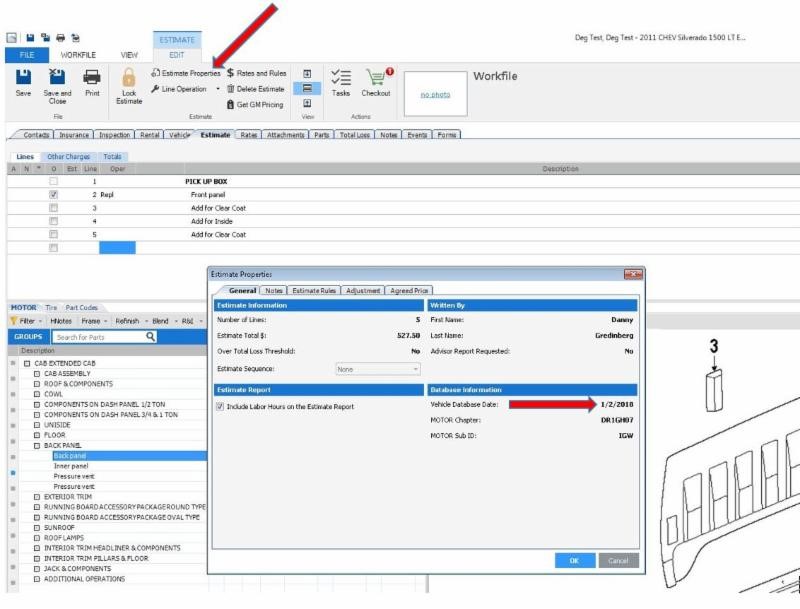 The DEG directed users to select the "Estimate Properties" version in the Estimate tab to confirm the database version, and contact CCC Tech Support at 800-637-8511 for help running an update.
The manual for CCC ONE also advises shops not to miss messages related to its automatic update installer Update Manager:
"IMPORTANT! About once a month, check the computer where you have installed CCC ONE Update Manager for any messages on the screen," CCC writes in red text for emphasis.
"After downloading and installing certain updates, CCC ONE Update Manager may ask you to restart the computer. If you do not restart the computer, your CCC ONE program may not work correctly."
Audatex: Box assembly refinish time doesn't include underside
Audatex users will need to manually enter times to refinish unexposed portions and undersides of pickup beds, the DEG pointed out in January. 
Audatex that month had told a user that it didn't consider that work or any extra steps needed to complete it to be included operations for a 2016 Ford F-150 XLT Crew Cab extra-short bed.
"At this time, per Audatex internal labor procedures the box assembly refinish allowance does not include time for box undersides or unexposed parts," the IP wrote. "This would be an estimator judgment item on the estimate, as well as any additional setup times or booth cycles. The current refinish allowance is correct according to Audatex internal refinish procedures and is considered to be one setup and one continuous paint application. Please see the Database Reference Manual for additional Section Refinish information."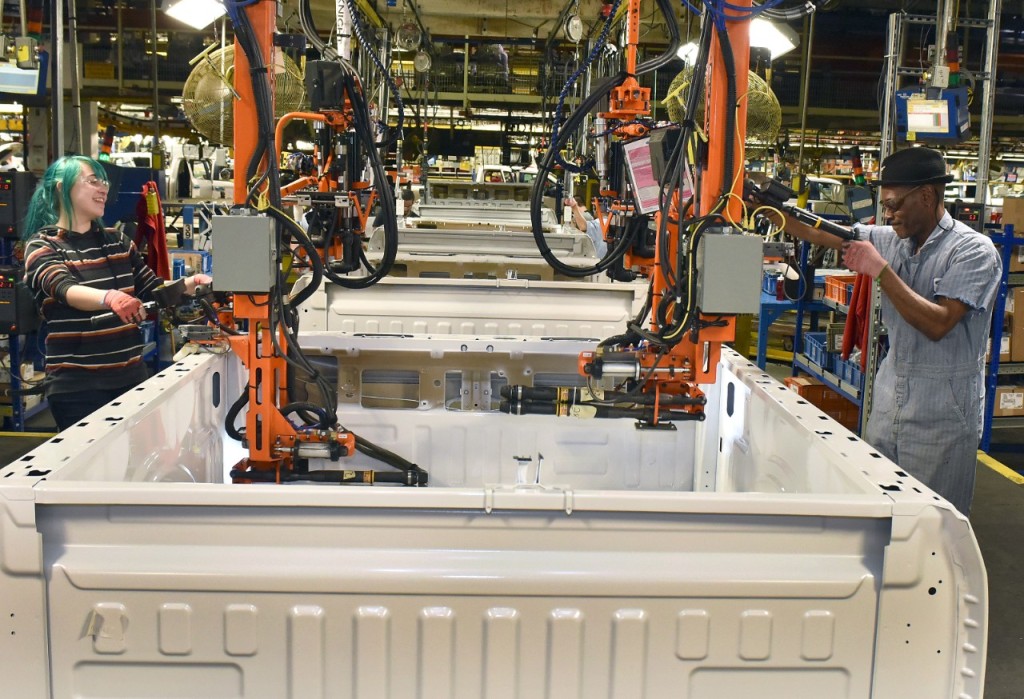 A user had called attention to the differences between estimating services on pickup boxes.
Significant refinish difference on pick up box assembly between all three estimating database's Does the Refinish time for the complete box assembly include to refinish the full underside of the Box and wheel houses? Does the refinish labor time consider refinish labor as 1 continious paint prep and paint application? We have to refinish the box in multiple booth cycles underside 1st, then inside second, then the visible exterior surfaces. How do we properly document refinish a complete box assembly in multiple booth cycles with overlap considerations?
They asked Audatex to "Please explain how to write labor considering multiple booth cycles as well as does the "complete box refinish labor" include the underside and wheel house?"
The DEG also directed users to the Audatext DBRM entry on "Edges / Jambs / Undersides":
Some parts require refinishing undersides or other interior surface edges. Edging is performed prior to surface refinish as a preparation step to refinishing the entire surface of the job at the same time. Edging is generally done with the parts off the vehicle prior to installation.
Audatex's study shows significantly less refinish labor per area for edges, jambs, or undersides than for the surface refinishing. To receive the labor for edges, jambs, or undersides, the panel must be replaced and refinish must be selected for that panel. When a repair is being performed, labor for edges, jambs, or undersides needs to be a separate consideration.
Mitchell-Toyota repair procedure integration
The DEG in February offered an overview on how Mitchell's conversion of Toyota repair procedures into estimate line item works in practice — but warned that a shop still needs to read the actual Toyota OEM repair procedures.
"It is important to note, this is not a substitute from looking up OEM repair procedures from the OEM," the DEG wrote. "Updates from the OEM may occur daily and may not make it to the estimating system until the following month's update. Always refer to the OEM repair procedures by visiting www.OEM1STOP.com for a direct link to the OEM for the specific vehicle you are repairing."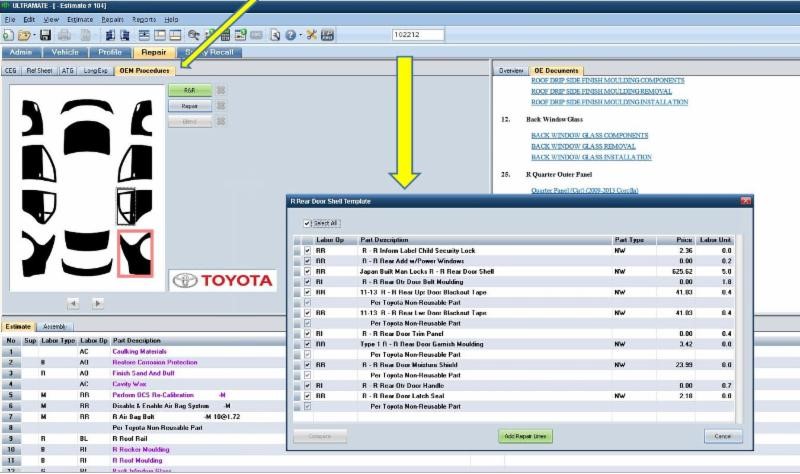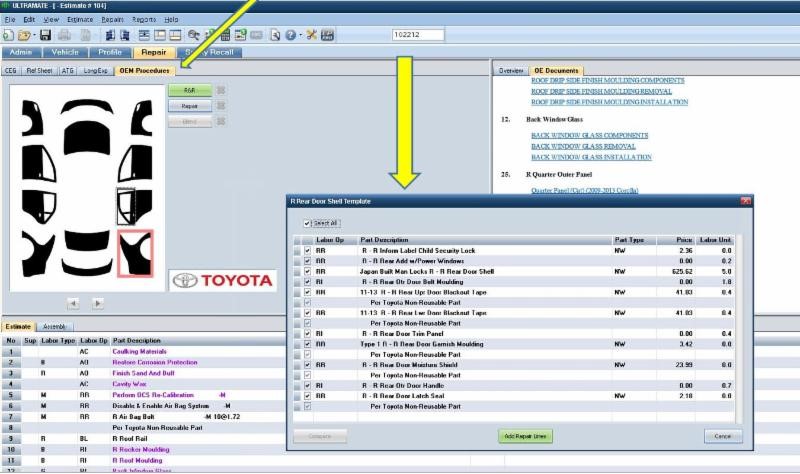 With that important consideration in mind, here's what else the DEG had to say about the Mitchell-Toyota integration:
"Mitchell and Toyota have teamed up to create OEM Procedures and predictive estimating available within the Mitchell estimating program," the DEG wrote. "From the part selection home screen (repair tab), users will need to click on the "OEM Procedures" tab and select the part they want to R/R, Repair, or Blend. Once a selection is made on a component, the system will bring up a list of common required operations and one time use replacement parts per the TIS workshop manual. The user has the option to select all or select individual lines to automatically add to the estimate. This feature may also include a footnote to a one time use part to add documentation to your estimate."
Mechanical work in CCC
The CCC MOTOR Guide to Estimating P-Pages don't always contain individual mechanical repair operations, the DEG explained in February.
"Collision repair facilities performing mechanical operations may find incomplete information in the GTE Pages about included or not included operations," the DEG wrote. "Unless noted in the database part selection footnote, estimators and technicians should consider the part and replacement time if displayed to install the selected component as a stand-alone operation and nothing else to be included in the operation.
"As an example, if a part requires a bleed procedure to be performed, this should be considered as additional labor and part/fluid cost unless the part selection footnote says otherwise."
As CCC's "Labor Time Premise" section agrees, "Items not listed under the INCLUDED/DOES NOT INCLUDE heading for any given procedure have not been considered in the estimated work time development for that procedure, unless specified by a footnote."
Have a question?
Have a question about AudaExplore, Mitchell or CCC? Submit inquiries to the DEG here. Inquiries, like answers, are free.
More information:
Database Enhancement Gateway homepage
Images:
At the 2017 SEMA, Toyota challenged attendees to write an estimate more accurate than the one generated by its partnership with Mitchell, which converts OEM repair procedures into estimate line items. (John Huetter/Repairer Driven News)
The quarter panel of a 2015 Jeep Grand Cherokee Summit is shown. Refinishing the inner of a 2015 Grand Cherokee quarter would be a not-included operation in Mitchell. (Provided by FCA)
Just as experts advise looking up OEM repair procedures online on each individual vehicle in case the instructions have changed, it's important to keep your estimating service current to ensure precision. "Sometime users may experience incomplete or outdated information in the CCC database, as a result of using an incorrect version," the Database Enhancement Gateway warned in January. The DEG directed users to select the "Estimate Properties" version in the Estimate tab to confirm the database version, and contact CCC Tech Support at 800-637-8511 for help running an update. (CCC screenshot provided by the DEG)
From left, Ford assembly line staff Denell Sadler and Levi Rouse work on the 2015 Ford F-150 in Claycomo, Mo. (Sam VarnHagen for Ford/Provided by Ford)
A Database Enhancement Gateway screenshot of Mitchell explains the information provider's integration of Toyota repair procedures. (Screenshot of Mitchell provided by the DEG)
Share This: